Christine
Hello, my name is Christine, and actually, I am a seniority on the android and ios data recovery. Circle and text me if you have any problem about your phones or tablets.
How to transfer files from Mac computer to iPhone or iPad?
publinshed by
sophia L yad at
March 10,2015
A personal's Problem: I want to transfer the files from Macbook to iphone and ipad, but the database content is different from the previous,Windows 7 system can create different database,and easy to scync files from different database to iPhone or iPad. Now,I use MacBook,how can I transfer files from Mac computer to iPhone or iPad?

I use the computer is Windows 7 system, two databases files can be synced to iphone and ipad, Is Macbook can do? I need help! ! !
I create itunes library. Before win7 shift plus itunes will pop up,but Macbook without this option, help help! ! !

Use guides teach you how to copy files from Mac computer to iPhone or iPad

If you want to copy files from Mac computer to iPhone or transfer data from Mac to iPad, you will imagine that your iPad / iPhone becomes to be a USB flash disk. Now, you can finish this job with iPad iPhone File Explorer.

Download the trial version of Mac iPad/iPhone Files Explorer and try to transfer Mac files to iPad for free!






1. Install iPad iPhone File Explorer(Mac) on you Mac (install onto Windows if you use Windows computer).
Notice: iPad File Explorer requires you have iTunes 8 or above (iTunes 11 recommended) and .NET Framework 4.0 installed on you system. And to install .NET framework 4.0, the minimum requirement is windows XP SP3.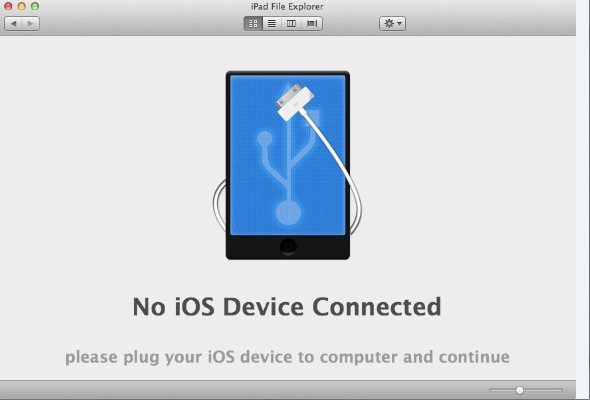 2.Connect your iPhone or iPad to your computer via USB connection cable
Whenever it detects any iOS device, device information is displayed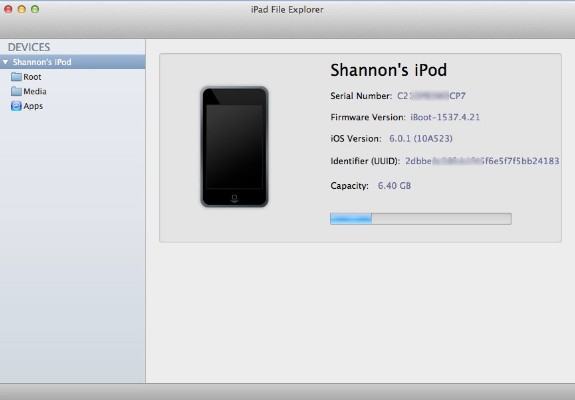 3.You will see you files on iPhone / iPad
If you want to access the real "root" of the iPhone / iPad device, you need to have your iPad / iPhone jailbroken, otherwise, you can only copy files to and from the storage.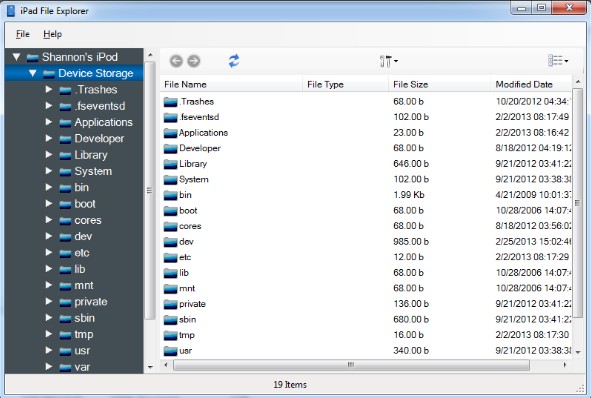 Use iPad File Explorer to transfer files between iPad and Mac computer,or transfer iPad files to Mac

After you run the application, and connect your iPad / iPhone device to your computer, iPad File Explorer for Mac will detect the connection of the device automatically, and list out the file system structure on your device.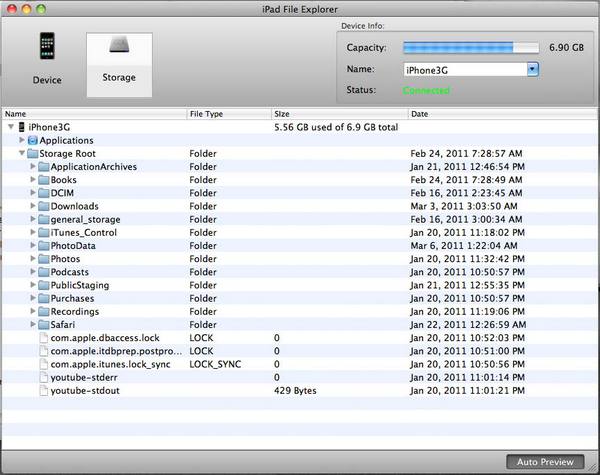 Introduce buttons and information area:
"Device" - This button is only available for iPhone or iPad device with jailbreaking, shows the real root of the file system.
"Storage" - This button allows to show contents of user storage, like photos and other information. It's for iPhone / iPad with or without jailbreaking.
"Capacity" - Here shows the capacity of current storage
"Name" - Shows the name of the connected devices. You can switch among these devices by selecting different list item.
"Auto Preview" - This is a shortcut to enable preview automatically when you click on an image photo file.

4.Select the folder you want to put the files in.
Right click on the selected folder and select "Add Files..." or "Add Directory..." to choose files from your Mac computer.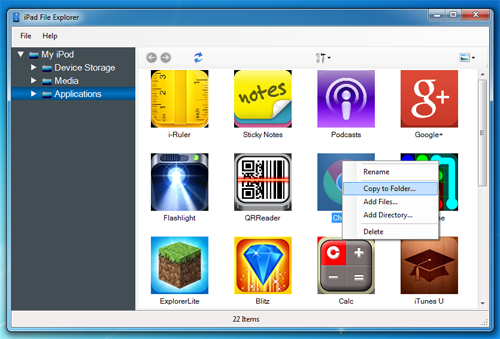 Notes:Different ways to transfer files from iphone to Mac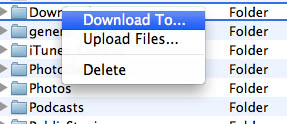 Right clicking on folders or files which need to be transferred, a popup menu will shown:
"Download To..." - to copy files from iPhone to Mac computer;
"Upload Files..." - to transfer files from Mac computer to iphone or iPad;
"Delete" - will delete current selected folders and files from your iPhone or iPad. (this operation can not be recalled)
"Drag & Drop"
Other than right clicking menu, you can transfer files from iPad to Mac or Mac to iPad by dragging and dropping operation. Which means, you can drag the folders and files to be transferred from iPad to Mac.