Christine
Hello, my name is Christine, and actually, I am a seniority on the android and ios data recovery. Circle and text me if you have any problem about your phones or tablets.
How to Enable USB Debugging on Android
publinshed by
Sophia Yad at
January 2, 2017
If you want to recover data from Android device on PC or Mac by Andrid Data Recovery;transfer your Android data to another device by Phone Transfer; import music/video from computer to Android by Android Transfer; manage your Andriod files on computer by Android Desktop Manager or you hope to let your phone detected by your third-party tools on your computer,etc.First of all,you need to enable your USB debugging mode. So here we will show you how to enable USB debugging on Android with simple steps.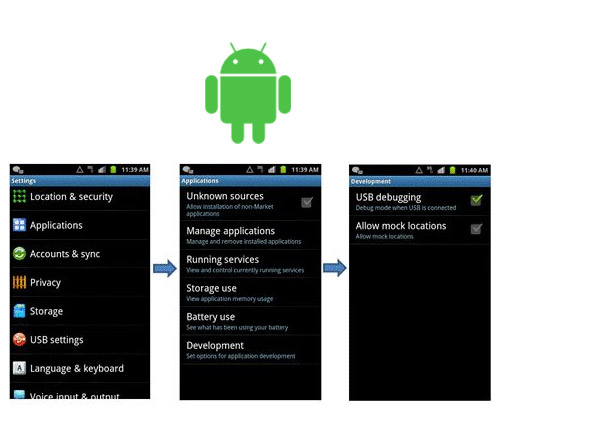 1.Android 4.2 or later: Samsung Galaxy S7/S7 Edge/S6 Edge/S6/S5, Samsung Galaxy Note Edge/Note 5/Note 4/Note 3/Note 2, Samsung Galaxy Tab S/Pro, LG G4/3/2, HTC M10/9/8, Google Nexus 10/9/7/6/5/4, Google Pixel/Galaxy Nexus/Nexus S, Xperia Z3/Z2/T3/M2/Z1, Huawei Mate 9/9/P10/P9/P8, etc.

2.Android 3.0 - 4.1: HTC ONE M7, HTC EVO 4G LTE, etc.

3.Android 2.3 or earlier: Samsung Galaxy S2, Google Nexus One, etc.

Part 1. Turn on USB debugging on Android 4.2 or newer

Step 1 Go to "Settings" > "About phone".

Step 2 Tap "Build number" for 7 times till "You are now a developer" pops up.

Step 3 Back to "Settings".

Step 4 Click "Developer options" > "USB debugging".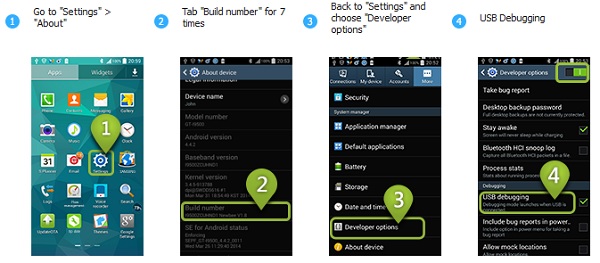 Part 2. USB debugging enabling on Android devices with the system 3.0 - 4.1

Go to "Settings" > "Developer options", and then choose "USB debugging".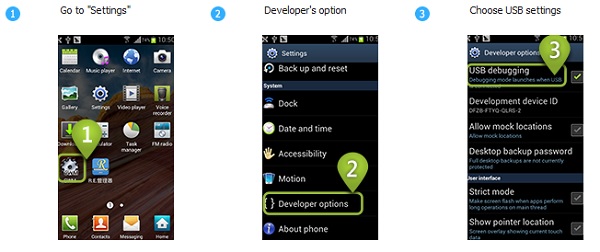 Part 3. Permit Android USB debugging on Android 2.3 or earlier

Enter "Settings", and tap "Applications" > "Development", and click "USB debugging".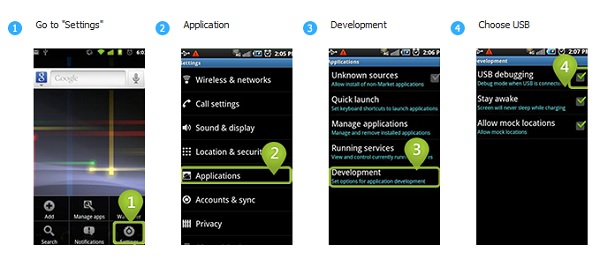 To transfer contacts, SMS, photos, videos and other files between Android and computer by third-party software,or recover deleted photos on Android by Android data recovery software,you may need to enable USB debugging on Android phones. After enabling your USB mode, you can easily do what you want with third-party software.