How To Fix Samsung Galaxy S4 Black Screen Problem?
"After rooting my Samsung Galaxy S4,the phone screen wont turn on but phone is on with black screen,is it any way to fix my Samsung phone return to normal status?Any Samsung Galaxy S4 black screen of death fix solutions?"

Samsung Galaxy Note 4 Screen Suddenly Black,How to Fix it?
"My phone runs very slowly with lots of files on it.Yesterdayt,my Samsung Galaxy Note 4 smart phone starts to behave weirdly and restarts on its own,finally, it wont turn on and stuck on black screen of death,I want to know how to fix this problem and recover data from Samsung with black screen?"

I believe many Samsung users face similar problem, especially the Samsung Galaxy S and Note Smartphones, like Samsung Galaxy S3, Galaxy S4,Galaxy S5,Galaxy S6 Edge, Galaxy S6 and Galaxy Note 5, Note 4 and Note 3,etc.As we all know,the Samsung devices runs Android OS,which is a open source mobile operating system provided by Google company.Sometimes,as the result of it's own system disorders, resulting in a variety of fault problems,like stuck in black screen of death, blank screen; phone wont turn on and stuck on Samsung logo screen; stuck at download mode, phone stuck on endless reboot loop, etc.If you encounter those problem, please do not worry!Today,we teach you an effective two ways to fix a Samsung Galaxy with black screen,we also provide you a Samsung black screen data recovery solution.

If your Samsung phone won't turn of, stuck on black screen of death or unresponsive,you can perform a hard reset on Samsung Galaxy to return it to the factory default state,but this way will erase your data and other important presonal imformation.


Here,we'll take samsung galaxy s5 black screen of death fix solution by perform a hard reset for example.

Way 1: Hard Reset Samsung Galaxy S5 with Black Screen

If you find that the touch screen is unresponsive,or you forgot your pattern lock, you can hard reset your Samsung Galaxy S5 to fix it,but this method will erase all your phone's data and settings.

Step 1.Turn Samsung Galaxy S5 Off
Before perform a hard reset on your Samsung phone,please trun it of,if your phone won't turn off,remove the battery and then reinsert it again.

Step 2.Press and Hold "Volume Up" + "Home" + Power Buttons
Simultaneously press and hold the Volume up button, Home button, and the Power button until the Samsung Logo appears on the phone screen.



Step 3.Scrool to Wipe Data/Factory Rest by Pressing the Volume Down button
At this time,you Samsung phone go into factory reset mode,please use "Volume down" to highlight the "wipe data/factory reset" option, and press the "Power" button to select it.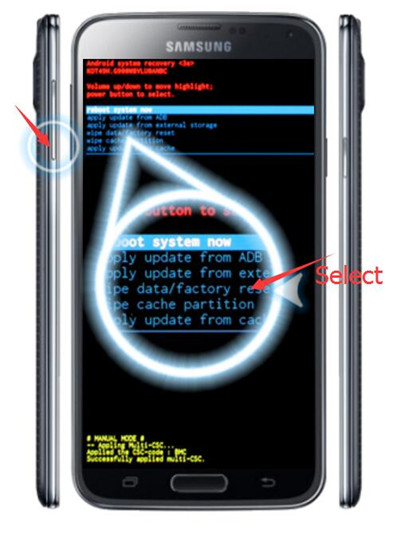 Step 4.Press the "Power" Button
Use Volume down again to highlight Yes — delete all user data, and press "Power" to select it.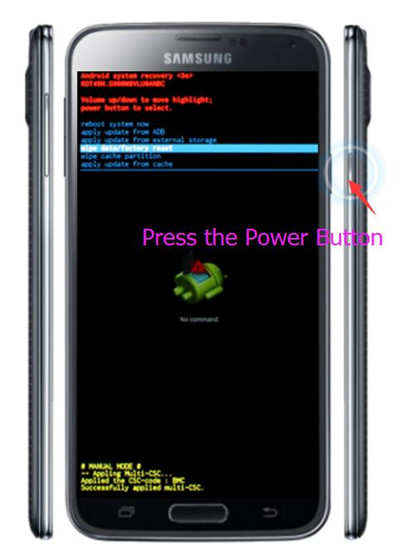 Step 5.Start to Reboot System and Wipe All Data
Now,the phone begin perform a hard reset and wipe all contents,please wait until you see the reboot system now option and use the Power button to select it.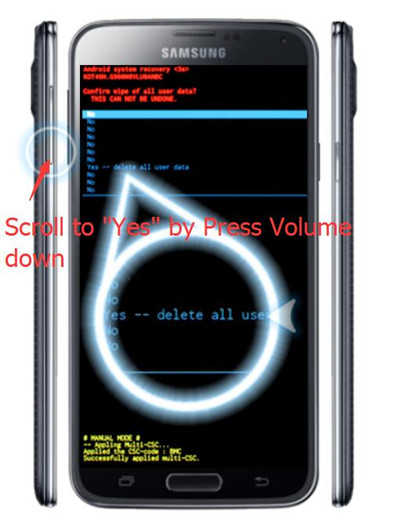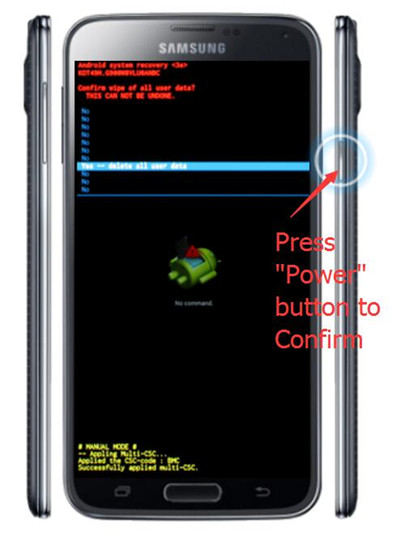 Step 6.The Phone will Reboot and Return to the Factory Default State
When your Samsung Galaxy S5 restarts,the phone will runs normal with Samsung logo start screnn,it's will enter the phone system successfully.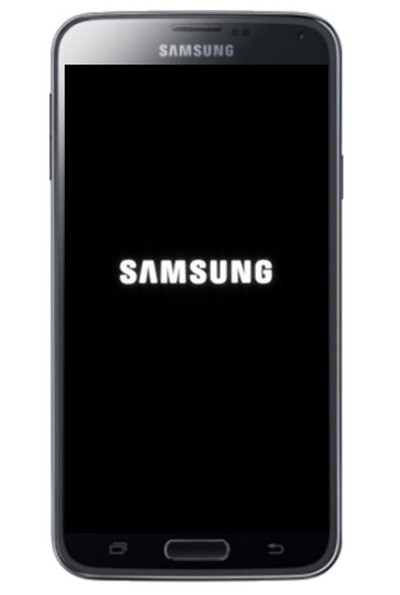 Note:After factory reset the black screen Samsung phone using hardware keys,the phone return to the factory default state with restarts and runs normal,but all the previous data be wiped,including Apps, photos, music, contacts, SMS, videos and other contents.
To fix your black screen Samsung Galaxy phone retrun to normal without data lossing,we recommend you follow the second way as below.

Way 2: Fix Samsung Galaxy with Black Screen of Death(No Data Loss)

The Android Tool kit's one of key feature Broken Andriod Data Recovery,which can help you download recovery package and fix Samsung Galaxy S5/S4/S3/Note 4/Note 3 with black screen of death easily,you need to connect the broken Samsung device to computer,then the program will according to your phone model and download the corresponding recovery package for your Samsung Galaxy,only few minutes fix your black screen Samsung phone to normal status without data loss.What's more,the Broken Andriod Data Recovery feature can help you recover lost data from broken Samsung with black screen, broken screen, locked screen,touch screen unresponsive, can't enter system.

Please free download the Android tool kit and try to recover files such as messages, contacts, pictures, music, WhatsApp messages, documents from broken Samsung phones and tablets.






Here are the steps for how to fix Samsung Galaxy Note 4 with black screen and extract files from it.

Easy Steps to Fix Samsung Phone Black Screen Of Death

Step 1. Run Android Data Fix Tool on PC or Mac
After downloading, launch the program on your PC or Mac computer. Then, choose "Broken Android Phone Data Extraction" of the home page of the program.

Step 2.Connect the Broken Samsung Phone to Computer
Please use a USB cable to connect your black screen Samsung Galaxy Note 4 to computer,in this step,you don't need to USB cable the devices.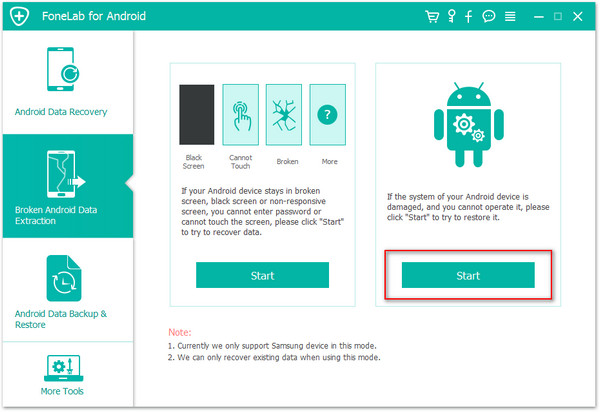 Step 3.Select "Black/Broken Screen" Phone Fault Type
Because your phone stuck on black screen of death,in this step,please choose the right option - "Black/Broken Screen".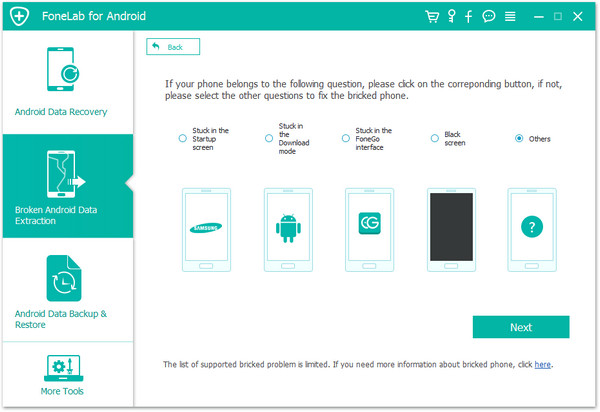 Tips:The program also can help you fix various types of failure on Samsung Galaxy,like turnning into black screen, stuck in the Samsung start screen, stuck in download mode and others.

Step 4.Choose the Phone Name and Model
In this step,please choose your phone's name and model.Currently this function only works for Samsung Galaxy Note 4/Note 3/S5/S4/S3 and some Galaxy Tab series. Then click on "Next".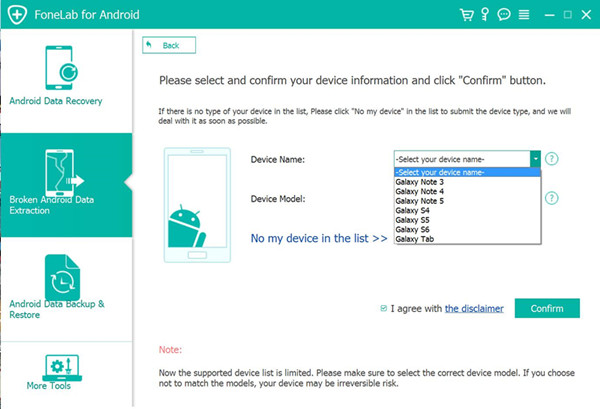 Note:Please make sure you have selected the correct Device Name and Device Model for your broken Samsung phone. The wrong information may lead to bricking your phone or any other errors. If the information is correct, key in Confirm and click on "Confirm" button to continue.

Step 5.Enter Samsung Into Download Mode
Now, just follow the instructions on the program to get your Samsung Galaxy Note 4 mobile phone into the Download Mode.
1)Power off the phone.
2)Press and hold Volume "-", "Home" and "Power" button on the phone.
3)Press "Volume +" button to enter download mode.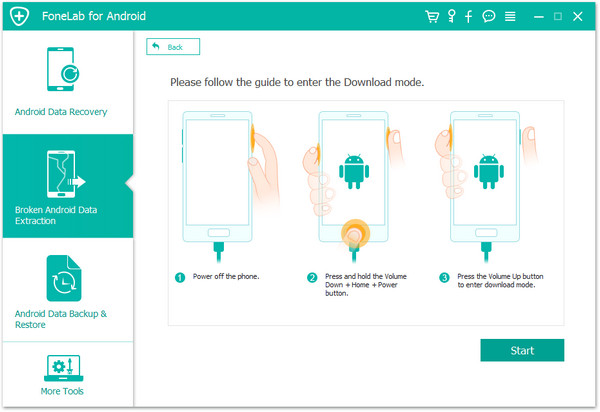 Step 6.Analyze the Samsung Phone and Download the Recovery Package
After entering your Samsung phone in Download mode, the program will start to analyze the broken phone and download the recovery package.

Step 7.Fix the Black Screen Samsung Phone to Normal
When finished downloading recovery package for your broken Samsung Galaxy Note 4,the program will analysis and scanning process,only few minutes it will install the downloaded recovery package on your phone automatically.Now your phone will reboot to the initial setup screen without data loss.If you want to recover data from the broken phone,please keep reading the below steps.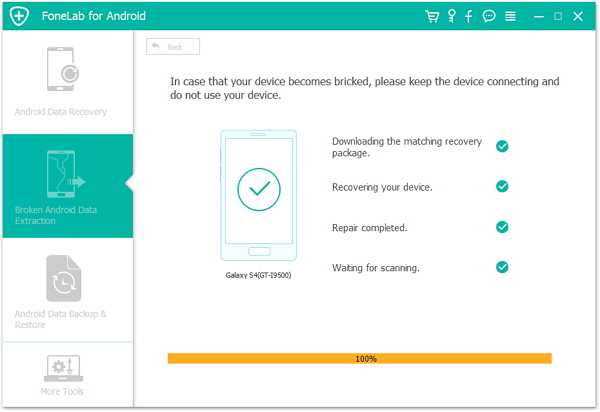 Recover Data from Samsung Galaxy with Black Screen

Since your Samsung Galaxy Note 4 is normal now, you can recover data from Samsung Galaxy phone directly.Choose the files you need and hit "Recover" to save all the precious data you need from the damaged phone.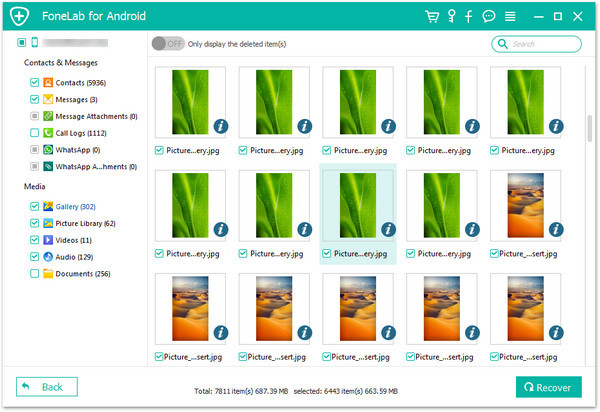 Free download the Android Tool kit and have a try!






Well done! All the recovered files are extract and saved in the computer. If you would like to restore them to the Android, connecting the phone to the computer and copy files into the device folder.

Although the Android Data Recovery can help you fix your Samsung Galaxy black screen of death and recover data from the broken Samsung phone,we recommend you should backup your Samsung data to comptuer,regularly.In order to prevent your phone damaged, loss, stolen or other unexpect thing happen.Here,we recommend you two useful third-party phone backup and manager tool - Samsung Galaxy Desktop Manager or Phone Transfer,both can help you backup contacts,SMS,photos,videos,call logs and more,then restore to any devices easily if you want.
Part 2: How to Deal with the Black Screen Phone

If the phone fall off the floor and the touch screen turned black, there may be damage caused by internal hardware inside the phone, it is recommended to bring purchase invoices, three bags of vouchers will be sent to the nearest service center, so that engineers to help deal with.

If you enter the software and cause the Samsung phone stuck in black screen, it is recommended:

1. Shut down the phone.
2. If the third-party software, will lead to the emergence of this software uninstallation.
3. If invalid, back up the data, restore the phone to factory settings. If you want to use the software, it is recommended to find out if there are other versions of the software, download and install other versions to try.

Related Articles:
---
How to Backup Samsung Data to Computer

How to Recover Deleted Photos from Samsung Galaxy

Recover Data from Samsung with Black Screen

How to Transfer Music to Samsung Galaxy