You have bought a brand-new Samsung Galaxy S7 and want to transfer data from old phone to new Galaxy S7? If you have changed a new brand of Android Galaxy S7, HTC One M9, Nexus 6, Huawei P9/P8 or other phones, the first thng you need to do is transfer contacts from the old phone to the new phones. Generally the contacts stored on your android phone or SIM card contain lots of private and crucial information, so it is really necessary to copy important contacts from old phone to new Android phone. Today,we show you an efficient way to copy contacts between two android phone.

If you want to Transfer Contacts between HTC and Samsung Galaxy S7/S6/S5/S4/S3/Note,or transfer contacts from old Samsung to new Samsung Galaxy phone,you can use this Android Contacts Transfer tool: Phone to Phone Transfer,which not only allows you copy phone numbers from old android phone to new android phone,but also supports transfer text messages, photos, videos, apps, music,ect between two Android smart phone directly.

This Android to Android Contacts Transfer: Android Phone Transfer tool is a very useful data transfer for mobile phone users,not matter you use iPhone, Android or Nokia phone,it allows you transfer all data from old Phone to new Android Phone, such as Contacts, Messages, Photos, Music, Videos, Apps, ect.Let's show you the use gide about how to transfer contacts from HTC one to Samsung Galaxy S7 for example,it takes a few minutes to copy Contacts from Android to Android.





Let's teach you how to transfer contacts from HTC to new Galaxy S7 for example,you also can move sms,photos,videos and other data between two Android phones directly.

Android to Android Transfer:Copy Contacts from HTC to Samsung Galaxy S7

Step 1 Run the Phone to Phone Transfer on your computer.

Download, install and launch the Phone to Phone Transfer on the computer. The primary window will pop up like the sample below. Tap the Start under the Phone to Phone Transfer part.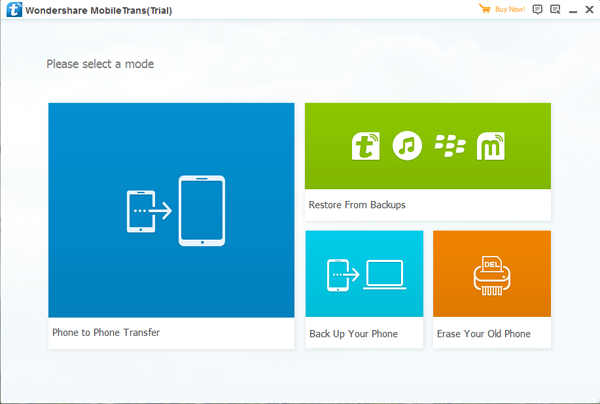 Step 2 Connect your HTC and Samsung Galaxy S7 to the same computer

You need to connect both Android phones to the same computer with USB cables after the program launches done. After Mobile Transfer automatically detect them, you will see the window as below. you will see the Android phone you want to export contacts will show up on the left side and the one to be imported will place on the right side.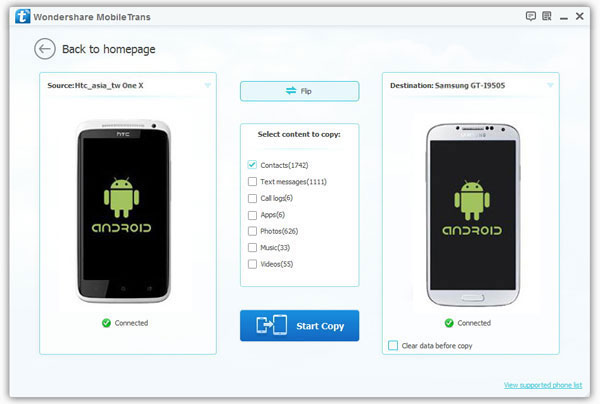 Note: You should ensure that the new equipment in the right, If not, click the "Flip" button to change their place.

Step 3. Begin to Move Contacts from HTC to Samsung Galaxy S7

After completing the above steps, then you can transfer your contacts from old android to new one, the software allows us to transfer all kinds of data between Android OS.IOS or Symbian. Choose contacts or other data like text messages, music, photos you want to transfer and click "Start Copy" button to start transferring. Please remember to keep your phones connected during contacts transferring.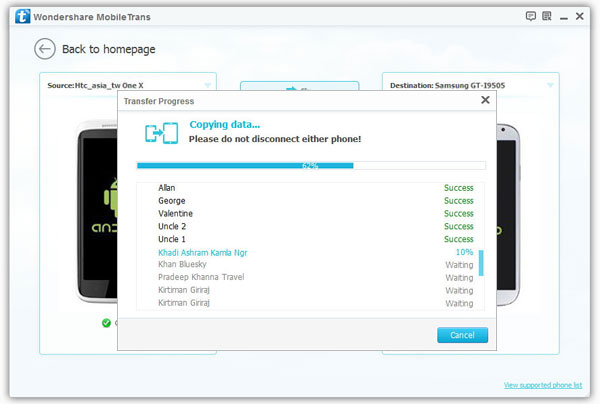 Download Phone to Phone Transfer tool to transfer contacts between HTC phone and Samsung Galaxy S7/S6/S5/S4/S3/S2(transfer contacts between two android phone):





Phone to Phone Transfer not only can help you transfer contacts between two Android phone,it also works well with iPhone, Symbian, BlackBerr and other brand of mobile phone, of course includes the Android Samsung Galaxy S5 and HTC phone. With the help of this outstanding phone data transfer, you can transfer all your contacts, as well as the contact information like name, phone number, company, email, address, etc. between Android HTC One/Wildfire/Desire HD/sensation and Samsung Galaxy smart phone with zero data loss.


Phone to Phone Transfer supports below Android devices:

Samsung: Galaxy S7, Galaxy S7 Edge, Galaxy S6, Galaxy S6 edge, Galaxy S6 edge Plus, Galaxy S5, Galaxy S5 Active, Galaxy S4, S4 Mini, S4 Active, S4 Zoom, Galaxy S3, S3 Mini, Galaxy S2, Galaxy Note 3, Note 2, Galaxy Note 4, Galaxy Note 6, Galaxy Note 5, Galaxy Nexus, Galaxy C5/C7, Galaxy S, Galaxy Tab, etc.

HTC: HTC One M9, HTC One M8, HTC Nexus 9, HTC One X, One S, One V, HTC Wildfire S, HTC Desire, HTC One, HTC Butterfly S, etc.

Motorola: Moto X 2, Moto X, Moto G2, Moto G, Moto E, Nexus 6, Droid RAZR M, Droid RAZR MAXX HD, ATRIX HD, ELECTRIFY M, Droid BIONIC, etc.

LG: Nexue 5X, Nexus 6P, Nexus 5, Motion 4G MS770, Optimus L9, Optimus G, Lucid VS840, Nitro P930, Viper LS840, Spectrum VS920, Intuition VS950, etc.

Sony: Xperia Z4/Z3/Z2/Z, Xperia M, Xperia SP, Xperia L, Xperia ZL, Xperia E, Xperia T, Xperia TX, Xperia SL, Xperia J, etc.

Huawei: Mate 8, Mate S, Nexus 6P, G8, P8/P9, Ascend Mate 2, Ascend P8, Ascend P7, Ascend Mate 7, Ascend G7, Ascend 7, Ascend G6, Ascend P2, Ascend Mate, MediaPad X2, Honor 6, Honor 6 Plus, Honor 4X, etc.

Other Phones: ZTE , Acer, ASUS, AT, Amazon, Archos, Dell, Google, HP, Kyocera, Lenovo, etc.

Tips: If you want to backup or restore android data on computer,you can use this Android Data ransfer tool directly.

Transfer Contacts between Android and Computer