With the widespread use of technology and the continuous development of the computer, today's world has entered the information age, so that people are becoming closer and closer. Therefore, people need to record each other's contact information and basic information, which can not only make their friends or clients, colleagues and other e-mail addresses, phone numbers and other information stored in contacts directly, but also can select the e-mail address directly to send new messages without entering the relevant information.

Android phones is seen as one of the most popular mobile phone system around the world, no matter Samsung Galaxy S6/S5/S4/S3, Samsung Galaxy Note 5/Note 4/Note 3, HTC M 9/M8, HTC One A9, HTC Desire Series, LG G4/G3, MOTOROLA, SONY, etc. So many mobile phone users are still using Android phones. However, as mentioned above contacts are so important that we can't lose them. Generally, I think Android mobile phone users regularly back up contacts is very important. Many people lose their important contacts, because of their mistakes, restoring factory settings, upgrading devices, rooted permissions, and other reason. Whatever the reason, I need to remind you that you must back up your Android contacts to computer regularly to prevent data lost/deleted.

In order to protect your Android phone contacts better, continue reading, we will show you two ways to backup your contacts directly and simply. Both methods have their own characteristics, you can choose your favorite method. All in all, I strongly recommend you here to use the second method to back up your contacts directly. The first method will back up your Android contacts by Mobilego for Android. And the second method will transfer contacts from Android to computer with the help of Mobile Transfer software. Now show you how two methods work:

How to Transfer Contacts Between Android and Computer?


Method 1 : Back up Android Contacts to PC with Android Data Manager
---
With the help of Android Data Manager tool, you may be able to copy complete information of contacts including names, numbers and call history. So you don't worry you will lose your important contacts when mistakenly. Click below icons to download the software.

Free Download and back up contacts from android phone: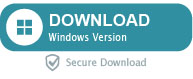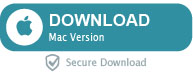 Step 1 Connect Android Device to Computer
To get started, please download and launch Mobilego for Android on your PC. Then, follow the onscreen instructions to connect your Android phone to PC via a USB cable or QR code.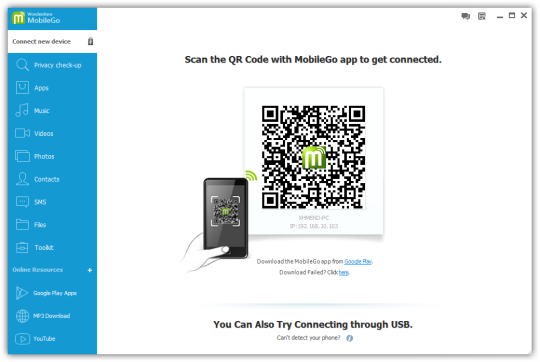 Step 2 Import/Export Contact List
Once click "Contacts" on the right panel you'll see a list of your call records. On the top of the screen, click the icon that says "Import/Export". Needless to say, it is a button to transfer your contacts, either backup or restore.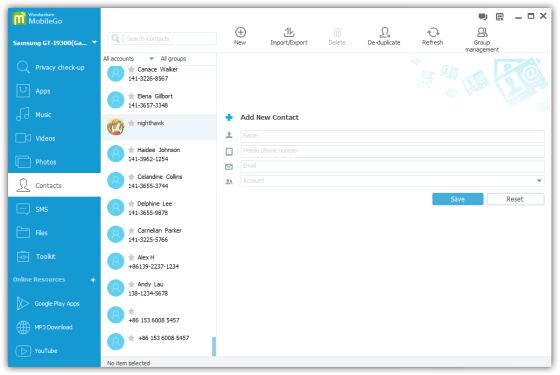 You'll may choose vCard files to save your contacts after deciding which information to import/export. Mobilego for Android provides you with multiple options to move your address book - Outlook Express, Outlook 2003-2013, Windows Live Mail and Windows Address book.

Method 2 : Transfer Android Contacts to PC with Phone Transfer
---
Phone to Phone Transfer is an amazing tool that aims to provide the easiest solution to help Android phone users switch their data from one mobile phone to another. What's more, it not only can transfer all files between different Android phone, including SM, photos, music, videos, call logs and other files, but also supports Samsung Galaxy S6/S5/S4/S3, Samsung Galaxy Note 5/Note 4/Note 3, HTC M 9/M8, HTC One A9, HTC Desire Series, LG G4/G3, MOTOROLA, SONY and so forth.

Free Download Mobile Transfer to complete contacts transfer:






Simple Steps to Transfer Android Contacts to PC

Step 1. Run the Program and Open USB Debugging
To begin with, you need to plug your Android phone to the computer which have installed the Mobile Transfer software. Then directly launch the program, and it will automatically detect your device and require you to open the USB driver just like the below interface: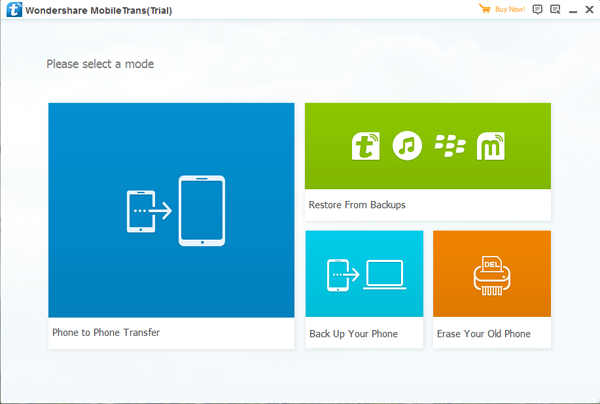 Step 2. Scan and Preview Contacts
After enabling the USB debugging, you'll see the primary window of this program on your computer. Click "Contacts" button on the top of the panel and then you'll see all contacts information are listed in the program. Before exporting, you can edit these contacts on the program directly if you need.




Step 3. Begin to Transfer Contacts from your Android phone
Select and mark the specific contacts which you want to backup, or click the box besides "Name" to select all list, and then click "Export" button to save them on your computer. All exported contacts will be saved in a CSV format file. So you can open and edit them on your PC directly.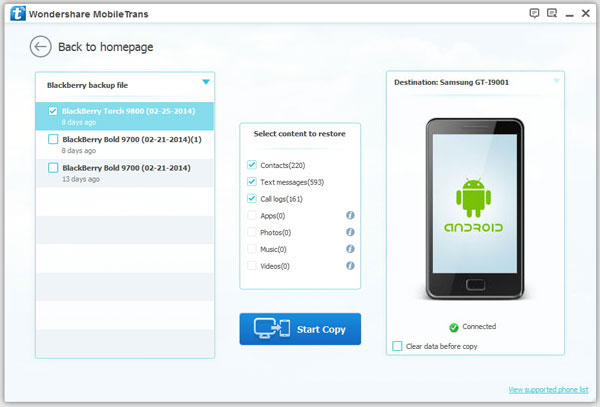 Free download the phone transfer and have a try:






Related Articles About Android Transfer:
---
How to transfer contacts between Samsung Galaxy and PC
More and more people become fans of the Samsung phone, such as, Samsung Galaxy Note5/4/3, LG, Samsung Galaxy S6/5/4/3, ect. How can they back up contacts to computer? If they delete or lose their contacts by mistake? Transferring and backing up Samsung phone contacts are easy thing with the help of our software.

Transfer SMS from Android HTC to Samsung Galaxy
"I want to copy my SMS from old Android phone to the new Samsung phone. Are there any method to transfer Android SMS to Samsung Galaxy, please tell me."