Android phone is currently the largest mobile phone users to use, and the more people use, there will be more tricky phenomenon. Here are a few situations, we need to restore the factory settings to solve the problem. Firstly, when too much Android APP installed applications, or experiencing insufficient Android phone memory, resulting in very slow running, you can restore the factory settings, restoring the phone's performance; and secondly, when you forget Android phone unlock password, so you can not enter system, it can also restore the factory settings, clear the lock screen password; thirdly, when you need to sell your Android phone, and you do not want to disclose your privacy, you will usually formatted SD card, and then restore the phone to factory settings. When you encounter the above situations, maybe you will use the method to reset your Android phone to factory setting.

Note: Before factory resetting your Android phone,we strongly suggest you to backup your Android data to computer.

After restoring factory settings, the phone all the settings will be restored to factory condition, it will restore your Andriod device as the new one your bought before, including the installation of the software on the phone, stored contacts, received information and G-mail, bound G-mail account, etc. All these files on your Android phone will be completely cleared. Re-boot will be like for the first time as you need to initialize the boot settings, bindings G-mail account. You should note that before you restore Android phone to factory settings, it is recommended to back up a good number of the necessary information by free data transfer program---Mobile Transfer, such as photos, important information contacts, text messages and so on.

Now, we will show you ways to factory reset your Android phone with few simple steps. Pay attention, before restore factory settings, you need to transfer photos, text messages, contacts and other important data to a PC or other phones.

The Ways to Factory Reset your Android Phone

Solution 1: By Phone Side Recovery
---
The general path is: Open the Android phone menu - Settings - Security Privacy - restore factory settings.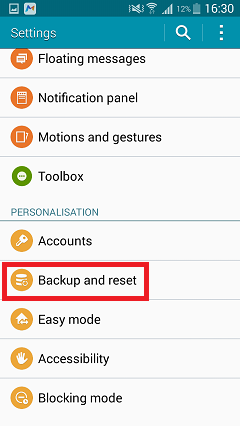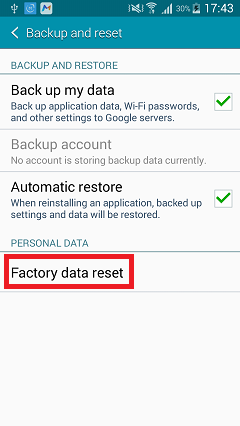 Factory data reset




Solution 2: Factory Reset Android in Recovery Mode
---
But sometimes there will be such a situation, you forget the phone lock screen password, so you can not enter inside the Android phone menu, it can not restore the factory settings in the system. Then press some certain buttons combined, like "Power" + "Volume –", or "Home" + "Back", to enter Recovery Mode. Select "Wipe date/factory reset" in the option menu thus your Android is in the factory reset process. Once you can't access the phone, factory reset your device in Recovery Mode is the ideal way for you now.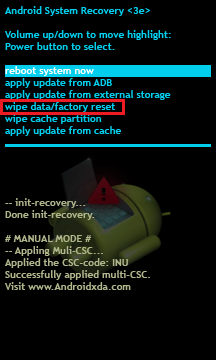 First you should shut Android phone, then boot, just start the phone while pressing the Home key and End keys to enter Recovery Mode, then select "Wipe date in Recovery Mode" to start the restore factory settings.

Related Article:
---
How to Recover Data from Samsung After Factory Reset

How to Backup and Restore Data on Samsung Galaxy