Many users play Facebook app, Instagram, Twitter, Pokemon Go, WhatsApp and Tasker on their Samsung Galaxy S7/S6/S5, Note 7, HTC M9/M8, LG G4/G5, Sony Xperia Z3, Huawei P9/P8, etc.When you have bought a new Android devices,you may want to find a way to transfer loads of apk packages one by one from one device to another manually.Is it possible to move Apps between Android devices?Please keep reading as below,you can transfer Apps and Apps data from old Android to new one directly.

When you buy a new Android phone,first of all,you want to transfer App from old Android phone to new Android,or transfer App from Android phone to new Android tablet.Sometimes you may want to transfer App from your friend's phone to your Android phone,and install the App on your phone quickly. However, you no need to sign up for a drop box account for the app download,you can transfer apps from Android phone to another Android phone,or copy apps from Android phone to Android tablets quickly.


Moving Apps from old Android Device to new Android Phone

To transfer app between two Android devices,you can use Phone to Phone Transfer tool, which can copy the app program between two Android phones. What's more,if you want to transfer other file from android to android,this phone transfer supports transfer contacts, SMS, call logs, music, pictures and videos between two Android phones with one click.,it works well with Android, iPhone and Symbian (Nokia).

Free download the Phone to Phone Transfer and start move apps between two Android devices.




How to Transfer Data from One Android Device to Another
Step 1: Run the Android phone transfer on your computer
After you have download and install the right version of Phone Transfer on your computer, luanch it and connect your Android devices to the computer via USB cables.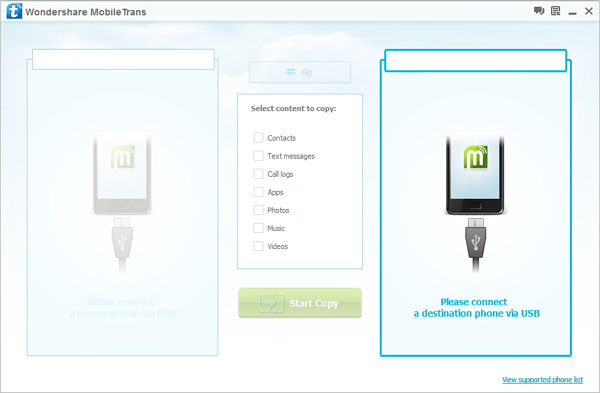 Step 2: Connect your Android phones to Phone Transfer
You have to connect both your Android devices to the program at the same time. Once both them are connected, you will be able to see they are detected as two places of "Source" and "Destination".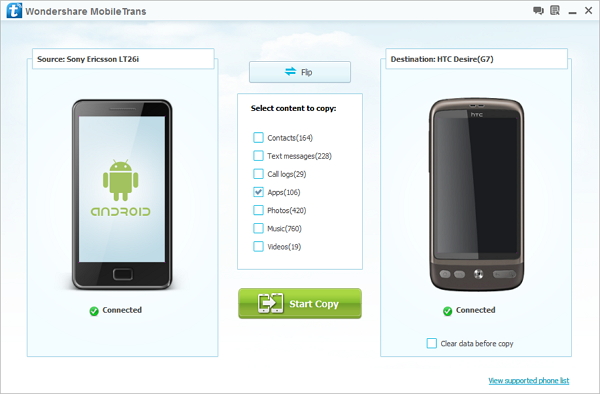 Note: If you want to change the place of Source phone and destination phone, you can click "Flip" in the middle of the two phones.

Step 3: Transfer apps from Android to Android
As you can see, apart from apps, this phone transfer software can also transfer contacts, text messages, call logs, music, videos and photos from an Android to another.
Of course, since you just want to copy apps, you just need to mark the item of "Apps". Then tap on the "Start Copy" button to sync apps from Android and save them to another one. When the transfer progress is over, click "OK".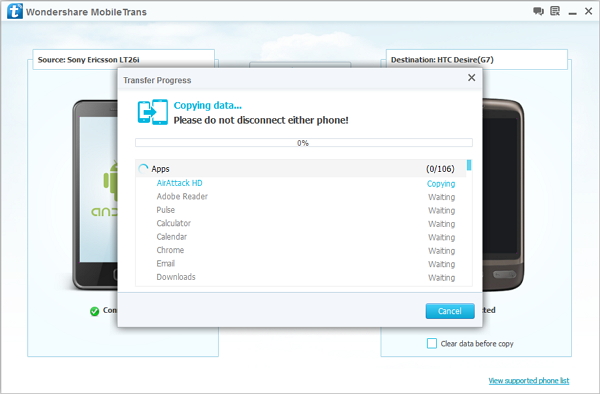 Note: Please keep both your devices connected to the Phone Transfer all the way during the transfer progress.