Android Data Manager--backup or restore all Android mobile data with a Click,including contacts, SMS,apps,video,msuic,photo,catalogs, Appp, Aapp data, etc.You can restore all or selected backed-up files to your Android phone with a click,and quick install/uninstall, move and export apps easily for Android mobile,such as HTC, Samsung, Motorola, LG, etc.


Backup Data and Restore to Android Phone

First of all,you need download the Android data Manager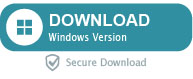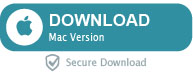 First, please connect your devices via USB cables or WiFi following the instructions on the primary window.

The options to backup and to restore are both located on your device's home screen, find them under "Tools you may like". On the main interface, your device model and brand will be displayed (in the case below, HTC Desire). Click the option you wish to use.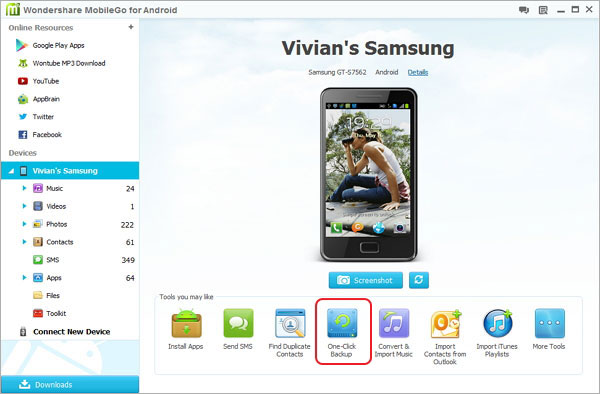 How to Backup Data from Android to Computer

1. Click the blue One-Click Backup button. A file browser window will appear. By default, all folders on your device will be automatically selected. If this is ok, and the default destination folder is acceptable, simply click "Back Up" to complete the process. You're done.

2. Delect Files: If you want to exclude any folders from being backed up, simply click the corresponding box beside the folder name to uncheck it.

3. Select Backup Destination Folder: The destination folder is where all your backed up data will go. Before you click the "Back Up" button, make sure the destination folder is the one you want. You'll see in the location field below the folder list that the default destination folder is in My Documents. To change this, just click Browse to set a new place to save your files.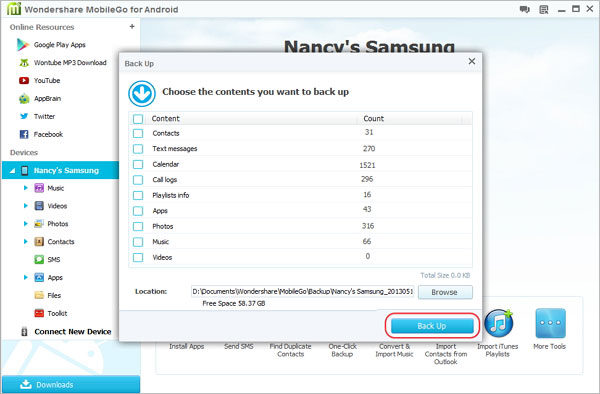 Note: During the Back Up process, please don't disconnect your device.


How to Restore Data to Android Phone from Backed Up Contents

1. In the left column, click "Toolkit" and then click the blue "Restore" button. A file browser window will appear. By default, all folders on your device will be automatically selected. If this is ok, and you don't want to add any other files to your phone at this time, simply click "Restore" to complete the process.

2. Add Files to Restore: Along with your saved phone settings and data, maybe you'd like to add some new media, apps, etc. you've since accumulated. To add files, simply click the blue Add Fold button in the bottom left corner of the file browser window, below the folder list. This will bring up your Windows file browser, with which you can select however many files you wish to add.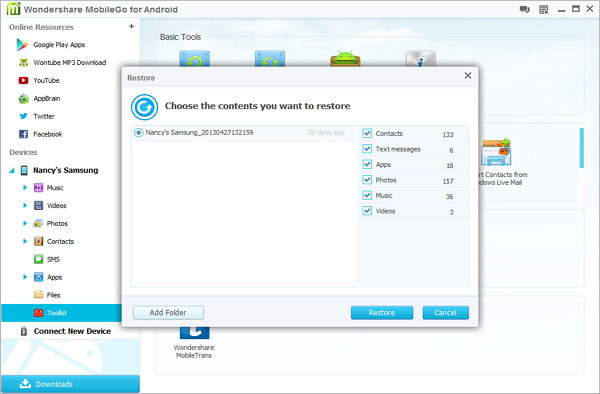 3. "Backup before Restore" Option: After you click "Restore" a dialogue box will appear, prompting you with three options: Backup, Don't Back Up or Cancel. Unless you've already backed up your phone immediately before, we suggest that you should backup at this point, as system restoration is a common cause of partial data loss.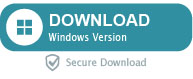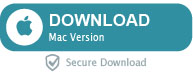 Note: During the Restore process, please don't disconnect your device. Otherwise, the Restore will fail.

Android Data Manager for Mac is an all-in-one Android Data Manager on Mac for you to manage your Android phone's data more conveniently and effectively.Easily transfer Contacts from Symbian phones to Android phones,Convert movies or music with the formats that Android phone can play.Import your Contacts from Outlook, Outlook Express, or vCard.Backup and restore your Contacts, SMS, Applications with 1 click.

In additional,you also can use Android Data Recovery to backup and restore Android data on computer by the new features "Android Data Backup & Restore",the Android Recovery not only can help you recover lost data from Android,broken Android devices directly,but also allows you back up contacts, SMS, pictures, calendar, Call logs, Apps, Apps data, music and videos from your Android devices to computer and even selectively restore backed up data to your Android.
Please learn: How to Backup and Restore Android on Computer