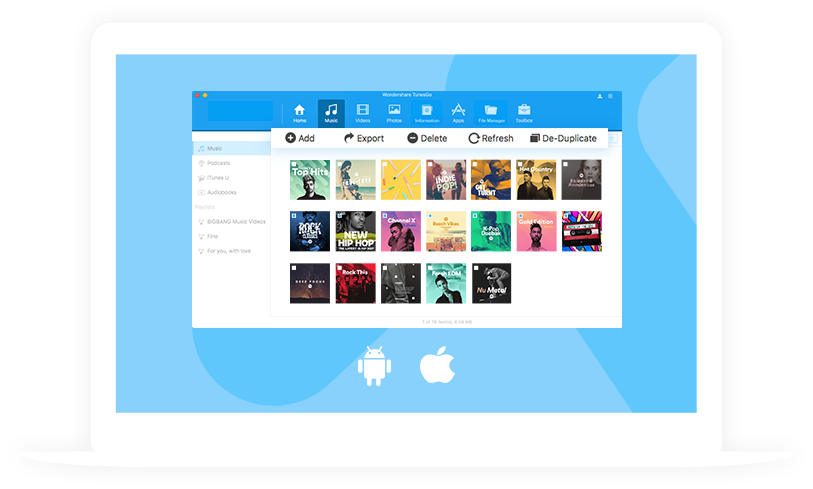 TunesGo is a Must-Have All-In-One iPhone/iPad/iPod and Android Manager

1.Do what iTunes can't! Effortlessly manage your iDevice with TunesGo for iOS & Android.

2.Transfer songs, videos, playlists, iTunes U, Podcasts to & from iTunes to Android/iOS Devices

3.Copy photos & albums to/from Your PC & iDevice

4.Manage iPhone contacts: Import, export, remove duplicates & sync with Outlook

5.Load your iDevice with music and video incompatible with iTunes

6.100% compatible with iPhone 7/6S/6/SE on iOS 10, Samsung Galaxy S7/S6/S5/Note 7 & more!
Tech Specifications of iPhone/iPad/iPod & Android Manager
---
iOS: iPhone 7, iPhone 7 Plus, iPhone SE, iPhone 6S, iPhone 6S Plus, iPhone 6, iPhone 6 Plus, iPhone 5S, iPhone 5C, iPhone 5, iPhone 4S, iPhone 4, iPhone 3GS,iPhone 3G, iPod touch, iPad, iPad mini, iPad Air, iPad Pro.

Samsung: Galaxy S7, Galaxy S7 Edge, Galaxy S6, Galaxy S6 edge, Galaxy S6 edge Plus, Galaxy S5, Galaxy S5 Active, Galaxy S4, S4 Mini, S4 Active, S4 Zoom, Galaxy S3, S3 Mini, Galaxy S2, Galaxy Note 3, Note 2, Galaxy Note 4, Galaxy Note 7, Galaxy Note 5, Galaxy Nexus, Galaxy A9/A8/A7/A6/A5/A3, Galaxy S, Galaxy Tab, etc.

Motorola: Moto X 2, Moto X, Moto G2, Moto G, Moto E, Nexus 6, Droid RAZR M, Droid RAZR MAXX HD, ATRIX HD, ELECTRIFY M, Droid BIONIC, etc.

Sony: Xperia Z4/Z3/Z2/Z, Xperia M, Xperia SP, Xperia L, Xperia ZL, Xperia E, Xperia T, Xperia TX, Xperia SL, Xperia J, etc.

LG: Nexue 5X, Nexus 6P, Nexus 5, Motion 4G MS770, Optimus L9, Optimus G, Lucid VS840, Nitro P930, Viper LS840, Spectrum VS920, Intuition VS950, etc.

HTC: HTC One M9, HTC One M8, HTC Nexus 9, HTC One X, One S, One V, HTC Wildfire S, HTC Desire, HTC One, HTC Butterfly S, etc.

Huawei: Mate 8, Mate S, Nexus 6P, G8, P8, Ascend Mate 2, Ascend P8, Ascend P7, Ascend Mate 7, Ascend G7, Ascend 7, Ascend G6, Ascend P2, Ascend Mate,MediaPad X2, Honor 6, Honor 6 Plus, Honor 4X, etc.

Other Phones: ZTE , Acer, ASUS, AT, Amazon, Archos, Dell, Google, HP, Kyocera, Lenovo, etc.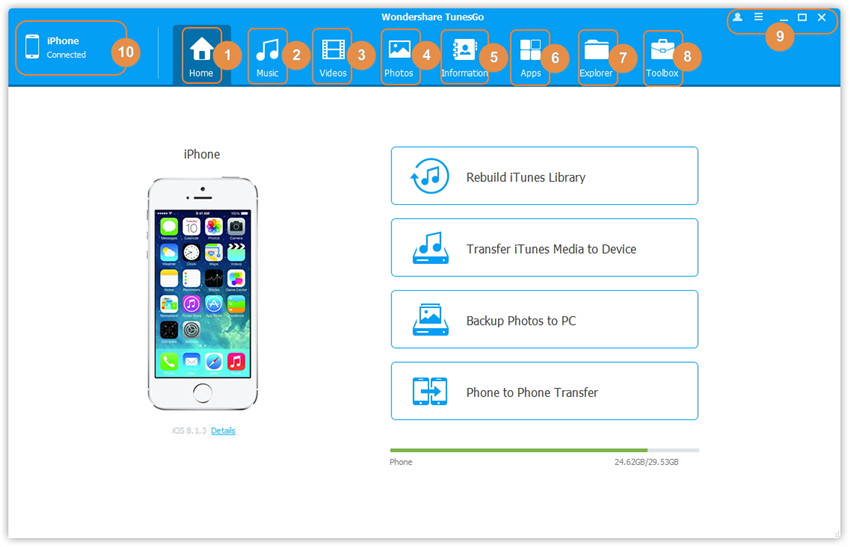 ---
1.Transfer Music, Playlist, Photos, Videos, Podcasts, iTunes U, TV Shows, Audiobooks and more between iPhone/iPad/iPod touch/Android and iTunes/Computer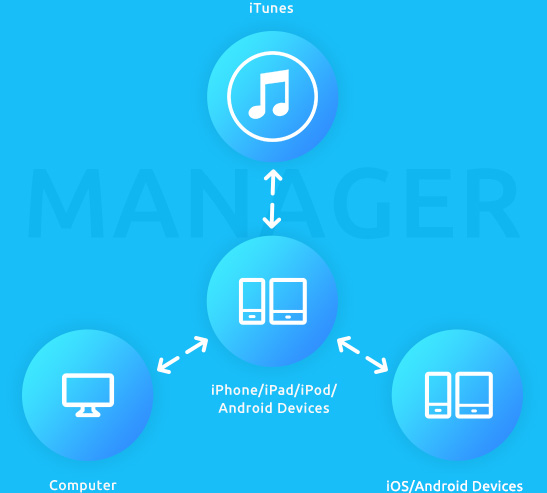 To import music, playlist, TV shows, videos, Podcast, iTunes U,Audiobooks, from iTunes to iPhone, iPad, iPod or Android devices, you can simply click "Transfer iTunes Media to Device" in the left column, then either click music, video and more. After that, click Add to select "Add File" or "Add Folder". This will bring up your Windows file browser, from which you can select files to import from your PC.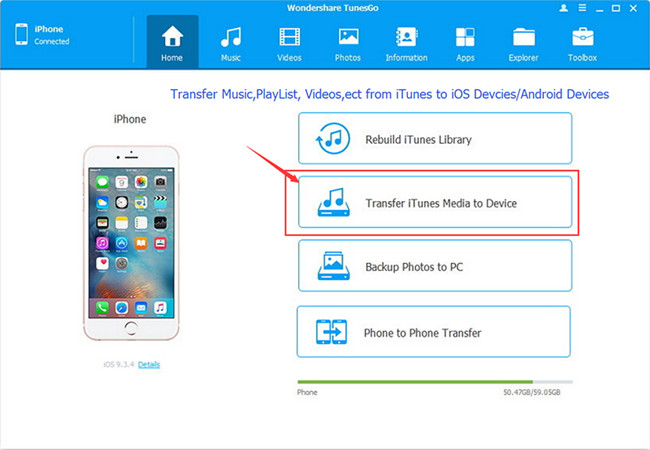 1 Click to Transfer media contents to your iDevice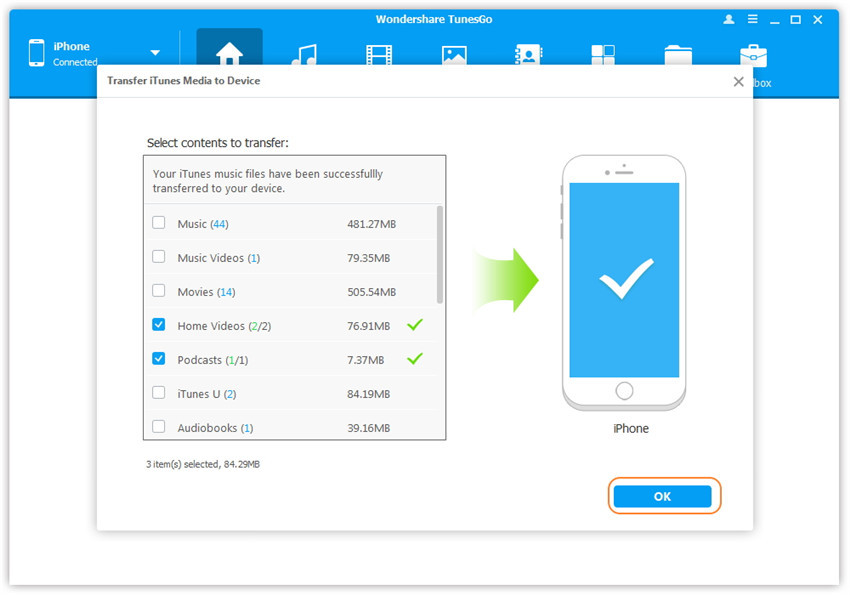 2.Convert and Transfer Music,Videos to iOS/Android Supported Formatat

When you select video or music file to import, the program will prompt you whether or not you want to quickly convert the file to an iOS-optimized format. In most cases, this is recommended. You can also extract MP3 from video files when adding videos to your music playlist.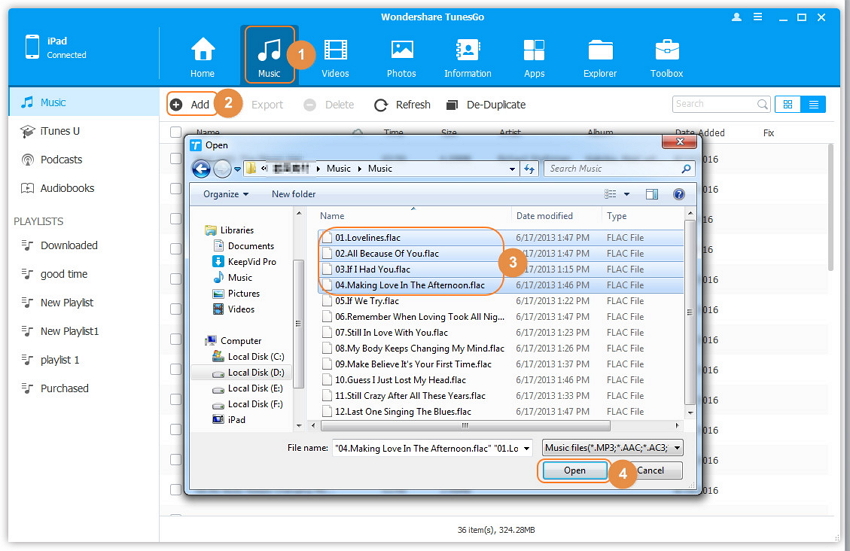 Convert and transfer videos, music from computer to iOS devices and Android phones or tablets.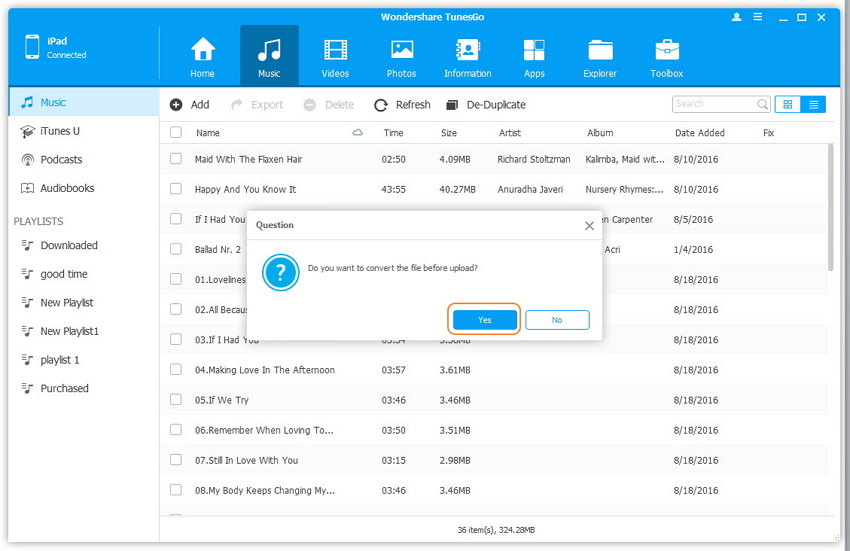 Tips:The media files will be converted from Flac format to MP3 format automatically and synced from your computer to your iPad.

3.Convert live photos, static photos, and videos (all editable before conversion) into GIFs

Take live photos with your iPhone 7,6S,6,SE,Galaxy S7/S6/Note 7,and want to convert the live photos to GIF,then save on your computer?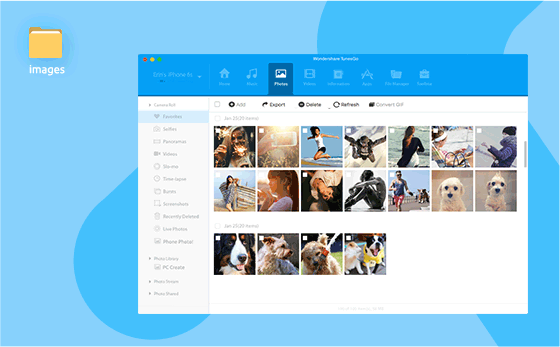 Go to Toolbox > GIF Maker to enter the Photos to GIF window by default.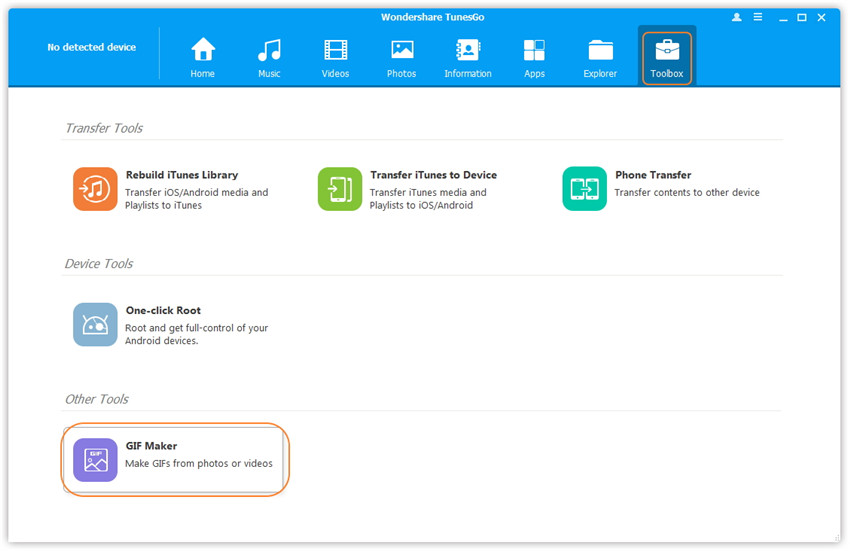 Then,add multiple photos you want to convert to GIF from your computer,or import live photos from your iPhone 7/6s/6/SE,S7/S6/Note 7 to computer,and saved them as GIFs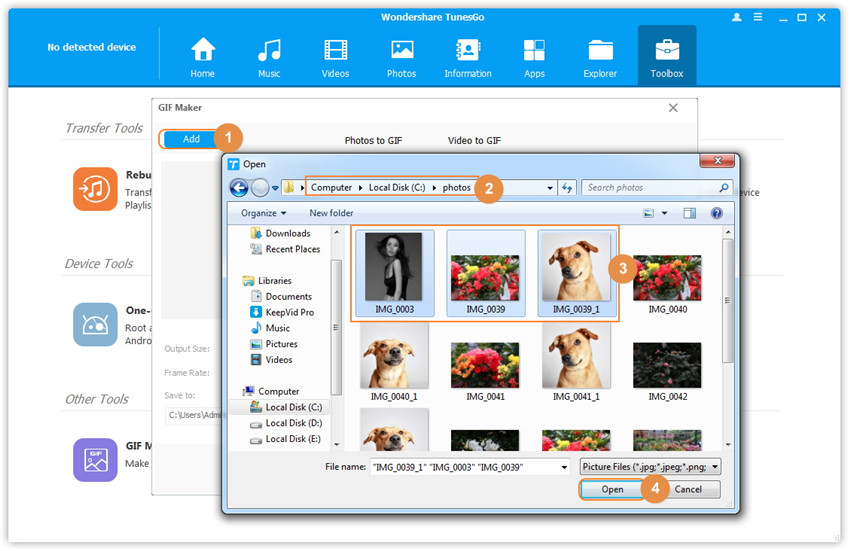 4.Backup Contacts & SMS from iOS/Android devices to computer and Manage Them on Computer
Fully Manage Your iPhone,Android Samsung,HTC,LG,ect Contacts & SMS on Computer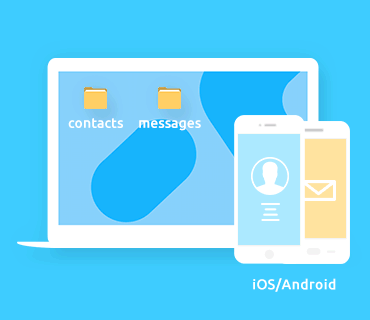 Click "Contacts" in the left column and on the contacts page, then click the "Import/Export" button and choose a corresponding action from the drop-down list. Here you can import/export contacts from vCard files, Outlook Express, Windows Address Book, Windows Mail and Outlook 2003/2007/2010. If you connect more than one iDevice to MobileGo for iOS, you are able to directly export contacts to your other iDevice.

Backup Contacts from iPhone/iPad/iPod touch to Computer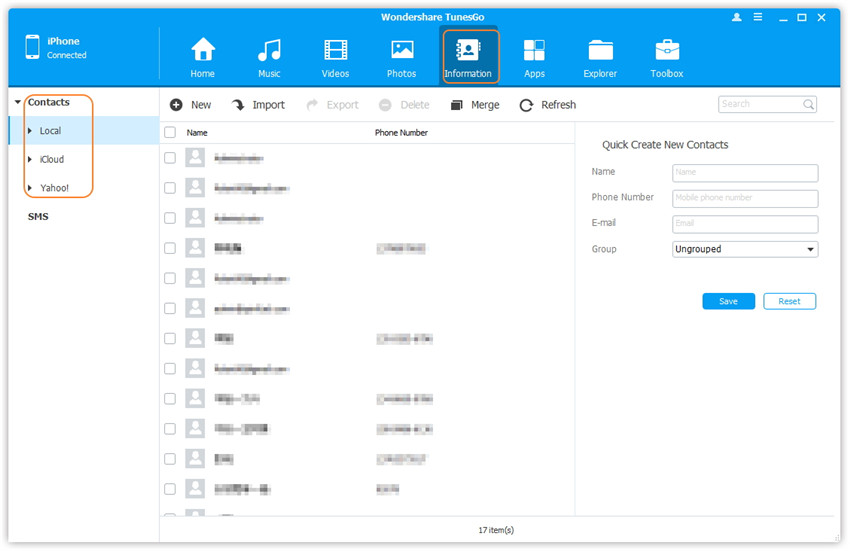 Transfer Contacts from Computer to iPhone/iPad/iPod touch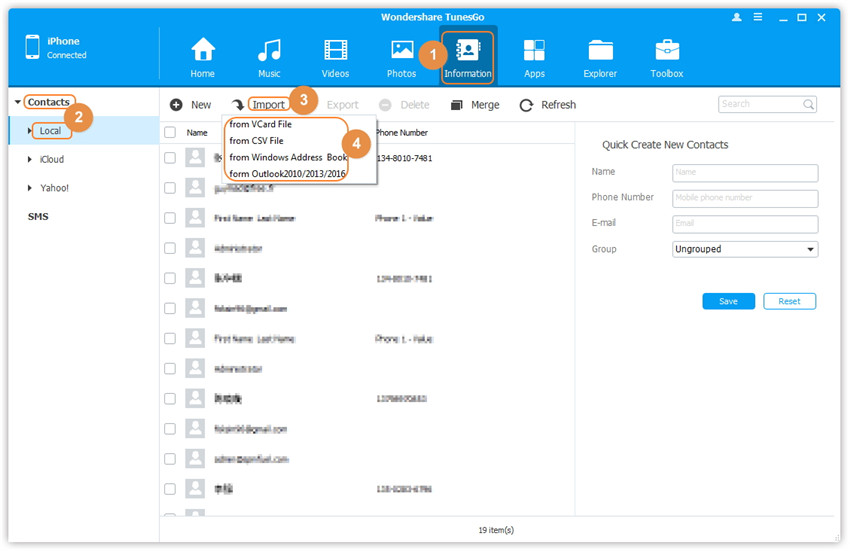 5.Transfer Contacts between iPhone and Android Phones

If you have purchased a new iPhone 7, iPhone 7 plus, Samsung Galaxy S7/S7 Edge,S6,S6 Edge,Galaxy Note 7 other other new Android phone,you may want to transfer contacts from old phone to new phone:iPhone to iPhone,iPhone to Android,Android to Android or other new phones.The TunesGo also can help you sync contacts between two phones.

Go to Imformation >> Contacts,and select and transfer contacts between devices.Then, check the contacts which you want to transfer from A to B or C, then click Export > to Device > B or C.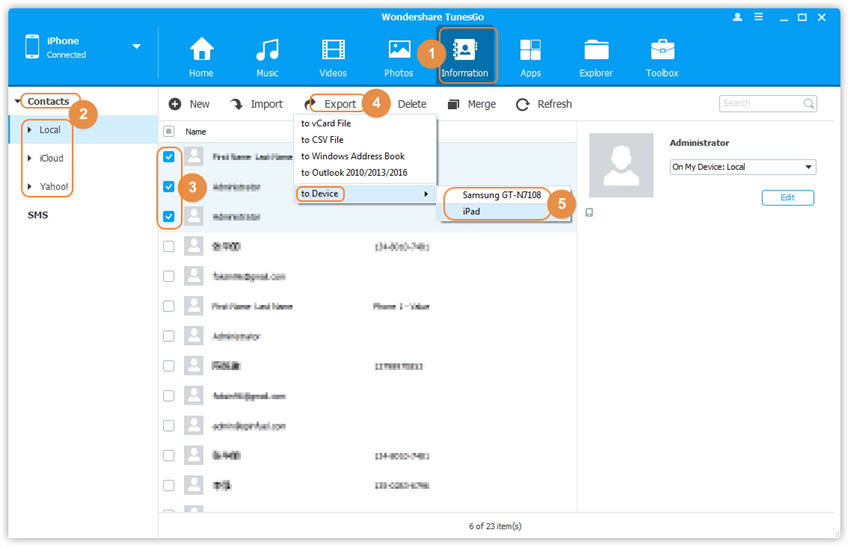 Note: Here you can right-click on the selected contacts and then tapExport > to Device > B or C as well.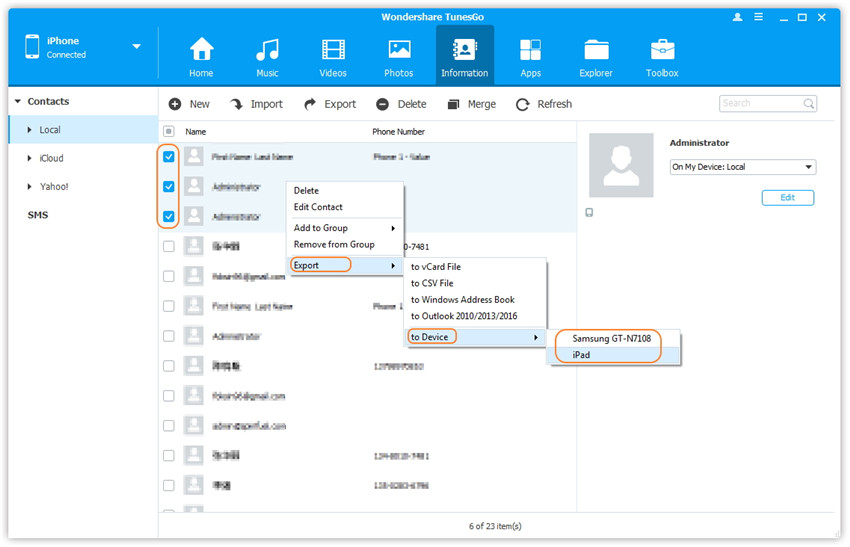 6. Transfer and browse all the files and folders on your iOS and Android devices
Manage your the files and folders of your iPhone/iPad/iPod, Android devices as a native disk on your computer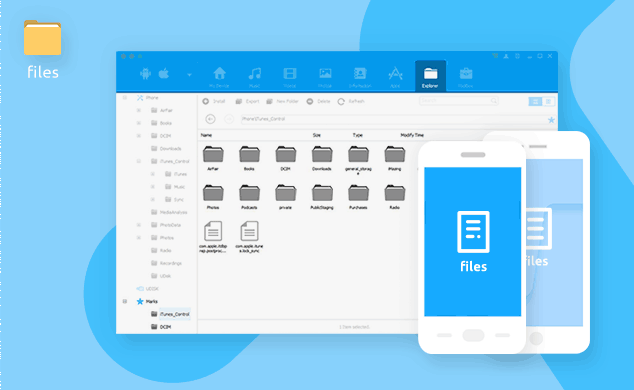 Manage Folders and Files on iPhone/iPad/iPod touch(Included Android)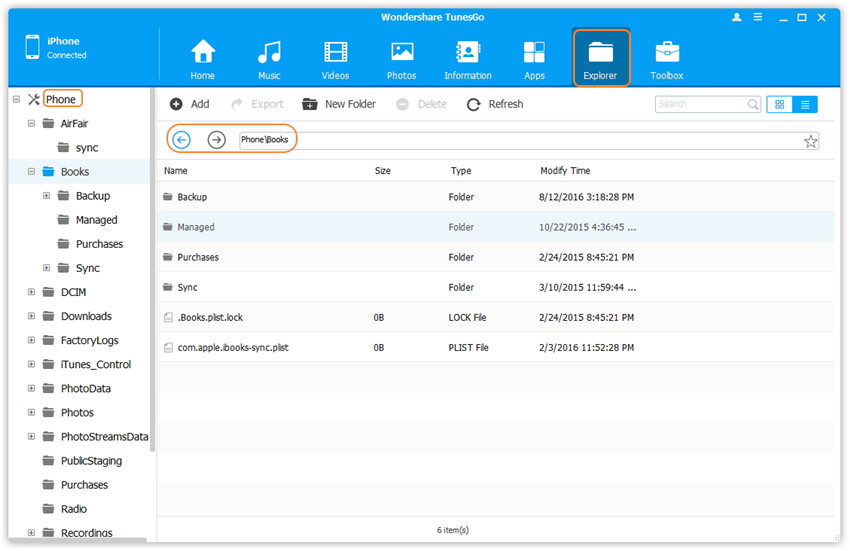 Export Folders or Files from iPhone/iPad/iPod to Your Computer(Included Android)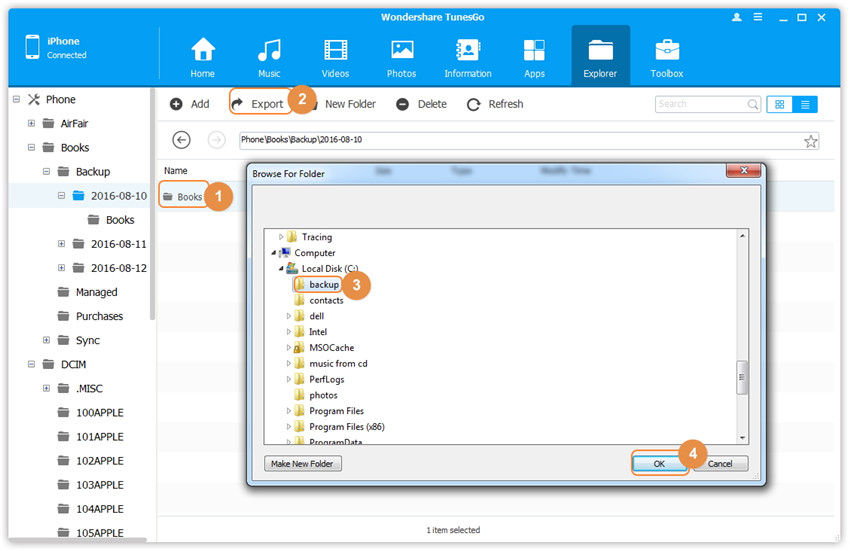 7.Manage Your Phone Apps and Games on Computer

Install/uninstall Apps,Backup/Export Apps on computer in batch with one-click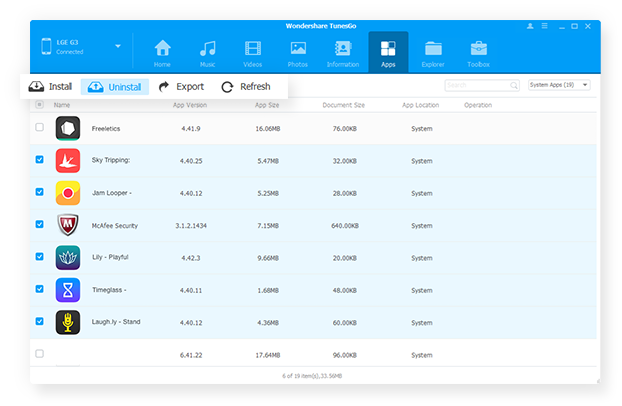 Install Apps from Computer to iOS Devices in Batch;Uninstall Apps on iOS Devices with One Click;and Export Apps from iOS Devices to Computer for Backup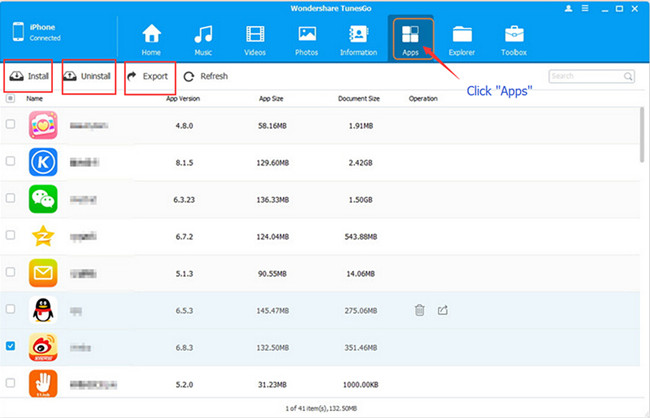 Back Up Apps from iOS device,Android Devices to computer

-Backup all .ipa apps from iPhone,iPad,iPod device to computer as a batch (iOS 9 or below).
-Transfer apps from Android phones or tablets to computer and save them as APK files.

System Requirements: Windows 10/9/8/7/XP/Vist


Supported OS
iOS: iOS 5 and up (iOS 9.3,iOS 10 included)
Android: Android 2.1 and up (Android 6.0 included)
iPod: iPod OS 1.0 and up (iPod OS 2.0 included)

For Android /Symbian phone/iOS iPhone manager: Phone to Phone Transfer