Enter Samsung Galaxy S5 Recovery Mode
"Some Samsung smart phone users want to brush their Samsung phone, Samsung brush mode seems to start from the recovery mode. However, I had encountered a problem was when I went into recovery mode my Samsung Galaxy S5 was always flashing back today. I just thought it was a dead battery, because my HTC can not enter the brush mode without electricity, and then I found the Galaxy S5's battery is full. Finally I guess various of reasons then I discovered that I should be using the wrong method. I finally succeeded after many tests!"---Jame says happily

The function of Recovery Mode : Under official recovery (3E) mode, we can restore the Samsung Galsxy S5 to factory settings, formatting the S5's internal storage, upgrade Brush Pack official ZIP format (usually only recognizes update.zip file); In addition to our third party Recovery, there are all the functions of the official recovery, but also has a formatted data, system and other partitions, brush into the third-party ZIP format upgrade package, patches, baseband, kernel, etc., also have backup, restore function of the whole system.

Recovery mode in the Galaxy S5 with a very easy to use backup and restore function, it can complete backup your files as ghost on the computer, and you can restore them at anytime. Brush madman or the students are worried about system problems, can learn this tutorial, learn a complete backup your files from Samsung Galaxy S5.

What exactly is Android data Recovery?
Android Data Recovery is a bootable partition, which lets you apply official system updates from SD Card, factory reset your phone or wipe its cache partition.It allows you recover deleted contacts, SMS, photos, videos, whatsapp messages, call logs and other documents from Samsung and other Android devices.
Read this use guide about how to recover deleted files from Samsung Galaxy S5

Guides to Enter Samsung Galaxy S5 Recovery Mode
---
The premise of using this method :

--- the machine has been unlocked

---has the brush into the cwm recovery, V5.5.0.2 and above are OK

---internal storage, and leave some capacity, probably 1G, the required of the capacity depends on the number you have installed the data

--- there is sufficient power

And you had to read in order to successfully learn how to enter your Samsung into Recovery Mode.

1.The first thing to do is to power off your Android smartphone.
2.In order to shut down your Galaxy S5 you can either press the power button and select "power off" or you can press and hold the power key for more than 10 seconds.





3.Wait a few seconds and then complete the steps from below.
4.Press power, volume up and home buttons at the same time, simultaneously.
5.Keep pressing these keys until recovery mode is being displayed on your Galaxy S5.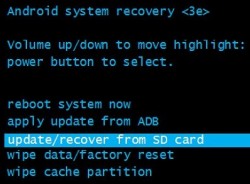 6.In recovery mode, use volume up and down buttons in order to scroll up and down; also use power button in order to select your option.

Then you can start to back up and restore your files

Backup operations:

1.into cwm recovery mode, you can see the list, select backup and restore;

2.then select backup, automatic backup operations soon, then do not do other operations. The screen will display a progress bar

Note: At this point the best mobile phone quietly in the backup, after the progress bar can be done, it is best not to carry out other operations, such as buttons, touch screens.

3.good backups, you can see the following tips:

Learn more in this use guide about how to backup android data to computer

Recovery operations:

1.again at cwm recovery screen, select backup and restore;

2.this time select restore, and then see all the backups are stored in a date here, select one you want to restore the backup, and select YES -
restore automatically restored.

Notes:1.the machine all backup are stored in / sdcard / clockworkmod / backup folder to save a date, if you do not need these backups, you can delete yourself.

3.including the backup system, program, program data, core, etc., but does not include a baseband, BL, and other data stored inside, please pay attention to themselves.

Finally, you can then reboot into Android by selecting "reboot system now".

Details methods teach you how to recover sms,contacts,photos,ect from Android