Restore lost Contacts from Galaxy S5

"Not formatted or reinstall the system, I just replaced a calling card, and then changed back to the original phone card, but there were more than 700 contacts which were saved to the Samsung Galaxy S5 were found all gone. However, in the settings, I found it was selected the "Show all contacts. Now there are only 30 contacts on my S5. If it is memory problems, there should be none of contacts on the Sansung phone, instead of having 30. Did not restore the factory settings, there are hundreds of messages, records and photos on Samsung Galaxy S5. How it was? Does anyone can help me?"

In this information age, the increasing variety of interpersonal relationships makes it difficult to figure out everyone without saving their information, so that contacts can be easily brought us the relevant information they need. Under recording their basic information, there are both lighten the burden of the brain, and not bound in a variety of conditions, so convenient to carry manage contact information, to facilitate contact with family and friends, making more closely among people. If you use mobile phone to save contacts, you can not only save paper, but also have the advantage of long-term preservation, and you can save a friend's smart phone information.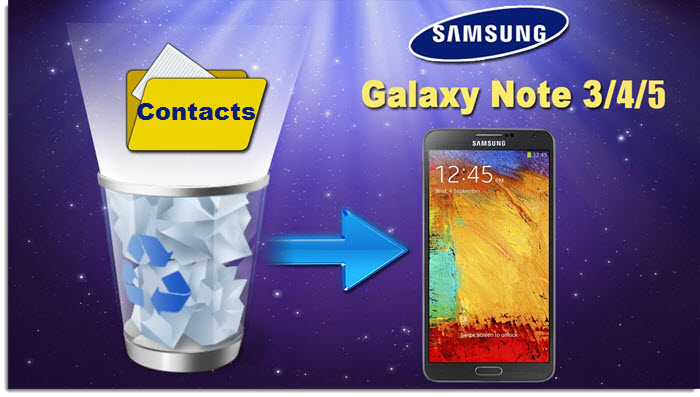 Therefore, the contact is so important that it is hard to imagine what will happen after we lost them. However, the reality is cruel, if you really lost phone contact, how would you do it? Although, like the above said, you lose phone number on Samsung Galaxy S5 mobile phone.


So, the next article will teach you to simply restore lost contacts from Galaxy S5 in two ways. Firstly, it is to restore your contacts by logging Google account. However, this method is limited, the premise of using this method is that you must have been backed up contacts before in Google account. The second is the simplest and most direct, and I strongly recommed that you use the second method. That is restore your lost contacts by Samsung Contacts Recovery, which supports all Samsung devices, such as Samsung Galaxy S6/5/4/3, Samsung Galaxy Note 5/4/3 and so forth.

Method 1: Back up and restore contacts for Galaxy S5 through Google accounts

---
Method 1 : By Google Account

You can synchronize some specific social data, such as calendar events and contacts and Google-specific app data, through your Google account.

1. Touch Settings > Accounts (if there are tabs you may need to touch General first) > Google > email address > touch the checkboxes next to the items you want to synchronize and then touch Sync now.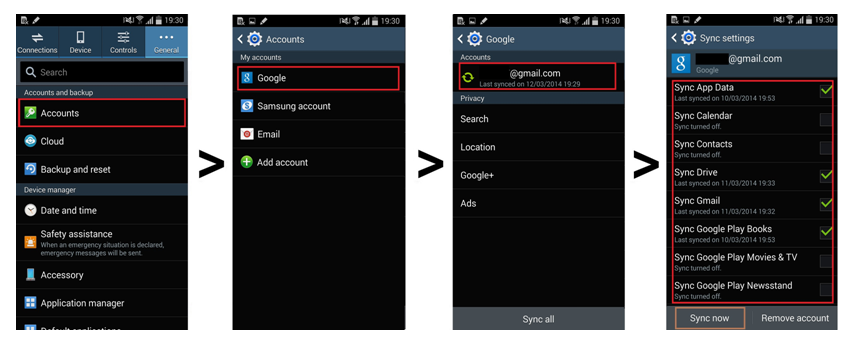 Method 2 : Directly Scan and Recover Contacts from Galaxy S5 with Samsung Contacts Recovery
---
Step 1. Launch the app and connect Samsung phone to computer

Download, install and launch the Samsung Contacts Recovery program on your computer:






Then connect your Samsung S5 mobile phone to computer via USB cable.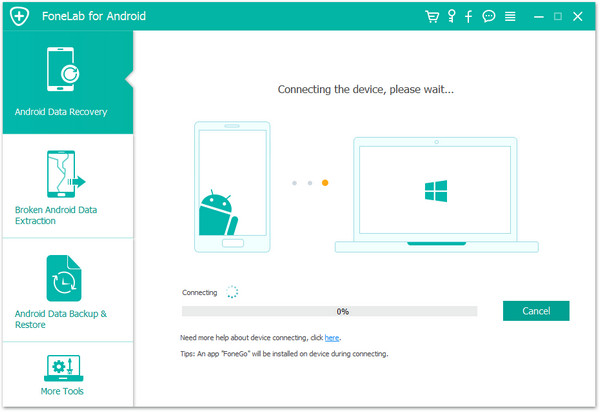 Step 2. Enable USB debugging

Then follow the tips below to enable USB debugging. Different Android OS version has different ways.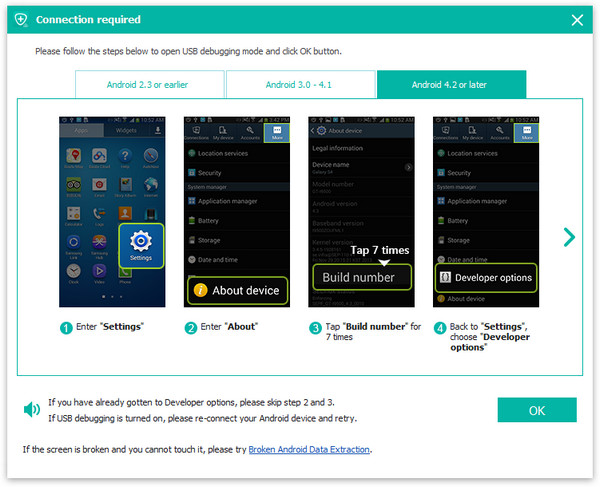 1) Android 3.0 to 4.1: "Settings" < Click "Developer options" < Check "USB debugging"
2) Android 4.2 to 5.1: "Settings" < Click "About Phone" < Tap "Build number" for several times until getting a note "You are under developer mode" < Back to "Settings" < Click "Developer options" < Check "USB debugging"
3) Android 5.1 or newer: "Settings" < Click "About Phone" < Tap "Build number" for several times until getting a note "You are under developer mode" < Back to "Settings" < Click "Developer options" < Check "USB debugging"

Step 3. Begin to scan deleted data on Android device

After the USB debugging, your Android device can be identified by the app now. You can click "start" button on the window appearing on your computer to let the app to analyze your data.
In the latest version of Samsung Contacts Recovery, you are empowered to seletively choose which type of files to be scanned.

Besides, you are also required to choose a storage scanning mode as follow:

If the following window appear, you should turn to your Android device again, tap on the "Allow" icon, then click "Start" on your computer to continue.




Step 4. Preview and recover data from rooted Samsung S5 phone

When the scan is over, you can get the results listed in categories: "Messages", "Contacts", "Videos", and so forth. You can preview them one by one before recovery. Now, you should mark the data you want to get back and click "Recover" to save them on your computer.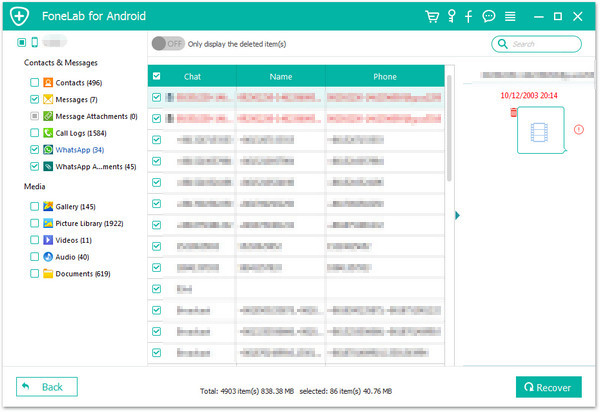 Free Download the Samsung Contacts Recovery:




Related Articles about Samsung Recovery:

---
How to Restore Lost Data from Samsung Devices
" My Samsung Galaxy S5 crashed suddenly. Then I had to flash my device. However, when I restarted it, all data on my phone had gone. I forgot to backup my phone. Do you know how to recover lost data from Samsung Galaxy phone? Please do me a favor. Thank you so much!"

Recover Deleted Photos from Samsung Galaxy S5
Many Samsung Galaxy user said they have taken a lot of photos in their daily life and store them on the Samsung decives. If you accidentally deleted some pictures from Samsung galaxy S5, don't worry, the Samsung Photo Recovery software will help you bring the deleted files back.