Christine
Hello, my name is Christine, and actually, I am a seniority on the android and ios data recovery. Circle and text me if you have any problem about your phones or tablets.
How to Transfer Contacts between Samsung and iPhone
publinshed by
sophia L yad at
March 10,2015
Transfer contacts between Samsung and iPhone
There are different models of iPhone. Meanwhile, there are various series of Samsung Galaxy. For the users who like to keep up with the fashion, they may have both phones at same time. It may come up with a problem: How to transfer large numbers of contacts between Samsung Galaxy and iPhone. Clearly, it's not practical to manually import the cell phone numbers one by one. Apparently, it's an arduous work for machine instead of man. In fact, there is a procedure to sync multiple contacts between your iPhone and Samsung Galaxy fast and efficiently with the help of Phone Transfer.

Phone Transfer allows you to copy your contacts on the iPhone memory card, iCloud, Exchange, Hotmail, Yahoo and other accounts by just clicking 1 button. What's more, besides the contact copying, it allows you to transfer text messages, call logs, apps, photos, music and videos between two phones as well, even though you don't have any account. Before implementing the following procedure, you need to download it by clicking the button below.
Step 1 :Install and launch Phone Transfer on computer
After downloading Phone Transfer, install it on your computer. Once you launch it, you may see the home window just like the sample picture below. Then click the blue Start button at the Phone to Phone Transfer line.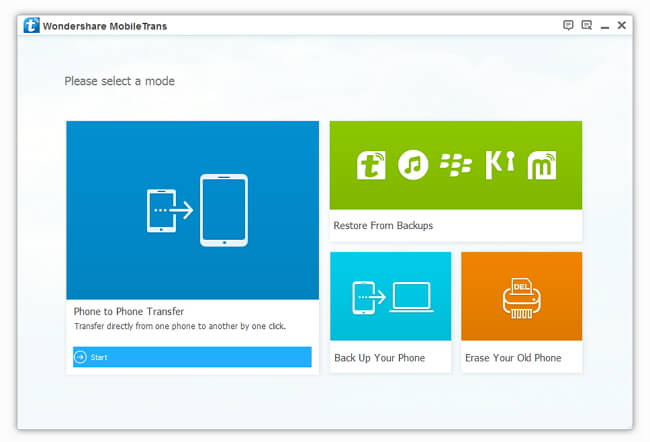 Note: If you don't have iTunes installed on your computer, Phone Transfer will offer you the iTunes installation window. Follow it to install it before using Phone

Step 2 :Connect both phones to a computer
Using USB cables connect your iPhone and Samsung Galaxy to the same computer. As soon as they are connected, the transfer will detect and display them on the window. It will divide them into "Source" and "Destination". If it's reversed, the "Flip" button allows you to change the position of phones. If you want to delete the contacts you stored before, check the box "Clear data before copy" before transferring.


Note: Phone Transfer is compatible with iPhone 5c/5s/5/4S/4/3GS/3G.

Step 3: Transfer contacts between phones
Once you've confirmed everything is in the right place, you can click the "Start Copy" button. The program will sync the contacts from the "Source" one to the "Destination" one. Make sure both phones are well connected along the transferring process. When it's done, click "OK".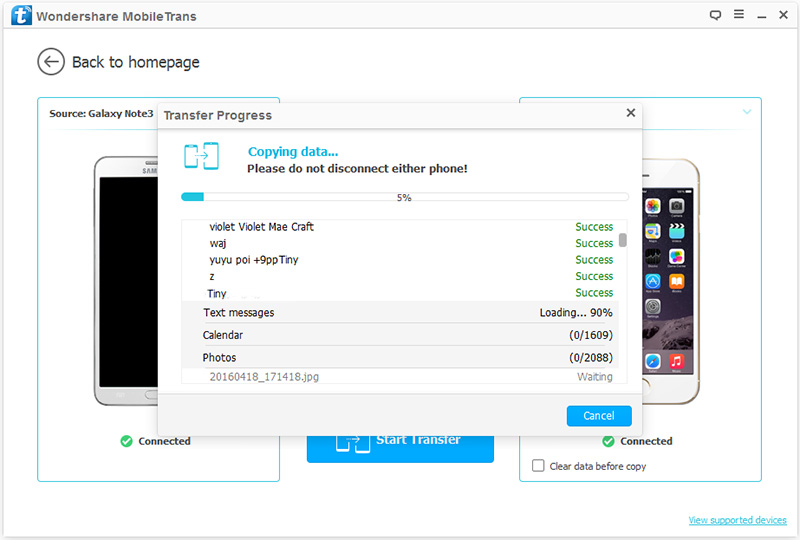 Note: If you want to cancel it during the process, simply click "Cancel" button at the lower right corner.

Phone Transfer for Mac allows you to transfer your contacts in quite a simple way. If you want, you may also copy your SMS, call log, photos, music, and videos as well. It's as easy as this procedure. Remember to check the boxes you want to copy. That's it! Enjoy the convenience brought by this application and keep updating both your mobile phone and the data in it.