After Samsung Galaxy Note,Galaxy S6 was launched recently, many people have brought this wonderful stunner. As a Samsung user, you may know about this model.

In this article, I am going to tell you something that you can hardly find on the Internet, about how to protect the data files on your Samsung phone,about how to back up contacts from Samsung Galaxy to computer,avoid you losing the personal information under several unexpected situations.

Usually, you create the backup files and store the files on your computer, so that when something happens unexpectedly, you can still recover the backup files from your computer, instead of losing it forever. And this is the most important way to protect your data files on your Samsung Galaxy S6 or some other models of the Samsung Galaxy phone. Also, if you have some backup files on your computer, you can recover the backup files to your new Samsung phone, which may be thought of data transfer.


So, if you are going to buy the new Samsung galaxy S6 or other Samsung galaxy phone , Whether you are one of the Samsung Galaxy S6/S5/S4/S3, Samsung Galaxy Note 5/Note 4/Note 3 users, you need to back up all the contacts from your own Samsung Galaxy phone to computer in order to guard against the data lost. But most of users don't know how to solve this problem, especially for the old Samsung mobile phone users, and how to transfer contacts from Samsung phone to PC. So, following we will introduce the useful software tool to backup contacts from Samsung Galaxy to computer,which named Android Data Manager.

Two Solution to Back up Contacts from Samsun to Computer

Android Data Manager allows you to copy complete information of contacts including names, numbers and call history. Well, it is highly recommend trying Android Data Manager, you may not be alien with the software. It's the useful tool for Samsung Galaxy mobile in transmission software such as contacts, text messages, pictures, music, just like apple's iTunes. With it, you can easily extract and copy all data from your Samsung phone and save on computer as a readable format, and freely edit contacts in the program and sync with your phone.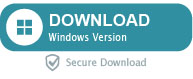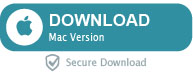 Solution 1:Transfer Contacts from Samsung Phone to Computer with Android Data Manager
---
Step 1: Connect your Samsung Galaxy to Computer
Firstly, please download and launch Android Data Manager on your PC. Then, follow the onscreen instructions to connect your Samsung phone to PC via a USB cable or QR code.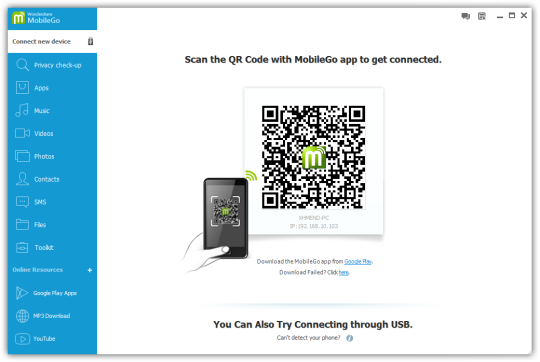 Step 2: Transfer Contacts from Samsung Galaxy to Computer
Once click "Contacts" on the right panel you'll see a list of your call records. On the top of the screen, click the icon that says "Import/Export".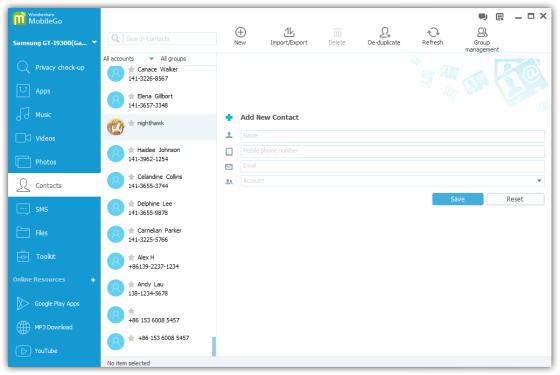 You'll may choose vCard files to save your contacts after deciding which information to import/export. With all these options available for transferring your contacts from your Samsung Galaxy phone to computer.

Solution 2:Transfer Contacts from Samsung to Computer with Phone Transfer
---
Here is another convenient way for you to achieve your goal effortlessly.Just as its name implies, Phone to Phone Transfer can be utilized as a tool to backup contacts from Samsung phone to computer, which are based on Samsung phone. It is totally safe without ruining the original photographs in your Samsung phone.What the fantasy is that Mobile Transfer supports you to transfer contacts between Samsung and iPhone, and backup text messages, photos, videos, call logs, music, app from Samsung to computer.Let's see the fascination of the Mobile Transfer.

Step 1: Download and Install Phone Transfer






Click the buttons below to download and install the program on PC or Mac.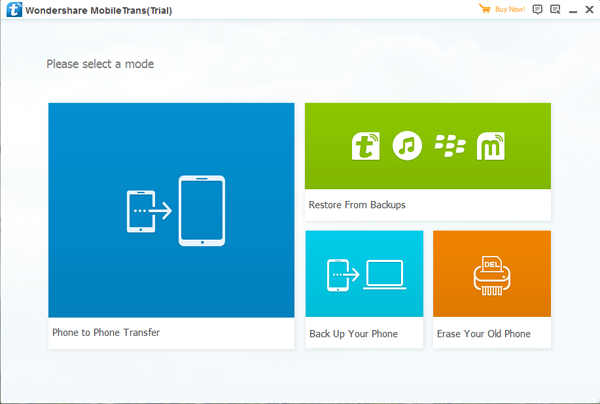 Step 2: Run Mobile Transfer and select the backup mode
Install and run the backup tool on your computer. You'll be asked to select a mode. Choose "Back Up your Phone".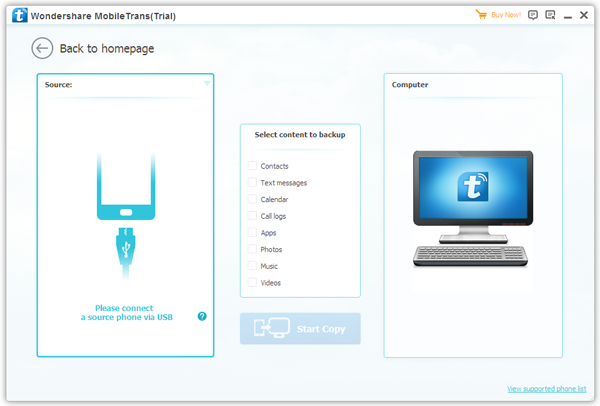 Step 3: Backup your Samsung Galaxy contacts to computer
Connect your Samsung phone to computer. And you can see that all your data on phone (Music, Videos, Photos, Contacts, SMS and Apps) can be detected by the Mobile Transfer and listed in the middle. You can backup these data one-by-one or all at one time by checking the box and click "Start Copy".




What's more about Mobile Transfer:Mobile Transfer can also transfer contacts, SMS and More across Android, iPhone, BlackBerry and Symbian.It supported all mobile phones(iOS,Android,Symbian,BlackBerry).Moreover,it allows you to erase data from your Phone permanently before selling.






To sum up,there are so many reasons that lead to contacts loss of your Samsung Galaxy phone, such as accidentally delete data, mistakenly format your phone, get your phone stolen, and so on. So measures should be taken to prevent them, backing up your Samsung phone data as often as you can, sync your contacts with PC.

Related Articles You May Like:
---
How to Transfer Contacts from Samsung to iPhone 6S

How to Recover Deleted Contacts from Samsung

How to Transfer Contacts from old Samsung to New Galaxy