Samsung i9001 with its simple beautiful appearance, high cost has been very popular with people of all ages, the corresponding line on the Samsung i9001 Brush Pack also very much. This makes a lot more friends can make their love machine more perfect, more easily achieve their desired state. But Brush risk, regardless of the results of Brush. We must promptly back up Samsung data and system, we must get in the habit, in order to avoid data loss after rooting or upgrading. Let me tell you the methods to make Samsung system backup and restore.

There are lots of free apps that let you back-up your files in no time from your Samsung Galaxy S6/S5/S4/S3, Galaxy Note 5/4/3,ect. If you are an Android advanced user you might already knew not all andriod backup app allows us back Samsung text messages and contacts. Before Android System Backup, we must to backup text messages, Contracts, Call logs, Photos and all other Samsung document. Here,you can read more in this use guide about how to backup data from Samsung to computer directly,just 1 click to backup your contacts, apps, SMS, call history, calendars as well as bookmarks data.

How to Backup Samsung System?

Step 1: Enter Recovery Mode on your Android device. (specific method is as follows: First, your phone off, then press the home (the Menu key) and the power button, will appear twice during the Samsung logo, until the background is a triangle appears next to a small Green Man's interface, volume keys up and down, there are two options are beginning wipe, one by one election just once, when the choice is determined by home, the power button to return, thus completing the enter Recovery mode interface).

Step 2: Press " Backup and Restore" to options enter to Backup and Restore the Samsung system.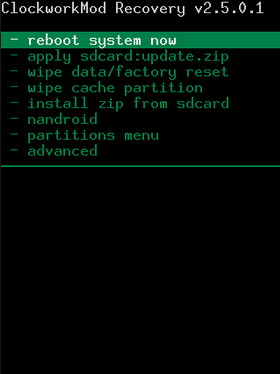 Step 3: Press "Backup" options to backup, "Recovery Mode" starts a backup of your system to the SD card automatically.

Step 4: Select "Peboot Reboot" to restart your Samsung i9001.

Step 5: Go to check "Recovery" < "backup" directory on your SD card. Rename it so you can find it quickly for use next time.
After then,the system backup files stored on your SD card "Recovery / backup" Lane.


How to Restore Samsung System from the Backed Up?

Step 1: Enter "Recovery mode";
Step 2: Press "Backup" options,then click "Restore Backup and Restore".
Step 3: Press "Restore" to restore the system will automatically restore the most recent backup file.
Return to the Recovery interface and select "Nandroid" < "Restore". (You can use "Volume +/-" key to choose the wanted option and "Power" button to confirm). After recovery, your Android will be as the same as before.
Step 4: There "Restore complete"! Restore is complete.

Other free ways help you backup Samsung File,before back up and restore your Android system effortlessly.Please read more as below,we will teach you how to backup Files throught Samsung Kies and Google Account:

Back up Samsung Files Through Samsung Kies 3

Samsung's Kies 3 is a desktop software tool that is known to be used for updating your Samsung Galaxy S5 to the latest software. It is also equipped with backup and restores option that let you sync your Galaxy S5 to your computer. If you have Kies 3 installed on your computer, simply run it, connect your Galaxy S5 via USB data cable, then from Kies 3 tabs select or click on the Back up/Restore tab and choose the items you want to back up, then scroll to the bottom of the window and click the Backup button. The rest will be easy. It will ask you to choose which files that you are going to back up such as contacts, call log, SMS/MMS messages, and media files.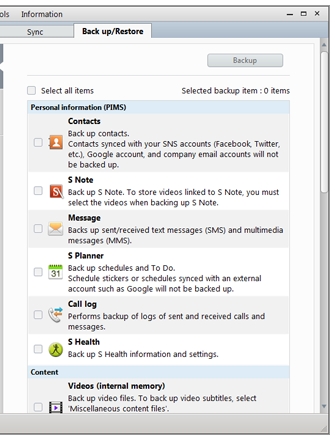 Back Up Files from Samsung device via Google Account

Google's owns the Android operating system so it has its own backup data tools that can be synced with your Google account. If you're signed in to your Google account on your Android smart phone, your contacts are usually synced with your Gmail account. In the event that it isn't synced, head over to Settings > Accounts > Google > Your Google Account and make sure the contacts field is checked.

If you don't know how to backup Samsung to computer,or failed restore your Samsung,please read this article about how to backup and restore Samsung data.

Read More Related Articles:
---
How to Recover Lost Data from Android Phone

How to Back Up Everything from Android to PC

How to Reset Android Phone to Factory Setting