Every iOS jailbreaking, iOS upgrading,reset factory setting may erase all data and settings on your iPhone, iPad and iPod,as we all know contacts, phone numbers, text messages, photos, videos are very important for everyone.However,it's very necessary to backup contacts and SMS from iPhone to computer,as we all know,the iTunes can help us backup iPhone,but we can't preview them and restore them back to iPhone selectively,because those backup contents is a particular file format data. However,some iPhone users ask how to transfer contacts and text messages, SMS&MMS&iMessage from iPhone, iPad to computer? Thanks you some developers, they have developed some third-party ios backup tool,making iPhone data backup and did not imagine so difficult,please keep reading as below,we talk about some common iPhone Contacts and SMS backup method most frequently used.
Back Up Contacts from iPhone to Computer before Jailbreaking

"I know the jailbreaking process may cause erase contacts.Before jailbreaking my iPhone 6s,I want to backup contacts from my iPhone 6s to computer,I don't know how to use iTunes backup iPhone contacts,and it's very difficult to use,is it any third-party iPhone contacts backup tool to transfer contacts from iPhone 6s to computer for backup without iTunes?" -- Asked by Cindy
Transfer SMS from iPhone to Computer before iOS 10 Beta Upgrade

"I want to upgrade my jailbroken iPhone 6 plus to beta iOS 10 beta on computer,many important imessages stored in my iPhone,how can I backup SMS from iPhone 6 plus to Macbook before iOS 10 update?" -- Asked by Chirstal
Backup Contacts and SMS from iPhone to Computer without iTunes

iPhone/iPad/iPod Messages&Contacts Transfer is a two in one iPhone/iPad/iPod SMS&MMS&iMessage Transfer and iPhone/iPad/iPod Contact Transfer,which is designed for users backup your contacts, SMS & MMS & iMessage from your iPhone, iPod touch, iPad to your computer easily and quickly.In additional,if you want to backup other media files from iPhone/iPad/iPod to computer,please free download the All In One iPhone Backup Box (Message + Contact + Music&Video + Photo&Camera Transfer) to transfer all files from iPhone 7/7Plus, 6s Plus/6s/6/6 Plus/5s/5/4s/4 to computer for backup.If you have bought a new iPhone,the Phone to Phone Transfer can help you transfer contacts, SMS from old iPhone to new one directly.

Download the iPhone/iPad/iPod Messages&Contacts Transfer trial version below to transfer iPhone contacts and SMS to computer. Choose the right version and try it for free!






Free download the iPhone Message + Contact + Music&Video + Photo&Camera Transfer for Windows below: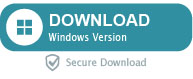 Key Features of iPhone SMS&Contacts Transfer:



Let's learn how to use iPhone/iPad/iPod Messages&Contacts Transfer to backup iPhone contacts to computer.

Part 1: How to Backup iPhone Contacts to Computer

Step 1.Run iPhone/iPad/iPod Messages&Contacts Transfer Transfer on computer
First of all,please free download the program and run it on your computer,you can see the main interface as below,the program program provides two backup features "SMS&MMS&iMessage Transfer" and "Contacts Transfer",please click the contacts or sms file type you want to backup and go the next.

Note: Before using the program to backup your iPhone data,please install the latest version of iTunes, make sure iTunes can read your iPhone/iPad/iPod.

Step 2.Connect your iPhone to Computer via a USB cable and Begin Scanning
Then,using a USB cable connect your iPhone device to computer,only few seconds the program detect your phone automatically.Then the program begin to scanning your iPhone device for all contacts,all the contacts will be displayed automatically.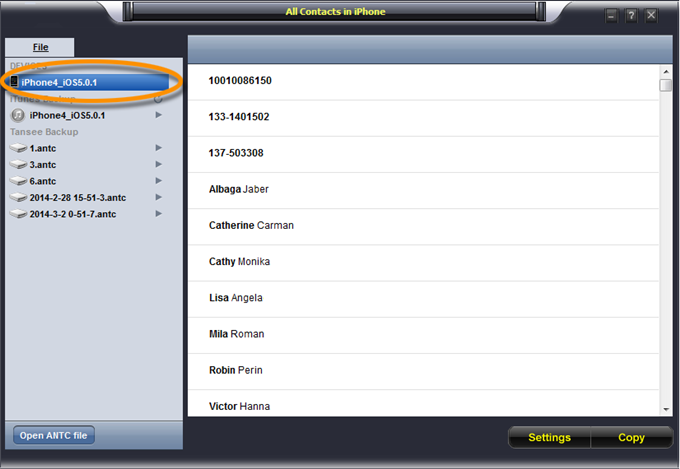 Tips: If it is reading data, please wait. That might because you have lots of apps or photos, it will take longer time reading data. At most 1 hour.

Step 3. Begin to Back Up Contacts from iPhone to Computer
Before backup your contacts to computer,you can preview and selective backup contacts,select the contacts you want to backup,or select "all contacts" you want to backup,then click the "Copy" button to begin the backup process. You can choose to save your all iPhone Contact & Contact Photo to your PC in Text or ANTC format,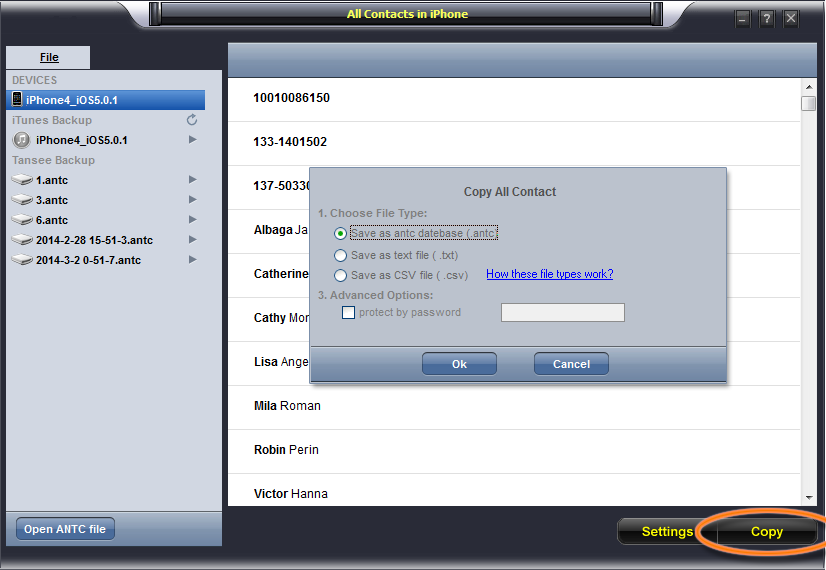 Tips: There are three type of file format for you save on computer: Save as antc datebase(.antc);Save as text file(.txt);Save as CSV file(.csv).The iPhone data backup tool allows you protect the backup contacts and SMS by password,and no one can view your backed up contacts and messages.

Read and Display iTunes Backed Up Contact

Can't read the backed up contacts on iTunes? The iPhone/iPad/iPod Contact Transfer can automatically read and display all your iTunes backup Contact easily.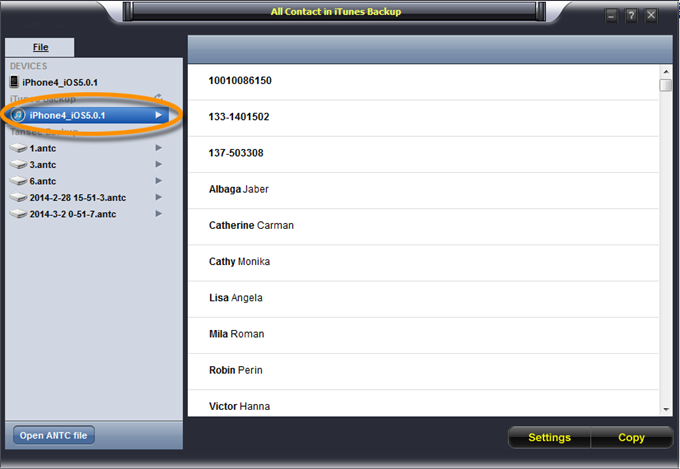 Part 2: How to Backup Contact Photo from iPhone to Computer

If you want to transfer contact photos from iPhone 6s/6/SE/5s/5/4s/4 to computer,you can click the photo of single person to save the contact photos to your computer.

Part 3: How to Restore Backed Up Contact from Computer to iPhone

The iPhone Contacts + SMS Transfer program also allows you restore contact from CSV file to iPhone on computer,if you have use this program make a contacts backup before.Here,you need to use iTunes program and Windows Address Book.Let's learn the easy tutorial step by step as below

Step 1: Backup iPhone Contacts to Computer as .csv file format
In part 1,if you have use the iPhone/iPad/iPod Contact Transfer to backed up all your contacts from iPhone to computer and save them as .csv file format before,after the ios upgrade,jailbreak,factory setting reset,you can restore contact from CSV file to iPhone or new iPhone, iPad on computer easily.

Step 2: Import those Backed Up Contacts to Windows Address Book
Click on Start - All Programs - Accessories, click to open Address Book.
In Address Book, click File - Import - Other Address Book..., select "Text File (Comma Separated Values)", click "Import", then browser the CSV file, click Next, Map the fields you wish to import, click finish.
After all this, you had import the contacts to your Windows Address Book.

Step 3: Connect iPhone to Computer and Sync Contacts from iTunes to iPhone
After importing all contacts to the Windows Address Book,then open iTunes program, connect iPhone device to computer, click to select the "iPhone/iPad/iPod on iTunes", choose Info tab, in "Contact" section, check "Sync contacts with Window Address Book", click "apply".

Well done,you have transfer the backed up contacts from computer to iPhone with iTunes.

Part 4: How to Restore Backed Up Contact from CSV file to Outlook

Step 1: Save iPhone Contacts to Computer as .csv File Format
First of all,you need to backup all your contacts from iPhone to computer as .csv file format using iPhone/iPad/iPod Contact Transfer.

Step 2: Transfer Contacts to Windows Address Book
Click on Start - All Programs - Accessories, click to open Address Book.
In Address Book, click File - Import - Other Address Book..., select "Text File (Comma Separated Values)", click Import, then browser the CSV file, click Next, Map the fields you wish to import, click finish.
After all this, you had import the contacts to your Windows Address Book.

Step 3: Begin to Transfer iPhone Backed Up Contact to Outlook
Open Outlook; Open the File menu; Choose "Import and Export"; In the "Import and Export Wizard" dialog box choose "Import Internet email and address", then choose "OUTLOOK EXPRESS 4.X 5.X 6.X", click "Next" to transfer those backed up contacts to Outlook.

Free download iPhone/iPad/iPod Messages&Contacts Transfer trial version:






Free download the iPhone/iPad/iPod Message + Contact + Music&Video + Photo&Camera Transfer for Windows below: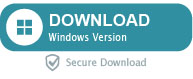 iPhone/iPad/iPod Message + Contact + Music&Video + Photo&Camera Transfer main interface: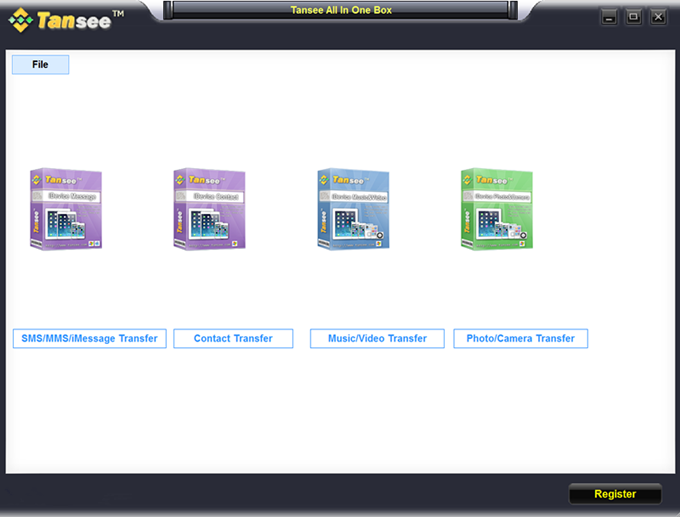 The iPhone/iPad/iPod Messages&Contacts Transfer is designed for transferring contacts and SMS from ios devices to computer for backup,if you want to transfer contacts, sms, photos, videos, call logs,ect from iPhone to iPhone, iPad to iPhone, iPhone to iPad,the Phone to Phone Transfer not only support switch data between iOS, symbian OS and Android, like Samsung, HTC, LG, Motorola, Sony, Google Nexus, Huawei, BlackBerry, Nokia,but also allows you backup and restore iPhone data easily.You can choose the most suitable software for you and try before you buy it.

Related Articles:
---
How to Recover Lost Contacts from iPhone

How to Recover Lost SMS from iPhone

How to Backup and Restore iPhone Data without iTunes

Transfer Contacts from iPhone 5s to iPhone 7/6S/6

Transfer Text Messages from old iPhone to new iPhone

How to Switch Contacts from Samsung to iPhone 7/6S/6/SE