Summary: This article teach you If you how to backed up your Windows iTunes library with TunesGo, and how to restore the iTunes backup file to a Macbook computer. This allows you to copy all contents from Windows iTunes library to the Mac.You can also backup iTunes Library to an External Drive with the help of TunesGo.
How to restore iTunes library onto another computer

"I have bought a new computer,I followed all the steps as suggested for backing up and restore iTunes library in the apple support website.But I have problems with the 'choose library' part in the last step. I clicked it and located my iTunes Media folder but all that happened was that it just opened the folder and showed me what I have inside and not restore it.I want to know is there any iTunes backup and restore tool help me restore iTunes library onto another computer? Thank you!"
Move the iTunes Library to an External Drive for backup

"There are not enough space on my computer, I want to free up space on my computer and make a backup,because the iTunes occupies most of the space,the iTunes have hundreds upon hundreds of songs, library, plus videos, movies, and e-books,how can I back up the iTunes Library to an External Drive?"

To backup and restore music from iTunes Library,you can use TunesGo,which is a all-in-one iTunes manager tool to transfer music between iPhone, iPad , iPod, Android and iTunes,it also can help you Backup and Restore Contents from iTunes Library,and transfer the iTunes Library to another computer or external drive.

TunesGo Key Features:

-Download Transfer and manage your music for your iOS/Android Devices
-YouTube as your Personal Music Source
-Transfer your Music from your iOS Device
-Use iTunes with Android
-Complete your Entire Music Library
-Fix id3 Tags,Covers,Backup Manage Music without iTunes
-Restrictions Share Your iTunes Playlist




Part 1: How to Backup iTunes Library to an External Hard Drive

If you want to make a iTunes library backup to External Drive,please connect the External Drive to a Windows computer or Mac at first,then download and run the TunesGo.

Step 1. Run the TunesGo on your computer
First of all, the software of TunesGo on your PC needs to be opened by double clicking its icon. A home screen of the software like the one given below will appear.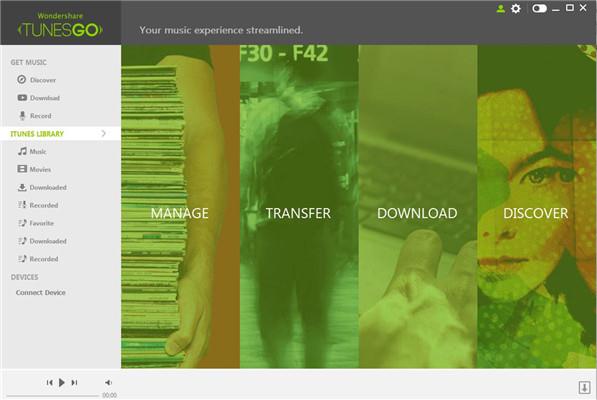 Step 2. Click iTunes Library
Now on the left hand side menu of TunesGo page, click on the option of iTunes Library. (Screenshot shows red marked box).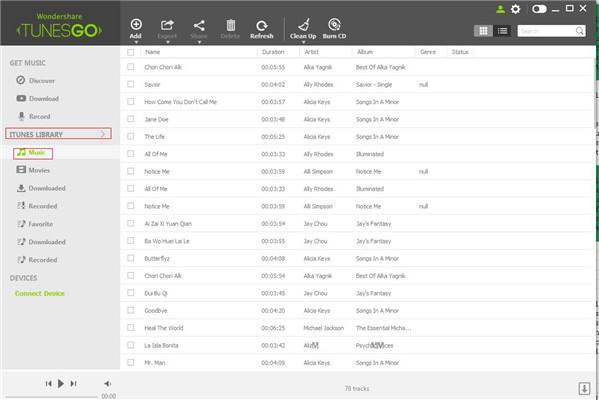 Step 3. select "MANAGE"--"Backup/Restore" function
A list of options will appear in front of you from which you need to select the first option of Manage. Now below the Manage, click on option of "Backup/Restore". ( Screenshot shows option marked in red)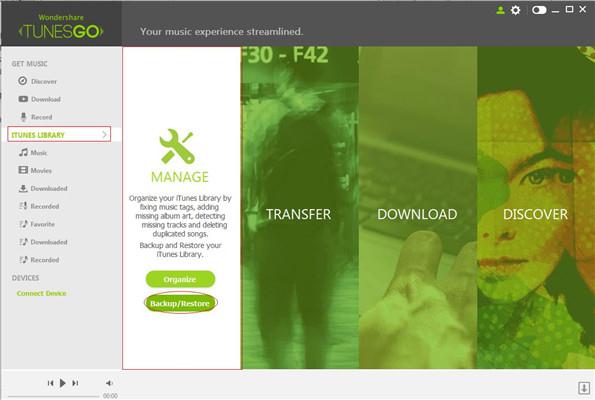 Step 4. click "Backup" button
A page with option of Backup and restore will appear from which you need to select the Backup option.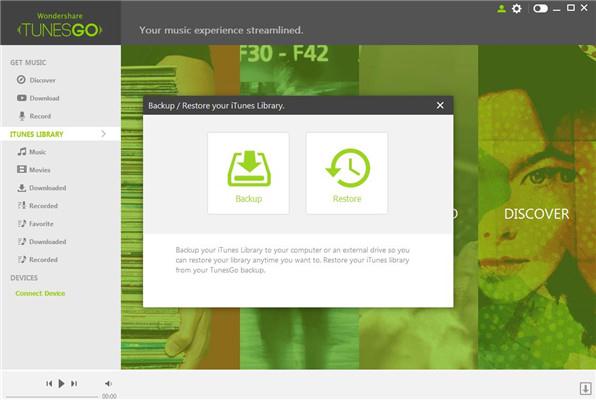 Step 5. Select the backup path - External Drive
Now the backup path that you want needs to be selected. (Screenshot shows "E:\Wondershare TunesGo\Backup "as the path in red marked box).Begin to backup your iTunes library to External Drive directly.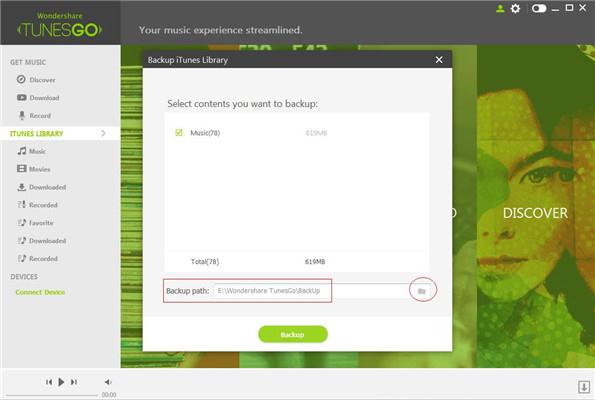 Once your iTunes library is backed up a message will be shown. (Screenshot shows total of 78 files)

Tips: During the back up processing,please keep connecting the External Drive to computer.

Part 2: How to Restore iTunes From Backup on an External Hard Drive

Click "Restore" button- select the backup file and restore, then restart TunesGo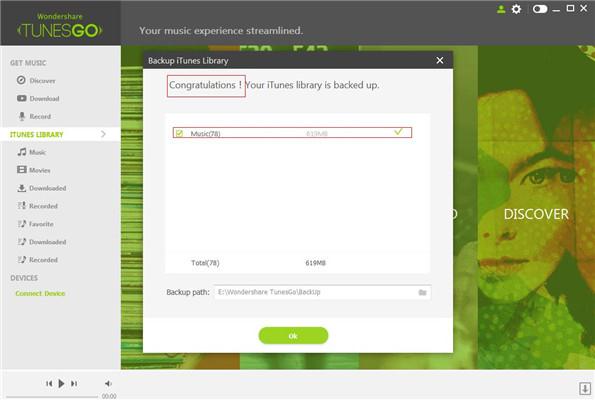 Now you need to restore the files and for this you need to select the backup files. (Screenshot shows 78 files which are selected and were taken backup of). Click on the option of " Restore" present at the end of the page. There is an option asking you if you wish to delete the entire iTunes library before restoring from backup. ( Screenshot shows the option as unchecked)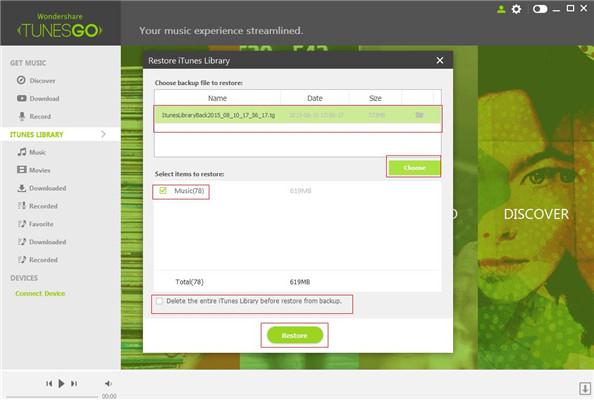 Next a page will appear that will ask you if you are sure to restore the library. Click on the option of "Restore" on the bottom of the page.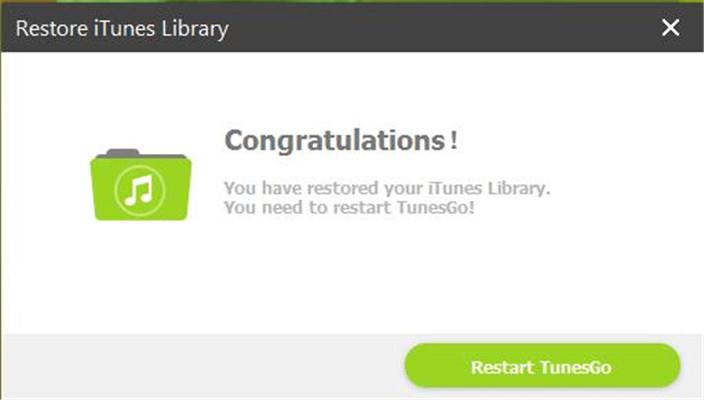 When the files are successfully restored a congratulations message will appear and will ask you to restart your TunesGo. Click on option of "Restart TunesGo" on the bottom of the page.

Free download the TunesGo and have a try!






Tips: If lost data on your iTunes,you can use a iOS Data Recovery to recover lost data from iTunes,you can also restore iTunes data back to iPhone, iPad and iPod with this all-in-one iOS Data Recovery.
Read More:
How to Transfer Playlist and Music from iTunes to iPhone
How to Transfer Music from iTunes to Android phone