Are you considering how to transfer data after you buy a new Android mobile phone? What you need is keep on reading, follow this guide on switching contacts, text messages, pictures, videos and more information from your old iPhone to new Android phone.

As we know, it is very difficult to switch iPhone data like contacts, text messages, videos, photos and music to Android phones, if we have no good software. But in fact, if you have a good transfer program, you can switch it easily, no matter you use which phone brand like iPhone, Samsung, LG, HTC, Motorola, Sony and so on. With the right way to sync all contents from iPhone to Android phone, you don't need to backup and delete all the data before they are. Next, I will give you details of the telephone transmission.

iPhone to Android Transfer - Phone to Phone Transfer is an outstanding tool with which users can move files from iPhone 7/6S/6/SE/5S/5C/5/4S/4/3GS to HTC, LG, Sony, Samsung Galaxy and other Android phone . It will make you feel magical, switching data from iPhone to Android directly. As for supported data, contacts, messages, pictures, call logs, music, videos and apps are all included. It is very easy to operate your data transfer, you just need 2 or 3 steps and you can get it.

Now, let's begin to learn how to switch content between iPhone and Android phones. Firstly, you should download the phone transfer software on your computer, and feel the magic of how it works:

Download the free version here:






Supported Files: Contacts, SMS, Photos, Music, Videos, Call history, Apps and other documents.


Directly Transfer Contacts,SMS,Photos,ect from iPhone to Android Phone

Note: Don't forget install iTunes on your PC if your iPhone should be connected to computer. And don't disconnect your phones in the whole process.

Step 1. Install and Run Phone to Phone Transfer on PC

Firstly, you need to download and run the the above free version. Then you should click "Start", once you have run the Phone to Phone Transfer program.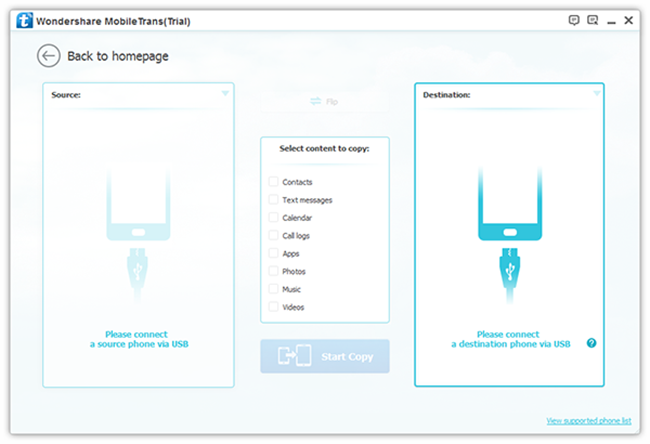 Step 2. Connect iPhone and Android phone to PC

After opening the program, you can connect your iPhone and Android phone to computer at the same time through two USB cables. And then both of two mobile phones will be detected and it will display the two phones at the place of "Source" and "Destination" in the primary window. If you should move data from Android, you should click the "Flip"button. When you want to empty your destination phone to save the data, you can check the data before the election to remove data and click the "Wipe Data before Copy" button. Let's to transfer files what you want on iPhone device.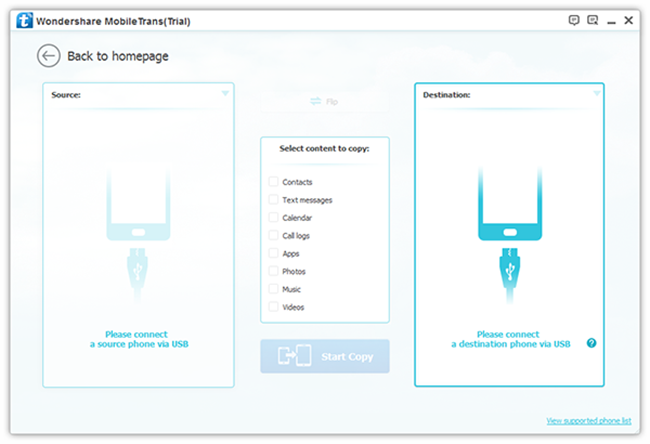 Step 3. Select the files you want to transfer from iPhone to Android

Select what type of files you want to sync from iPhone to Android,Android to iPhone,including contacts, messages, call logs, calendar, music, photos, videos and apps.




Step 4. Completely Transfer iPhone data to Android

As you can see, the data you can transfer are contacts, text messages, music, photos and videos. Now, click "Start Copy" to do the job of data moving from iPhone to Android.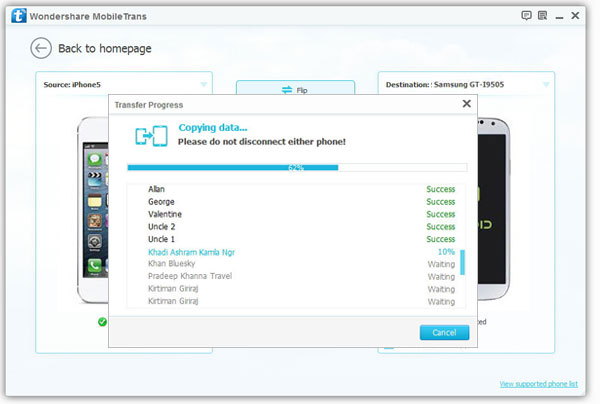 Free download the Phone Transfer and have a try!






The Phone to Phone Transfer program supports any ios and Android devices,finding the mobile phone devices you need to transfer.
Phone to Phone Transfer supports below iOS and Android devices:

iOS Devices: iPhone 7, iPhone 7 Plus, iPhone 7 Pro, iPhone SE, iPhone 6S, iPhone 6S Plus, iPhone 6, iPhone 6 Plus, iPhone 5S, iPhone 5C, iPhone 5, iPhone 4S, iPhone 4, iPhone 3GS, iPhone 3G, iPod touch, iPad, iPad mini, iPad Air, iPad Pro.

Android Devices:

Samsung: Galaxy S7, Galaxy S7 Edge, Galaxy S6, Galaxy S6 edge, Galaxy S6 edge Plus, Galaxy S5, Galaxy S5 Active, Galaxy S4, S4 Mini, S4 Active, S4 Zoom, Galaxy S3, S3 Mini, Galaxy S2, Galaxy Note 3, Note 2, Galaxy Note 4, Galaxy Note 7, Galaxy Note 5, Galaxy Nexus, Galaxy C5, Galaxy C7, Galaxy S, Galaxy Tab, etc.

HTC: HTC One M9, HTC One M8, HTC Nexus 9, HTC One X, One S, One V, HTC Wildfire S, HTC Desire, HTC One, HTC Butterfly S, etc.

Motorola: Moto X 2, Moto X, Moto G2, Moto G, Moto E, Nexus 6, Droid RAZR M, Droid RAZR MAXX HD, ATRIX HD, ELECTRIFY M, Droid BIONIC, etc.

Sony: Xperia Z4/Z3/Z2/Z, Xperia M, Xperia SP, Xperia L, Xperia ZL, Xperia E, Xperia T, Xperia TX, Xperia SL, Xperia J, etc.

LG: Nexue 5X, Nexus 6P, Nexus 5, Motion 4G MS770, Optimus L9, Optimus G, Lucid VS840, Nitro P930, Viper LS840, Spectrum VS920, Intuition VS950, etc.

Nokia Symbian: Nokia N8, E6, 5230, 5800 XpressMusic, N97, N97 mini, X6, 5320 XpressMusic.

Huawei: Mate 9, Mate 8, Mate S, Nexus 6P, G8, P8, Ascend Mate 2, Ascend P9, Ascend P8, Ascend P7, Ascend Mate 7, Ascend G7, Ascend 7, Ascend G6, Ascend P2, Ascend Mate, MediaPad X2, Honor 6, Honor 6 Plus, Honor 4X, etc.

Other Phones: ZTE , Acer, ASUS, AT, Amazon, Archos, Dell, Google, HP, Kyocera, Lenovo, etc.

Related Articles:
---
How to Move Contacts from iPhone to Android
iOS to Android Transfer can help you transfer all contacts, phone numbers from old iPhone to a new Android phone without iTunes, iCloud, Gmail Account or any third-party service! Please follow the use guide to copy iPhone contacts to Samsung Galaxy S6, S6 Ege, Samsung Galaxy Note 5/4, HTC One M9, LG and other new Android mobile phone.

How to Copy iPhone Text Messages to Android Phone
If you have bought a new Samsung Galaxy S6 and use old iPhone 4s before, you may need to transfer SMS from old iPhone 4s to new Galaxy S6. However,please learn more in this use guide to transfer text messages from iPhone to Android phone. What's more,you can also copy contacts, text messages, photos, music, videos, apps and more from the old iPhone to the new Android phone directly.