Summary:This article teach Samsung users how to extract data from a broken Samsung Galaxy with black screen, locked screen, broken touch screen, phone touch screen not work, can't enter system,like broken Samsung Galaxy S5,S4,S3,Note 3, Note 4(Edge), Note 5(Duos), Note 8 and Galaxy Tab,ect.
My Samsung Galaxy S5 Touch Screen is Broken

Just because the phone screen is damaged, all other functions the phone can be used normally. Since the phone contacts without making any prior backups, resulting in regular contacts could not be extracted and exported to a new phone.Is there any way to extract and recover contacts from Samsung Galaxy S5 with broken screen,and then transfer those restored contacts to the new Galaxy S7 edge/S6/Note 7 or Google Pixel?
Extract Files from Samsung Galaxy S/Note with Broken Screen

Once your phone is broken/damaged/smashed/cracked,the first thing you need to do is extracting precious data from the broken phone.If you use Samsung phone,when your Samsung Galaxy phone is damaged or can't enter system,you still have chance to extract files from broken Samsung phone with Broken Android Data Recovery, which is a all-in-one data recovery for Android phones or tablets,the Android Data Recovery has special advanced functionality to detect your broken Samsung phone easily,then extract contacts, text messages, photos, music, videos documents from Samsung Galaxy S7/S6/S5/S4/Note 5/Note 4/Note 3/Note 2 with broken or black screen.If your phone is not damaged,the Android Data Recovery also allows you directly scan and retrieve deleted or lost files from Android devices,like HTC One M9/M8, LG, Samsung Galaxy S7/S6/Note 7/A9/A8/A7/A5, Motorola, Sony, Google Pixel/Nexus 6/6/5X, Huawei, Meizu, Oppo, ZTE,ect.

Can't wait to extract data from your broken Samsung? Download the free trial version of this Broken Android Data Recovery below:






Note: If you want to retrieve lost or deleted data from Samsung devices, please remember do not use your phone until the lost data are recovered. Otherwise,those deleted files will be overwritten by new data,and you're not able to recover those deleted/lost files.The first thing you need to do is use a professional Android Data Recovery to scan and extract data back. Let's show you the guide to recover lost files from Samsung with broken screen.

The Way to Extract Files from Samsung Galaxy with Broken Screen

Download and install the all-in-one Android Desktop Recovery & Manager Software on your computer. Launch the program. If your phone is not damaged,you can choose the first recovery mode "Android Data Recovery" to scan and recover deleted or lost data from Samsung devices directly;If your phone is broken/damaged,please click the third recovery mode "Broken Android Phone Data Extraction" to scan,extract and recover all exising data from your broken Samsung Galaxy S/Note.


Step 1. Connect Broken Samsung Device to Computer
After launching the Android tool kit on your computer,then connect the broken Samsung Galaxy Note 3 to computer with a Samsung USB cable.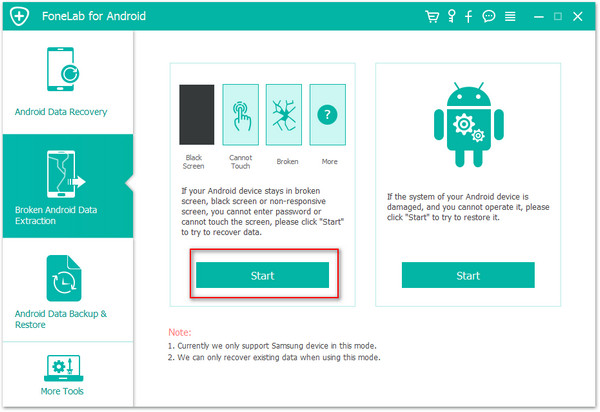 Note: Currently,broken phone options is for Samsung Galaxy Note 8/4/3, Galaxy S3/S4/S5 and more is stuck in black screen, blank screen, or the screen is broken, or cannot enter the device system, etc.

Step 2. Select the File Types you Want to Extract from Broken Samsung Phone
In the next window, you will be required to select the type of files to scan for. Select the type of files you want to recover. "Select All" is tick by default.If you only want to recover contacts from broken Samsung phone, plase check "Contacts" and then click on "Next" to continue.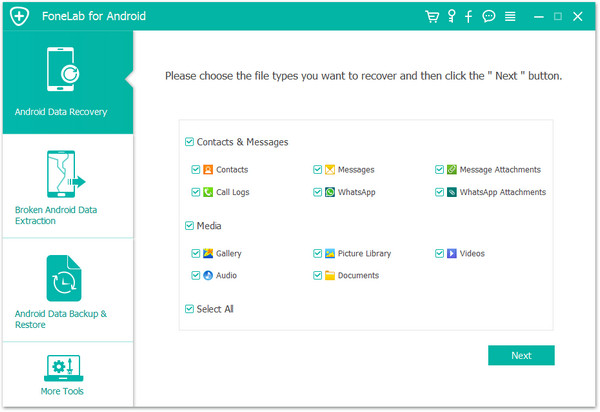 Step 3. Choose a Phone Fault Type
A new window will appear requesting you to choose what's fault of your phone,the program provew two types of falt for your to choose,on the left is for "Touch cannot be used or cannot enter the system" while the right is for "Black screen or broken screen". Because your Samsung phone's touch screen is broken, please choose "Black Screen (or the screen is broken)" option at the right side.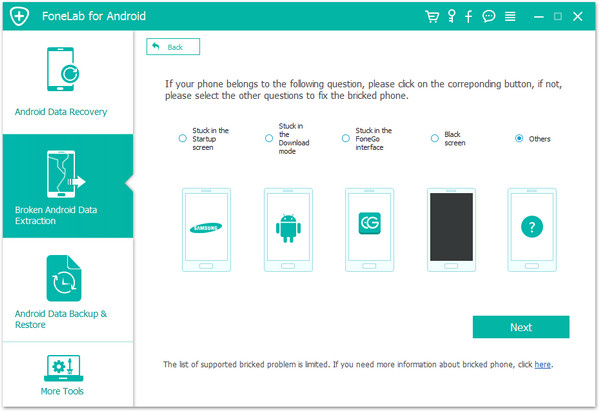 Step 4. Select the Model of your Broken Screen Samsung Phone
In the next window, you need to select the model of the broken device. If you don't know your device's model, click on "How to Confirm the device model" to get assistance.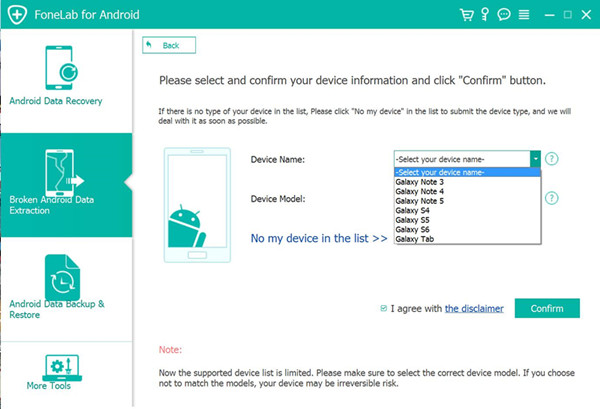 Step 5.Enter Your Broken Samsung Phone into Download Mode
You will be provided with instructions on how to get your phone into "Download Mode." Simply follow the tutoiral on the next window. Once the device is in "Download Mode" connect it to your PC using USB cables.
1)Power off the phone.
2)Press and hold Volume "-", "Home" and "Power" button on the phone.
3)Press "Volume +" button to enter download mode.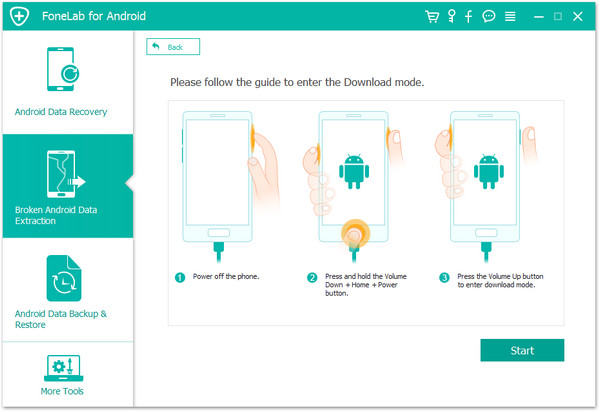 Step 6. Analyze the Broken Samsung Phone And Downloading the Recovery Package
After getting your phone into download mode,the program will analysis your phone and download recovery package to your Broken Samsung Galaxy S5.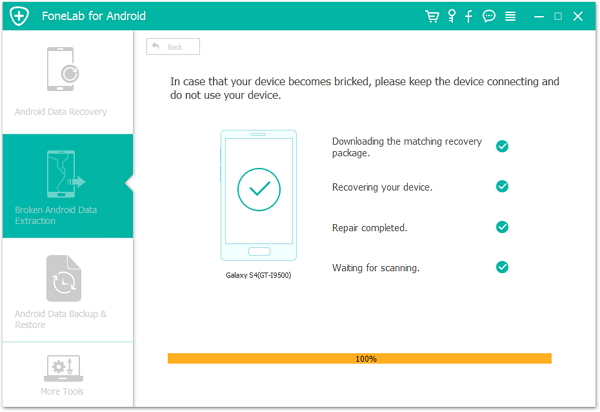 Step 7. Scan and Preview Previous Data Stored in the Broken/Damaged Samsung
Once the recovery package has been successfully downloaded, the program will begin to scan the device all the contents stored in your phone's internal memory.In this steps,you can preview all the contents before get them back.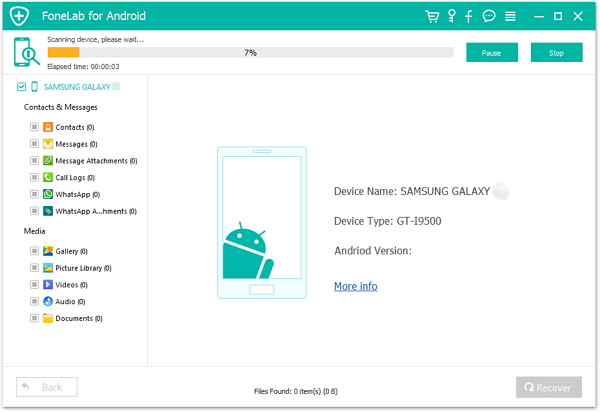 Step 8. Extract Deleted Data from Samsung with Broken Screen
The last step for you to extract them back from the broken phone.Just clike one of files tyep or all you want to extract,then click "Recover" to extract and save all of them on your computer.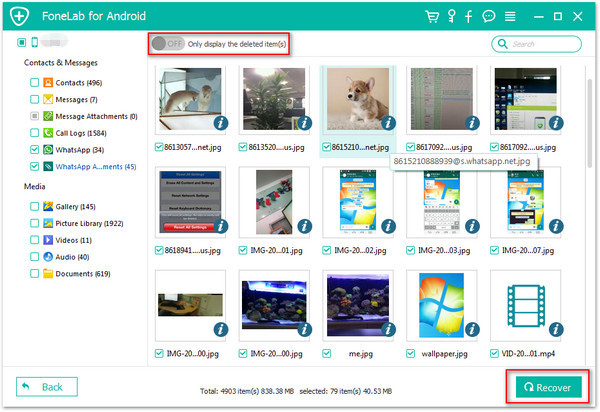 Free download the program and have a try!






When done! You have extract and recover text messages, call logs,photos, contacts, music, videos and more from broken Samsung phones and tablets with the help of Broken Android Data Recover.But we still strongly recommended that you should backup Samsung data to computer,regularly.Once your phone is broken or other fault,you can restore them back to the new phone from backups easily,we recommend you use this Phone Transfer,whcih not only can help you backup and restore data from Android, iPhone on computer,but also allows you transfer contacts,sms,photos,videos and more between phones - base on Android, iOS, Windows Phone, BlackBerry and Symbian OS.In additional, please note that currently the Broken Android Data Recovery only supports Samsung devices to recover existing data. If you use other Android devices with damaged or other fault, like HTC, LG, Sony, Google Nexus, Huawei,ZTE, Motorola and so on, you will still wait for the program upgrade to the latest version.

Related Articles:
---
How to Recover Lost Data from Android

How to Recover Photos from a Broken iPhone

How to Recover Deleted Message from Broken Samsung Phone

How to Recover Deleted Contacts Samsung Galaxy

How to Transfer Data from iPhone to Android