Most phone freezes are caused by apps and not the system itself,the default Android install is pretty good now,if you installing malicious third party apps that consequently install unofficial ROM in the phone,it may cause your Samsung phone has frozen during a restart screen or a reboot,the phone willl stuck in Samsung logo screen/black screen/blank screen of death,especially Galaxy S7/S6/S5/S4/Note 4/3.Or during the software upgrade, your phone suddenly no power led to shutdown,when you restart the phone,it keeps freezing status.

To fix a frozen Samsung Galaxy S/Note/Ace,just a simple hard reset or by restoring the original firmware once more,but it is the probability of losing important data.So, how to save your important data from your frozen Samsung Galaxy phone after hard resetting it?This article teach you how to fix frozeen Samsung phone without data lossing,please keep reading.

Forcing a reboot/soft resetting/hard resetting is a sure fire way to restore your Samsung Galaxy phone to fully working condition once more.But these methods will cause data lossing,so,we recommend you follow the part 4 and part 5 tutorial to fix and recover data from a frozen Samsung Galaxy phone.


Part 1: Force Reboot your Frozen Samsung Galaxy Phone

Forcing a reboot is a sure fire way to restore your S7 to fully working condition once more.

1.Hold down the power and volume down button until the phone reboots.
2.Usually this takes around 7-8 seconds but occasionally it can take longer. Just hold the buttons down until it restarts.

The screen should go black, the handset should vibrate and then reboot. If the issue was the result of a system crash rather than an app or setting, you may be presented with the recovery menu. Use the volume keys to select Normal Boot from the menu and use the power button to select it. Your phone should now start as normal.
If your phone keeps freezing, consider deleting any apps you recently installed.
Part 2: Restore your Frozen Samsung Galaxy by Soft Resetting

Step 1.Press the power button for about 15 seconds until it turns off.
After shutting off your frozen phone,and let it stand for a few more seconds to a minute.
Step 2.Reboot the phone and return to normal activity
Usually, a frozen screen Samsung phone is caused by crashing or unresponsive programs or overloading of programs opened. If you want to detect the culprit of frequent but random freezing, you can first restore your unit to its original condition and try adding one app at a time.

Part 3: Restore Frozen Samsung Galaxy to Factory Setting by Hard Resetting

The most effective way to fix your frozen Android phone is hard resetting the device.But hard resetting will erase all your data and settings on Samsung phone. So make sure that you have backup your Samsung by Samsung Kie before. Also, remove the SIM card first if you're opting for a full reset. Here, there are two ways to perform a hard reset your Samsung phone. The first one is done manually on startup:

Step 1.Turn off the phone.
Step 2.Hold down Volume up + Volume down + Power button at the same time.
Step 3.Hold on to the three buttons while you wait a menu option to appear on-screen.
Step 4.Using the Volume down button to move the cursor,and the choose "Wipe Data or Factory Reset".
Step 5.Press the Home button to select the action.
Waiting for hard resetting processing,when it done,your phone will reboot and turn to normal,but you may found all data loss after hard resetting the frozen phone.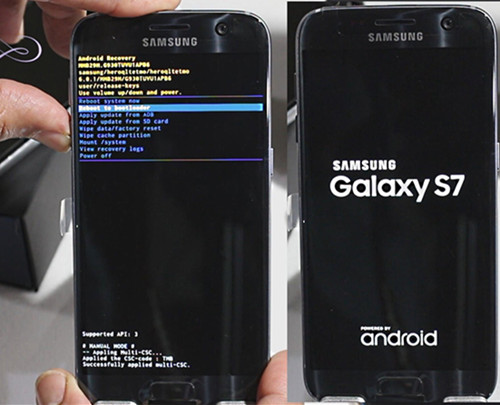 The second method of hard resetting is by soft resetting first. When the system resumes, key in: *2767*3855#. You will automatically be prompted that the factory reset is successful.

Note:All of these methods above will erase all of your important data,even those encrypted data.However,please learn the best solution to fix Samsung Galaxy frozen on startup without data loss,you can also extract data from a frozen Samsung phone.
Part 4: Fix Frozen Samsung Galaxy to Normal without Data Loss

Broken Android Phone Data Extraction not only can help you easily to fix crashed, bricked, frozen or locked Samsung phone to normal,but also enables you extract photos, videos, text messages, contacts, call history, WhatsApp chat history, etc. from frozen Samsung Galaxy S7/S6/S5/S4, Note 5/Note 4/Note 3.What's more this program allows users recover data broken Samsung with broken screen or black screen.Let's learn how to fix and back up frozen Samsung phone.




How to Fix your Samsung Galaxy Frozen on Startup

Step 1.Connect a Forzen Samsung Phone to PC
First of all,please free download the Android Data Recovery - Broken Android Data Extractiong,then launch the program and select "Broken Android Phone Data Extraction" mode from the left.If you want to fix the bricked frozen Samsung phone,please click the "Fix Device" button.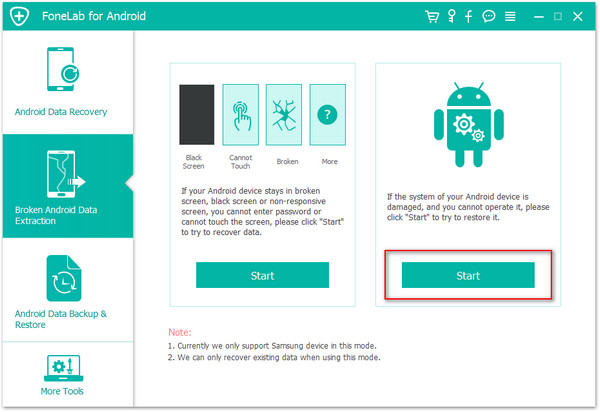 Step 2.Choose Samsung Startup Screen
When you choose "Fix Device", you can see the program able to fix all types of fault in Samsung phone,like startup screen(frozen device)/download mode/FoneGo interface/black screen of death or others. Please select "Startup" option,and then click "Next".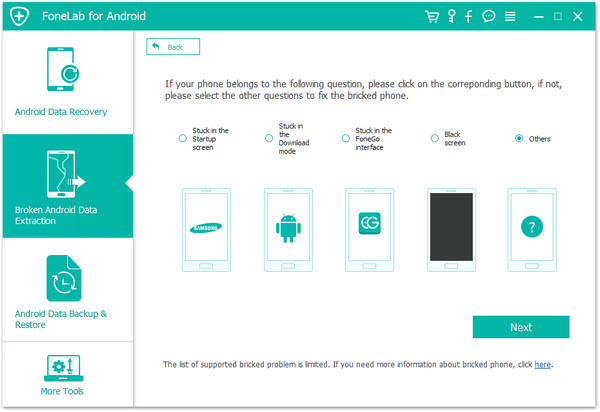 Step 3. Choose your Frozen Samsung Phone Mode
To fix your frozen Samsung Galaxy phone,the program will download a suiteable recovery package for the phone.So,you need to choose your Samsung Galaxy phone the correct model and other information,then click the "Confirm" button.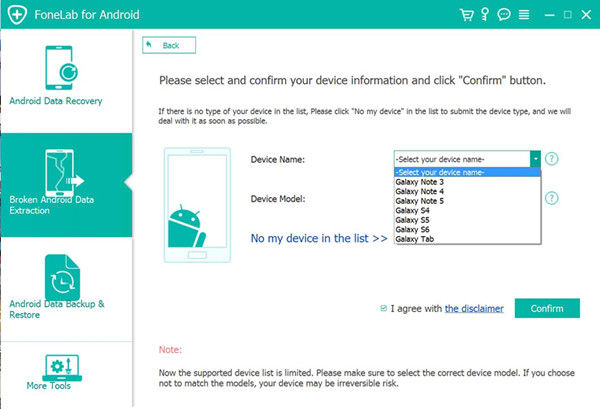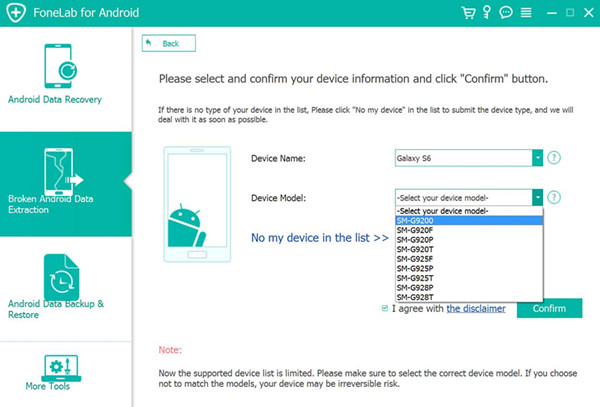 Tips:Currently, the program works with Samsung devices in Galaxy S, Galaxy Note and Galaxy Tab series.

Step 4.Enter Frozen Phone into Download Mode
Once you choose the phone name and model, the program will ask you to get your frozen Samsung Android phone into the Download Mode. Just follow the three steps displayed on the window to finish it.
1)Power off the phone
2)Press and hold three buttons: "Volume Down", "Home" and "Power"
3)Press the "Volume Up" button to enter the "Download mode".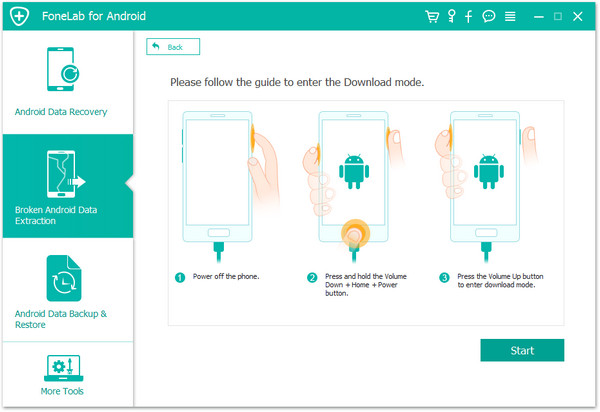 Tips: Download Mode for Android devices allows you to easily install new OTA Updates or flash new Android operating system files by pushing them from computer directly to Samsung phone using only a USB data cable.

Step 5.Analyze Frozen Phone and Download Recovery Package
After get your phone into download mode, connect your Samsung phone to PC via a USB cable and the program will download recovery package to your Samsung phone,and then start analyzing,scanning your phone automatically.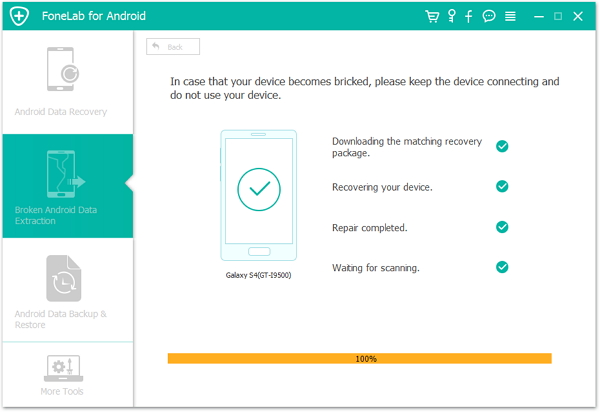 Step 6.Fix Frozen Samsung Galaxy to Normal
Finally,the program will fix your Samsung phone to normal statues.Only few minutes,your frozen Samsung Galaxy phone wil be fixed and turn to normal status,no data loss at all.

Free download the Andriod Data Recovery:




Part 5: How to Recover Data from Frozen Samsung Galaxy

In this party,we will teach you how to use Broken Android Phone Data Extraction to extract all data from a frozen Samsung Galaxy S/Note.When launch the program on the computer,please connect your broken phone to computer,then click "Start" button,after download the recovery package and fix your frozen Samsung phone to noraml,the program will scann your phone for all lost data,it will list out all recoverable files in the scanning results,including pictures, videos, SMS, contacts and more,then choose the files you want and preview.Finally,please click on "Recover" button to extract data from frozen/broken Samsung phone and save them on computer.






Extract Everything from a Frozen/Broken Samsung phone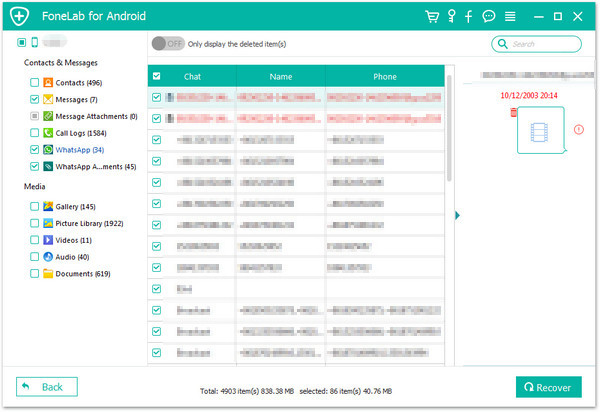 Related Articles:

---
How to Retreive Phoots on Broken Samsung

How to Recover Photos from a Broken iPhone

How to Recover Deleted Message from Broken Samsung Phone

How to Recover Deleted Contacts on Broken Screen Android

How to Switch Files from iPhone to Android