"Last night, my boy friend dropped my Samsung S7 to the ground. The screen is cracked and I can still see the display. I have used the phone for almost 10 months, and there are almost 100 text messages and WhatsApp messages on my broken phone, I need to extract those important SMS from broken Galaxy S7 and save on the computer. Any good advice on how to retrieve text messages from broken Samsung phone?" -- Asked by Suesha

"My Samsung Galaxy S6 stuck in black-screen while after reboot it,I have tried a lot of ways to fix it but cannot access the phone system,is it possbile to recover SMS other other data from black-screen Galaxy S6?Thank you!" -- Asked by Kimi

When your phone frozen, crashed, broken-screen, virus-attack, screen-locked or black-screen,you can recover data from the broken Samsung phone by a third-party broken Android data recovery software.

Unlike photos, videos and other media files which is stored on the SD card inside the phone, the contacts and messages are saved in the internal memory of the Android phone. Make it easy to recover SMS from broken Samsung Galaxy S7/S6,you can use this Broken Android Data Recovery, which is a powerful broken Android phone data extractor, you can extract text messages and WhatsApp messages from broken Samsung S7/S6, as well as Galaxy S5/Note 5/Note 4/Note 3 to computer easily.

Free download the Broken Android Data Recovery:






Let's show you the easy guide to retrieve SMS from broken Samsung phone without backup.

Before extract messages from a broken phone,there are few things required:
1.USB cable to connect the broken phone to the computer
2.Windows Computer, Mac version only supported recover Android data without broken
3. Broken Android data recovery for Windows installed on computer

Easy Steps to Restore Text Messages on Broken S7/S6

Step 1. Connect your broken Samsung S7/S6 to the computer
To begin with, install and run the broken Android phone data recovery program on your computer, and then the main window will show as follows.
After you launch the program, choose "Broken Android Phone Data Recovery". Then click on "Start" at the buttom of the program.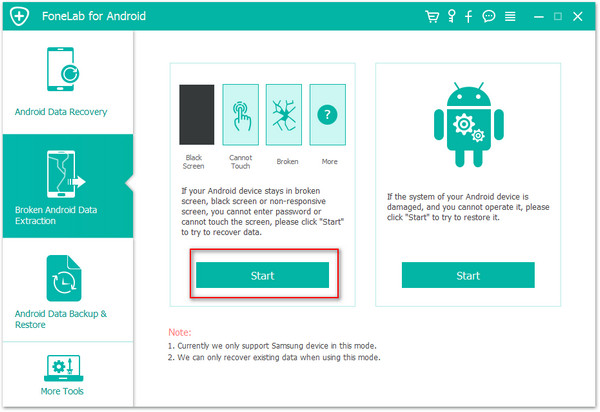 Step 2. Select your Phone Name and Model
Select your phone name and model - Galaxy S7 or Galaxy S6,and click "Confirm" to make sure your phone can be fixed by this program.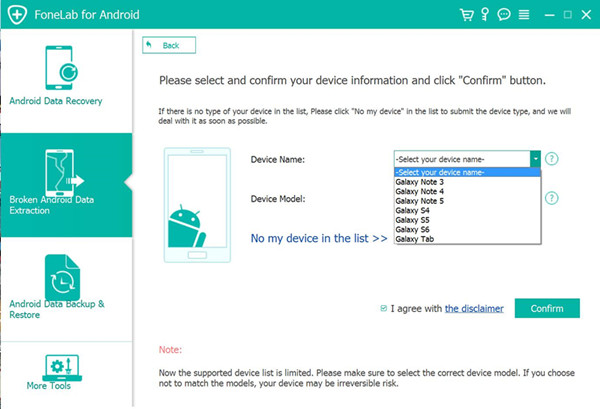 Currently Supported Broken Galaxy S7/S6 Model:

S7: SM-G930T, SM-G935F, SM-G930F
S6: SM-G925T, SM-G928P, SM-G928T, SM-G920T, SM-G925F, SM-G925P,SM-G9200, SM-G920F, SM-G920P,

Step 3. Get your Phone Into Download Mode
In this step,the program will ask you enter your Samsung phone into download mode,the pop-up will direct you to enter the download mode in three steps as the interface tells. Click "Start" to fix your phone.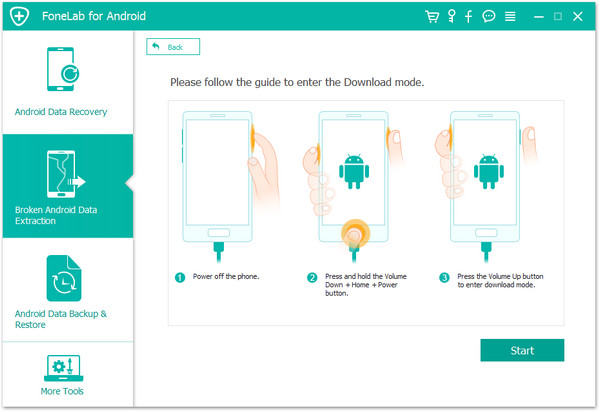 Step 4. Let the Device Be Analyzed
After enter download mode successfully,the program will download the recovery package for the broken Samsung phone,and then analyze your broken phone until it is completed.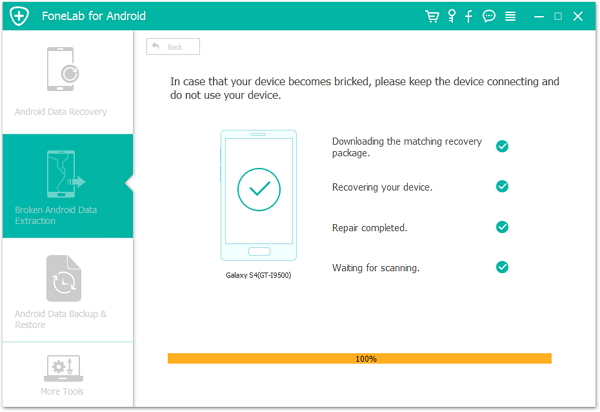 Step 5. Preview and Recover the Messages from Broken Galaxy S7/S6
After fixing successfully,the program will scan your broken Samsung Galaxy S7/S6 for all data automatically. After scanning the device complete,then click "Messages" to view the text messages details,including phone numbers, text content, Name and date. Then checkmark the text messages that you want to get back, click "Recover" to recover the messages from your broken Samsung Galaxy S6/S7 to computer.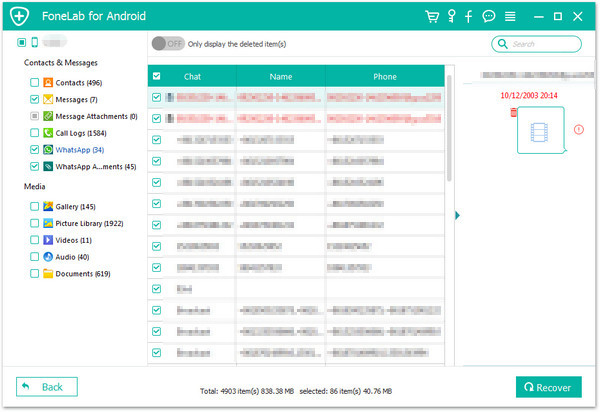 Tips: The Broken Android data recovery not only supported extract text messages from broken Samsung phone, but also allows you recover contacts, message attachments, WhatsApp messages, call log, WhatsApp pictures/videos, photos, videos and music from your broken Samsung phone to computer.

Free download the Android Data Recovery to extract messages on your broken phone:






The Broken Android data recovery function only supported extract the existing data on your broken phone,not including the delete files.If your phone is not damaged,you can use the general Android data recovery function to retrieve deleted data from your phone directly.

Related Articles:
---
How to Recover Deleted Text Messages on Android

How to Restore Lost Photos on Samsung Galaxy S7/S6

How to Recover Deleted Data from Android

Samsung Desktop Manager: Manage your Samsung Phone and tablets on complete

Samsung Kies:Backup Data and Restore to Samsung after Factory Reset