"I have a MacBook and I want to transfer all SMS in my iPhone 6 to my Mac. Is there any way possible that I take transfer text messages and manage them on my MacBook? Any of your suggestions will be appreciated, thanks in advance!"

You should have to keep your favorite texts from family and friends, and have a way to save your most significant messages from work. Unfortunately, your iPhone 6 messages can disappear for mistaken deletion, iOS update failed jailbreaking or some other unexpected reasons. So many iPhone users would like to backup their important messages so as to avoid SMS losing. To backup SMS from iPhone 6 to Mac, we will show an easy and efficient way to transfer text messages from iPhone to Mac and export SMS from Mac to iPhone with a few clicks.

The following guidance will show you two parts to help you know more about data transfer between iPhone and Mac, and you can free download the software to have a try. You can transfer text messages between iPhone and Mac easily and completely. No matter your are iPhone for iPhone 6S/6, iPhone 5S/5, iPhone 4S or Mac users for iMac, MacBook Air, MacBook Pro run with OS X El Capitan or ealier OS version. Now keep on reading and begin your data transferation.


Part 1 How to Backup SMS from iPhone to Mac

Phone Transfer program is an all-in-one transfer tool, allows you to manage your iPhone with ease. It can easily and quickly help you transfer messages, notes, contacts, music, playlists, movies, apps, photos, books, and other type of files from your iPhone to Mac. Besides, it keeps the messages in PDF/HTML/TXT format on your Mac so you can read or even print out the texts for forever preservation.






Step 1. Run the Phone Transfer to Your Mac

You can click on the icon above to download the Phone Transfer software for free. After installation, you should launch the program and connect your iPhone to Mac via an USB cable.




Step 2. Choose Data Backup Mode and Backup Text Messages from iPhone

In this step, you can select the "Backup" option to enter the Backup Mode. Once you check all SMS that you want to backup, click "Start Copy", and the Phone Transfer software will automatically back up the selected contents from iPhone to your Mac.




Part 2 How to Transfer Text Messages from Mac to iPhone

If you have transfer your text messages to iCloud or Gmail before, you can easily get SMS back to your iPhone. Otherwise, you can use Phone Transfer tool to import all SMS from Mac to iPhone. Fortunately, here you will be shown on how to transfer Gmail text messages to iPhone.

1. Upload SMS from Mac to Gmail

Step 1. Open Google browser on the internet and sign in your account and land Gmail page.
Step 2. On the left column, click Gmail > SMS to show the messages control panel.
Step 3. Click More to show its pull-down menu. Choose Import…. In the pop-up dialog, click Choose File.
Step 4. Browse your Mac to find the saved CSV or vCard file where SMS are saved. Then, click Open > Import to import your text messages to Gmail.

2. Sync Google SMS to iPhone

Step 5. On your iPhone running iOS 5/6, tap Settings. Scroll down to find Mail, Contacts, Calendars. Tap Add Account and choose Google.
Step 6. Fill out your name, Email, password and description. (Turn on Wi-Fi network).
Step 7. Tap Next and turn on "Messages". Then, tap "Save" to sync Gmail messages to iPhone. When the sync is finished, go to SMS app and Google messages will be right there.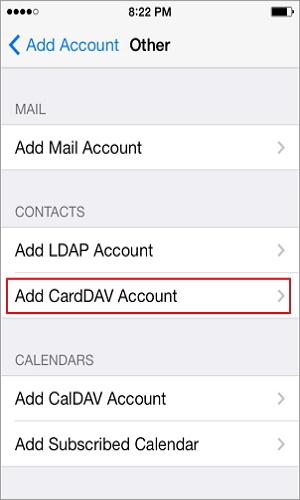 If your iPhone is running iOS7 or later, here to learn how to sync Gmail SMS.

Step 5. Open the Settings app on your device.
Step 6. Select Mail, Contacts, Calendars.
Step 7. Select Add Account.
Step 8. Select Google.
Step 9. Fill out your account information in the following fields:
**Name: Enter your name
**User Name: Enter your full Google Account or Google Apps email address.
**Password: Your Google Account or Google Apps password. (If you've enabled 2 Step verification, you'll need to generate and enter an application specific password.)
**Description: Enter a description of the account (e.g. Personal SMS).
Step 10. Select "Next" at the top of your screen.
Step 11. Make sure that the "Messages" option is turned ON. The switch should be green.
Step 12. Select Save at the top of your screen.

Read More:
---
How to Transfer Contacts Between iPhone and Mac

Transfer Media Files between iPhone and Samsung Galaxy