Summary: Have got a new Samsung Galaxy S7, S7 edge, Galaxy S6,S6 edge, Samsung Galaxy Note 7 and want to transfer photos from old iPhone 4/4s/5/5s/6/6s to new Samsung Galaxy phone?This aritcle teach you how to use Samsung Smart Switch free to switch pictures from old iPhone to new Samsung Galaxy,and how to transfer iPhone contacts to Galaxy S6/S7/Note 7 with Phone Transfer directly.

The advantage of transferring data from old phone to new one is that users can keep in touch with their family members or friend's at any time; review the photos taken in the last for recalling some memoriable moments;set your favorite music or songs as the ringtones as you like.We know that there are lots of versions of operating system on the market, so when you switch your phone from one system to another,you always be frustrated by the problem of moving data between two different devices, right?That's why we write this page here.In this article,we'll take two of the most popular smart phones on the market as an example: iPhone and Samsung Galaxy.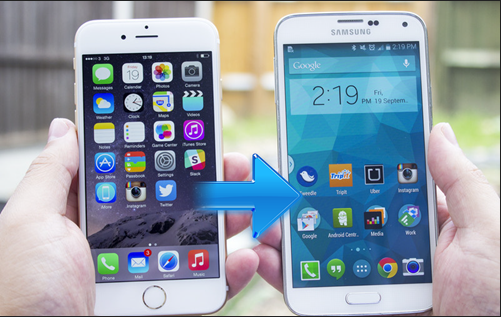 Following this use guide, you can transfer not only photos, music bust also video etc media files from iPhone to Samsung device like Galaxy S6/S5 and Note 5 easily yet effectively within few simple clicks.And this program is a standalone program that is 100% risk-free,so here is no need for you to worry about your personal information of leaking out after your transfer photos,music,videos between iPhone and Samsung Galaxy S7/S6/S5 and Note 7/5.


Part 1:Transfer Pictures from iPhone to Galaxy S7/S6/Note 7 via Smart Switch

Samsung Smart Switch can help you to switch files from from other mobile phone to Samsung Galaxy phones,the Smart Switch allows you transfer iPhone photos, videos, contacts, messages and other data to a new Galaxy S6. Let's take transfer iPhone photos to Galaxy S6 as example,you may know how to use Smart Switch to transfer pictures from iPhone to Galaxy S6 step by step.

Step 1.Log in iCloud
To begin with,you should download the Samsung Smart Switch and run the app in your Samsung phone.Select "iOS Device"as source device and enter Apple ID and password to log in iCloud account.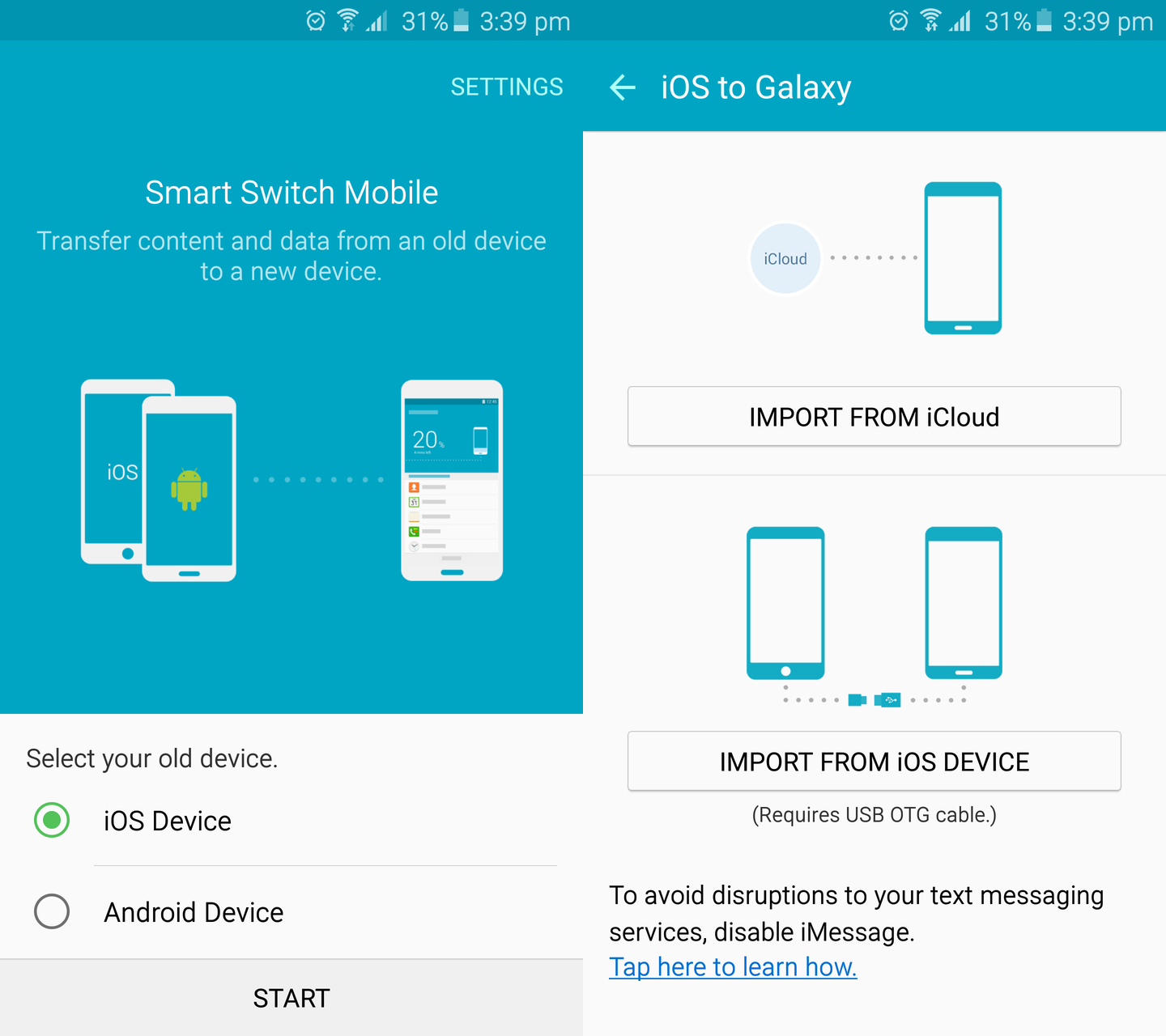 Step 2.Import iCloud Backup
Smoothly to log in iCloud,there are four categories of data will be shown on the screen.Just click the item which you want to transfer,for example"Pictures" and hit the "IMPORT" button and it will automatically start photo backup from iCloud.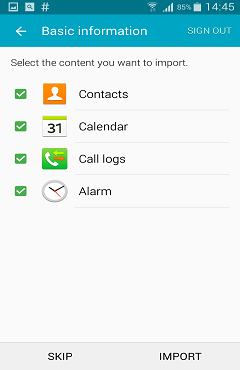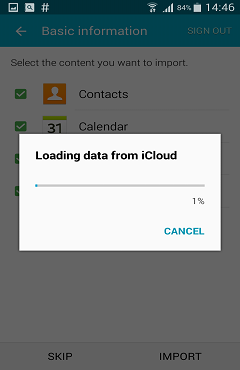 Step 3.Start to Extract the Selected Content and Transfer it to Your Samsung
After clicking "IMPORT" button to start transferring.Just in a while, you can check the photos one by one in your Samsung Galaxy phone completely.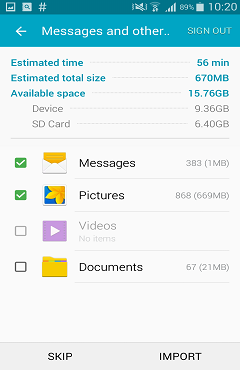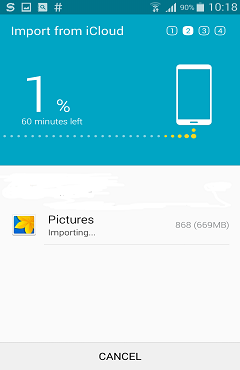 If you forget your iCloud password or having no backups,here is another simple way for you to directly copy media files from old iPhone to Samsung Galaxy effortlessly.


Part 2:Transfer Photos and Videos between iPhone and Galaxy S6/S7/Note 7 via Phone Transfer

Phone to Phone Transfer is a powerful and intelligent data transfer program designed for smartphone users.It supports to hundreds of files transferred from from Android to iPhone and iPhone to Android device. With the help of this mobile phone transfer tool,you can transfer photos, music, videos, and other media files between iPhone 4,4s,5,5s,6,6s and Samsung Galaxy S7/S6/S5/S4, Galaxy Note 7/5/4/3,ect just a few clicks.The most important thing is,you only need a few minutes to finish the transfer task,even if a large number of file transferring.You could not difficult to find it's easier and faster solution than other data transfers on the market.The following detail passages explain how to use phone to phone transfer to copy photos from iPhone to new Samsung Galaxy S/Note phone,as well as contacts, text messages, apps and other data from ios to Android.






Phone to Phone Transfer Supported Device:
Supported iPhone Models: iPhone 7/ iPhone 7 Plus/ iPhone 6S Plus/ iPhone 6S/ iPhone 6 Plus/ iPhone 6/ iPhone SE/ iPhone 5S/iPhone 5/iPhone 4S
Supported Samsung Models: Galaxy S7/S7 Edge, Galaxy S6/S6 Edge, Galaxy S5/S4/S3, Galaxy Note 7, Galaxy Note 5/Note 4/Note 3/Note 2, Galaxy A9/A8/A7/A5,ect.

Let's show you the easy tutorial to transfer all media files between iPhone 5 and Samsung Galaxy S6 for example directly just 4 steps.

Step 1.Connect both iPhone and Samsung Galaxy S6 to Computer
Now,please connect your iPhone 5 and Galaxy S6 to your personal computer with USB cables.Your phones will be detected automatically.Then you will see your devices appear in the starting window with the places"Source" and "Destination" respectively.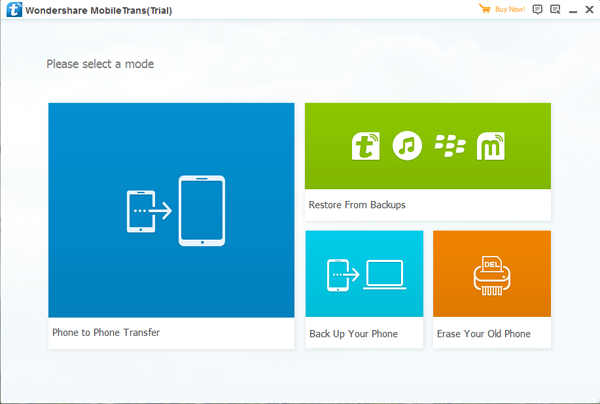 In addition,you can also transfer files from Samsung Galaxy S6/S5/Note 5 to your iPhone by clicking the button "Flip" to change the places of the two phones.

Step 2.Select the "Phone to Phone Transfer" option in the primary window of this program.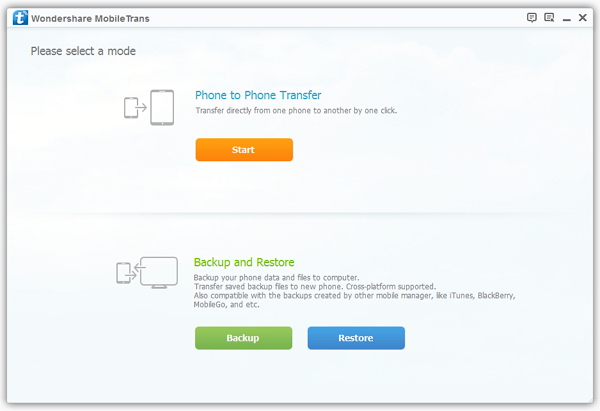 Step 3.Select the Photos/Music/Videos Files You Want to Transfer
In this step,you can transfer files including music,photos,videos,contacts and text messages etc to your destination device(Galaxy S6) from the starting window.If you only want to transfer iPhone photos to the new Galaxy S6,just remove marks before other items,and click "Photo" item.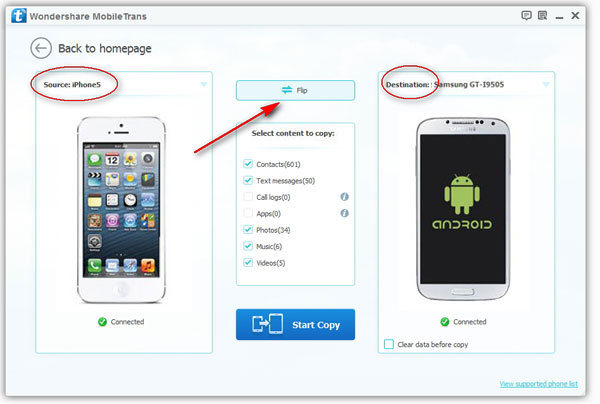 Step 4: Transfer Photos/Music/Videos from iPhone 5 to Samsung Galaxy S6
Then please click on the button "Start Copy"to start transfer selected files from iPhone to Samsung Galaxy.(You ought to keep your devices connected with your computer until the whole process finish)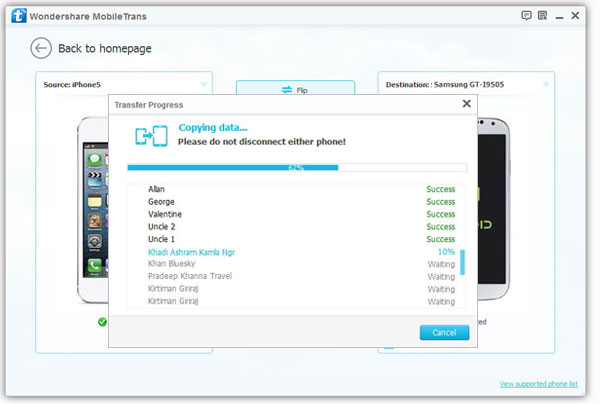 Once complete copy data from iPhone to Samsung Galaxy,the transferring process come to the end,please click the button "OK"to end the process.

Good Job!You have already transferred all media files from iPhone to your new Samsung Galaxy phone!Isn't it very easy?

The Phone to Phone Transfer allows to switch data between multiple phones based on Android Phone(Samsung Galaxy S7/S6/S5/Note 7/Note 5/Note 4/Note 3/Note 2,HTC,Sony),Symbian Phone(Nokia) and iOS phone (iPhone 6S/6, iPhone 5S,iPhone 5,iPhone 4S)etc;you can move all the data between two mobile phones even they belong to two different operating systems.





Related Useful Guides
---
How to Transfer Data from iPhone to Galaxy S6
Switching phones data has always been an annoy problem for mobile users,If you're an iPhone user planning to replace a Galaxy S6 or Galaxy S6 edge phone,it's not going to take you long to notice how to transfer data between the two phones.We've got everything you need right here.

How to Transfer SMS from iPhone to Galaxy S6
Nowadays,more and more people,have two portable phones.When receiving some important messages on iPhone and want to copy and save the texts in Galaxy S6,many people may have no idea how to fix it.Here is an useful guide to copy iPhone SMS to Samsung Galaxy S6 Phone.