Samsung Galaxy S6 Screen Broken

My Samsung Galaxy S6 fell down from the car,the touch screen is broken and doesnt display anything. Now,The phone still boots up and there are a lot of important photos, videos, contacts and messages on the phone.What's worse, the phone's screen has a lock on it. I am not sure if I had USB Debugging enabled or not.Now,I don't want to use my broken screen Galaxy S6 any more, because I will buy a new Galaxy S8 or iPhone 7 to replace, but I need to copy off at least my pictures, SMS, contacts, call logs, videos and WhatsApp chat history from the broken S6 to Galaxy S8.Is there any way recover data from the Galaxy S6 with screen broken,please help?

When your Samsung Galaxy S6 fell out of your hands or while getting out of car you dropped it on floor and its screen broke up. Ask those who have been in this situation, you surely don't want to end up with a Galaxy S6 broken screen.The most important thing what you want to do is recoverring files from your broken Samsung phone.
Recover contacts/messages/photos from broken Galaxy S6 and S6 Edge

Please do not be discouraged.Broken Android Phone Data Extraction not only can help you recover files from Samsung Galaxy S6/S6 Edge with broken screen,but also allows you retrieve data from all kinds of damaged Samsung devices including broken/dead/locked/blank/black screen Samsung phone and tablets,such as Galaxy S7, S6, S5, S4, S3, Note 4, Note 3, Note 2.The Broken Android Data Recovery program supports media files including photos, gallerys, videos, songs, movies, audios,WhatsApp pictures/videos and text files including text messages, contacts, call logs, messages and more from Samsung Galaxy directly.Just connect your damaged Samsung device with the computer,and using the program scanning your phone,all existing and lost data on your Samsung Galaxy will be found by the program and you are able to access and restore them with ease.Let's take how to recover photo files from broken Samsung Galaxy S6 for example.

Please download the free trial version of this program below and have a try:






Supported Broken Galaxy S6 Model:SM-G9200, SM-G920F, SM-G920P, SM-G920T, SM-G925F, SM-G925P, SM-G925T, SM-G928P, SM-G928T

How to Recover Lost Photos from Samsung S6 with Broken Screen

Step 1.Connect Broken Samsung Galaxy S6 to PC

To extract data from your broken screen Samsung Galaxy S6,you need to download and install the broken Android phone data extraction program on your computer. After that, launch it on PC and connect your S6 to computer. In the left pane of interface, you will see two options to choose. Just click on the "Broken Android Phone Data Extraction",and then click on the "Start" button to start the recovery process.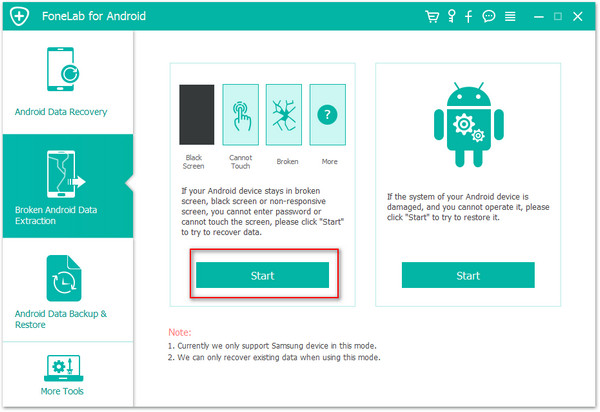 Step 2.Select your Galaxy S6 Model

In this step,the program will ask your device model and only some specific Samsung models are supported. Please select Galaxy S6 device and the correct model of your phone.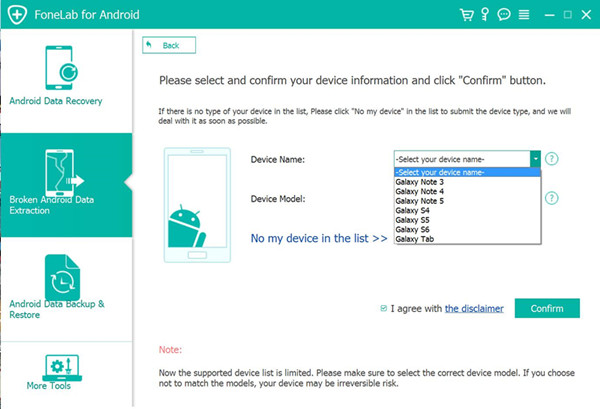 Step 3.Enter Samsung Galaxy S6 into Download Mode

Follow the three-step guide in the interface to enter the download mode and click "Start" to wait this software to download recovery package to your phone.Just hit the "Start" button. Then the program will start to perform the action within minutes.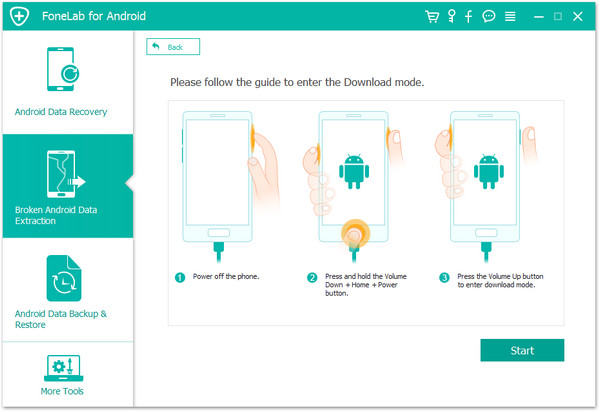 Step 4.Analyze and Scan your Broken Samsung Phone

After downloading the recovery package and fixing your Samsung phone successfully, this program will scan your phone data directly.The program will take a deep scan of all lost and exiting files stored in the device including photos, contacts, text messages, call history, WhatsApp history, and videos and so on.It depends on how much file is stored on your phone,please wait patiently until the scanning process done.

Download Recovery Package for Broken/Damanged Samsung S6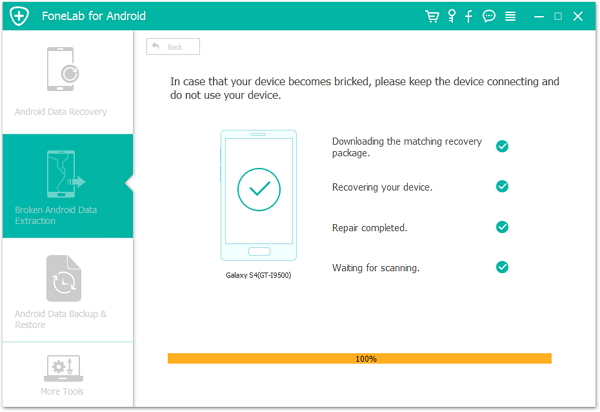 Scanning Lost Data from Galaxy S6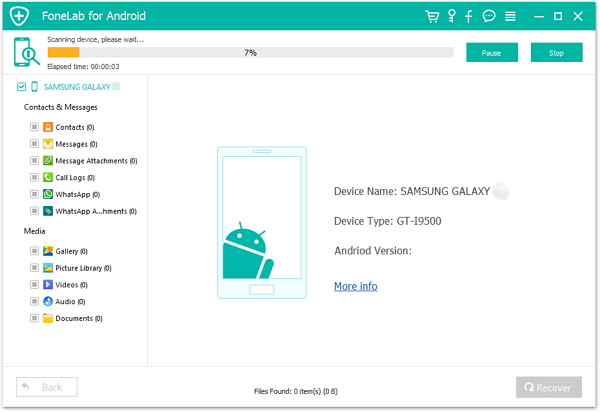 Step 5.Retrieve Files from Samsung Galaxy S6 with Broken Screen

Whne the scanning process complete,the program will display all lost data for you.If you just want to recover photos back from the broken phone,please click "Gallery" and "Picture Library" item on the left side of the options section.Finally,make the photos you want to get back and then click "Recover" button to save them on your computer.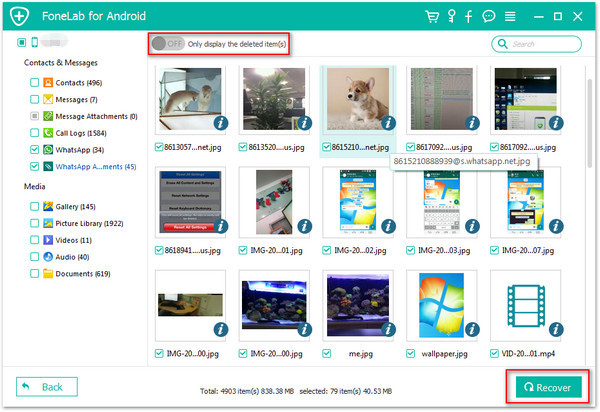 Free download the Android Data Recovery:






Well done,you have retrieved files back from the broken Samsung Galaxy phone with broken screen,if you have purchased an new Samsung Galaxy S8 or iPhone 7, iPhone 8 to replace,you can transfer the retireved data from computer to the new phone.

Transfer Data from Broken Phone to new Phone

Now,all the files retrieved and save on the computer,if you have got a new iPhone or Android phone,like iPhone 7, Samsung Galaxy S8, S7, Huawei Mate 9, P10, P9, Google Pixel,etc.You can use this iOS & Android Manager to import all retrieved Samsung files from computer to another new phone,inclusing contacts, SMS, photos, videos, App and more.

Related Articles:
---
Recover Text Messages from Broken Samsung Phones

Recover Lost Photos, Videos from Samsung Galaxy

How to Manage Samsung Galaxy S6/S7/S8 on Comptuer

How to Import Files from Computer to Samsung Phone