My Samsung Galaxy Phone's Screen is Broken
"Help, My Samsung Galaxy S6 screen is broken but the phone itself is still working. Now I want to recover photos from the broken screen Samsung phone,and save them on computer. I have bought a new Galaxy S7, however,I also want to get back contacts, text messages, call logs from the broken screen Galaxy S6,and transfer them to the new Samsung S7 from those restored contents."

* Recover Deleted Photo, Videos from Android Phones

* Best Samsung Desktop Manager: Transfer Files to Samsung Galaxy

How to Recover Data from Samsung Galaxy with Broken Screen
Broken screen is one of the reasons for Android data loss.Generally, you can recover data from broken Samsung phones or tablets with broken screen, black screen, phone screen unresponsive, touch screen not work, can't enter system.In this situation, how can you get data off Samsung Galaxy device with smashed screen? Please keep reading as below.

Many people will encounter similar about accident about the phone screen is broken, damaged or non-responsive, sometimes the phone is smashed or cracked,but lots of precious data stored on its internal memory cannot be accessed.However,how to recover data from Samsung S7/S6/S5 with broken screen?


Don't worry,the Broken Android Data Recovery - Broken Samsung data recovery can help you recover data from broken screen or black screen Samsung Galaxy easily,although the phone screen is broken and can't be used,the powerful Android Data Recovery also can detect your broken Samsung phone after entering into download mode, just connect your broken Samsung phone to PC via a USB cable,the broken android recovery program will download recovery package to your Samsung Galaxy Phone, and then recover contacts, text messages, whatsapp messages, photos, music, videos and other android documents from Samsung Galaxy with broken, black or unresponsive touch screen. The Android Data Recovery works well with Samsung Galaxy S5/S4/S3/S6/S7, Note 4/5/3,Note 7 and other Galaxy Note and Galaxy Tab series.Let's show you the use guide to recover files from Samsung Galaxy S5 with broken screen step by step easily.

Free download the trial version of Android Data Recovery Program and follow the steps below to have a try.






Tips: If the data saved on the Samsung SD card before,you also can recover lost data from Samsung SD card.
Part 1:Recover Data from Broken Samsung Galaxy with Broken Android Recovery

The Android recovery not only can help you extract files from Android with broken or black screen,but also allows users scan and recover deleted data from Android devices directly without backups.If you wanna to get data back from your broken Samsung Galaxy S/Note phone,please select "Broken Android Phone Data Extraction" - a Broken Android Data Recovery key features in Android toolkit for users recover data from damaged phone directly.

Step 1.Run Android Data Recovery on PC or Mac
After downloading and launch the Broken Android Data Recovery program on your PC or Mac computer. Then, choose "Broken Android Data Extraction" and click "Start" button.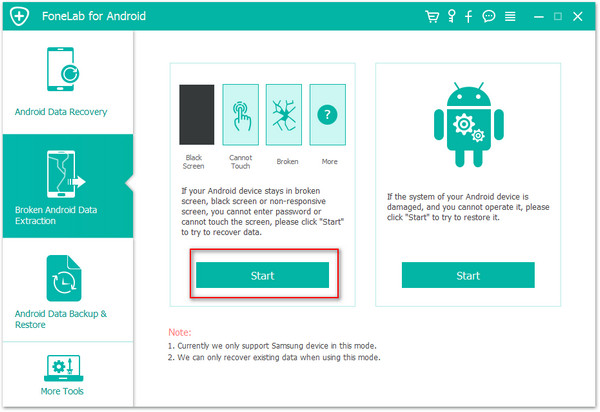 Tips 1: If your phone has been damaged and your are not able to enter the system for any reason,such as black screen,broken screen,or non-responsive screen,you can sue this "Android Broken Data Recovery" features to recover data from broken or dead Samsung phone.

Tip 2: Currently the program can only recover existing data from broken Samsung devices.

Step 2. Select the File Types you Want to Retrieve from Broken Samsung Phone
In this step,please select what file types you want to recover from broken Samsung phone. You can recover all types of files at once by "Select All",or restore some of them what you need.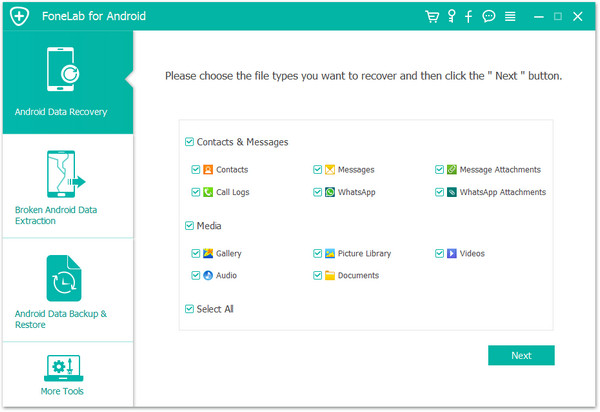 Tips: The Android Broken Data Recovery can support to restore Contacts, Messaging, Call history, WhatsApp messages & attachments, photos, music and more. from broken Android Samsung.

Step 3. Choose your Samsung Phone Fault Type
After you select the file types you need to get back and click on "Next" button, you need to choose the fault type of your phone. For broken screen phone,please select "Black Screen (or the screen is broken)" option at the right side.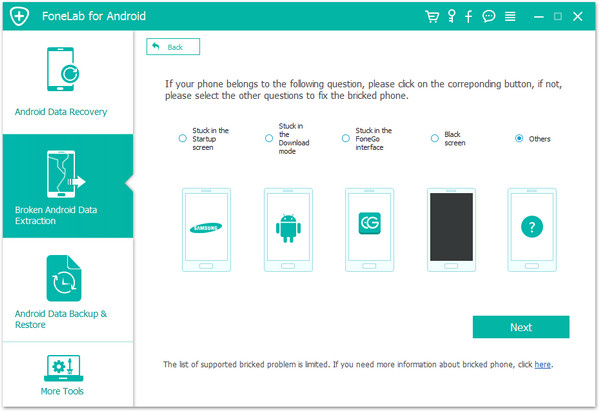 Then on the new window, choose the correct Device Name and Device Model for your phone. Currently this function only works for some of Samsung devices in Galaxy S, Galaxy Note and Galaxy Tab series. Then click on Next.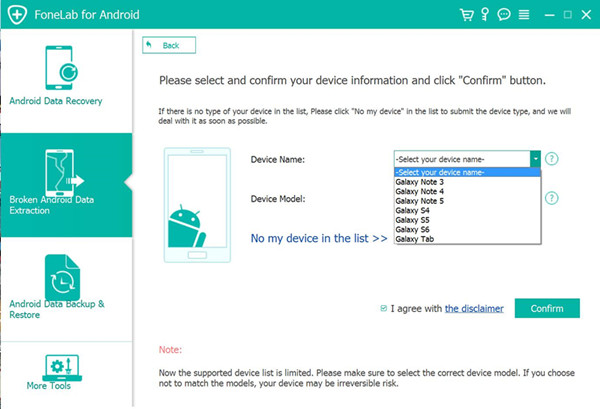 Step 4. Select the Download Mode on the Samsung Phone
Now, just follow the instructions on the program to get the Samsung phone into Download Mode.
1)Power off the phone.
2)Press and hold Volume "-", "Home" and "Power" button on the phone.
3)Press "Volume +" button to enter download mode.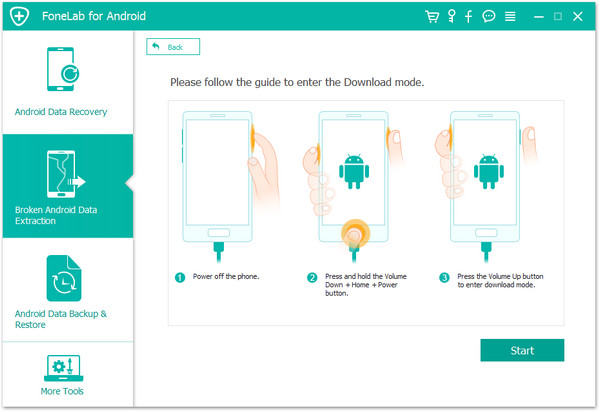 Step 5. Analysis the Broken Samsung Galaxy Phone
Then please connect your Samsung phone to the computer. Android Data Recovery will analysis the phone automatically.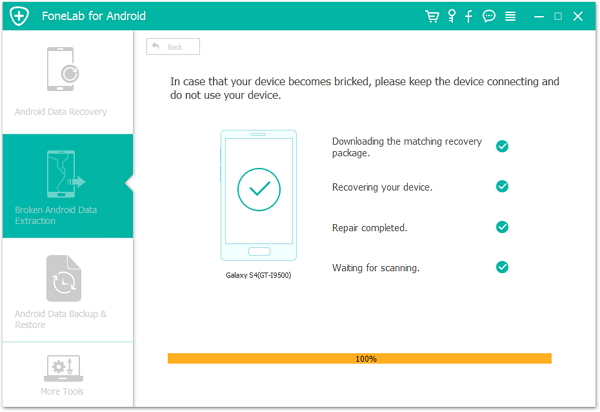 Step 6. Preview and Recover Data from Broken Samsung Phone
After the analysis and scanning process, Android Data Recovery will display all the file types by categories. Then you will be able to select the files to preview. Choose the files you need and hit Recover to save all the precious data you need.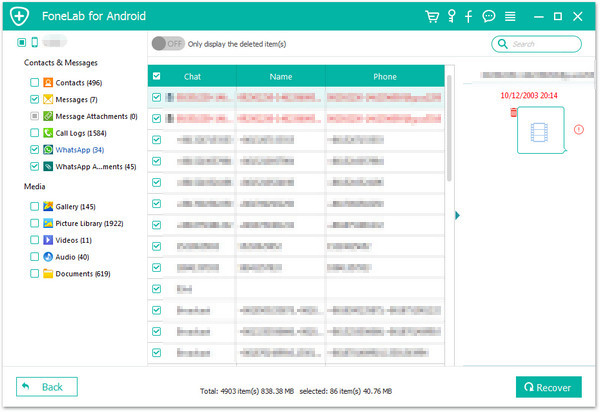 Free download the Android Data Recovery and have a try!






With the help of Android Data Recovery, you can recover photos, contacts, music, text messages, call history, videos and more from broken Samsung Galaxy S7/S6S5/S4/S3/Note 5/Note 4/Note 3/Ace and other phones and tablets. However, currently the program only supports Samsung devices,if you use Sony, HTC, LG, Nexus, Motorola and other Android devices, you will still wait for some time.

Part 2:Recover Data from Broken Galaxy S7/S7 Edge with Samsung Kies

More and more people use Samsung Galaxy S7 or Galaxy S7 Edge,but when the screen of your Samsung Galaxy S7 is broken up,how can you recover data from Samsung Galaxy S7 with broken screen?Today,let's teach you how to recover files if you have broken your Galaxy S7/S7 Edge.

When you mobile phone fell to the ground and cause the phone screen is broken,the first thing you need to do is recovering photos, videos, contacts, SMS and other important data from the broken phone.We can easily recover data from broken Samsung Galaxy S5/S4/S3/Note 5/Note 4/Note 3 with Broken Android Data Recovery,but if your Samsung Galaxy S7/S6 is broken with broken screen or black screen,I'm sorry to tell you that currently the Broken Android Data Recovery not support the new Galaxy S7/S6,you need to wait the program update,if your S7/S6(Edge) is not damaged and running normal,when you deleted data on Galaxy S7/S6 by careless,the Android Data Recovery can help you recover deleted data from Samsung Galaxy S7/S6 easily,including contacts,SMS,pictures,videos,call history,WhatsApp messages,ect.

To recover data from broken screen Samsung Galaxy S7,you can use Samsung Kies program,which is an iTunes for Samsung devices,it not only can help you synchronize data between devices and find new apps,but also enables you recover any kind of data from your broken Galaxy S7 edge.Let's teach you how to use the KIES to extract files from broken Galaxy S7.
Remotely Unlock Samsung Galaxy S7 and Recover Data

If you didn't have set the lock screen password then you would be able to access the photos, videos and other present files inside it,we recommend you backup Android data to computer at fist.If you have a fingerprint lock, you must to unlock the broken Samsung Galaxy S7 at first.However,how to unlock the Galaxy S7?Before rebooting your hone,you will be only able to unlock the screen using fingerprint scanner,which is a big is a great opportunity to unlock your phone.Unfortunately,If you unable to unlock the screen using fingerprint scanner,don't worry,you will be using Find My Mobile Service to remotely unlock your Galaxy S7/S7 Edge. After you unlock it,then connect your phone to your computer and using Samsung Kies to recover data from broken Galaxy S7.

Tips:Find My Mobile Service not only can help you remotely Unlock the Samsung phone and unlock screen remotely ,but also allows you sync Samsung data to cloud network.However, we recommend you keep your smartphones synced with cloud networks regular and make your Samsung phone backup,even if your phone is lost,stolen or broken,you can easily download and extract data from cloud backups via Samsung Find My Mobile service.
Steps to Recover Files from from Broken Galaxy S7/S7 Edge

Step 1.Log in Find My Mobile Service with your Samsung account
First of all, please log in to Find My Mobile with your Samsung Account. If you forget your Samsung account,please click the "Find email/password" option to find them back.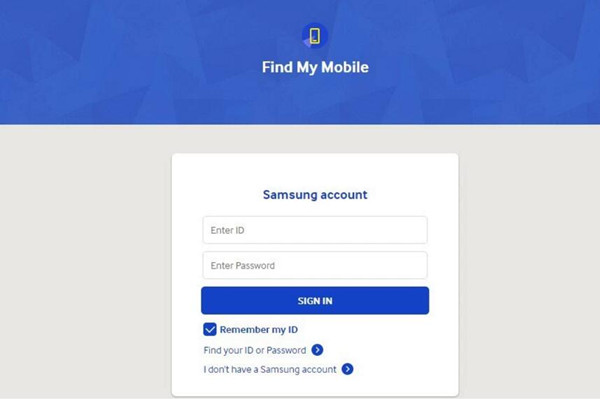 Step 2. Remotely Unlock your Broken Samsung Galaxy S7
When you have signed in your Samsung account,you can see an option like finding your phone, lock my screen, unlock my screen and wipe my device,then click "Remotely Unlock my Phone or Unlock Screen Remotely" >> "Unlock My Screen" to unlock your Galaxy S7,only few minutes,your broken Galaxy S7 will be unlocked,then,proceed to back up your Samsung data with Kies.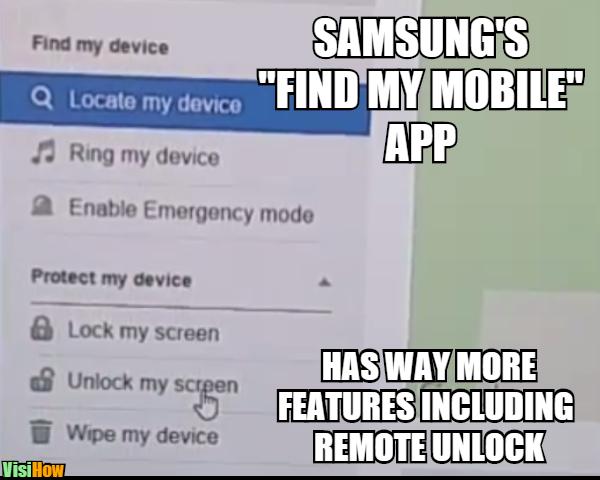 Step 3.Recover Data from Broken Samsung Galaxy S7 to Computer
Now,you broken Galaxy S7 is unlock,in this step,you need to use Samsung Kies to extract files from the broken S7/S7 Edge.First of all,please download,install and run the Samsung Kies on PC or Mac,then connect your broken Galaxy S7 to your PC via USB cable, and recover data from broken S7 to your computer using copy/paste via Samsung KIES.

Tips:You also can use Samsung Smart Switch to transfer your files from broken S7 to computer,after unlocking the broken S7,as well as broken Galaxy S6/S6 Edge/Note 7.
Tips: How to Backup Data from Broken Android to Computer

If your phone touch screen is broken/damaged,you can try to connect your broken screen mobile phone to the computer via USB cable and access the phone, this is the most easy way to export media files(photos, videos, musics) from the broken phone to computer.But if your phone with black screen, blank screen and other system problem, this method may not help. Now, let's learn how to transfer media files from broken phone to the computer.

Step 1. Connect your broken or cracked screen Android phone to computer with the USB cable.

Step 2. When your phone detected by the computer,the AutoPlay window will pop up,then click on the "Open folder to view files" option to view all the media files off your broken phone on the computer.

Step 3.Last step,please select the files you want,then copy the selected files from your broken Android phone to computer.

Tips:If your broken phone detected by third-party program,you can also try this Android iOS Manager tool to transfer contacts, messages, call logs, Apps, photos, videos and more from the broken phone to computer.What's more,this program also allows you transfer data between Android and iPhone directly,you can manage your phone on PC or Mac feel free.
Read More: How to transfer data from Samsung to computer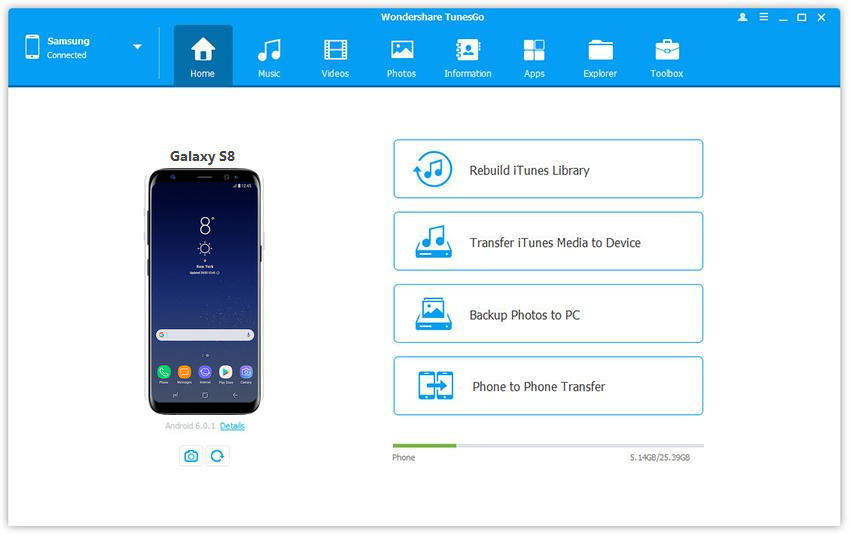 Related Articles:
---
How to Recover Photos from iPhone with Broken Screen

How to Recover Text Message from Broken Samsung Phone

How to Restore Deleted Contacts on Broken Android

How to Transfer Contacts from iPhone to Samsung Galaxy S6/S7