Are you worried that your data will be lost from the Samsung mobile phone? Whether Contacts, text messages, call history, photos, videos on Samsung is very important to you in your daily life? If you want to project your important files, you should backup your data as soon as possible. Because sometimes maybe you will encounter some difficulties such as accidental deletion, cell phone stolen, damage to the phone cause data loss. Unfortunately, these missing data is very important to you. In other words, there is no doubt that you need to sync files to PC or other mobile phone.

This guide show you two methods to backup Samsung files with Samsung Kies or Mobile Transfer software. Compared with two software, I prefer the second software because of its direct and simple operating procedures. With these powerful software, you need to understand how to operate these two software, so that you can transfer files from Samsung smart phone directly. At the same time, you can also back up your files to your PC.

Here are the methods for you to sync files with Samsung Kies or Mobile Transfer, steps by steps you can completely backup your everything from Samsung Galaxy mobile phone. First of all, you should download software.

Backup and Restore Data from Samsung Devices in Two Mothods


Method 1: Backup and Restore Samsung Files with Samsung Kies

Samsung Kies offers a variety of features for the Samsung mobile phone users, including easier to back up or transfer data, powerful multimedia file management functions. As a Samsung data manager program, obviously it can manage the content like contacts, music, photos, videos and call history and text messages saved in your Samsung Galaxy phones. Further more, you can directly add or delete, contacts stored in the devices through Samsung Kies on PC. You can also import favorite music, videos, contacts, photos and other files from PC to another mobile phone. Now learn how to sync files between Samsung and computer with Samsung Kies.

Back Up Samsung Data to PC

Step 1.Download and Run the Samsung Kies on your PC
After downloading. And then set it up. When that is done, you will see the screen of your window will be like this.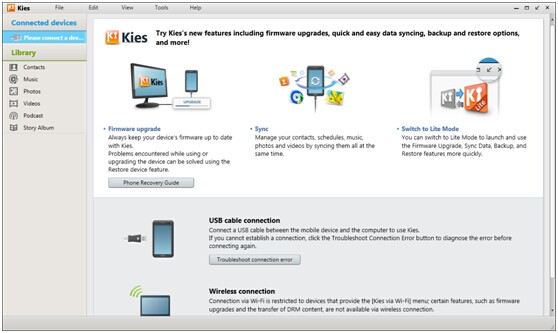 Step 2.Connect the Samsung phone to PC with a USB cable. It won't cost you long before the software detects your Samsung. Next, a pop-up box may tell you to update the firmware. Press "Cancel" and the information will be shown on your PC.

Step 3.Choose the Samsung Data that are to be Saved
You can preview contacts, music, photos, videos that exist in your phone. Take "Contacts" for example, specific information can be ticked. Tap "Save to PC" and finally, confirm it by pressing "OK".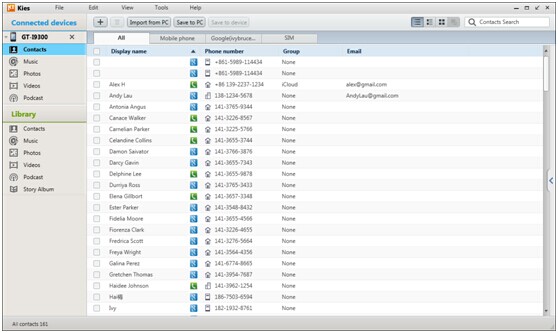 Restore those Recoverable Contents Back to Samsung Device from PC

Tips: If you have backed up data from Samsung to computer with Samsung Kies before,now please follow next use guide to transfer those backed up contents from computer to Samsung phone or tablets directly with Free Samsung Kies.

Step 1.Run Kies then connect the Samsung and PC using USB cable.
After launching the Samsung Kies on your computer,you will see the main interface of the Samsung Kies as below,then click on "Back up/Restore" tab on the top right of the Kies window.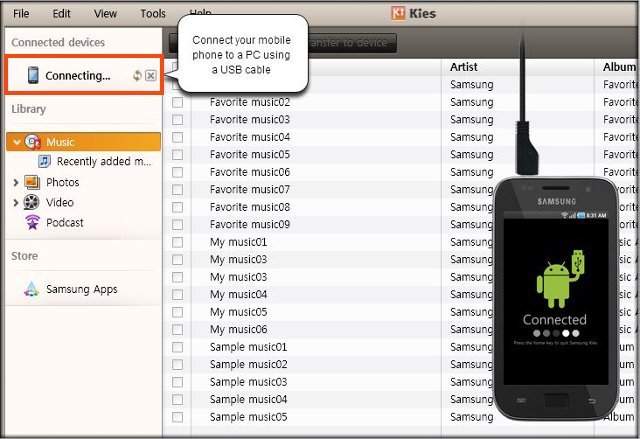 Step 2.Select the Recoverable Contents Types

Please click the "Library"button, here you can preview several kinds of backed up contents on PC, including contacts, music, photos, videos and so on,then select those contents you want to restore back. For example, if you want to restore contacts back to Samsung phone, the program will guide you opening a file which you have ever backup before. Press the button in the middle.




Select the file folder and then open it,the Kies will show to you intuitively.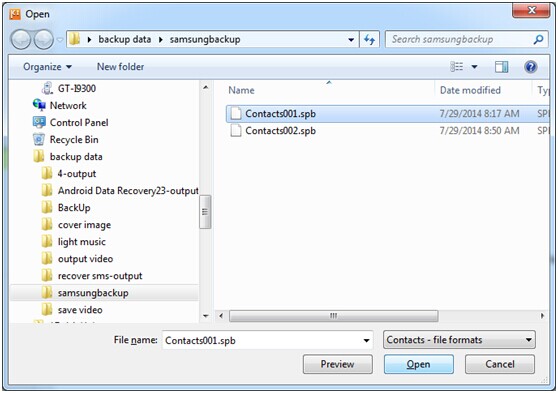 Step 2.Restore data has been backed up from the Library
Click which file you like or simply select "all" and "transferred to the device" in the pop-up box. Here,we take retrieve contacts back to your Samsung phone as example, you can select "All Contacts Transfer" and "Transfer selected contacts" option - one. When you click "OK", then another dialog box will appear showing for you to select the phone number are imported back to the Samsung phone.




Tips: Click on the check box or the files from the check list to backup. For all items click on Select "all items".

Note: If you never backup Samsung data with Samsung Kies before,once lost or deleted Samsung contacts, text messages, photos, videos, whatsapp messages and other document,don't worry! You still have chance to get deleted/lost Samsung data back,please learn more from how to restore lost data from Samsung phone directly without backup before.

Method 2: Backup and Restore All Samsung Data with Mobile Transfer Easily

Mobile Phone Transfer is not only designed for data transfer between one phone and other phone,but also allows Android users backup and restore data from Android phone directly. With the help of Mobile Transfer, you can transfer photos, videos, text messages, contacts, call records and other data between your Samsung Galaxy S6/5/4/3, Galaxy Note 5/4/3 and computer. These transformations, not only can make the transfer Android phones, iPhone, Samsung phone to PC directly. Follow the guide and learn how to backup and restore Samsung data with Mobile Transfer.






Back up Contents from Samsung Galaxy Phone to PC

Step 1: Set up your Samsung Device and Connect it to PC
Install and launch Mobile Transfer on your PC. Connect your handset to computer with USB cable. The program will detect your device. You will see a window as bellow when your device is connected.And then click "Back Up Your Phone"options in the lower right corner.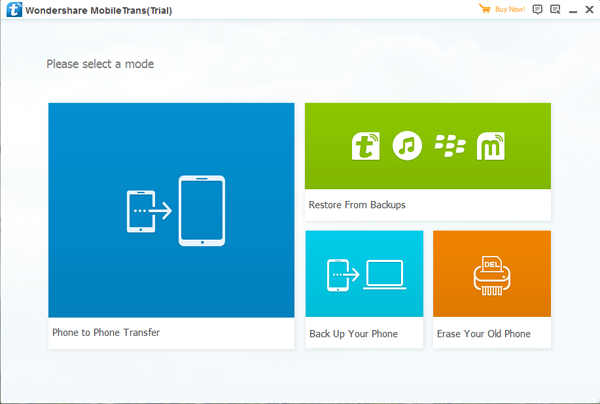 Step 2 : Select Files to Transfer
In the left sidebar, click tabs that you like to transfer, such as "Contacts", "Text Messages", "Call Logs", "Apps", "Photos", "Music" and "Videos". "Apps",etc. Here,you can also select only one item you need to backup,and "Start Copy". At the end, press "OK".




Step 3: Transfer Data from Samsung to PC Easily
Select a folder which you want to store the exported files. Click the "Save" button.When select files are exported successfully, alternatively tap "OK" to end the process or "Open Folder" to check your files.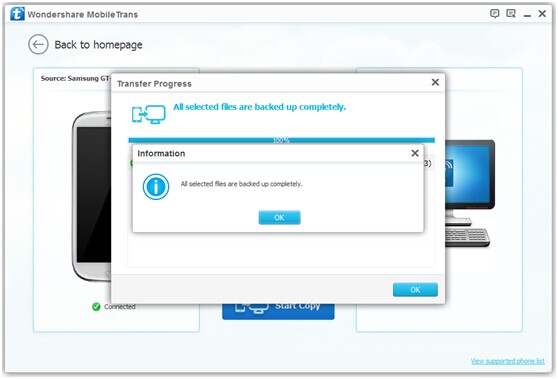 With this amazing tool, you can also import data from PC to other mobile phone. And you can enable backup, privacy check-up, phone performance optimization, etc. Just download and enjoy all these features.

Note: Compared with the Samsung Kies program, the Mobile Transfer not only can help you backup Contacts, SMS, call logs and apps from Samsung to PC,but also allows you transfer everything between Android, iPhone, Nokia and other mobile phone.

Restore Data from Samsung Galaxy

Tips: If you want to use Mobile Transfer to restore Android data from back files,make sure you have backed up data from your Android devices to PC with this program,it allows you backup and restore text messages, contacts, call logs, Apps and other special files from Android and iOS devices.

Step 1. Connect Samsung to PC and click "Restore From Backups"
When your mouse move to the icon "Restore From Backup", there will be six options, which are "MobileTrans", "iTunes", "iTunesMusic", "Kies" and so forth. That is to say, you can utilize the files created by other software, even Samsung Kies. We may tap "MobileTrans" here.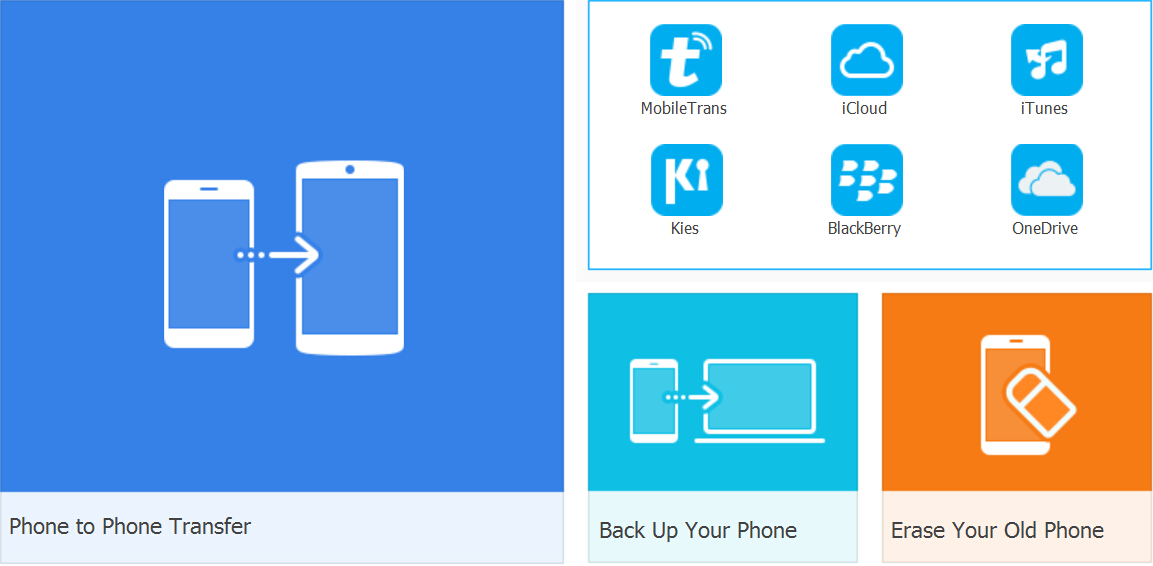 Click "Restore From Backup" Button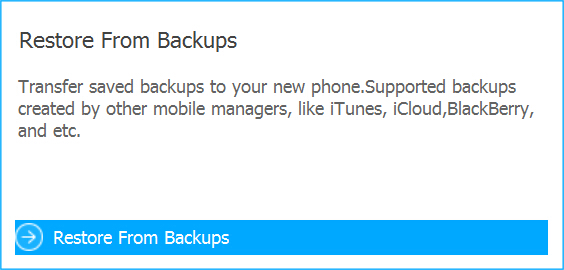 Step 2. Select the Samsung Backup Files Which You Have Backed Up before
According to the program main interface,on the left, all your backed up files will be listed,you can see the time you have previously backed up.Select one of them. (You can use the latest one according to the time under the name.) Then, the file type is still to be selected. However, only saved is operational.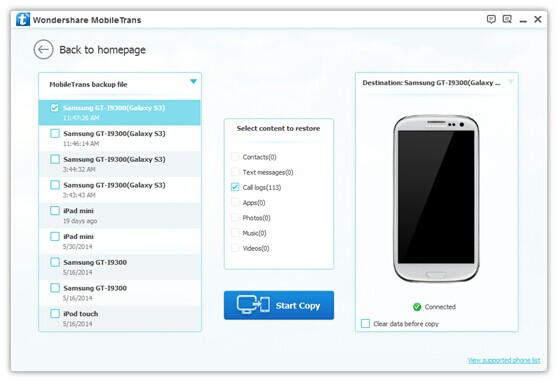 Step 3. Begin to Transfer Those Backed Up Contents Back to Your Phone
The last step,what you need to do is clicking the "Start Copy"button to retrieve data from Samsung Galaxy,only few minute,the transferring process is easily finished. You can tick "Clear data before copy" if in need.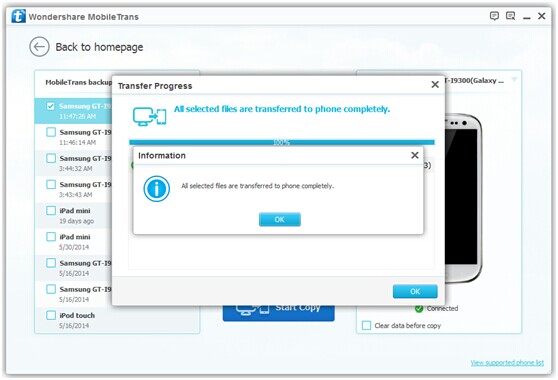 Free download the mobile transfer and have a try!






Compared with method 1 and method 2,we certainly think the second method is very simple. Of course, I prefer the second because it is friendly interface and powerful function,if we have but a new phone,the second program allows you transfer data from old phone to new phone.What's more,it can help us erase all data on old phone before selling it. If you think our tutorial can help you, please share this page to your Facebook, Twitter or Google+, have a good

Related Articles:
---
Print Text Messages from Samsung to Computer

Transfer Data from Samsung Galaxy to Computer

How to Transfer Data between Samsung and iPhone