The new Samsung Galaxy S6 is one of the most popular mobile phones this year. The handset comes with interesting specs and features, making Samsung fans just can not wait to get Samsung S6. When you have already get your Galaxy S6 on your hand, you will surely need to move your contacts from your old Samsung Galaxy S5/S4/S3 to your new Galaxy S6.

Maybe most Samsung devices users will ask: Is there any way to sync important contacts form old Samsung to new Galaxy S6? To be honest, there is possible to move contacts between two Samsung phones and the method is also more than one way. Here, the guide shows you two solution to transfer contacts from Samsung S5/S4/S3 to Galaxy S6/S7 easily. Both of two methods, you do not need to enter contacts to new Samsung Galaxy S6 or Galaxy S7 one by one.

Now, you must keep on reading and try two solution below to complete your data transfer.

Two Ways to Switch Contacts form Samsung Galaxy S5/S4/S3 to Galaxy S6/S7


Way 1: Transfer Contacts between Samsung and Galaxy S6/S7 via Samsung Smart Switch

Samsung Smart Switch allows you transfer contacts between two Samsung Galaxy. What's more, Smart Switch gives you the freedom to move your music, photos, text messages, device settings and more to your new Galaxy device. Smart Switch also helps you find your favorite apps or suggest similar ones on Google Play. Let's begin to switch contacts from old Samsung to new Galaxy S6/S6 edge/S6 edge+ with Samsung Smart Switch.

Note: Turn on Wi-Fi in both two Samsung devices and make them connected to the same Wi-Fi. Then, download and install Samsung Smart Switch in both your Samsung Galaxy S6 and Galaxy S5/S4/S3.

Step 1 Select Sending Device and Receiving Device

After downloading and installing the Samsung Smart Switch, you can it in both Galaxy S5S4/S3 and S6. Select S6 as "Android Device" and choose the "Start" button. In Galaxy S5, choose the phone as "Sending device", while choosing "Receiving device" in Samsung Galaxy S6. After selection, click the "CONNECT" button on the two Samsung phones.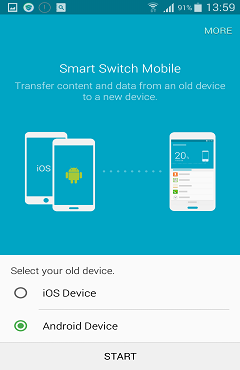 Then a PIN code will show on Samsung Galaxy S5/S4/S3 as sending device. If the two devices are not successfully connected, type the PIN code in the Galaxy S6 and build the connection manually.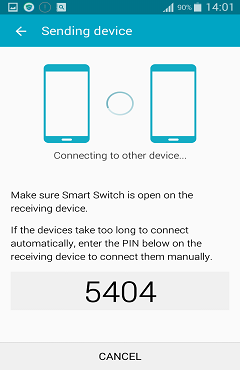 Step 2 Start Contacts Transfer

Once the two devices are connected, you can see contacts, sms, music, pictures and videos and more are shown on the sending phone screen. Then, choose the "Contacts" and click the "Send" button. Quickly, the process will complete and you can check the contacts in your Galaxy S6.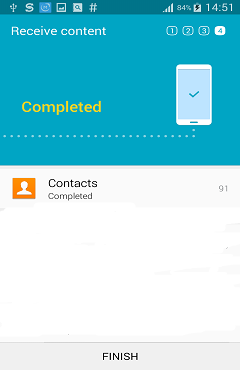 Honestly, I am very disappointed to tell you that this method is still something imperfect. Samsung Smart Switch can not support you transfer contacts from other Android devices like HTC, Sony Xperia, LG, or Nokia and iOS Devices and It's a bit cumbersome for transfer process. Here, I strongly recommend that you use the second method which allows you directly move contacts to Samsung Galaxy S6 from different mobile phone systems.
Part 2: Directly Transfer Contacts from S5/S4/S3 to Galaxy S6/S7 with Phone Transfer
Phone to Phone Transfer is designed to transfer contacts from your Samsung Galaxy S5/S4/S3 to Galaxy S6/S7 directly and simply. Not only contacts but also sms, pictures, notes can meet your require by Phone to Phone Transfer software. This program support all models of mobiles phones data transfer for iPhone 6S/65S/5/4S/4, LG, Sony, HTC, Samsung S5/S4/S3 to Samsung Galaxy S6/S7. Furthermore, you only need to download software for once, you can completely move everything you like to new mobile phone.

Download a free version:






Step 1: Run the Phone to Phone Transfer Program on Your PC

Firstly, you should download the above free version and run it on the computer. And you can enter the phone to phone transfer window as follow: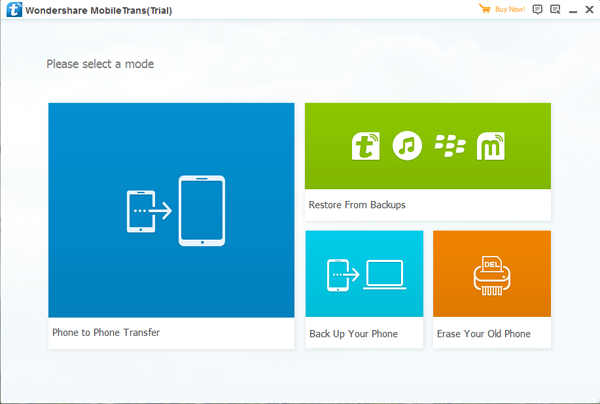 Step 2: Connect Both Two Samsung Phones to Computer

Connect both of your Samsung S5/S4/S3 phone and S6 to PC by using USB cables. Both devices will be instantly detected, then all files will be shown on the interface.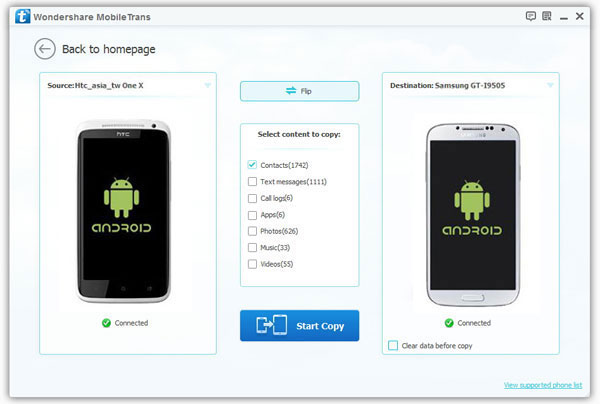 Step 3: Scan and Copy Contacts to Samsung S6 directly

After detecting your Samsung device, you can preview contacts, sms, pictures data displayed in the window below. Select the "Contacts" and click "Start Copy"button to transfer your contacts to new S6.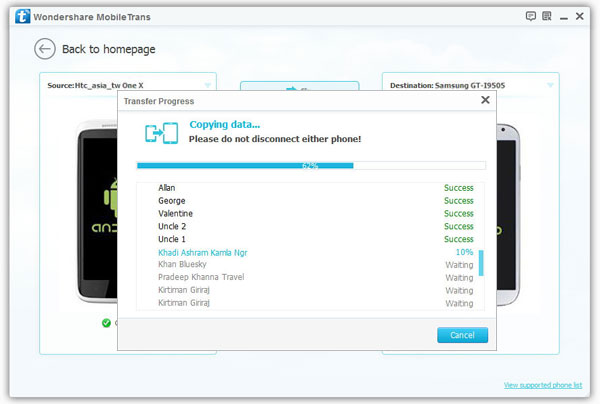 Never disconnect two devices during the process and it will take you some minutes. Once your contacts transfer is completed, your new contacts should be on Galaxy S6 device.






Read More:
---
How to Copy Text Messages from Samsung to Samsung S6/S7
As we have seen, Samsung mobile is growing in popularity. An increasing number of mobile users can't wait to abandon their old Samsung and switch to a new Samsung galaxy S6/S6 edge. However, how can they transfer important SMS from old Samsung to new Galaxy S6?

How to Transfer Data from Android to Galaxy S6/S7
If you are planning to switch or have already changed to Samsung Galaxy S6, you probably need to transfer content from old Android to Samsung S6. Read on to this article and discover the answers.

How to Transfer Contacts from Galaxy to Galaxy S7
Only 3 steps to move all contacts,phone numbes from Samsung Galaxy S3/S2/S4/S5/S6 to the new Galaxy S7 and Galaxy S7 edge.You can copy everything between two Samsung Galaxy smart phone with Phone Transfer.