Christine
Hello, my name is Christine, and actually, I am a seniority on the android and ios data recovery. Circle and text me if you have any problem about your phones or tablets.
Add New Contacts to Samsung Phone with Samsung Kies
publinshed by
Sueson at
March 10,2015
Samsung Kies is an important software, and it is simple, easy to use. Samsung Kies has a variety of features, including easy backup or transfer data, powerful multimedia file management functions. It can be connected to PC and your mobile phone, so you can more easily synchronize data and find new software. Using Samsung Kies, you can view the software in full-screen mode on your PC, no matter what network you use. In addition, you need to become a member or register Samsung apps on your phone, you can personalize services. Samsung Kies is a realization of a mobile phone and computer synchronization software, because it can manage your Samsung photos, videos, contacts and other important contents on comoputer and upgrade the phone's firmware.In additional,you can learn more in this use guide about how to transfer contacts between Samsung and computer directly without Samsung Kies.

With the help of Samsung Kies, you can manage your contacts at ease, whatever you want to add new contacts on your Samsung phone. Follow the passage, you can learn how to add new contacts to Samsung phone with Samsung Kies directly.

Two Methods for Samsung Kies to add new contacts


Method 1: Add New Contacts to Samsung on PC With Kies
---
Step 1: Connect Samsung Devices to the PC
Connect Samsung Galaxy phone to PC by USB cable. When the plug-in Samsung phone is successfully recognized and connected, Kies will read the contact data in it. Select "Contacts" option at the left column, you can see the existed contacts stored in your device.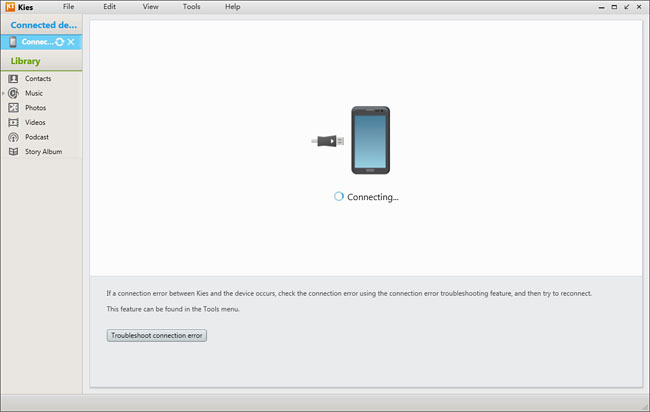 Step 2: Add New Contacts with Samsung Kies
Click "+" button to add new contacts. You can enter and modify the name, email, address, group and other information of the contact. Then, click the "Save to device" button and you can check the new contacts in your Samsung phone




Method 2: Import VCF Files in Library and Add New Contacts to Samsung Phone
---
Step 1 Import VCF Files in the Library
If it is your first to use and there is no contact data in the library, you need to add VCF files into Kies at first. Click the "Open contact file" button and load contact data from the PC.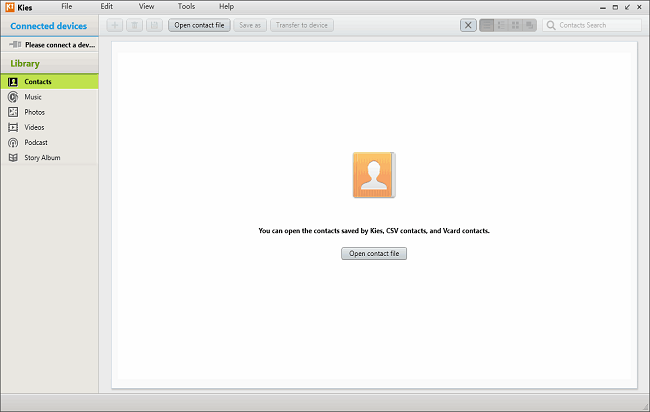 Step 2 Add Contacts to the Library
Click "+" button and enter the information about the contacts at the right side of the window. Then, you can click the "Transfer to device" button to sync the new contacts to the plug-in Samsung phone.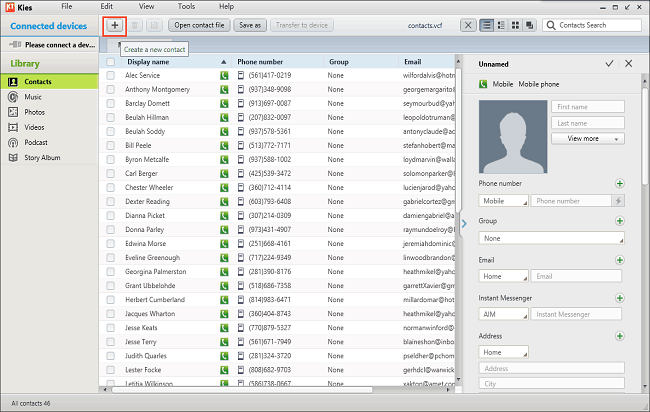 Read More Related Articles:
---
How to Transfer SMS from Samsung to Computer

How to Transfer data between Samsung and Computer