[Summary]: This article mainly teach you how to rescue your wet Android phone,and how to recover files from a water damaged Android phone without enable USB debugging the device.The water damaged Android data extraction key features allows you extract, recover and save water damaged Android data.

As we all know that the contacts, messages, photos,videos and more stored in the phone memory,once the android phone water-damaged or cracked screen, black screen,ect.How we recover data from a water-damaged Android phone? Today,we teach you a easy way to recover lost files from water damaged Android phones. Let's see how it works.
Water Damaged Phone - Retrieve Files after Water Damage

And then is there any way to retrieve the data before? So,how to restore data from my water damaged Samsung Galaxy S/Note, Motolora, HTC, Google Pixel, Nexus, LG, ZTE, Sony, Huawei? After you can turn on the water damaged mobile phone which dried. And you want to get back your lost data on water damaged android mobile phone, software engineers will suggest users downloading a 3rd party Android Broken Data Recovery software. It can scan and perform any data on your android mobile phone. You can use the Android Data Recovery to restore lost data from water damaged Samsung, Motolora, Sony, LG, HTC, ZTE, Huawei mobile phone. Even your lost contacts, messages, videos, songs, photos, call history and more, they all can be recovered with Android Data Recovery software.

Please download the trail version for free and have a try .






Tips: You can also use this powerful Android Data Recovery program to recover data from Android SD Card,if the SD Card inside of your Android devices not broken.

Water Damaged Android Data Recovery - recover text messages, contacts, photos on water damaged Android devices
When the data is lost from water damage phone, we strongly suggest users starting deep scan and restore data on your mobile phone with a android phone data recovery.It can deep scan your Android phone, and restore lost messages,contacts,photos,videos from water damage android phone directly.

Now,follow guidance step by step to get your deleted Contacts back.Install and run the Android Phone Data Recovery. You will see this window like this. Connect your phone with computer via USB. The apps will detect your devices automatically.
Easy Steps to Recover Files from Water Damaged Android Phone
Note: During the restore,do not start any other android phone management software,the first thing you need to do is using a professional Android Desktop Recovery Software to recover data from your water damaged phone.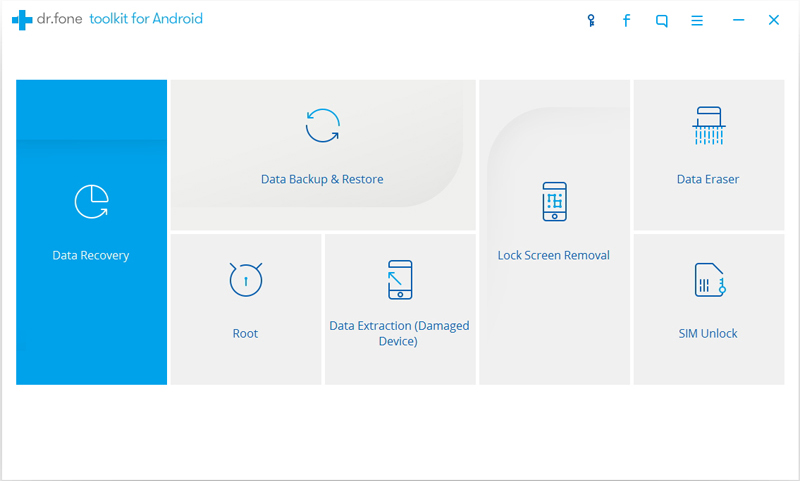 Step 1.Connect the Damaged Samsung Phone to computer
After you launch Android Data Recovery, click the "Data Extraction(Damaged Device)" features,which is a "Android Broken Data Recovery" features for users extract data from a damaged Android phone or table.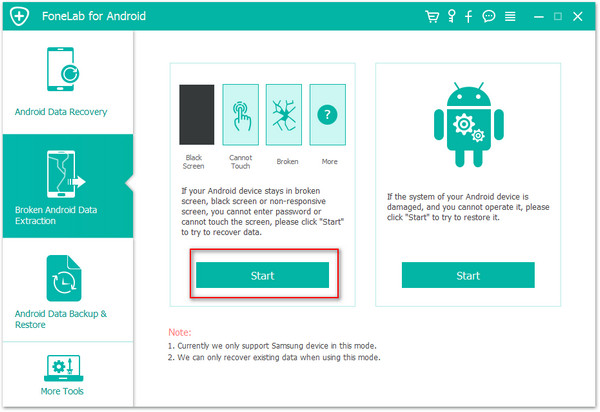 Step 2. Choose the File Types to Recover
After the first step, you will be presented a window where you need to select what file types you need to recover. You can either choose some of the file types by ticking them or tick "Select All". Android Data Recovery can support to recover Contacts, Messaging, Call history, WhatsApp messages & attachments, Gallery, Audio and more.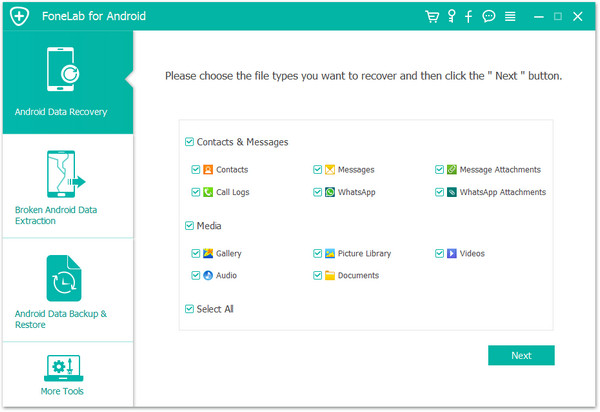 Step 3. Choose the Fault Type of Your Phone
After you select the file types you need to recover and click on Next, you need to choose the fault type of your phone. One is "Touch cannot to used or cannot enter the system" (For water-damaged phone)and the other is "Black screen (or the screen is broken)". Then it will lead you to the next step.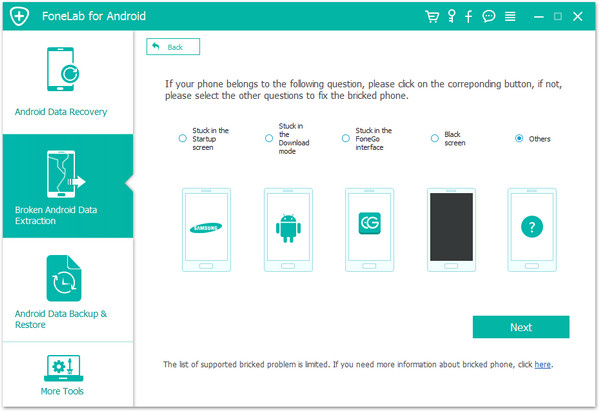 Tips: For Water Damaged Android,please select "Touch cannot to used or cannot enter the system" options.

Then on the new window, choose the correct Device Name and Device Model for your phone. Currently this function only works for some of broken or dead Samsung Galaxy devices in Galaxy S5/S4/S3, Galaxy Note 8/5/4/3 and Galaxy Tab series. Then click on "Next".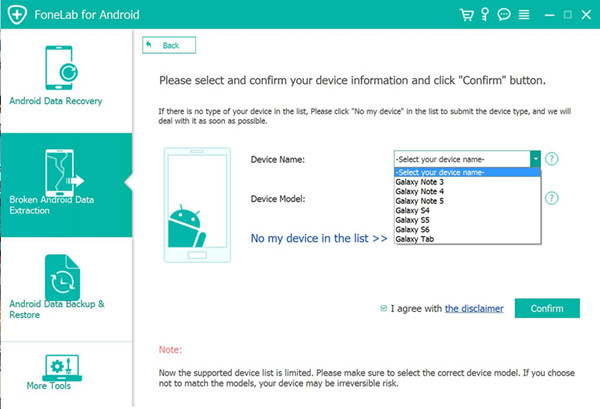 Step 4. Enter Download Mode on the Broken Samsung Phone
Now, just follow the instructions on the program to get the Android phone into Download Mode.
Power off the phone.
Press and hold Volume "-", "Home" and "Power" button on the phone.
Press "Volume +" button to enter download mode.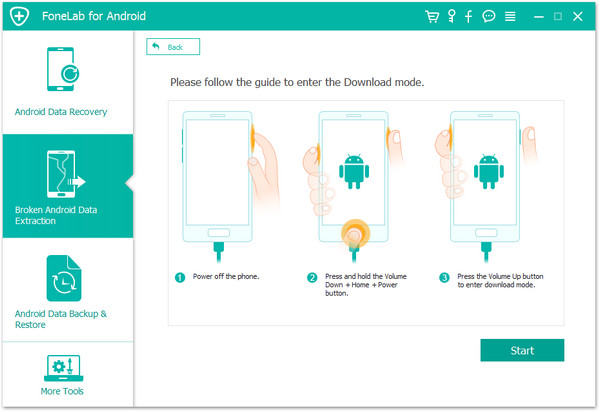 Step 5. Analysis your Water-Damaged Samsung Phone
Then please connect your Android phone to the computer. Android Data Recovery will analysis the phone automatically.
Scan data from your wahter damagd Android phone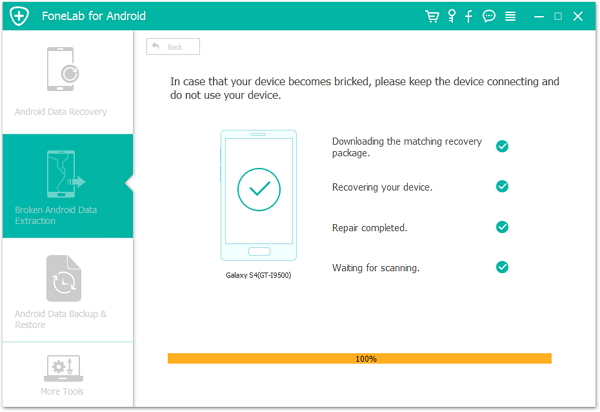 Step 6.Preview and Recover All Files from Water Damaged Samsung Galaxy S5
After the analysis and scanning process, Android Data Recovery will display all the file types by categories. Then you will be able to select the files to preview. Choose the files you need and hit Recover to save all the precious data you need.

Retrieve photos from water damaged Android devices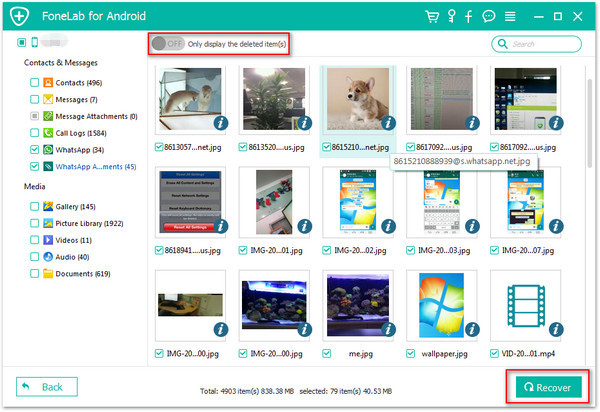 Recover Contacts from water damaged Android phone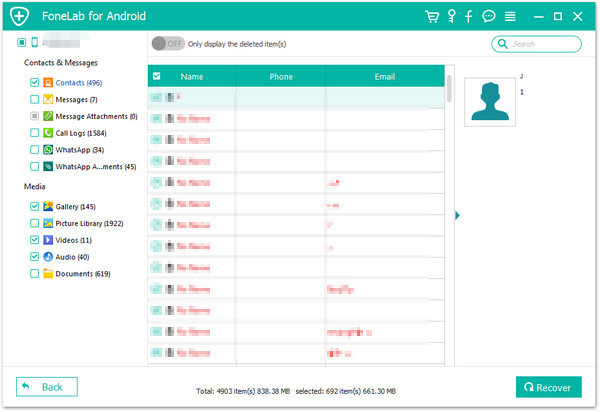 Just get a trial version from here.






Android Phone Data Recovery tool will assist you to recover all lost text messages, pictures, contacts and videos from Android phone and back on your computer, if you want to copy those restore contents back to the Android phone or tablet,you can use this Android Data Transfer tool to copy everything between android Samsung/Motolora/ HTC/ LG/ZTE/ Sony/ Huawei and computer directly.


Read More About Android Recovery:
---
Recover Data from Dead Android Phone: Once your Android phone was broken or dead,you can follows this use guide to get lost data back directly on the Android phones.

Restore Deleted Photos from Android: This use guide teach you a easy way to recover deleted photos, pictures on android phones or tablets,it supports restore photos from Samsung,HTC,Sony and other android devices.

Recover Contacts on Android Phone: Want to restore deleted contacts from an Android phone? This tutorial maily teach you how to recover all your lost contacts from Android mobile phone.

Recover deleted text messages from Android: Need to Restore Deleted Text Messages on Android Phones. This use guide shows you a easy methods for you to recover deleted,lost SMS on Android phone.