What Is Rooting?
First, for the newbies, let me clarify what rooting is. Getting root or rooting your phone is the process of modifying the operating system that shipped with your device to grant you complete control over it.

This means you can overcome limitations that the carriers and manufacturers put on your phone, extend system functionality, and even upgrade it to a custom flavor of Android.The name root comes from the Linux operating system world, where the most privileged user on the system (otherwise known as Administrator on Windows) is called root.

Benefits of rooting an Android phone or tablet
Having admin rights opens up many new possibilities to customize your device and improve your Android experience. The following list covers the main advantages of having a rooted device.

--Make complete backups of your device
--Automate everything
--Track your device even after someone makes a factory reset
--Use modified versions of Android, called custom ROMs
--Use Xposed Framework to customize your device
--Increase performance and battery life
--Say goodbye to ads

So, you see, if done correctly, rooting an Android device isn't risky and it has lots of benefits compared to non-rooted devices.

The shortcoming of rooting
Even though it is several Benefits of rooting an Android phone or tablet,it also has many shortcomings.The most common problem is that rooted Android phones cause data loss, many users losing their vital data feel very helpless. So I wish you would never meet this situation and once you meet the following comes my recommend to solve the problem.In case one day you will encounter the similar situation that you lost files from rooting android phone,how can you restore it from the phone?

Android Data Recovery is specially designed for Android smart phone to restore Android lost data after rooting, such as contacts, text messages, photos, videos and more. It supports most Android phones like Samsung, HTC, LG, Sony, Motorola, etc. You can recover the lost files from your rooted Android phone directly.




Tips: The Dr.Fon Android Data Recovery also can help you recover lost files from SD Card inside of your Android phone or tablets.
The measure to Recover Lost Files from Rooting Android:
Step 1: Connect Your Android Phone to Computer Via USB Cable

Users need to download and install applications on their own computer by the default wizard, then connect your Samsung Galaxy phone with your computer via its digital cable. As you can see in the following graph.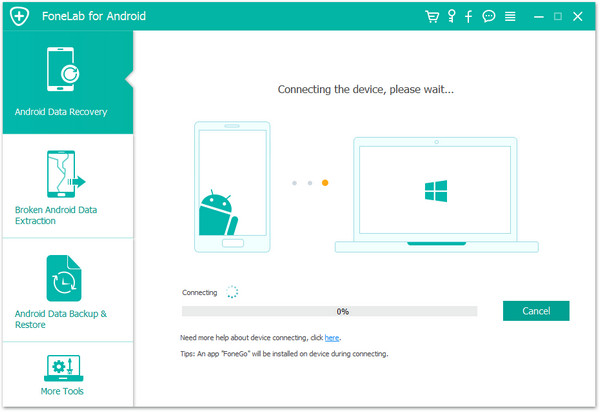 Step 2: Enable USB Debugging on Your Android Phone

To ensure that your Samsung phone be recognized by the program, you need to enable the USB debugging on your phone. For different versions of Android OS, follow the detailed expression in the windows to enable it.

1) Android 2.3 or earlier Users: Enter "Settings" < "Applications" and "Development" < "USB debugging".
2) Android 3.0 to 4.1 Users: Enter "Settings" < "Developer options" < "USB debugging".
3)For Android 4.2 to 4.4: Move to "Settings" > "About Phone" > Tap "Build number" for several times until "You are under developer mode" appears > "Settings" > "Developer options" > Check "USB debugging"
4)For Android 5.0 or newer: Tap "Settings" > "About Phone" to tap "Build number" seven times for "You are now a developer!" signal. Then, move to "Settings" > "Developer options" to turn on "USB debugging"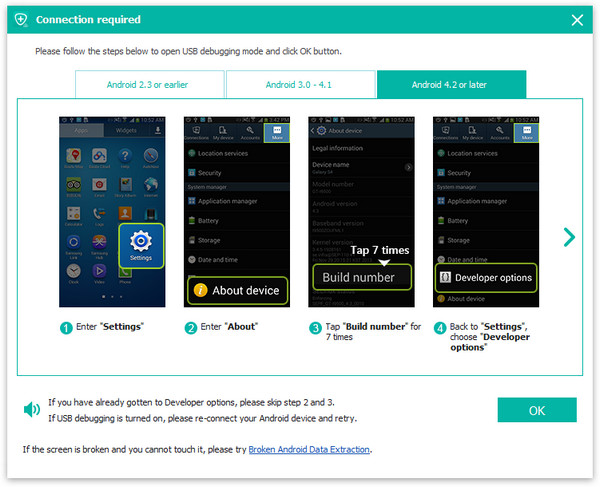 Step 3: Begin to Analyze and Scan Your files on a Rooting Android Phone

Once you enable USB debugging successfully, the program will recognize and analyze your Samsung phone automatically. You need to click "Allow" when a message pops up on the device's screen; this is done to allow the program Superuser authorization to scan your phone.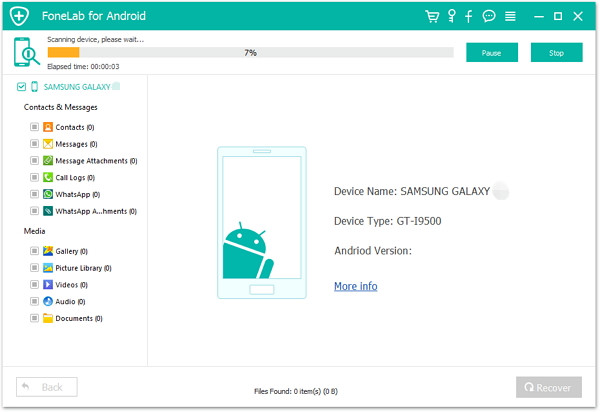 Now, select the data you want to scan and recover. If you only want to all lost data from your rooting Android devices,plsase simple check "Select All" and tap "Next" to continue.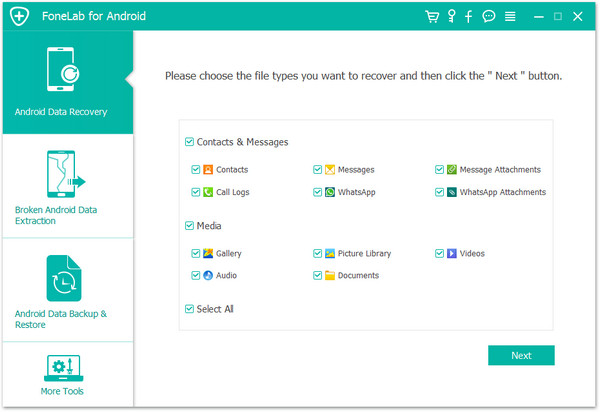 When you get the window as below, please turn to your phone and tap the "Allow" button. Then come back to the program on your computer, click "start" button.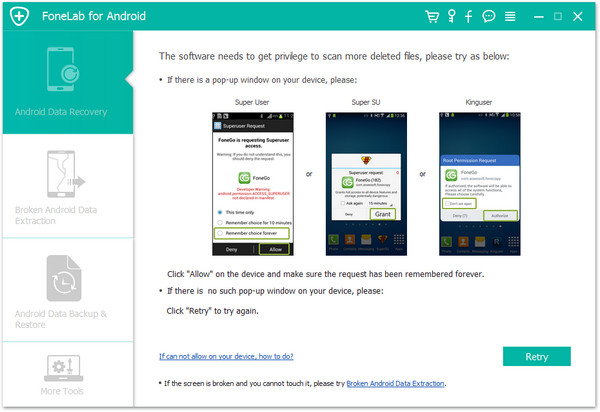 Step 4: Preview and Selectively Recover Lost Files on Rooted Android Phone

In this step, the program will deeply scan your broken Samsung phone for lost files; it will take some time to finish the scanning depending on the file sizes, after scanning, you're supposed to click the items in the left sidebar to show all data, you're allowed to preview the lost data and decide to which one you want to recover. After you select the files you need, a pop-up window will prompt you to choose a path on your local derive to save the recovered data.

Recover Lost Photos, Videos and other media files from your rooted Andorid devices: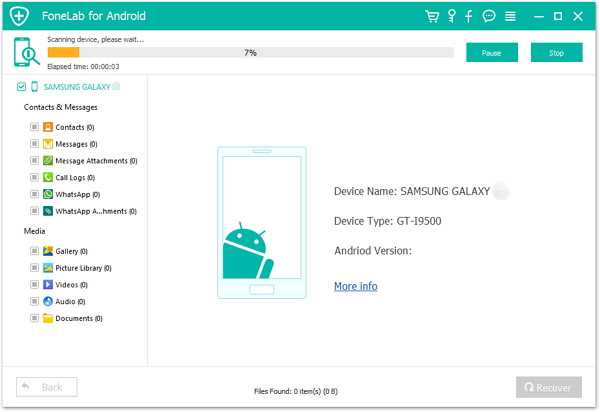 Restore Lost SMS,Contacts,Whatsapp chat history,ect from Android phone after rooting: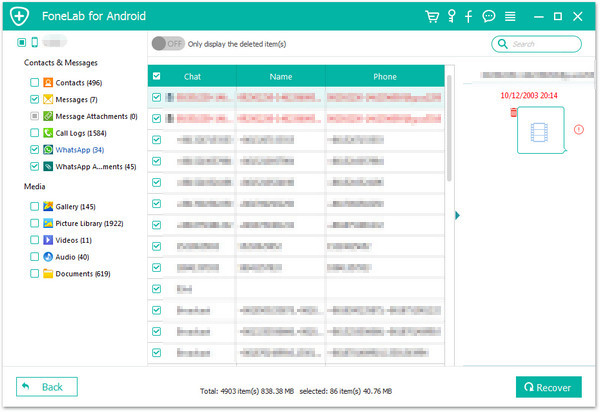 This Android Data Recovery program is so useful that it can do other wonderful to retrieving lost files from Android Phone whatever it's lost data after the phone broken,jailbreaking,upgrading,rooting or other unexpected reason.






Additional information about the redoubtable Android Data Recovery:


Easy Use to Restore Lost Data from Android After Rooting
The World's First Android Data Recovery Software to recover lost contacts,text messages,pictures and more for Android Phones and Tablets.

-Directly Recover SMS text messages,photos,contacts from Android mobile phone, no matter how you got it loss.
-Restore photos, video, music files and document from SD cards inside your Android device, no matter they are lost because of factory resetting, accidently deleting, flashing ROM, rooting, etc.
-Scan and preview any data before you want to recover contacts,messages,pictures and more.
-Support all popular brands of Android phones and tablets, like Samsung, Sony,HTC, LG, Motorola,ect.
-100% safety to recover lost or deleted data on your rooting Android phone with Android Data Recovery.

More Related Tutorial For Android Data Recovery:
---
How to Restore Deleted Pictures on Android phone
Have you ever encountered with that really awkward situation. And for those who are now seeking for solutions to recover lost photos on Android phone, this is the perfect guide you need, to get back lost data due to deleting, rooting, ROM flashing and many other reasons.Android Data Recovery is an excellent app to excellent help you solve the trouble!

How to Recover SMS from Broken Android Phone
No matter your android phone is Samsung, HTC, LG, Sony or Motorola, etc. The Android Data Recovery enable you to recover the lost data from a dead/broken android phone, including contacts, messages, SMS, photos, videos and more. Now, let's follow the steps to scan your dead Android devices, preview and selectively choose to restore broken android lost files with ease.