When you dropping the phone,or water-damaged,how can you recover important messages from a broken Android phone? If your phone is black/broken screen or cannot access the phone,is it possible to get SMS back from a damaged Android devices? Today,we teach you a guide to access lost data from broken Android phone easily.
Recover Text Messages from Broken Android Devices

No matter SMS, contacts, photos, videos, call logs or other files on your Android phone, I think all of these data are always giving you a wonderful way to keep in touch with your daily life and your business work. As mentioned above, if you lose your text messages after your Android phone was broken, you first need to do is find a way how to recover your lost text messages without hesitation. Sometimes, your Android phone is broken because of such situation, the phone's display screen is cracked or your Android is dead due to other reasons like virus attack in the daily life. All in all, you will lose your SMS or other files immediately. However, there is good solution to recover deleted text messages from broken Android phone.

Broken Android Data Recovery is an wonderful program for Android mobile phone users to retrieve broken Android SMS directly. This powerful software not only can restore lost SMS but also can recover lost contacts, photos, videos, call logs and other files with four simple steps from broken Android phone. This program will support to recover text messages from damaged Android phone directly when the devices screen was broken. In additional,if your Android phone or tablet was black screen,can can also follow this use guide step by step to recover previous messages from broken Samsung Galaxy S5/S4/Note 4/Note 3 and other Galaxy Tabs.In additional,you can also directly scan and recover deleted text messages from your normal Android devices,including Samsung Galaxy S7/S6/S5/Note 5, HTC One, LG, Motorola, Nexus, Huawei Mate 9/Mate 8/P9, Sony, Huawei, ZTE and other android devices.

Free download and complete your recovery:




How to Recover Deleted SMS from Android with Broken Screen

Note: If your android phone is broken or dead,in order to restore the text messages from broken Android phone successfully, please remember do not use your phone sending messages or taking photos until the lost data are recovered, so that the old files will not be overwritten before you restore them back.

Step 1: Download, Install and Run the Program on Computer
You can download the program for free install and run on your computer, you can see the new features - "Broken Android Data Extraction" option.

Then connect the dead Samsung Galaxy phone to computer via USB cable, and click the "scan it" button next to in the bottom of the interface.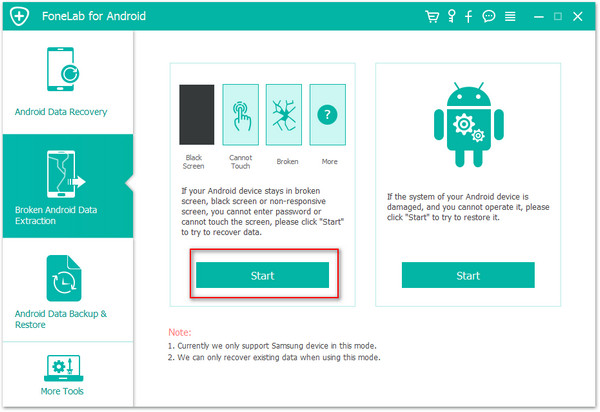 You can see the new features of Dr.Fone for Android - "Android Broken Data Recovery" option,and and click the "scan it"

Step 2: Select Messages item You Want to Get Back
After pop-up the second interface, there all types of files for you to select,if you want to recover all files at once,please click "Select All" item.Just want to get SMS back from broken android phone,please click the "Messages" options.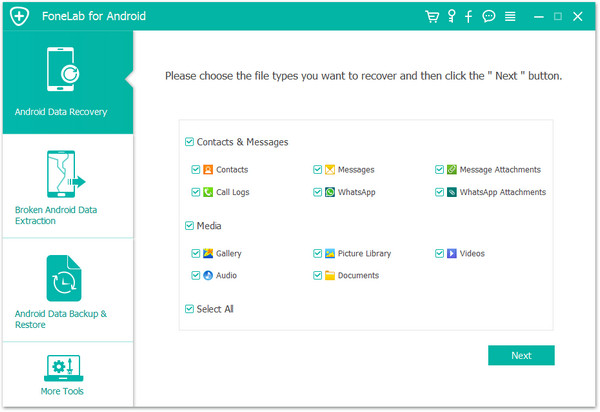 Step 3: Select What Fault Types of Your Android Phone
Then the program guides you into another interface, you'll see the interface as below. There are two fault types of phone for your to choose: "touch screen cannot be used or can't enter the system" and "black screen or the phone screen is broken".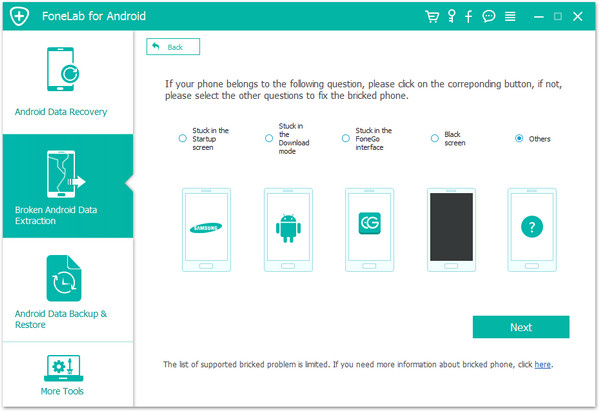 Step 4: Confirm Your Phone device model
Then according to option to select the brand and model of your phone. If you are not sure what model of your android device,please hit the "How to confirm the device model" to check it.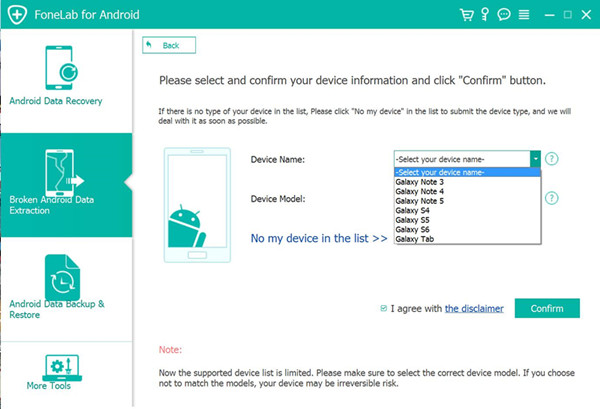 Step 5: Enter Download Mode
By this step, according to the different problems, you will follow different steps to enter download mode:

1) If your phone's touch screen can't be used or can't enter the system, you can follow the guide displayed in the below interface to get into "Download mode".

2) If your mobile phone is black screen or the phone screen is broken, you can also do the three steps to enter "Download mode".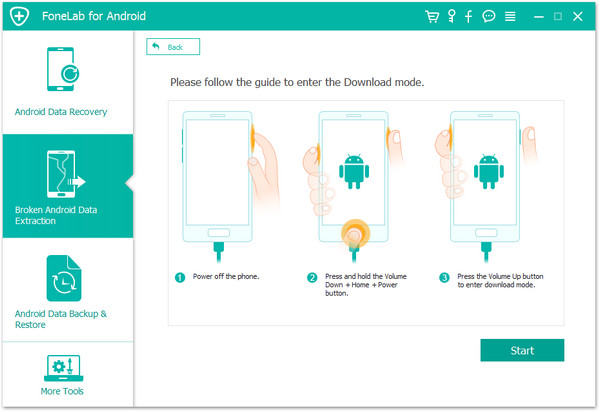 Then,please click the "Start" button, the countdown will display on the phone screen in the program to tell you how to download mode for the device.

Note: During the getting into "Download mode" process, remember keep connecting your Samsung device to the computer via USB cable.

Step 5: Begin to Analyze Your Broken Android phone
After entered the "Download mode", the software will start downloading "recovery package",it will take you few minutes,please wait patiently.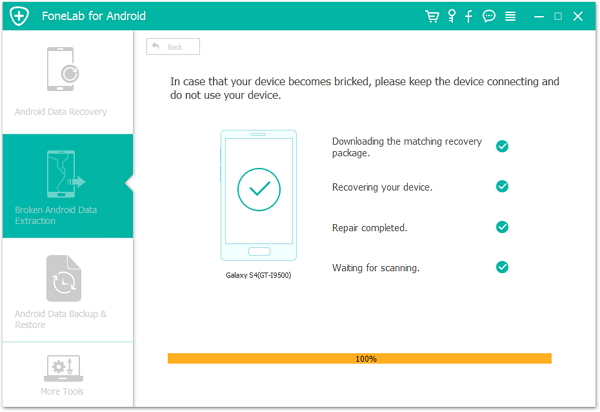 When the downloading complete, the selected data item stored in the device will scanned and shows to you.

Step 6: Preview and Recover Text Messages from Dead/Broken Android phone
When finish scanning the broken phone, before get them back you can preview all deleted or lost text messages, including the detailed message content, sending and receiving times. To recover SMS from your android mobile phone,just click the "Recover" button get lost SMS from dead Android phone directly.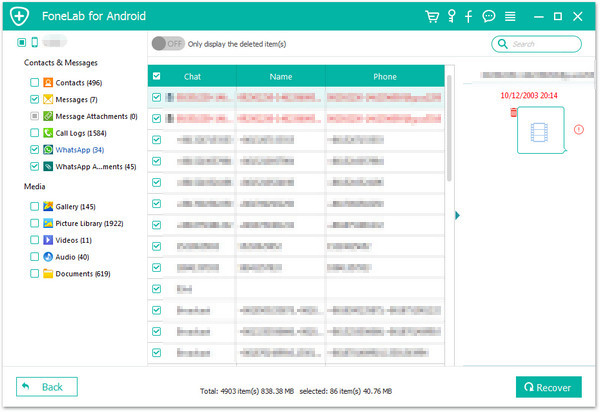 Download Android Data Recovery and Get Your Lost SMS Back From Broken Phone:





I suggest that to replace screen with digitizer and frame replacement instead of the screen with digitizer. Then you need a screen replacement, a Phillips screwdriver and a spudger tool. Then you can follow the steps below to do the repair:
1. Power off
2. Remove the battery cover and battery
3. Unscrew 12 Phillips screws
4. Pull out the S pen and use a spudger tool to remove the back frame which is fixed by some hidden keys.
5. Release antenna flex
6. Disconnect 6 connectors on the motherboard and then you can take away the motherboard.
7. Release the sensors and front camera
8. Unscrew a screw securing the headphone jack and earpiece
9. Take out vibrator. Be careful; do not damage the flex cable.
10. Pry up the charging port flex which is adhered to front housing.
11. Replace the screen with digitizer and frame.

Related Articles:
---
Restore Lost SMS from Broken Samsung Phone Directly
Making your Samsung phone dropped on the ground and then your Samsung phone was broken? Causing your Samsung phone SMS was lost? Many Samsung devices users want to recover lost SMS from broken Samsung phones. However, if you want to restore SMS from broken Samsung phones, you can try a professional Samsung Data Recovery software.

How to Recover Photos from Samsung with Broken Screen
Broken Samsung Data Recovery can recover deleted or lost photos from any broken Android smartphones or tablets, the newly-released Galaxy S7 and S7 Edge are supported,it also allows users restore deleted contacts, text messages, call logs, whatsapp messages, audio, videos, photos and documents from Samsung directly.

How to Recover Deleted SMS on Android
This use guide teach you how to directly scan and retrieve deleted text messages from your Android phone,only 3 steps to scan and extract lost sms on Android and save them on computer,or restore them back to your phone

How to Recover Deleted Photos,Videos from Android
When you deleted pictures on your phone.Don't worry,this tutorial teach you how easy to get lost or deleted photos and videos back from Android phones or tables.If you use iPhone,you need to use another data recovery software - iPhone photo recovery to scan and recover your iPhone photos.