Many Samsung fans want to buy a new Samsung phone every year,like Samsung Galaxy S6 edge, Samsung Galaxy Note 5, Galaxy A8,ect.
When you buy a new Samsung Galaxy S6 edge or Samsung Galaxy Note 5 mobile phone,the first thing you want to do is transferring contacts from old Samsung phone to new to Samsung phone.However,how to transfer contacts from Samsung Galaxy S4/S3/S5/Note to new Galaxy S6/Note 5? This article maily teach you a easy way to copy contacts from old Samsung phone to new Samsung Galaxy directly.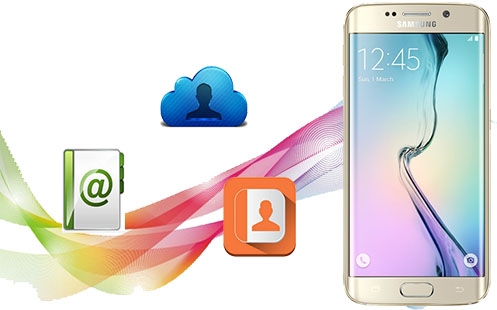 When you buy a new Samsung Galaxy mobile phone,the first thing you need to do is copy all the contacts and other contact information from your old Galaxy phone to the new Samsung phone. I first realize the inconvenience of transferring contacts between two Samsung Galaxy in one click when I used the Phone to Phone Transfer running on the computer.

With the help of Phone Transfer, you can copy all contacts between your two Samsung phones in 1 click. What's more, this phone transfer tool can help you move more contents from one Galaxy to new Samsung Galaxy, such as apps, text messages, call logs, music, photos, videos and calendar,ect. If you use a old iPhone before,you can read this use guide about how to transfer data from iPhone to Samsung Galaxy with the help of this Phone Transfer tool.

Press the green button to Download and install the Phone Transfer on your Windows PC or Mac OS Computer.






Let's taking transfer/sync Galaxy S4 contacts to Samsung Galaxy Note 5 for example.
How to Transfer Contacts from Galaxy S4 to Samsung Galaxy Note 5

There are mainly 3 steps for the process of the contacts&app transferring from old Samsung Galaxy S2, S3, S4, S5 to new Galaxy Note 5/Galaxy S6. If you have already downloaded the Phone Transfer from the link above, please read the following tutorial carefully and operate it steps by step.

Step 1: Run the phone transfer on your Windows PC

When you run Phone Transfer on your computer, it will bring up the primary window on the screen.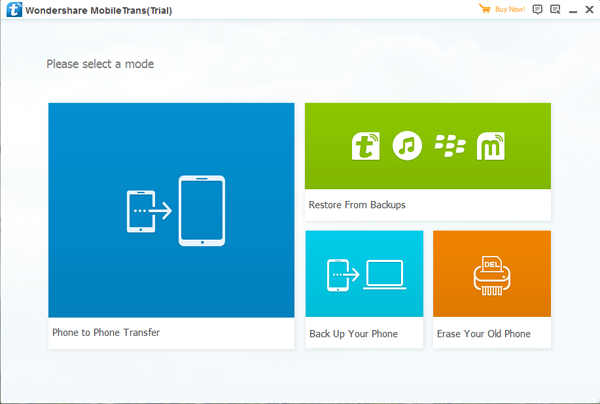 Step 2: Link both your Samsung Galaxy S4/S3/S2 & Galaxy Note 5 devices with PC

You need to plug in USB cables to get your Samsung Galaxy S4 and Galaxy Note 5 both connected to your computer. After they are recognized by the application automatically, the control panel will be shown as below.

It can be seen that Samsung Galaxy S4 is displayed on the left as Source device, and the target phone Galaxy S4 is on the right. If you put them in the wrong places, do not worry, just click Flip between them to correct the misdirection.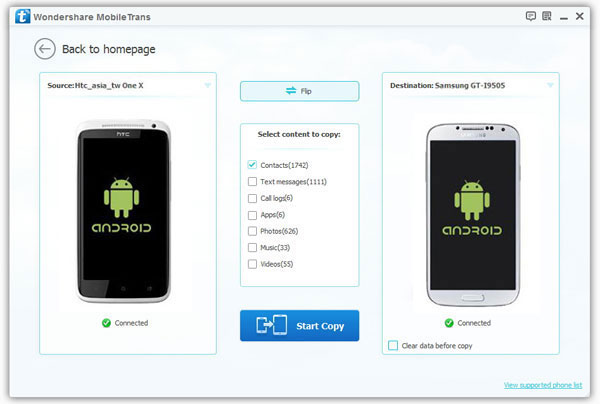 Step 3: Start to sync data & apps from Samsung Galaxy S4 to Samsung Galaxy Note 5 in one click

According to the screenshot below, you can select SMS text messages, contacts, music, photos, videos, call history as well as apps from the given option to transfer from Galaxy S2/S3/S4 to Note 5. If what you want to move is only apps at this time, do remember uncheck the other files you do not need and only remain apps.

Click Start Copy to bring up the files & apps transfer from Sumsung Galaxy S4 to Galaxy Note 5. The whole process is pretty quick and time-saving, but the volume of the apps to copy still decides the time it will take. It means that the more apps and memory they have, the longer time it will spend during the transfer process. Vise versa. Once the process is complete, you need to click OK to end the program.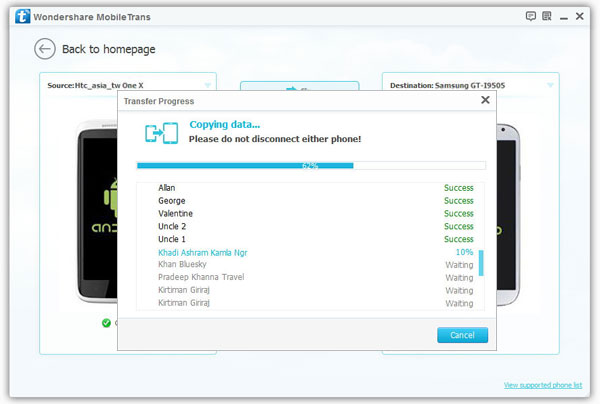 What a handy data & apps transfer process from Samsung Galaxy S2, S3, S4 to new Galaxy S6/Note 5. In fact, Phone Transfer is more versatile than you thought, it as well as supports to convert data whatever data between Nokia Symbian, Android phone, iOS device and more phone models.

Why you still hesitate? In order to not miss this, download from the link right now.






There are more related articles waiting for your check, and please contact us from the email without hesitation if you have any question or doubt about our products.

Read More Use Guide About Samsung Transfer:
---
Transfer Samsung contacts to Samsung Galaxy S6: You can use the phone transfer to transfer contacts from old Samsung S5/S4/S3/S2/Galaxy Note 4/3/2 to Samsung Galaxy S6 directly.

Transfer Data between iPhone and Samsung on Mac: When you buy a new iPhone or new Samsung Galaxy smartphone,the phone transfer for Mac can help you transfer contacts, sms, photos, videos, call logs and other data from iPhone 4/4S/5/5S/6 to Samsung Galaxy S6/S5/S4/Note on MacBook only 3 steps.

Transfer Contacts from Android to iPhone: If you use HTC, LG, Samsung,Motorola, Sony,Huawei and other Android phone before,when you buy a new iPhone 6S, iPhone 6, iPhone 5s/5,the Android to iPhone Transfer can help you copy all contacts from old Android phone to new iPhone directly without data loss.