Summary:Have bought a new Android smartphone,like Samsung Galaxy S7/S6, Huawei Mate 9/Mate 8/P9/P8, Google Pixel phone, HTC One M9/M8/Max, Sony xperia z3, LG G5/G4, Nexus 5x/6/6P,etc.Finding a easy way to root your phone and take full control of your device?This article teach you two easy ways rooting Android phone freely with 1 click.

What's Android Rooting?
For Android mobile phone users, most friends have heard the word "Root". Root mean that the highest authority of the phone, after rooting the phone and autonomous control system, arbitrarily add or delete system files, you may have more rights after rooting the phone, if you want to use some software,you must to root your android phone, for it is difficult to uninstall preloaded software,it can also uninstall through the root. For some user, this is an essential step to root the android phones, then how to root the android phone yet.

* How to Recover Lost/Deleted Data from Android

* How to Transfer Contacts from Android to Android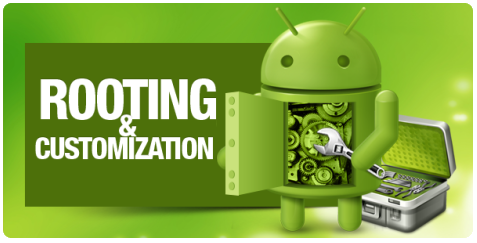 What's Benefits Rooting Android?
Now many people have with Andrews intelligent machines, but too many system comes with software that can not be deleted, boot automatically restart, spend a lot of traffic. So root for some people is still very necessary. Today, let us introduce two methods root.


What to do before Rooting Andriod phone?

Here are something you should know before rooting:
1. Avoiding data losing after rooting the Android phone,you must to back up Android data to computer before the process. (In case process fails and data lost)
Better backup mobile phone software, contacts, text messages, photos, videos, call logs,etc., but ahead of rooting,you better to download a good preparation with an official package, in order to avoid loss of data or cause the machine can not boot the ROOT process.

2. Ensure that the phone has enough power, in theory, make the cell phone battery at more than 50%, but here we recommended to the case full grid, and if an error occurs in ROOT process, in case of sufficient power we can promptly Correction.(In case Android shut off because of battery run-out while rooting)

3. Enable USB debugging (Otherwise your device can't be detected and process doesn't move on)
4. Once you root your phone, you can't benefit from the warranty policy. (So think twice before rooting)

Way 1: Root your Android Phone with Android Root

Android Root Tool is a professional Android Rooting Tool,which special designed for users to root the Andrid phones or tablets only 1 click,you can use Android Root to root your Samsung, HTC, LG, Motolora, Sony, ZTE, Huawei, Meizu, Google Pixel, Nexus and other Android devices without any professional skills. After rooting your phone or talets, you'll be able to block ads in any app, unblock hidden features, remove bloatware and truly own your device.Let's show you the use guide how to use Android Root program to get root access to your Android phone easily.

Free download the Android Root & Data Recovery tool:




Easy Steps to Root Your Android Phone

First of all,please download and run the Dr.Fone Android Root tool on computer, please follow the steps as below to make your phone root.

Step 1.Back Up or Transfer Your Android Data before Rooting
If you are concerned about data loss while rooting, you'd better back up data from Android phone to computer at first. For different Android phone brand,there are many free backup tools, like Samsung Kies, Smart Switch, Sony PC Companion, iTunes(for iOS devices backup), HTC Sync Manager, Motorola Migrate, Quick Switch Adapter(for Google Pixel), and so on. Here,we recommend use the Phone Transfer,which is a good choice for all Android and iOS users backup and restore all data from moible phones;and transfer data between two phones. Also,you can use this Android Root tool to back up your Android data to computer to keep your never loss.

"Android Root" feature is a part of Android toolkit,this program is an all-in-one solution for Android users,when running the program on you computer,you will get the main interface as below.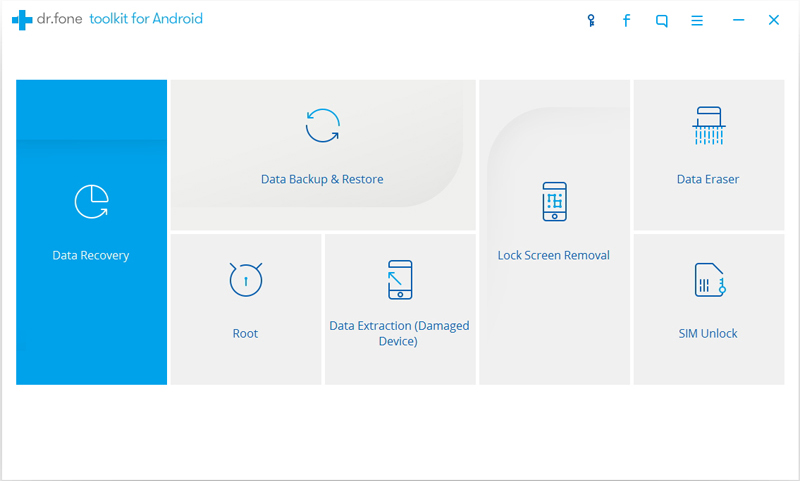 Step 2.Connect Your Android Phone to Computer
After installing Android Root on your Android,please connect your Android phone to the computer via USB cable.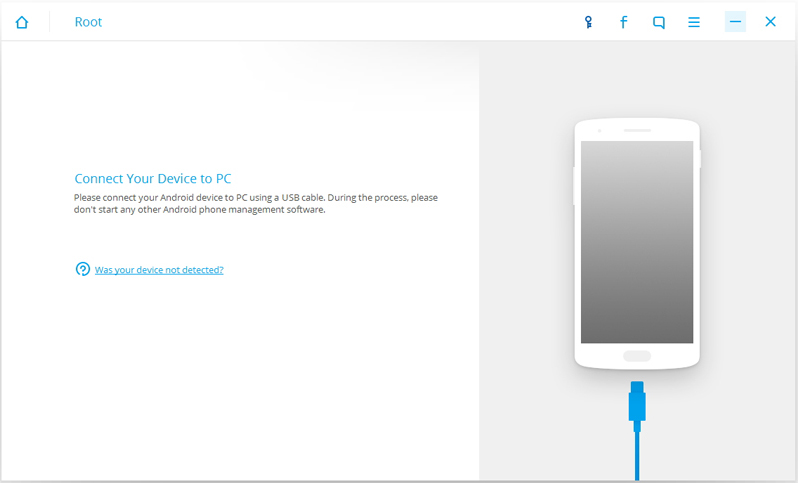 Step 3.Check Your Android Phone has Been Rooted or Not
When your Android phone is detected successfully, the program will start indentifying and check if your phone has been rooted or not,you will see the following interface if the phone has been rooted.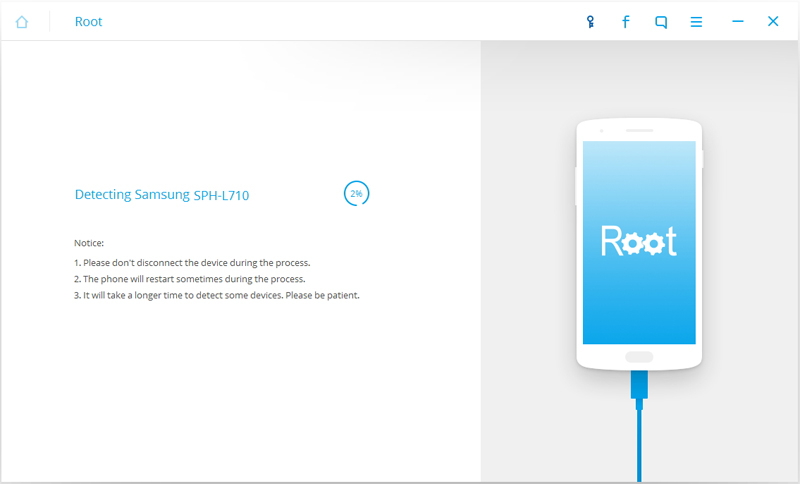 Step 4. Begin to Detect Your Android Phone
In this step,the Android Root tool will automatically detect your phone,if your Android phone never been rooted,the program would detect your Android device model and you can see the screenshot as below if your phone model is supported,then click on "Start" to continue.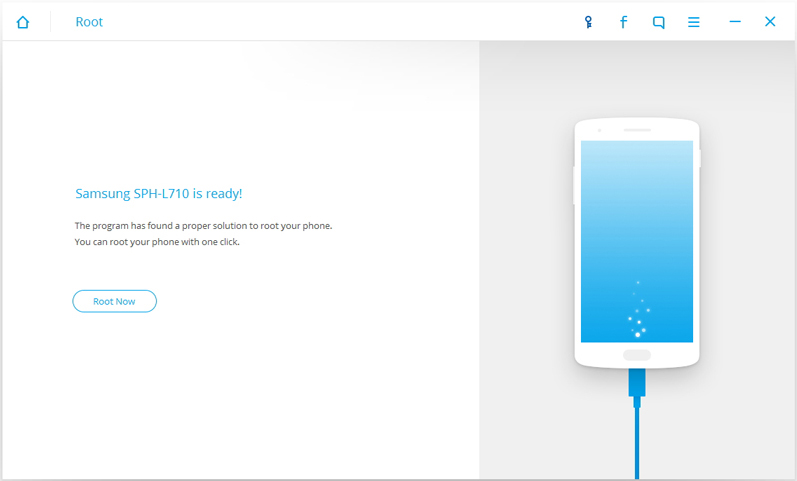 Step 5. Start Rooting Your Android Smart Phone with Android Root
The last step – rooting Android. To confirm root your Android mobile phone,please click "Root Now" button,at this time your phone will pop up a message to ask whether you would like to root the phone,please tap on "Confirm" to continue the rooting process.Now the Android Root program start rooting your phone,during this rooting process,please wait patiently and when the the process is done, it will display the message telling you the rooting process is complete.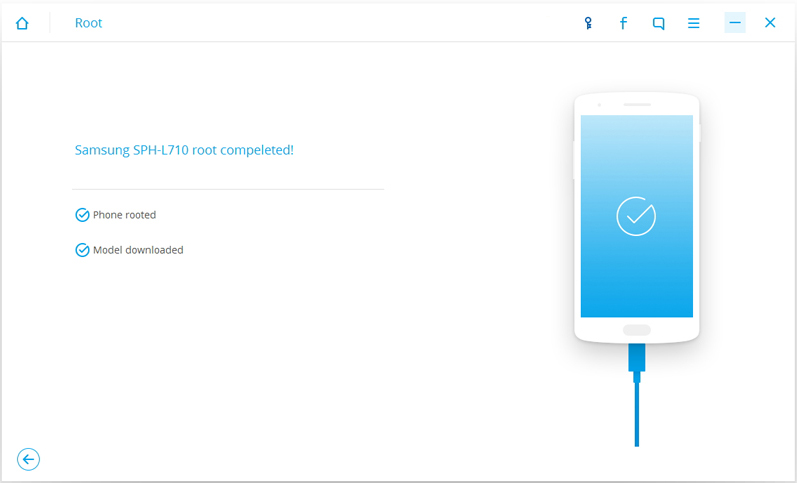 Note:Please keep connecting your phone to comptuer with USB cable during the rooting process until it done.

Free download the Android tool kit - Android Rool:




Way 2: Root Your Android Phone and Tablet with TunesGo Android Root

TunesGo Android Root is one of key features in iOS & Android Manager,which not only helps you manage files on unroot Android phone and root Android devices with one click,but also get root access to your Android phone to take full control of your device,whether you're rooting, uprooting, or repairing Android, it will not damage your Android phone or your data in any way.What's more,iOS & Android Manager is designed for users backup your music, photos, videos, contacts, SMS, Apps, Call history, etc. to computer and restore them easily,however,you can use this program backup all data and other documents to computer before rooting.

In additioal,if you have two phones,the program allows you transfer music, photos, videos, contacts, SMS between two mobile phones (both Android and iPhone are supported) easily.Let's learn how to root Android phone with TunesGo Android Root software.
Tips:You can also transfer data to new phone before rooting.

Free download TunesGo Android Root - iOS & Android Manager: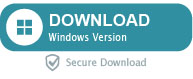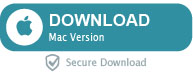 Easy Steps to Root Samsung Galaxy S6 with One-Click

Step 1.Connect Your Android Phone to Computer
First of all,please install and run the TunesGo Android Root software on your computer,then use a USB ccable connect your phone with it. Then the Android Root program will automatically detect your phone and you will see all information off the devices.




Step 2.Enter Android Root Feature
The iOS & Android Manager helps you manage your phone's data on Windows or Mac computer easily,you can see all useful feature in it.To root your Android devices with this program,please click "Toolbox" >> "One-click Root" on bottom.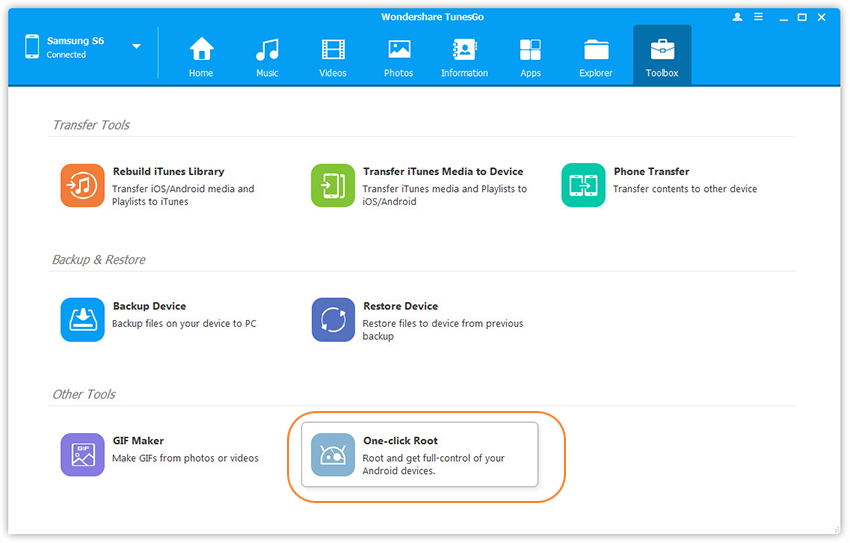 Step 3.Start Rooting Android Phone with 1 Click
After you have clicked on "One-click Root" ,the program will pop up a new windows,then just click "Root Now" to root the deivces.You just need to wait for a couple of seconds and after that a message will appear on your Android phone's screen.Just wait for it patiently and when the the process is done, it will display the message telling you the rooting process is finished.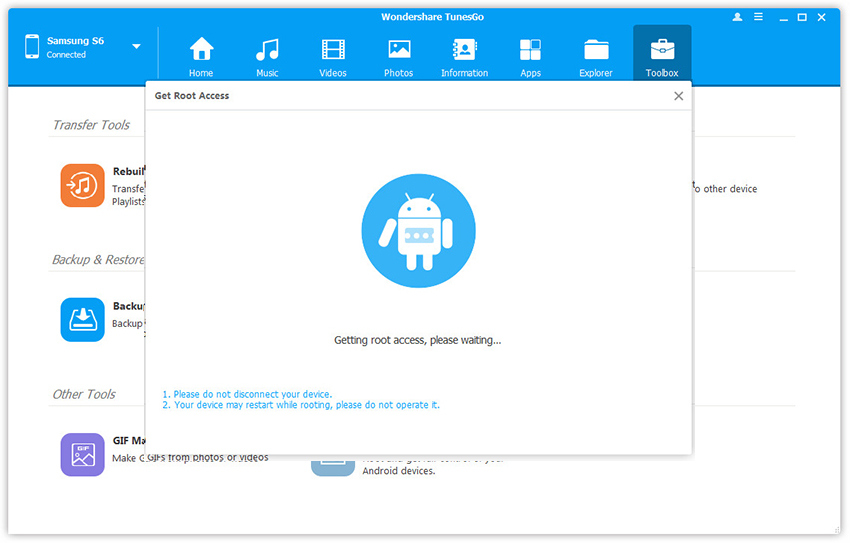 Tips:Please do not disconnect your devices,and your device may restart while rooting,please do not operate it

Free download TunesGo Android Root - iOS & Android Manager: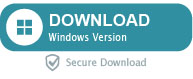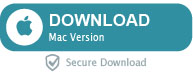 Following the above simple easy steps you can easily root your Android Samsung Galaxy S7/S6/S5/Note 5/Note 4, Google Pixel/XL, Huawei Mate 9/Mate 8/P9/P8/ Honor/ Ascend, HTC One M9/M8, Nexus, Motorial, Sony Xperia, LG and other Android phones with TunesGo Android root tool in a few minutes.


Android Root Supports Most Android Phones and Tables

Samsung: Galaxy S7, Galaxy S7 Edge, Galaxy Note 7, Galaxy S6, Galaxy S6 edge, Galaxy S6 edge Plus, Galaxy S5, Galaxy S5 Active, Galaxy S4, S4 Mini, S4 Active, S4 Zoom, Galaxy S3, S3 Mini, Galaxy S2, Galaxy Note 3, Note 2, Galaxy Note 4, Galaxy Note 7, Galaxy Note 5, Samsung Galaxy J1/J2/J3/J5/J7, Galaxy A9 Pro/A9/A8/A7/A6/A5/A3, Galaxy Nexus, Galaxy S, Galaxy Tab, etc.

HTC: HTC One M9, HTC One M8, HTC Nexus 9, HTC One X, One S, One V, HTC Wildfire S, HTC Desire, HTC One, HTC Butterfly S, etc.

Motorola: Moto X 2, Moto X, Moto G2, Moto G, Moto E, Nexus 6, Droid RAZR M, Droid RAZR MAXX HD, ATRIX HD, ELECTRIFY M, Droid BIONIC, etc.

Sony: Xperia Z4/Z3/Z2/Z, Xperia M, Xperia SP, Xperia L, Xperia ZL, Xperia E, Xperia T, Xperia TX, Xperia SL, Xperia J, etc.

LG: Nexue 5X, Nexus 6P, Nexus 5, Motion 4G MS770, Optimus L9, Optimus G, Lucid VS840, Nitro P930, Viper LS840, Spectrum VS920, Intuition VS950, etc.

Huawei: Mate 9, Mate 8, Mate S, Huawei P9/P8/P7, Nexus 6P, G8, P8, Ascend Mate 2, Ascend P8, Ascend P7, Ascend Mate 7, Ascend G7, Ascend 7, Ascend G6, Ascend P2, Ascend Mate, MediaPad X2, Honor 6, Honor 6 Plus, Honor 4X, etc.

Google Phone:Google Pixel/Pixel XL, Nexus 7,Nexus 6P/6, Nexus 5x, Google Nexus 8 tablet,etc.

Other Android Brands: ZTE , Acer, ASUS, AT, Amazon, Archos, Dell, Google, HP, Kyocera, Lenovo, etc.
What Should Be Take Attention After Android ROOT?

1. For those are not familiar with the application or file system, do not delete them arbitrarily, once deleted important system files by mistakenly, it may cause the phone not work properly.

2. The system associated with the application must be deleted together. Otherwise, when you run the application associated with the error.

3. When installing the software, and strictly control the authorization request of the procedures to permission to prevent the use of malicious software

4. After Get Root Access to your Android Phone,please clean out the phone system comes with applications that we do not need (It should be noted at the first point mentioned content).

5. You can also start their own that do not require the power of all the procedures prohibited. In addition to reservations must start on its own when the boot messages, alarm clock and other essential applications, other programs can disable its startup rate, so you can maximize speed up the startup speed of the system, speed up the phone operation.

6. Lost data on your android phone? Don't worry,you can use a Android Data Recovery to recover lost data from an rooted Android phone.
The Android Data Recovery allows you recover lost contacts,text messages,photos, videos,ect from a rooted Samsung, HTC, LG and other android devices.

These are my share some notes on the phone before and after ROOT privileges acquired understand where we need to pay attention to,
These are my share some notes about rooting the android phone or tablets, what we need to pay attention before and after ROOT privileges acquired,we can better use ROOT privileges, let the phone system to use up more smooth, comfortable.If you think this android rooting tutorial can help you,please share this tutorial to your Facebook or Google+.

Related Articles:
---
How to Root Samsung Galaxy

How to Transfer Data from Android to iPhone

How to Transfer Data from Android to Android Samsung

How to Restore Lost Data from an Rooted Samsung

How to Backup and Restore Your Android