"I have a Galaxy S6 with a dead screen after I dropped it on the floor yesterday.The Android Data recovery software requires one to put the phone in USB debugging mode to be able scan the phone for files.But if the screen is dead (as in... NOTHING but black)?Any android broken screen data recovery for me extract files from the broken phone"-Asked by Nancy

Similar Question:
"My Samsung Galaxy S5 screen is dead,how can I get back those important contacts?
I have a HTC phone with a black screen,is it possible to recover data from my black screen HTC?
Since the phone's touch screen cannot be used,I want to recover contacts and messages from it
My Samsung Galaxy screen is unresponsive/broken,how can I recover my photos on broken Samsung Galaxy smart phone?
Samsung Note 4 phone cannot enter the system,is there any tips to recover messages from Android with black screen?"

Many mobile phone users may encounter similar problems above,today,let's tech you a easy way to recover data from a broken or dead Android phone,not matter your phone screen is broken, dead, white, black or cannot access the android system.

We all know somebody who may drop his phone one or too many times with disastrous results.A cracked or broken screen is annoying enough,but what should you do if the screen is no response when you try to recover data from it?If you can't access the screen,you're going to have trouble.

Here's an useful guide with a simple method to save your important data from a broken android device, if you want to restore files, messages,and contacts etc personal document.If the screen is completely blank, check our guide about how to recover data from dead Android phone even if it's a black screen phone.

Are you frustrated because data can not be restored from your broken Android phone?Do not worry, the powerful data recovery-Android Data Recovery can help you!

Android Broken Data Recovery enable you to restore data from a broken or deleted android phones,no matter your phone is Samsung, HTC, LG, Sony or Motorola, etc. , please keep reading as below use guide,you can extract contacts, messages, SMS, photos, videos and more back from your broken android phone. Now, let's follow the steps to scan your Android, preview and selectively choose to restore dead android lost data with ease.






1. Conditions
1)Android Data Recovery for Broken Android Phones only.If your phone is damaged, for example, black screen,unable to enter the system or the touch screen can not be used, the fingerprint recognition can't be use as usual,you can use this magic program to recover data from the broken Android phone.
2) Data Recovery for existing data only.
3) Data Recovery for Android devices only.

2. Attention
1) DO NOT unplug your phone before exiting the program.
2) Currently supported devices is limited. Be sure to select the correct device type, in order to protect your phone is not bricked or beyond any remedy other issues.In addition we are trying to add more devices in future updates to meet your needs.
3) You'd better not to run other Android related software at the same time for avoiding the conflict.

3.The Broken Android Data Recovery Use Guide


How to Restore Lost Data from Broken Android Devices

1)Start Android Data Recovery and connect your device.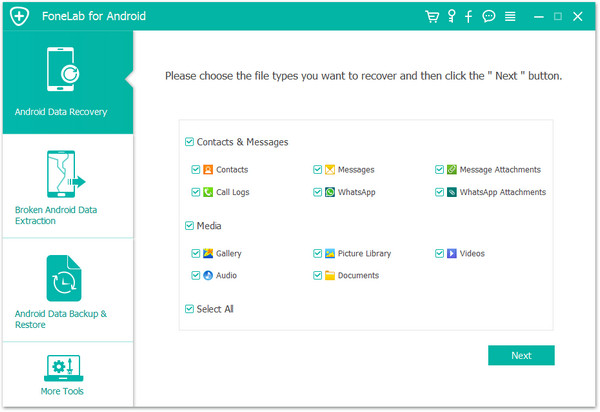 2)Click to begin.
3)Select your phone fault type.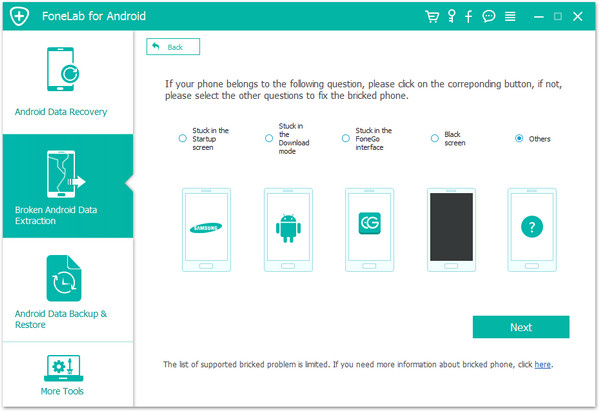 4)Select your device model.Make sure it is accurate.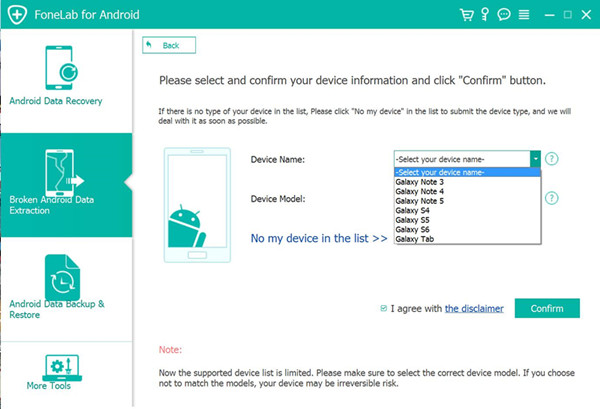 5)Follow the guide to enter the Download mode.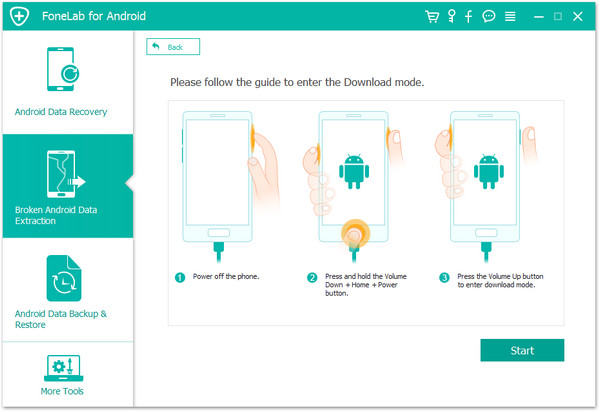 6)The smart program will analyze your broken phone and download recovery package on your phone automatically.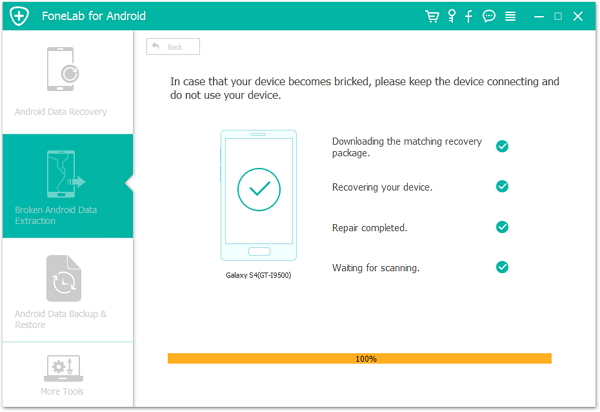 7)Preview and recover deleted or lost data on the your broken mobile phone.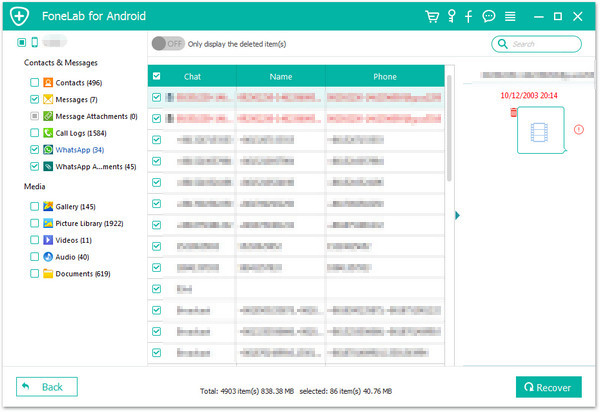 4.Potential problems and solutions
1) Stuck in download mode
If the recovery process fails,and the phone is in download mode,you can click"Exit Download mode" to exit,or press the power button and hold it about 10 seconds,or remove the batteries or directly to exit download mode.

If you can not enter the system,please use the "fix my bricked phone" function.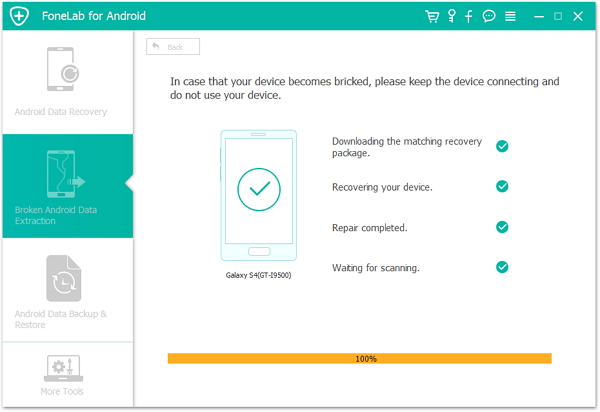 2) Stuck in recovery mode
Your device will be in recovery mode (unavailable), all through the recovery process.During the scan process please keep to connect the USB cable.After completion of the reduction, close the program and phone will get back to normal.

If the data recovery procedure is complete but your device keeps in frozen state,please restart Android Data Recovery and connect your device,the program will prompt you to exit recovery mode.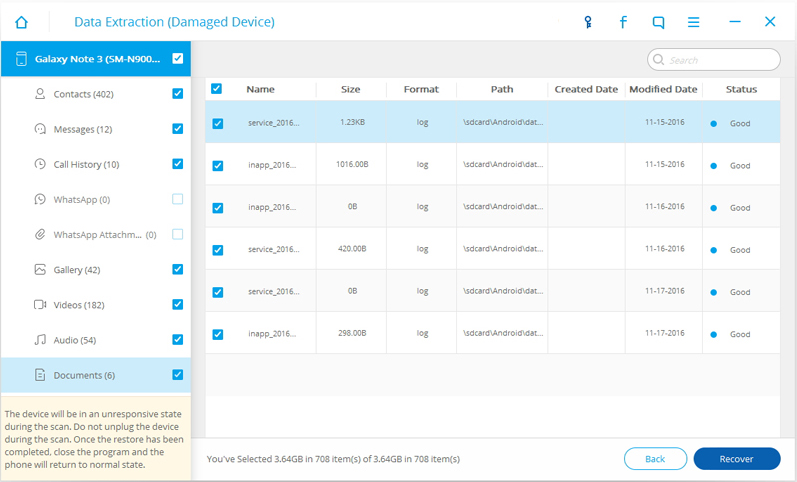 Related Articles
---
How to Recover Contacts from broken Samsung
No matter your phone is Samsung Galaxy S6/S5/S4/S3 or Note 5/4/3/2 etc.Android Data Recovery enable you to recover contacts from broken Samsung phones completely.

How to Recover SMS from broken Samsung Galaxy
Dropped your Samsung Galaxy phone on the floor careless?Please read this guide and learn how to recover your privacy SMS from broken Samsung phone without any data loss.