Christine
Hello, my name is Christine, and actually, I am a seniority on the android and ios data recovery. Circle and text me if you have any problem about your phones or tablets.
How to Delete Gmail Account on Android
publinshed by
wind at
Dec,15th
"I just bought an iPhone 6S recently, and I used Android phones in the past. My Gmail account has ever been stolen, so I have more than one Gmail account. Now I use the iPhone 6S, so I want to remove Gmail account information. Is there any way for me to directly delete Gmail Account from my Android device?"

If you do not want to use, or you want to remove your Gmail account on Android directly, here are two methods for you to make good performance on deleting Gmail account. The first approach is to restore the factory settings on Android phones, but once you restore the factory settings, all data will be cleaned, including vital data on photos, videos, text messages, contacts and other files in the internal storage. So if you want to use the first method, you must back up data to another phone or computer before your deleting. The first approach I generally do not recommend, because whenever there is a little mistake your data will be deleted. Compared with the first method, the second method is more direct and secure. It is through Android phone settings to delete Gmail account.

The following details on how to delete Gmail accounts directly on Android devices, such as LG, Samsung, HTC, Sony and so on.


Guide to Remove Gmail Account on Android Phone

Step 1 Go to "Settings" > "Accounts". Select "Google" and select the account you want.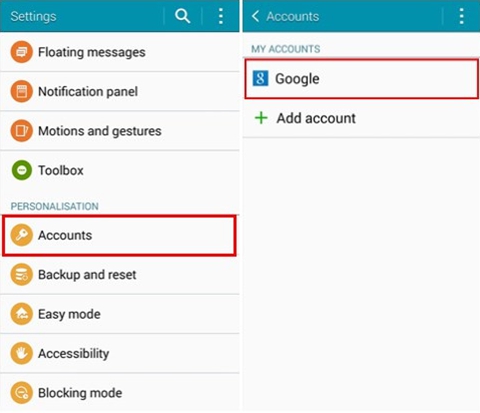 Step 2 Click on the menu icon. And Select "Remove account".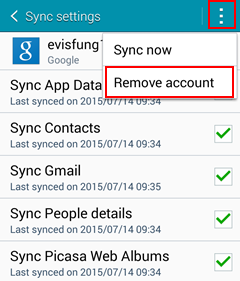 Step 3 Hit "Remove account" on the pop up and make sure to delete your Google account from Android.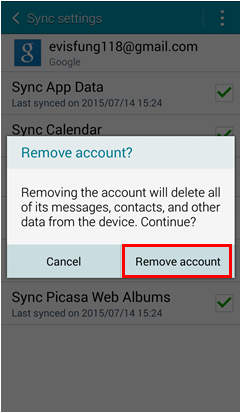 Note: removing the account will delete all of its messages, contacts, and other data from the device.

With these simple steps, your Google account has been cleaned from your Android phone. If you want to sign in with another account, just read on Guide to Add Google Account from Android Phone

Read More:
---
How to Wipe Files on Android Phone Permanently

How to Recover Data from Android Phone

How to Transfer Data betwen iPhone and Android