"I was able to sync contacts from my iPhone to my MacBook but had to call Apple Support for assistance, I wanted to save phone numbers on both my MacBook and my iPhone. The Apple Support Line used iCloud and were able to combine the two for me. Sorry I can't remember the exact process they used though. Are there any other solutions for me to tranfser contacts between iPhone and Mac?"

If you want to find a easy way to backup contacts from iPhone to Mac,and then transfer contacts from Mac to iPhone,please keep reading.
As one of the most important features of mobile phone, making calls facilitates people's life significantly. So contacts should be kept well and backup regularly, otherwise you may get into a big trouble that you might delete contacts or loss them by accident or restoring to factory settings, failing to jailbreak or device crash or damage. For iPhone users, if you want to have your contacts list transferred between iPhone and Mac quickly for a backup, the following tutorial is matching with you.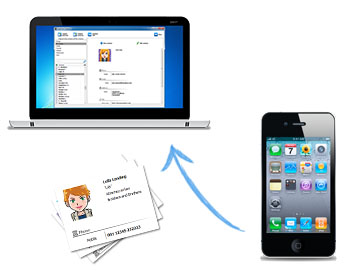 Fortunately, it's not a difficult job to backup contacts from iPhone to Mac any more. In this article, I'm going to show you the ways to backup contacts from iPhone to Mac easily. You can sync iPhone phone numbers to Macbook, Macbook Pro, Macbook Air, iMac via iTunes backup or Phone to Phone software and you can sync contacts from Mac to iPhone easily. Furthermore, you also can transfer SMS, pictures, videos, notes and more contents between iPhone device and Mac. Now keep on reading and find out the way.


Part 1. How to Backup Contacts from iPhone to Mac

Solution 1:Backup iPhone Contacts to Mac, Macbook Pro/Air, iMac by iTunes

You can extract your contacts from the iTunes backup to Mac when you lost your iPhone or you want to upgrage or jailbreak your iDevice. iTunes can automatically back up iPhone contacts and update it every time when you sync it. So you really have a big chance to recover contacts from iTunes backup.Just follow the simple step-by-step instructions given below to learn how to backup iPhone contacts to Mac with iTunes.

Step 1. Download and install iTunes on Mac.
Step 2. Connect iPhone to your Macbook via the USB connector that came with it, and launch iTunes.
Step 3. Select iPhone from the left-side list, and click on the "Info" tab.
Step 4. Please make sure that "Sync Contacts" is checked.
* It will be disabled if you have iCloud backup turned on. Please turn off iCloud backup when using iTunes.
Step 5. Right-click or Control-click on the name of your iPhone and then select "Back Up"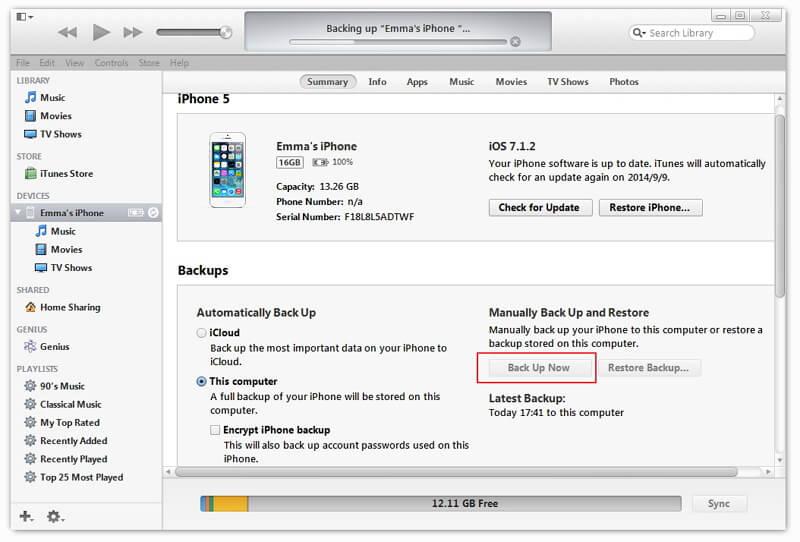 Disadvantage: To be honest, there are some shortcomings for iPhone users to backup contacts via iTunes. If you have successfully backed up contacts to Mac, Macbook Pro/Air or iMac, you can find it difficult to find out the ways to saveyour contacts on Mac. Even if you are lucky enough to find the right path to save, you can not open your contacts and read because they do not match the format. There is no doubt that even if you successfully backup contacts to Mac, you still will be very confused because you do not know how to do. Worsemore, you can transfer all the data without any selecting. Therefore, I strongly recommend that you use the following straightforward and simple way.

Solution 2:Backup Contacts from iPhone to Mac via Phone Transfer

Phone Transfer is a professional data transfer and managment software for iPhone iPad and iPod users to transfer data between iDevice and Mac, directly transfer data between iDevices and Mac,you can use this Phone Transfer to backup and restore iPhone contacts on Mac. Therefore, you can backup your iPhone data to Mac with ease. What's more, you also can directly transfer contacts, messages, videos, photos, music, and bookmarks from your iPhone to Macbook, Mac Air/Pro and iMac.

Free download the trial version:






Step 1. Run the Phone Transfer on Your Macbook

After installation, you should run the Phone Transfer program and take out your USB cable to connect iPhone with Mac.




Step 2. Choose Data Backup Mode and Backup Your iPhone Contacts

Select the "Backup" option in the primary interface to enter the Backup Mode. As soon as you check all contacts that you want to backup, click "Start Copy", and the Phone Transfer will automatically back up the selected contents on iPhone to your Mac.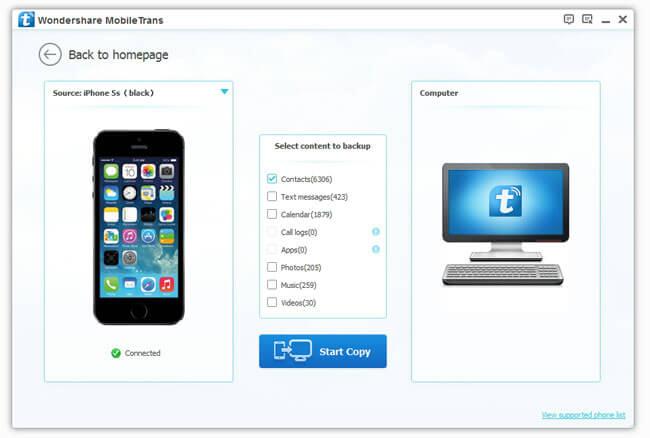 All contacts will be transferred from Mac to iPhone successfully.




Tips: You can also use this Phone Transfer to restore contacts back to your iPhone from the backups.
Part 2. How to Sync Contacts from Mac to iPhone

The most simpy way to sync contacts from Mac to iPhone should be using iCloud. But if you don't want to using iCloud to switch your contacts, you still can upload your contacts to Gmail first and transfer contacts from Gmail to iPhone later on your Mac. Anyway, let's begin to learn how to use iCloud to transfer contacts from Mac to iPhone.

Step 1. Setup iCloud on Mac

Click the apple icon on the top left of your Mac and select System Preferences. Find and open iCloud. Sign in with your Apple ID. Then you can check contacts(Address book) and other services you'd like to enable the transferring in iCloud.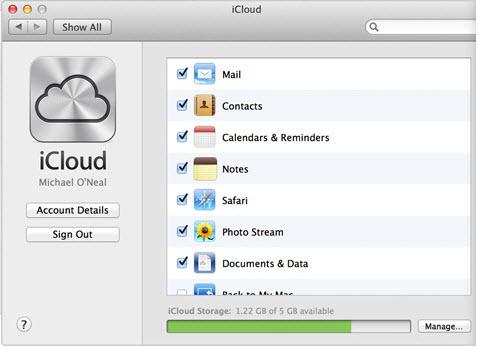 Step 2. Sync Contacts from iPhone to Mac via iCloud

Connect your iPhone with Wi-Fi. Tap Settings > go to iCloud on your iPhone. Sign in with your Apple ID. Wipe the Contacts button to ON.




Read More:
---
How to Backup iPhone Contacts with/without iTunes

How to Transfer Contacts from iPhone to iPhone 6s/iPhone 6