Summary: This article teach you a easy way to fix a bricked Samsung, HTC, LG, Motorola, Sony, Huawei device,when your Android phone or tablets stuck in download mode,stuck in the start screen,black screen or other moible phone fault type.Now,you can fix your bricked android phone and recover data from bricked phone at home by yourself.

"How to unbrick my Samsung phone?I got Samsung Galaxy S5 and turned it to be a brick since I rooted it carelessly.Any way to recover data from bricked Samsung Galaxy S5?Please HELP!"-Nancy Tse

Nowadays,most Android users are likely to root their Android devices for more access to the blocked features. However, not all of the root process are secure enough.You may in the risk of bricking your Android during the rooting steps.If it happens, luckily, 99% of the bricked devices can be unbricked. So how to unbrick an Android device or tablet?

What Is Bricked Android Phone and Tablet

Before getting to the guide of fixing your bricked Android phone and tablet to normal, try to know the 2 types of bricked Android device or tablet, soft bricked one and hard bricked one.

Soft bricked device - It can still boot into recovery mode or be stuck on the logo. And you have a great chance to fix it just by flashing a stock ROM or flashing a recovery file.

Hard bricked device - Just like it's name, your device is dead. It behaves like a real brick. You can have no operation on pressing the power button.

Best Solution to Recover a Bricked Android phone

Broken Android Data Recovery can help you fix Android and tablet get bricked,it's the perfect solve program that helps to save bricked Android phone and recover data from it in one click only,return it to normal.Furthermore,this fix program enables to fix any operating system issues of unormal Android and tablet,for instance devices stuck on start screen,stuck at black screen of death, can't get rid of download mode,or loop into black screen,etc.

If lost data on your damaged android,you can also use this powerful Android Repair & Data Recovery tool to recover lost data from damaged Android.

Just download the Android Fix & Data Recovery tool for trial.






Let's learn how to fix a bricked Samsung phone and recover data from it.

How to Recover Data from Bricked Samsung Galaxy Note 3/4

Run the Android data recovery program on your computer,then choose "Broken Android Data Extraction" mode to recover data from death/bricked Android Samsung.


Step 1.Connect Bricked Android Device on Computer
Connect your bricked Android Samsung phone on computer with an USB cable.




Step 2.Select the Fault Type which Matches your situation(Bricked)
If you connect your bricked Android or Tablet to computer, this amazing program will pop up the window as below.Choose the situation depend on your unormal device from a pop-up window on the display to continue.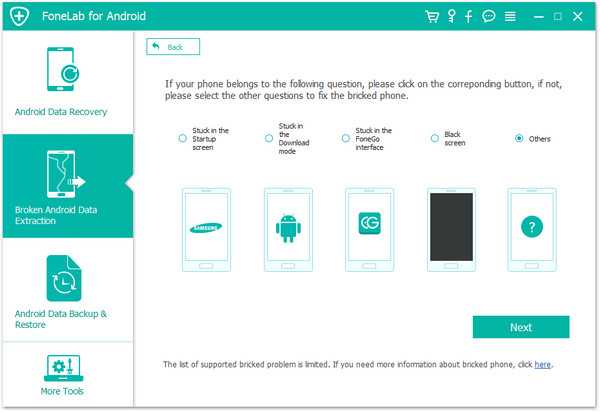 For soft bricked Android phone,plase choose the the left option "cannot access the phone",then the program will pup up a new windows.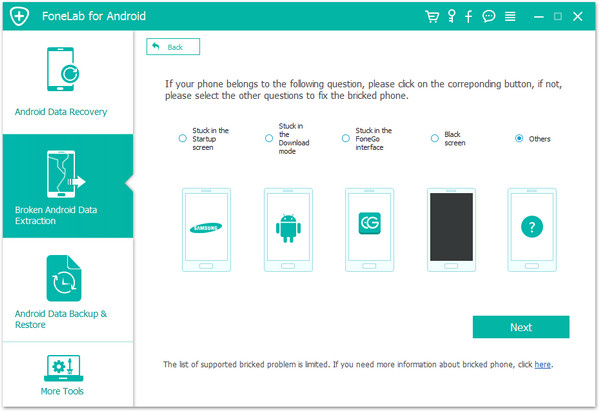 Step 3.Choose Your Bricked Phone Mode
On the new window, select the name and model of the device of your Samsung Galaxy Note 3 device. Currently, the software works with Samsung devices in Galaxy S, Galaxy Note and Galaxy Tab series. Click the "Next" button.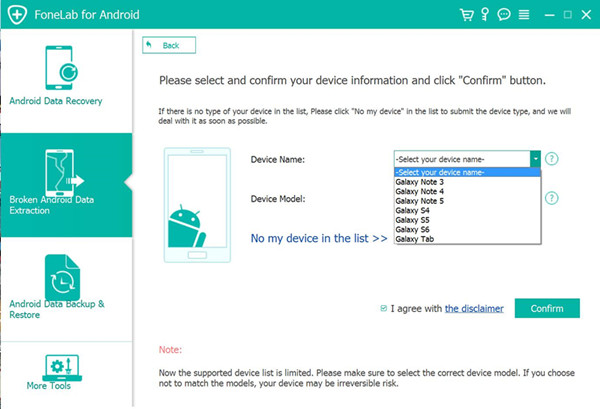 Step 4.Enter Download Mode with Bricked Android or Tablet
Now the program will ask you get the device into "Download Mode" manually. To get the device into "Download Mode", please firstly power off your device. Then hold "Volume Down + Home + Power" on your device together for a few seconds till the phone enter "Download Mode".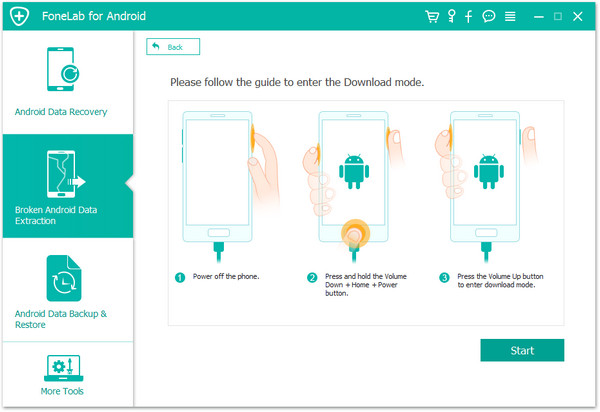 Step 5.Android Data Recovery will Detect the Device Soon
Android Data Recovery will detect it and display the device model, Android version etc on the screen of computer when the device enter "Download Mode" opportunely.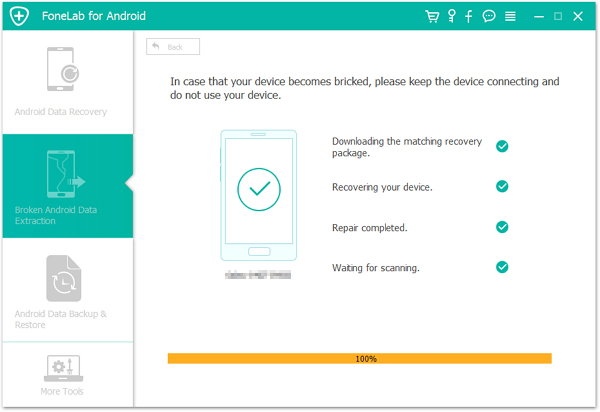 Step 6.Let the Device Restart
Android Data Recovery will download the recovery package to help you fix the bricked device to normal automatically.You can check the device to ensure whether it can work or not after download mode is complete.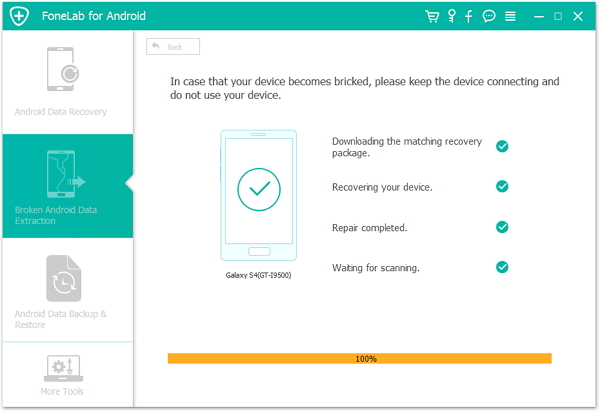 Step 5.Recover Data from Bricked Samsung Galaxy Note 4/3
After finish fixing your bricked Samsung phone and turn to normal status.Now,you can recover data from Android phone.How to recover lost or deleted data on Android phone?Please switch the fist recovery mode - "Data Recovery",then connect your Android phone to computer with USB cable,then scan the Android phone for lost data,only few mintures,you can found all lost data still stored in your phone,then click "Recover" button start to restore data from Android.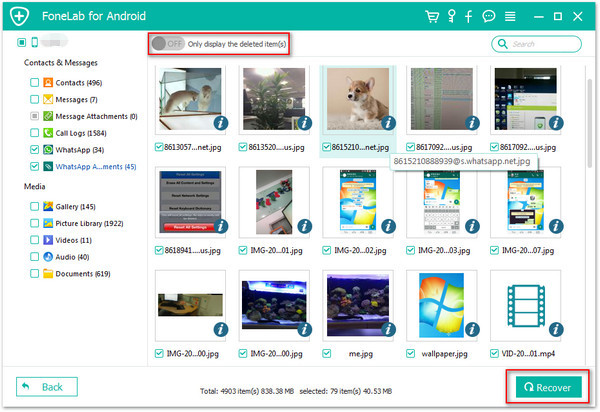 Here is the way in which can be solved to fix Android or tablet get bricked easily, just follow the steps above of this Software named Android Data Recovery and you will return Android or tablet to normal on your own without any troublesome and costly.The program supports fix bricked Samsung Galaxy S5/S4/S3/Note 4/Note 5/Note 8 and other Samsung tables with broken screen or black/blank screen of death,then get back data from the bricked Samsung phone.






For broken/bricked Android devices,currently, the broken data recovery feature only works with Samsung devices in Galaxy S5/S4/S3/S2, Galaxy Note 4/Note 3/Note 2 and other Samsung tables.For other damaged Android devices,like Samsung Galaxy S7/S6/Note 5,A9/A8/J7,HTC(One M9/M8),Google Pixel, Nexus, Huawei Mate 9/8/P9/P8, Motorola, Sony,etc.This feature is not supported,please be patient while waiting for our software update.And you can try recover data from Android SD card.

Related Articles:
---
How to Recover Lost Data from Android Phone

How to Recover Data from Android SD Card

Android SMS Recovery: Restore Deleted Text Messags from Android

How to Recover Deleted Contacts on Android Phone

How to Get Back Photos from Broken Androd