Summary:This article teach you how to fix soft brick and hard brick Samsung phone and recover data from a bricked Samsung Galaxy phone.No matter your Samsung Galaxy phone turn bricked due to some software errors or hardware malfunctioning,the bricked Android fix & data recovery tool can help you fixes various system error issues when it get bricked or dead due to getting dropped,falling hard,a custom ROM incompatible with some error from the full data wipe/ factory restore/ cache wipe after flashing with a custom ROM.Let's the easy tutorial to restore Samsung Android system to normal and get missing data back.

How to extract data from my bricked Samsung Galaxy S5?
"Rooting my Android Samsung phone went well, suddenly, my Galaxy S5 was stucking in the start mode during rooting, in other words, my Galaxy S5 can not boot into Android system now, how can I do, whether my Samsung was painted brick?How to unbricked the phone and recover data back?" -- Ask by Jone
Unbrick Samsung Android Phone and Data Recovery

If your Android Samsung phone is actually bricked, we recommend you to use Broken Android Data Recovery to enter and exit the download mode, get Samsung out of black screen, restart screen and other phone fault type, with the help of this Android System Fix tool,you can easily fix your bricked Samsung Galaxy S5/S4/Note 4 in some cases. Apart from this, you can directly recover lost/deleted contacts, sms, pictures, videos, WhatsApp, calendar and more files from Samsung by using this recovery tool. It also can fix Samsung Android in all cases, including broken screen, black screen of death and can't restart, making your Samsung device return to normal.

Free download the Android Fix & Data Recovery Tool and have a try!






Tips:The Bricked Android Fix function only works for some Samsung devices in Galaxy S, Galaxy Note,like Galaxy S5/S4/S3, Galaxy Note 4/Note 3 and other Galaxy Tab series,you can free download and try before purchase it,if it does not work, we'll refund it to you in full.In additional,the program can help you recover lost data from all kinds of Android devices,if your phone is not damaged.

Supported Normal Samsung Data Recovery: Samsung Note 5/4/3, Galaxy S7/S7 Edge+, Galaxy S6/S6 Edge+, Galaxy S5/S4/S3/S2, Samsung Galaxy Ace, Samsung Captivate, Samsung Infuse, Galaxy Nexus, Samsung Epic 4G Touch, Samsung Galaxy A9/A8/A7/A5, etc.

Supported Normal Android Data Recovery: Google Pixel, Nexus, Huawei, Samsung, HTC, Motorola, LG, Sony, and many others Android devices.

Guide for How to Recover Data from Bricked Samsung

Step 1: Connect Your Bricked Samsung Phone to the PC
To fix bricked phone and extract data from bricked Samsung phone,please run the Android Data Recovery on your computer,then select "Fix Device" features.

Then plug your bricked Samsung phone to computer with USB cable.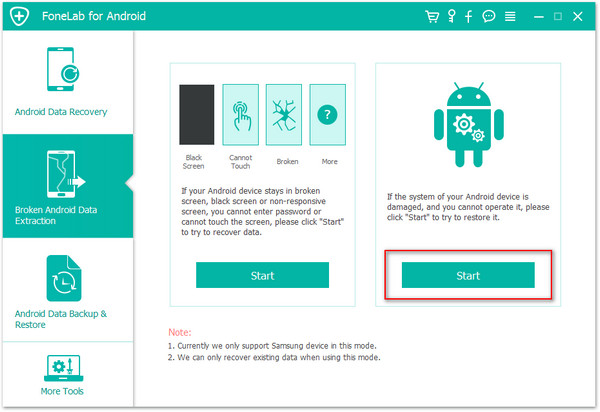 Step 2. Choose the Type of Fault on your Bricked Samsung Phone
Please choose a kind of problems that you are faced with. For bricked Samsung with black screen or start screen, click "Stuck in the start screen" or "Turns into black screen" to go on.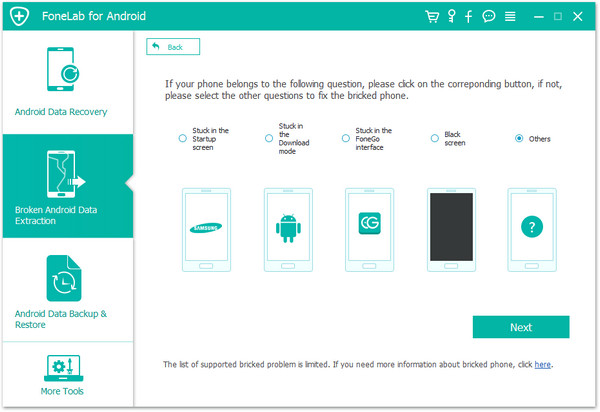 Please choose a kind of problems that matches your Samsung phone state - "Mobile phone black screen", "Stuck in the start screen" or "Can't access the phone".

Step 3.Select Your Bricked Samsung Phone's Brand Name and Model
On the new window, select the correct "Device Name" and "Device Model" of your bricked Samsung device.
Currently, the software works with Samsung devices in Galaxy S5/S4/S3, Galaxy Note 4/Note 3 and Galaxy Tab series,and then click the "Next" button.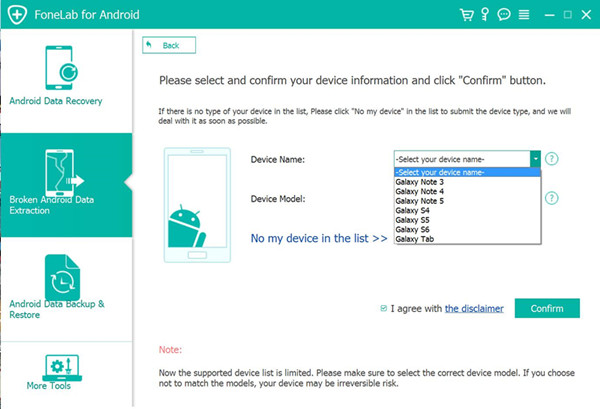 Step 4. Get Your Bricked Samsung Device Into Download Mode
In this step the screen will ask you to get Samsung into "Download Mode" manually.Please get your bricked phone into download mode and ready download the recovery package for your Samsung Galaxy.
Now follow the guide to enter the Download mode:
1)Power off your bricked Samsung phone completely
2)Press and hold "Volume Down + Home + Power" button on your Samsung phone together
3)After that, your phone will enter "Download Mode".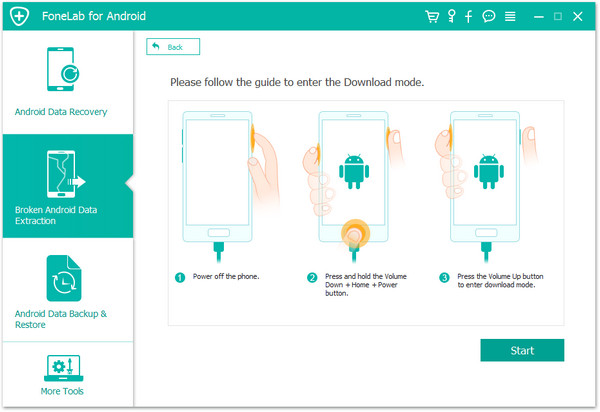 Step 5.Download the Recovery Package for the Bricked Samsung Phone
When your phone successfully enter into recovery mode,the program will begin download the suitable recovery package to your bricked phone automatically,please wait for the download process and keep connect the phone with computer.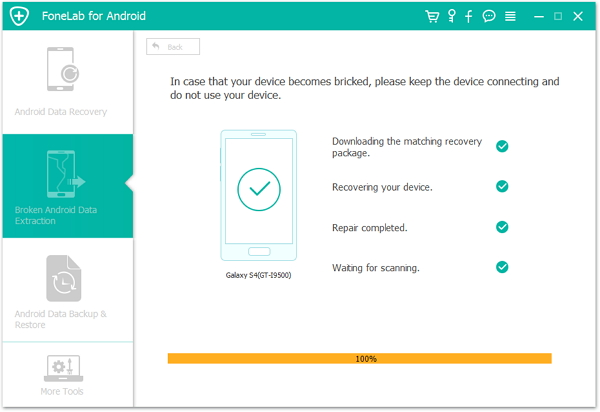 Step 6. Detect Your Samsung Phone
When completing the recovery package download,your Samsung will be detected and it is necessary to connect Samsung phone to the computer so that the software will display the your device model and Android version on the interface.

Step 7. Fix Bricked Samsung Phone and Restart it to Normal Status
The program will download the recovery package to help you fix the bricked Samsung phone to the normal state.After several seconds, your Samsung Galaxy phone will restart to the normal without data loss.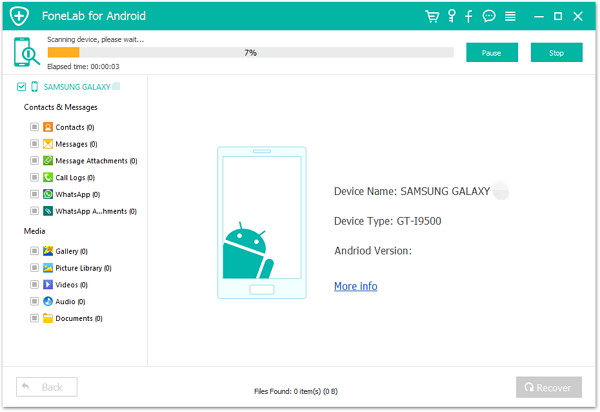 Knowledge supplement: In this whole process,the software can help you download the appropriate and corresponding recovery package to your phone,then restore Android system to normal for Samsung devices.

Do you want to recover lost data back from a bricked Samsung phone?Please keep reading the below step.

Step 5.Rcover Lost Data from Bricked Samsung Phone
Now,you bricked phone has been fixed and back to the normal state.If you want to retrieve missing data back from your Samsung phone,please return back to the main interface of the software and choose "Data Recovery" function,then connect Samsung phone to the computer > enable USB debugging > scan Samsung missing files > preview and recover lost data from Samsung devices.Refer to the tutorial:Recover lost data from Samsung phone.

Recover Deleted Photos from Bricked Samsung Phone

When you have fixed the bricked phone,If you deleted photos on Samsung phone before,you can also use this Android data recovery to recover your Samsung pictures directly.After scanning your Samsung phone for all lost/deleted data,the program will display all the found files for you,including photos, videos, music, contacts, SMS, call history, WhatsApp messages, etc. To get missing photos back from bricked Samsung phone,please choose "Gallery" item,and then click in the corresponding boxes or simply choose them all. Finally, click "Recover" button to save the deleted photos on computer.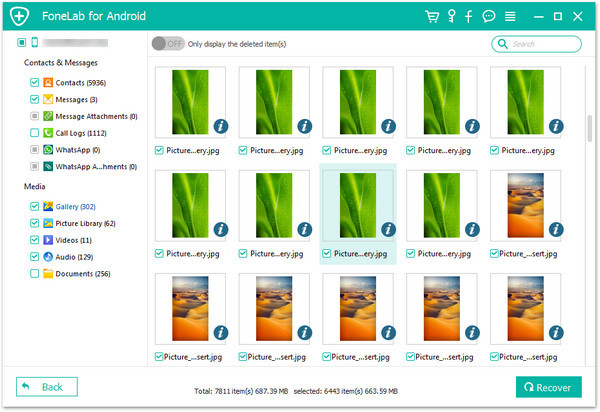 Free download the Android Fix & Data Recovery Tool:






Warm Tips:
What causes a Samsung Android phone to be soft bricked?

* Incorrectly rooting the phone using Odin or the root process does not complete properly and you exit the program.
* Disconnecting the USB cable from your PC while rooting the Samsung Android phone.
* Disconnecting the USB cable from your PC while upgrading the firmware using Kies.
* Anything else that causes the PC that the Samsung Android phone is connected to lose power (e.g. power failure) that stops whatever process is taking place (rooting, firmware upgrade etc.) to not complete.

Related Articles:
---
How to Recover Lost Data from Samsung Galaxy

How to Restore Data from Samsung SD Card

How to Retrieve Lost Contacts from Samsung Galaxy

How to Restore Deleted SMS from Samsung Phone