Summary: Forgot Samsung password? Your phone screen is locked? How can you access and recover photos, videos, contacts and messages from the locked Samsung Galaxy S6/S5/S4/Note 5/4/3? Here you can find Broken Android Phone Data Recovery to help you extract data from Samsung locked screen.

How to Extract Android Files When I Forgot Samsung Password?
"My Samsung Galaxy S6 touch screen was broken,I don't remember my Samsung Galaxy S6 pattern or PIN code. How can I access my phone and recover my important contacts, SMS and photos?" --Asked by Sueson

How to Unlock the Screen Lock on Samsung Phone

How to Fix Samsung Galaxy Stuck into Blank Screen

If you forgot the pattern or password, pattern, PIN, password & fingerprints that locks your Samsung phone, the first thing you need to do is remove Samsung locked screen and get data back. However,how to access or back up Android files when you don't know the password of the Samsung Galaxy phone? Don't worry, this article will teach you how to use Broken Android Data Recovery or Android Lock Screen Removal to help you bypass the Samsung password for Android data backup.
Unlock the Screen Lock on Samsung Phone and Recover Android Files

Broken Android Data Recovery and Android Lock Screen Removal,both can help you to remove the Samsung Galaxy S6/S5/S4/Note 5/Note 4/Note 3 password without data loss,and then backup the Android files from a screen-locked Samsung phone to computer, including contacts, text messages, photos, videos, call log, WhatsApp messages and so on. What's more,the program also allows users recover lost or deleted data from Android phone with broken screen, black screen, blank screen,etc.
Let's teach you how to access Samsung phone and extract files without any password or pattern lock needed with the help of the Broken Android Data Recovery.






Tips: If your Samsung Galaxy S8/S7/Note 8/A9/A8 and other Android phone no damaged or screen-unlocked,you can switch to "Android Data Recovery" feature directly scan and recover missing files from your phone easily.Let's follow the easy steps to use the broken Android data recovery to access the screen-locked Samsung phone and extracting files for backup on computer.
Learn More: how to recover deleted data from Android phone

Main Features:

-Remove 4 screen lock types without data loss- pattern, PIN, password & fingerprints.
-Fix broken screen, locked, frozen, crashed, black-screen, virus-attack Samsung phone to normal.
-Access and extract contacts, messages, photos, WhatsApp data, call history and more from broken Android phone.
-Fix and recover data from broken Samsung phone.
-Support almost Samsung Galaxy S, Samsung Galaxy Note, etc.

Recover Photos Contacts SMS and more from Samsung with Locked Screen

Step 1.Connect Samsung Galaxy phone to Computer
First of all,please run the Android Data Recovery software on computer and choose "Broken Android Phone Data Extraction" and then click "Start" button.Then plug your Samsung Galaxy phone into computer with USB cable.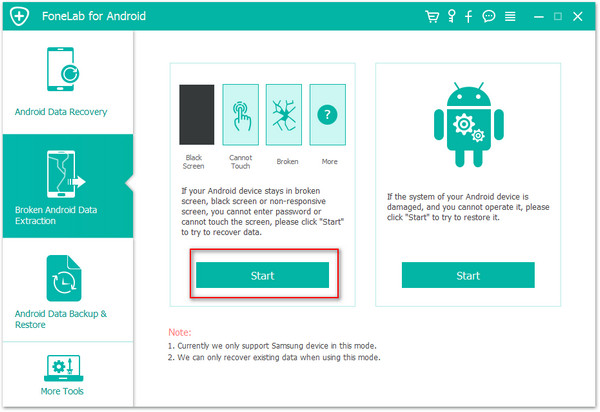 Step 2. Choose your Phone Model and Name
In this step,please select your Samsung model and phone name and click "Confirm" button.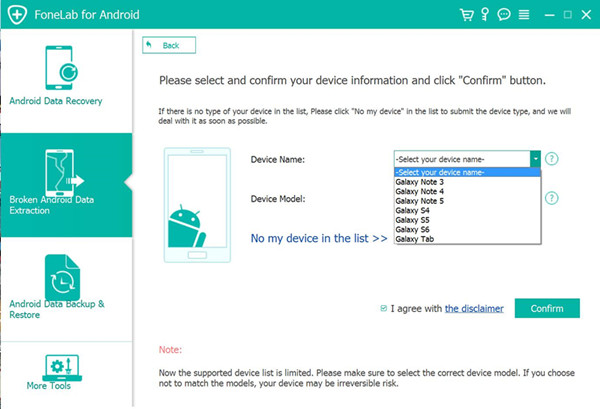 Step 3. Enter Download Mode
The program need to download the matching Recovery Package for your Samsung phone,so please follow the simple guide to get your Samsung phone into Download mode for ready download the Recovery Package:
1)Power off the Samsung phone.
2)Press and hold Volume "-", "Home" and "Power" button on the phone.
3)Press "Volume +" button to enter download mode.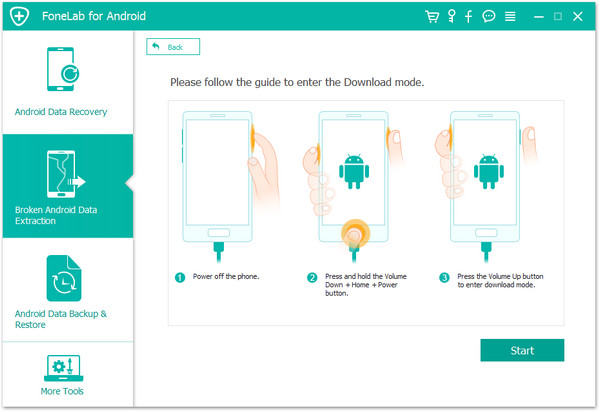 And then click again "Start" button.

Step 4.Analyze the Samsung Phone and Download Recovery Package
After getting your Samsung phone into Download mode, the program will start to analyze the locked-screen Samsung phone and download the recovery package for accessing the system.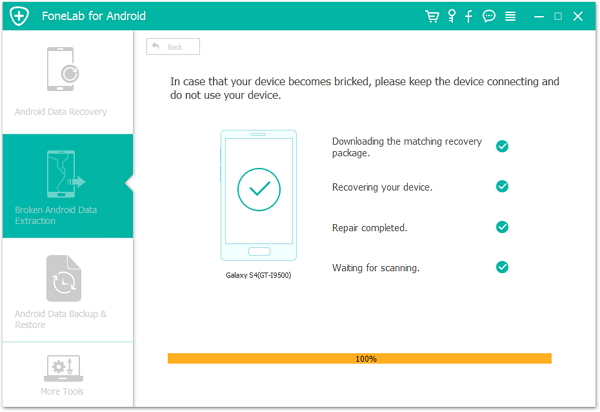 Step 5.Scan Samsung Phone with Locked Screen
After downloading the recovery package for the phone,the program will use the essential recovery package of your Android phone to fix it to normal,then your phone accessed and scanned by the software,during the scanning process,please do not disconnect with the computer.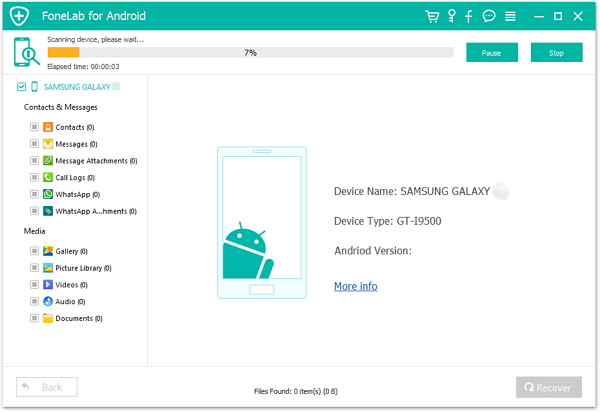 Step 6.View and Recover Picture Files from Samsung Locked Screen
After previewing the contacts, photos, messages, videos and other Android files you want to recover,please make the file types you need and then go to "Recover" to save them on your computer.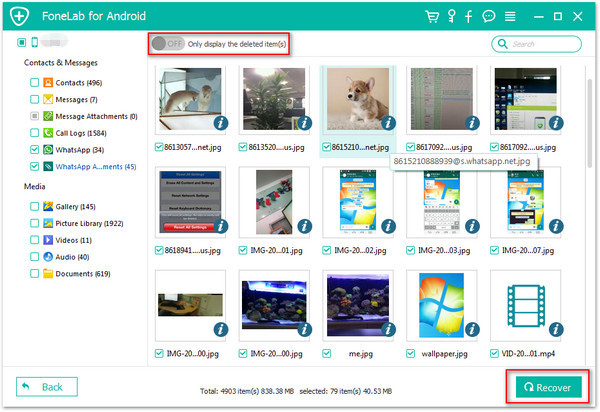 Just download the broken Android data recovery and try to fix your crashed, frozen or locked Android phone to normal and extract files for backup on computer:






Well done! You have success extract data from the screen-locked Samsung phone and save them on the computer when you forgot Samsung password.In additional,if you just want to bypass the Samsung phone password and remove Samsung locked screen without data loss,please use this Android Lock Screen Removal tool,which enables you remove passcodes of pattern, PIN, password and fingerprint,only remove the lock screen, no data loss at all,it work for Samsung Galaxy S/Note/Tab series, and LG G2/G3/G4, etc.

Related Articles:
---
How to Unlocked Samsung Phone with Broken Screen

How to Recover Data from Samsung Phone with Broken Screen

How to Extract Photos and Videos from Samsung Galaxy Black Screen

Samsung Manager - Transfer and Manage Files on Samsung Galaxy