Samsung Smart TV

Samsung Smart TV is Samsung's integrated television screen, the TV network will integrate all content, Apps applications, AllShare content, traditional TV channel list, and related content to a user interface, and at the same time with the search function, it the television will automatically search for local content (Apps program, Allshare connected PC, hard disk USB connection, HDMI connection BD, etc.), more in-depth search is the search on the Internet (Google / MSN offers Internet search support), and with web browser (web browser), supports Flash file playback, you can visit potatoes, Youku and other video sites to watch online video; in addition, Samsung mobile phones and tablet following applications also become TV's remote control.The Samsung smart TV supports play 3D moives.
3D Moives Capable Samsung Smart TV:
Samsung LED 8000 Series Smart TV , Samsung Plasma 8000 Series Smart TV, Samsung LED 7500 Series Smart TV, Samsung LED 7550 Series Smart TV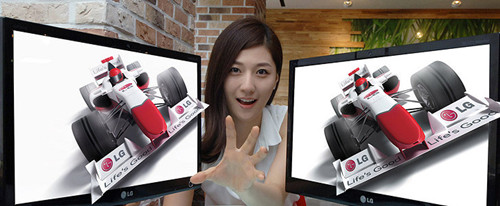 Samsung Smart TV Key Features:


Watch 2D movies on Samsung Smart TV via 3D Effects

Want to play 3D movies on Samsung Smart TV?
Many people want to enjoy 3D movies on TV at home,to play 3D moives on TV,you need to convert 2D movies to 3D and copy the converted 3D movies to USB,then display 3D Moives via a USB on TV.
Have you download some 3D movies or 2D movies and want to play movies on Samsung LED TV in 3D effect? Today,we teach you how to convert 2D to 3D and play 3D movies on Samsung smart TV from USB, you will be able to watch 3D Blu-ray on Samsung TV from USB with supported format, and you can also convert 2D movies to 3D for playing on Samsung smart TV and 4K TV by 3D Video Converter.If you want to plase DVD moives on Samsung LED TV in 3D effect,you also can rip and convert 2D DVD to 3D video,then enjoy the converted 3D DVD movies on Samsung LED TV at home.

Convert 2D Movies or 2D DVD to 3D and Play 3D Movies on Samsung smart TV through USB

To play 2D videos or 2D DVD movies on Samsung TV in 3D effect.First of all,you need to use a 3D Video Converter for Samsung TV - Video Converter Ultimate,which supports convert 2D/3D movies/2D DVD movies to 3D format for Samsung TV.With the help of this 2D to 3D Video Converter,you can convert 2D AVI/MOV/MKV/WMV/M4V/FLV/MXF/M4V to 3D in 3D MP4, 3D WMV, 3D MKV, 3D AVI, 3D for Youtube Channel;or rip the latest 2D/3D Blu-rays to 3D format, or rip 2D DVD movies/MV to 3D format. In this case if you want to play 3D movies on Samsung smart TV, you just need to use it to convert 2D videos to 3D format, and then you can move the converted 3D videos to USB storage for playing on Samsung TV. Let's shows you the easy steps to convert 2D videos or 2D DVD movies to 3D format for Samsung TV.




Part 1: How to Convert 2D Movies to 3D for Samsung LED Smart TV

Step 1: Download and Launch the Video Converter Ultimate on PC/Mac
First of all,please free download the 2D to 3D Video Converter,this 3D video converter has Windows version and Mac version, so you can choose it according to your computer, install this program on your computer.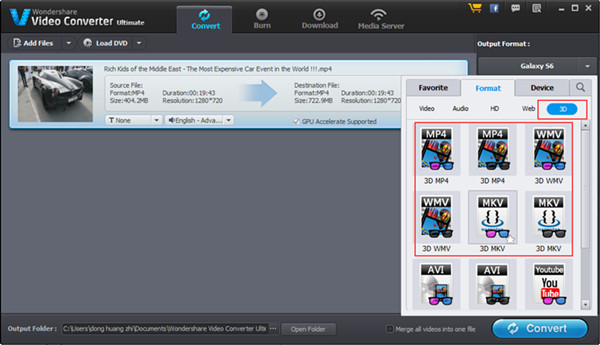 Step 2: Add 2D movie files or 2D DVD movie into this 3D Video Converter.
The next step is to load the desired video file in Video Converter Ultimate. You can drag the files in Wondershare Video Converter Ultimate or use the "Add Files" option to open the file explorer.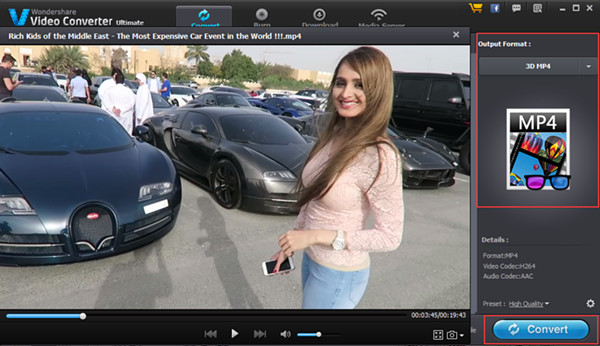 Step 3: Select the "3D" output format
Once you have loaded the file in 3D Video Converter Ultimate, you need to choose the relevant output format. To convert a video file to 3D, choose the 3D sub tab from the "Format" tab under the "Output Format" tab,then click "3D". There are a number of 3D formats available like 3D MP4, 3D WMV etc. You can choose any one of the 3D output formats from here.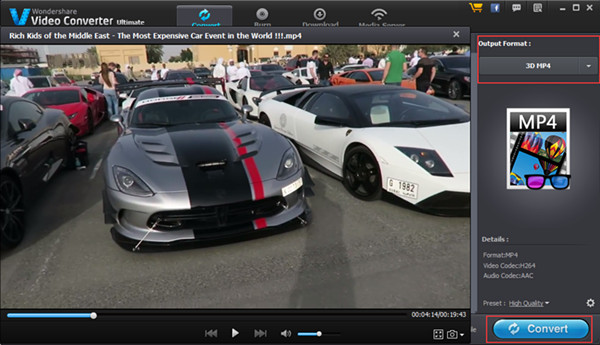 Step 4: Edit the videos
Click "Edit" to enter Edit interface, then add 3D effects as you needs.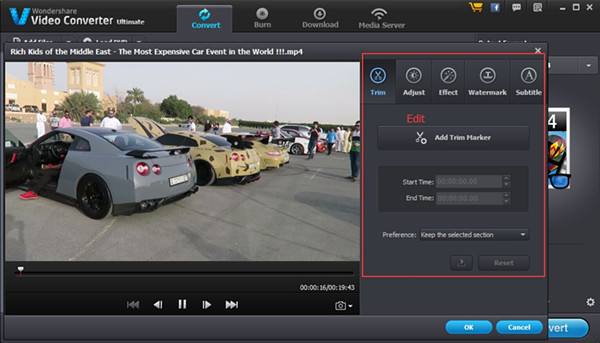 Benefits for registered users include:
1. Perfectly convert videos without watermark or lenght limit
2. Convert File with High speed conversion
3. Free technical support and Free upgrade
4. Rip Blu-ray and DVD without limit

Step 5: Begin to Convert 2D video to 3D or Ripd 2D DVD to 3D movies
Once you have made all the settings, the final step is to actually convert the loaded video into 3D. Click on the "Convert" button to start the conversion process. Once the conversion process is complete, the resultant video file is a 3D video file.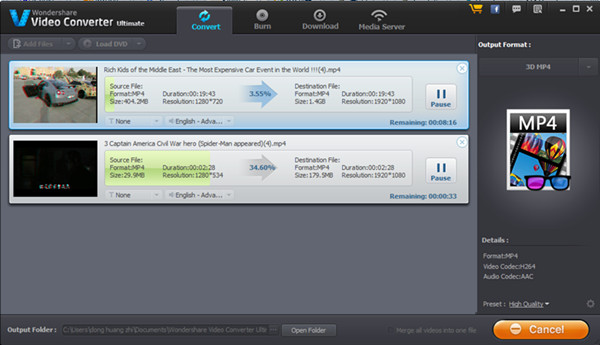 Well done!You have complete convert 2D to 3D video format like 3D MKV or 3D MP4,next we'll teach you how to watch converted 3D movies/2D movies on Samsung Smart TV via 3D effects from USB.

Convert Any Video Format for Samsung TV

Converter Ultimate is the best video converters for playing MP4 on TV (Samsung TV Included),You can use the built-in presets for TV to directly convert MP4 to TV regardless of the complicated parameter of different TV models.The program supports conver video and rip DVD to Samsung TV, LG TV, SONY TV, Panasonic TV.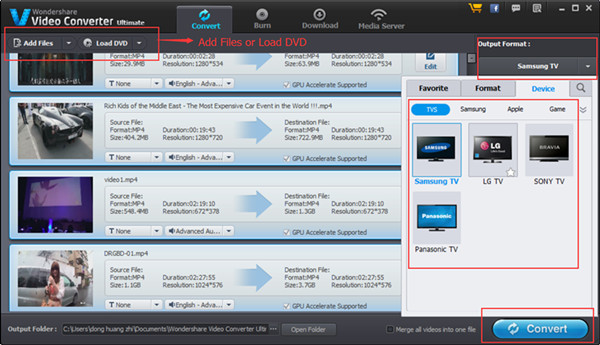 Begin to Convert Video to Samsung Smart TV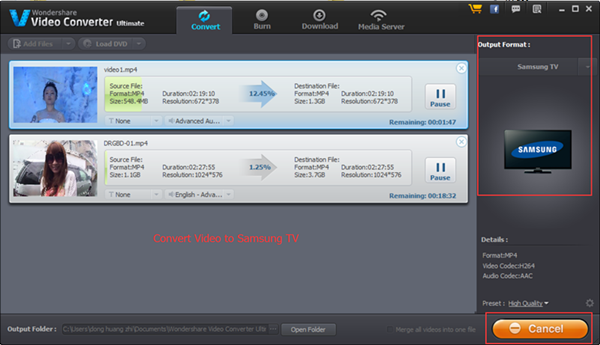 Video Converter Ultimate Key Features:


Part 2: How to Play Converted 3D movies on Samsung smart TV from USB

This part teach you copying movies to USB flash drive or NAS for playing on HDTV.You can easily play 3D videos on a 3D compatible display. 3D compatible laptops and TV are widely available now days. However if you don't have a 3D compatible device yet but you want to watch a 3D video, you can use the ANAGLYPH method. You will need to set up a few things first if you are planning to use ANAGLYPH method for viewing your 3D video. A complete detail of this method is easily available on the internet.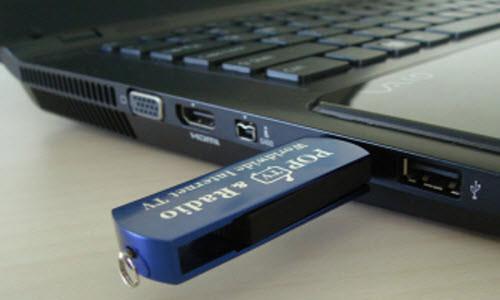 Step 1: Connect your USB flash drive to computer
Step 2: Copy 3D movies to USB
When the conversion is done, click "Open Folder", you'll get the converted video files. You can copy the converted 3D video file to your USB.
Step 3: Play 3D movies on Samsung LED Smart TV via USB
That's all. Now, you can play 3D movies on Samsung Smart TV at home

So easily?Now you can free download the Video Converter Ultimate - 3D Video Converter and have a try!






Related Articles:
---
How to Convert Video to Samsung Phone

How to Convert Videos to iPhone and iPad

How to Conver and Play 4K Videos on Samsung

Convert 2D Videos to 3D for Andorid Phone

2D to 3D MP4 Converter: Convert 2D to 3D MP4 with Ease