Summary: Lost data after factory reset your Samsung Galaxy mobile phone? Don't worry,you still have chance to get those erased data back from a factory reset Samsung phone,please learn more in this article to find how to restore lost data after factory reset Samsung Galaxy S5 for example,as well as Samsung Galaxy S3/S4/S6/Note 5/4/3,ect.

"My son gave me his Samsung Galaxy S5 but forgot the password so I had to do a Factory Reset,after do a factory reset,it erase all important contents on my Samsung Galaxy S5,I want to know it's possible to recover photos,messages,video from Galaxy S5 after factory reset??"-- Ask by Clarence Richmond in Facebook

Once restore the Android phone to factory settings,it will erase the phone's internal storage devices of all data, including text messages, contacts, photos, videos, downloading applications and other documents. So, before you restore the phone back to factory settings,please remember backup your Android data to computer to avoid loss. But,now you can recover lost data after Factory Reset Samsung Galaxy S6/S5/S4/S3 with a professional Android Data Recovery,you cleared data can be get back directly from a Samsung phone no matter lost due to factory reset, rooted, Android OS upgrade.

Two Methods to Recover Data After Factory Reset Samsung Galaxy S5


Method 1: Restore Data after Factory Reset Android from Backup Files

Nowadays,"Cloud Synchronize" is very popular in our in n our daily lives. Like Apple,we can sync data from iPhone, iPad to iCloud for back. For Android users, we can back up phone data with system backup function or cloud service, like Google. If you have a good habit to back up or sync Android data by Google Account or system backup function,you can easily restore data back from the backed up contents after factory reset.

Before do a factory reset,if you have set up Google account on your Samsung Galaxy S5 phone and enabled synchronization for all data, you can restore data back from Google Account for Galaxy S5 after factory reset. After factory reset, you can set up your Google account again on the Samsung phone. An option in the setup process lets you restore all synchronized data.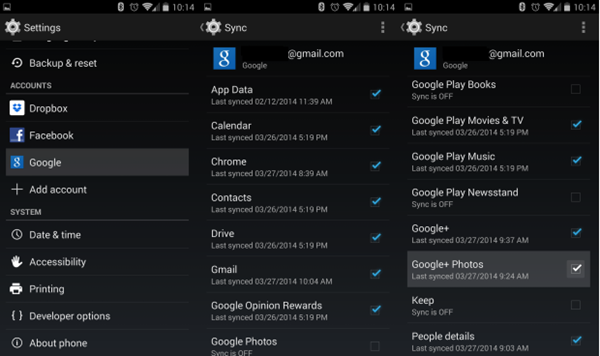 Many Android phones may own a local backup application or function. If you have backed up your data from Samsung Galaxy S5 to an external memory regularly, such as SD card, before restore the Samsung phone to factory settings, just go to "Back up & Restore", and select the latest backup contents to restore data from a backup.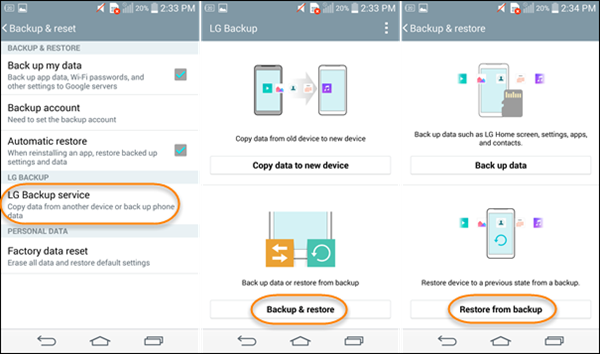 Disadvantage: However, this method is not allows you backup and restore some special files,like whatsapp messages/attachments/chat history, text messages and contacts,in additional,if you never backup or sync Samsung data before do a factory reset,we highly recommend to use the following method we gonna to mention in the next section, as all data stored on your Android phone will be easily recovered back,you can recover SMS,Contact,Photos, Videos,Whatsapp and more after factory reset your Samsung Galaxy smart phone.
Method 2: Recover Lost Data After Factory Reset Galaxy S5 Without Backup

Android Data Recovery and Android Data Recovery for Mac,both can help you recover deleted data from Samsung Galaxy phones after you do a factory reset,the professional android data recovery program scan the erased files from the internal storage on your Samsung device and recover them.So,with the help of this Android Data Recovery,you can recover text messages, contacts, videos, music, documents, whatsapp messages/attachments/chat history, etc. after Samsung Galaxy S5 factory reset. What's more,if your Samsung Galaxy S5 smart phone was broken, black/white screen, water damaged or dead,you can also use this data recovery to recover data from a broken Samsung Galaxy S5 mobile phone,as well as Galaxy S3/S4/S6/Note 5/4/3,ect.






Tips: This program allows you recover photo, videos, or other media files from the memory card inside your Samsung phone, please learn more in this use guide about recover deleted photos from Samsung SD card,just following the same steps, you can recover formatted/lost/deleted files from the memory card with easily.

Step 1.Run the Android Data Recovery and Connect Galaxy S5 to PC/Mac
Free download the android data recovery,then Install and run on your computer,here we taking recover lost data from Samsung S5 on Windows as example,if you use Macbook,just follow the same step,and then plug the Samsung device to the computer,you can see the main interface of the program.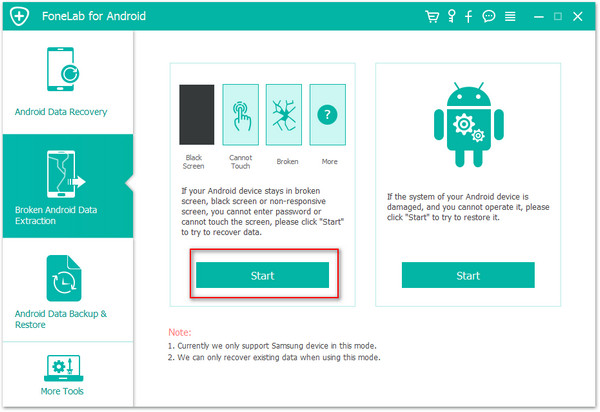 Now, if you have not enable USB debugging, you will need to follow this. Otherwise, skip to "Step 2".

1)For Android 5.0 or newer: Tap "Settings" > "About Phone" to tap "Build number" seven times for "You are now a developer!" signal. Then, move to "Settings" > "Developer options" to turn on "USB debugging"
2) For Android 4.2 to 4.4.4: Move to "Settings" > "About Phone" > Tap "Build number" for several times until "You are under developer mode" appears > "Settings" > "Developer options" > Check "USB debugging"
3) For Android 3.0 to 4.1: Enter "Settings" > "Developer options" > Tick "USB debugging"
4) For Android 2.3 or earlier: Go to "Settings" > "Applications" > "Development" > Tick "USB debugging"




Please wait, the program will detect your Samsung Galaxy S5 mobile phone automatically. Click "Start".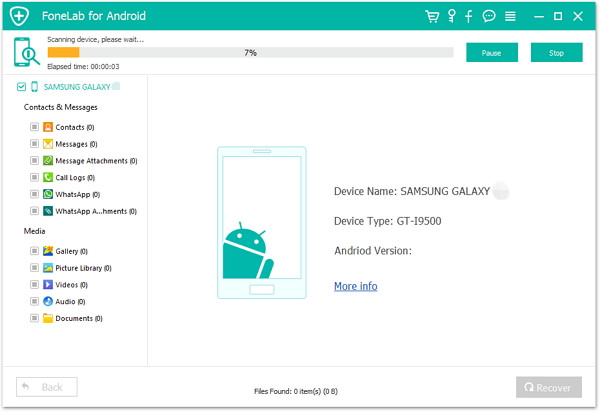 Step 2. Scan Your Galaxy S5 and Select File Types You Want to Get Back
Here,you can select what type of files you want to restore them back,and the android data recovery can help you scan them,if you select "All" and all data stored on your Samsung phone will be scanned and get them back . And then press "Next". The program will start to analyze the phone.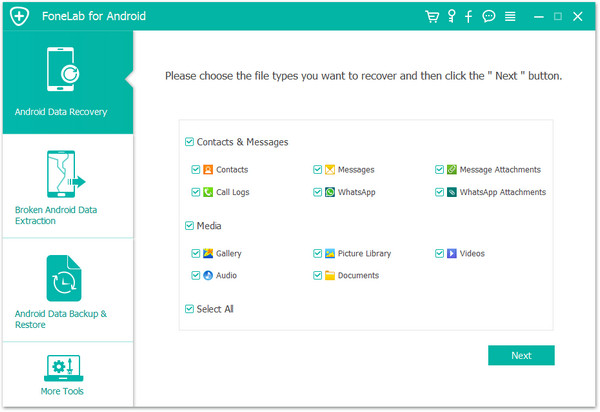 You should go to your Galaxy phone and tap "Allow" on the pop-up box until it disappears and the scanning will start.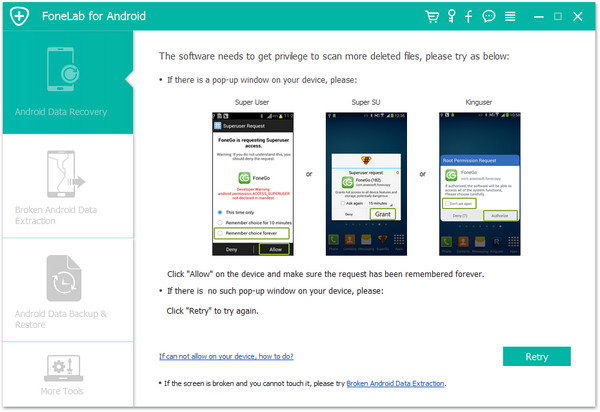 Step 3.Preview the Scanned Results and Recover Data from Samsung Galaxy S5
After scanning, all of the erased files should be listed under category. Select those contents you want to get back, the ones marked as red color are the ones you previously deleted, and now they are capable of being restored by the program. Select the contacts, text messages, photos, videos and other data you want to restore, it takes less than 5 minutes to get back the Samsung lost data,please wait patiently.

Recover Photos,Videos after Factory Reset Galaxy S5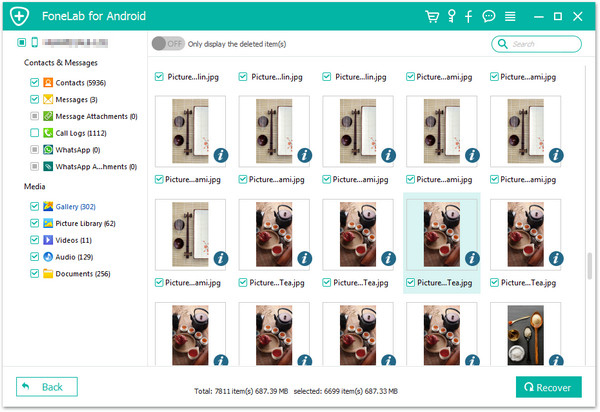 Recover Contacts, Text Messages After Reset Galaxy S5 to Factory Setting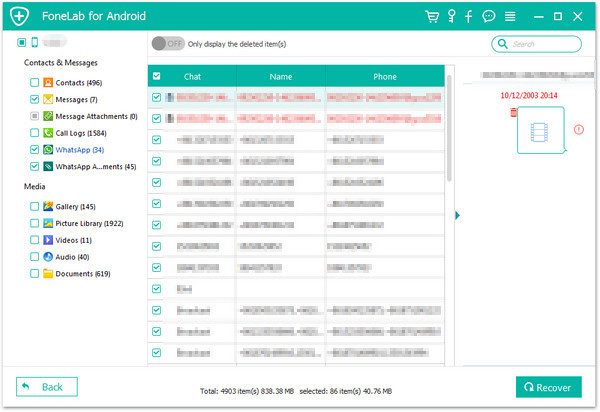 Well done,all the Samsung lost data are restored and save on your computer,now you can transfer the lost content between Samsung and computer directly with a Android Transfer tool.






Note: Both the Android Data Recovery and the Android Data Recovery for Mac recommended here can only recover data that are not overwritten by new data; if the deleted files are overwritten by new files, you cannot restore them anymore with either of them. So, stop using your phone taking photos, sending messages, transferring data once you perform the factory reset and follow this use guide step by step to retrieve data after factory reset as soon as possible.

Related Articles:
---
How to Recover Deleted Data from Samsung Galaxy S5
Android Data Recovery (Windows&Mac) is a professional data recovery tool for Samsung users to get deleted files back, It works extremely well to recover deleted text messages, contacts, photos, videos, whatsapp messages,ect from Samsung Galaxy S5,no matter rooted or not. Before recovery you can preview all the recoverable contents and selectively restore those you want.

How to Restore Deleted Contacts from Samsung Galaxy S5
Samsung Data Recovery is a powerful and safe data recovery software that helps you to directly scan and recover the missing or deleted contacts/phone numbers from Samsung Galaxy S5, as well as other Samsung and Android devices,like Samsung Galaxy S6/S4/S3/Note 5/4/3, Samsung Galaxy Ace, Galaxy A8/A7/A5, HTC One M9/M8, LG, Sonly,ect.