[Summary]:WhatsApp messages and conversations can be recovered on Samsung Galaxy S7/S8 in a few minutes,this article will teach you how to retrieve deleted WhatsApp messages on Samsung S7/S7 Edge and S8/S8 Plus,you can also recover your WhatsApp data including WhatsApp chat history, pictures and videos.

Whatsapp is a free communication tools for mobile phone users, preferring "Free SMS" application, weakening social, WhatsApp and mobile address book depth integration, users do not need to register to use, the user's account is the phone number, do not need to manually add friends do not need each other through Agree, after installation you can immediately send a message to each other, and the contact name is the name of the phone contacts, users use and traditional SMS is no different.When you have got a new Samsung Galaxy S7, S8 or Note 8,you will install the WhatsApp app on your Samsung Galaxy phone for free chat with your friends.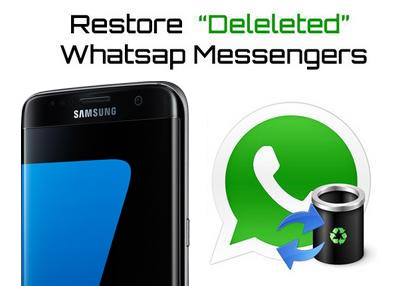 When you deleted WhatsApp messages on your Samsung phone by careless,how you can retireve deleted WhatsApp chat history from your Samsung Galaxy phone?Generally, there are two ways for you recover deleted WhatsApp chat history from Samsung Galaxy phone:
The first is by using existing backup file to restore recently deleted WhatsApp messages. The other is by using Samsung data recovery software to recover deleted WhatsApp messages, pictures and WhatsApp videos.Let's teach you two easy ways to recover Samsung Galaxy S7/S8 lost WhatsApp chat history for example.

Method 1: Restore Recently Deleted WhatsApp Messages on Galaxy S7/S8 from Backups

It will be much easier for you to get back WhatsApp chat history, photos and videos that has deleted just now. Because WhatsApp will back up your messages using both local backup and Google Drive. What you need to do is simply uninstall the WhatsApp app and then reinstall it on your phone later.
Next, Let's see how to restore those recently deleted WhatsApp messages from backups.

Step 1. Uninstall and reinstall WhatsApp on your Samsung Galaxy S8/S7.
Step 2. After verifying your phone number, you will be asked to restore the messages and other media files from your phone's internal storage.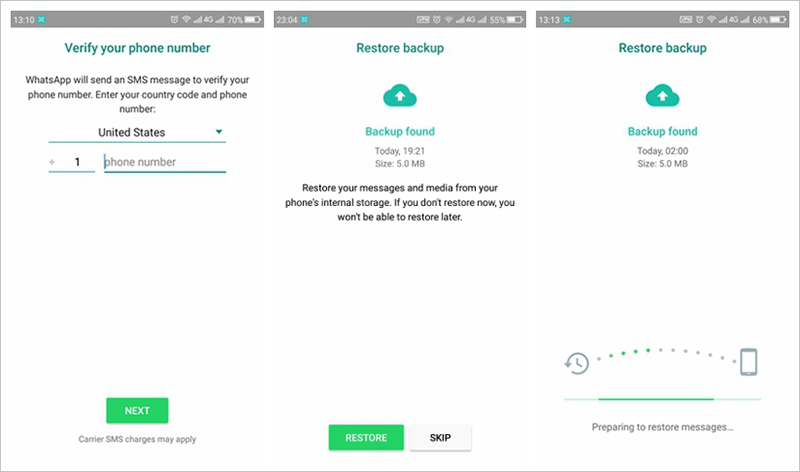 Note: If you have added a Google Drive account in the WhatsApp's chat backup setting to backup your WhatsApp chat history, the WhatsApp data will retrieved from Google Drive.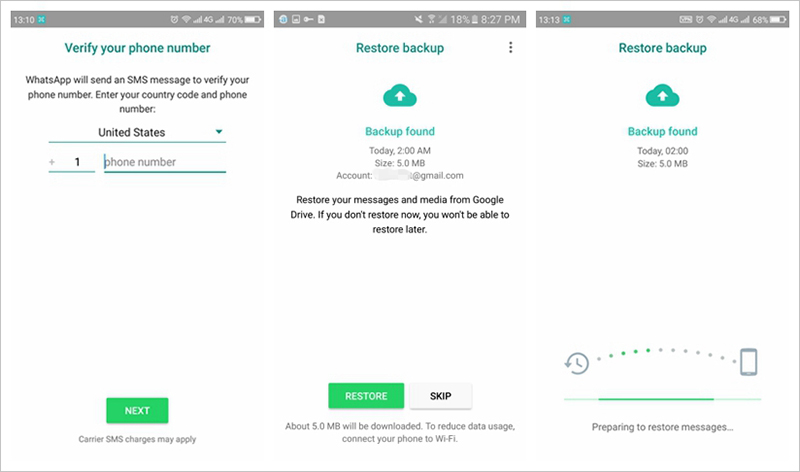 Step 3. Tap on "RESTORE".

Method 2: Directly Recover Samsung Galaxy S8/S7 Lost WhatsApp Chat History by Android Data Recovery

If those WhatsApp messages deleted or lost more than 7 days, you can not restore recently deleted WhatsApp chat hisotry from Google Drive or Local Backup.

However,any way recover WhatsApp messages deleted more that 7 days?Don't worry,you still have chance to retireve WhatsApp data including chat history, photos and videos from Samsung Galaxy phone before data overwriting.

Make it easy to recover deleted/lost WhatsApp messages on Samsung phone,you can try this Android Data Recovery tool, which supports to recover WhatsApp data, including chat history, photos, videos, audios, etc.from Samsung Galaxy S8/S7/S6, Note 8/7/5/4, A9/A8/A7/A6/A5, J1/J2/J3/J5/J7.What's more,the Android data recovery also allows you recover Samsung contacts, text messages, call logs, music, videos, photos and documents.In additional,if your phone is broken,it enables you retireve data on broken Samsung phone.




Easy Steps to Recover WhatsApp Chat History from Samsung Galaxy S7/S7 Edge

Step 1.Connect Your Samsung Galaxy S7 to Computer
First of all, launch Android WhatsApp Data Recovery on your computer and you will be asked to connect your Samsung S7 to the computer with USB cable.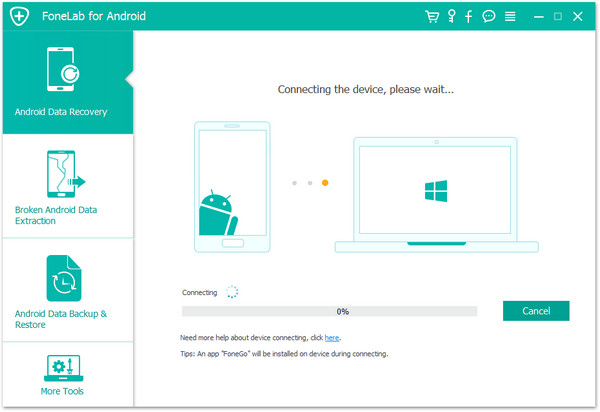 Step 2.Enable USB Debugging on Samsung
Using a USB cable to connect your Samsung Galaxy to the computer. Enable USB debugging if it is not enabled. Just tap OK on the pop up message that appears to enable this. If no pop-up appears, go to Settings-> About phone. You can choose the proper mode according to your operating system.

1) For Android 4.2 or newer: Enter "Settings" > Click "About Phone" > Tap "Build number" for several times until getting a note "You are under developer mode" > Back to "Settings" > Click "Developer options" > Check "USB debugging"
2) For Android 3.0 to 4.1: Enter "Settings" > Click "Developer options" > Check "USB debugging"
3) For Android 2.3 or earlier: Enter "Settings" > Click "Applications" > Click "Development" > Check "USB debugging"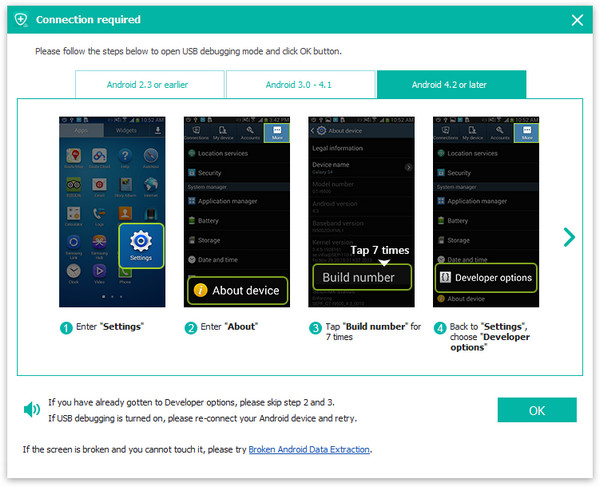 Step 3.Select "WhatsApp" and "WhatsApp Attchments"
This program allowes you retireve seven types of file on Android phone. Apparently, it cost less time to just scan some of them.Please select "WhatsApp Attchments" and "WhatsApp" if you just want to recover WhatsApp data.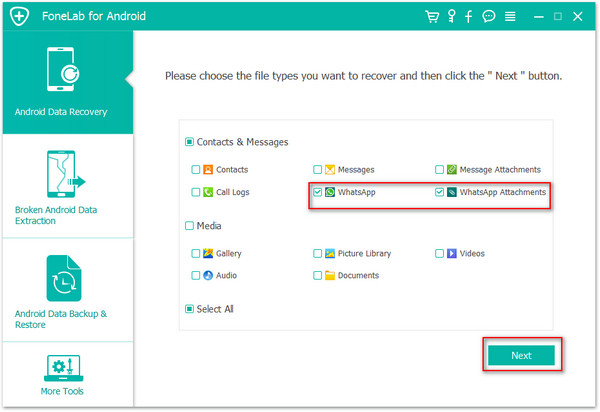 Step 4.Allow Scan your Samsung for Deleted WhatsApp Chat History
After select the WhatsApp file types,and then turn to your Galaxy S7 and tap "Allow"/"Grant" on the screen until it does not show up again.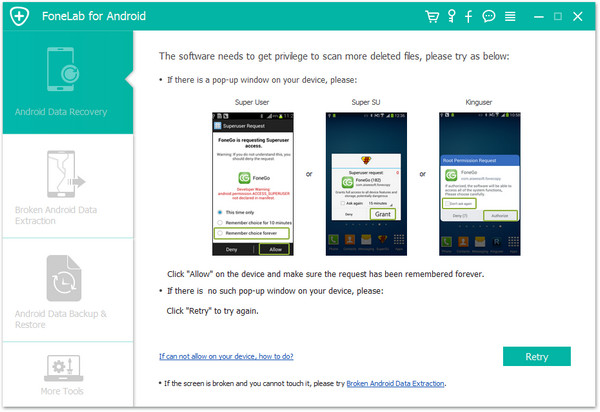 Step 5.Scan your Samsung Galaxy S7
Press "Start Scan" button to let the program fully scan all deleted data on your Samsung phone,the WhatsApp that can be scaned will be shown on the software interface.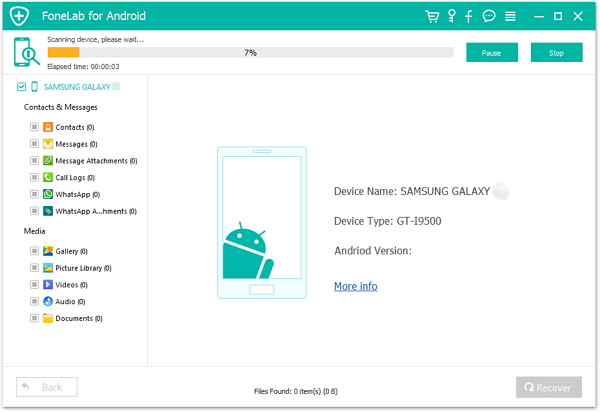 Step 6.Preview and Recover WhatsApp Messages from Galaxy S7
After the scan is finished, please click "WhatsApp" and "WhatsApp attachments" to find your deleted data,before get them back,you can preview those lost WhatsApp chat history one by one.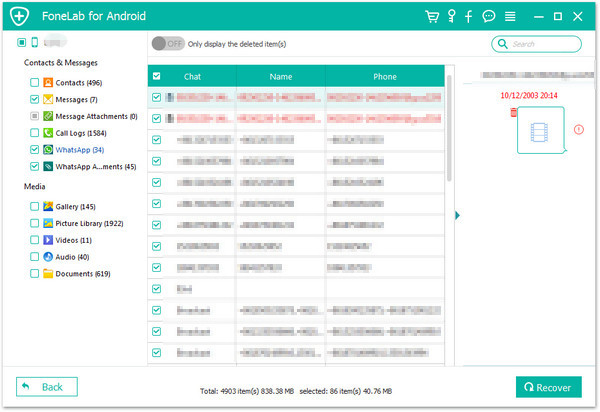 Finally,just click on "Recover" button recover all the WhatsApp data on the Galaxy S7. The selected chat conversations will be retireved and stored on a computer.Then you can transfer them to new Android phone later.




Tips: Save WhatsApp Messages on Samsung Phone

Above tutorial we have teach you two easy ways recover lost WhatsApp messages on Galaxy S8/S7/S6/Note 8 and other Android devices.Although our Android Data Recovery can help you recover the lost WhatsApp Chat history without backups, it would be necessary for you to back up all data from Samsung to computer as it can be overwritten easily and even could not retrieve it back with the program.You can also saving your WhatsApp messages on WhatsApp App itselft.

How to Save your WhatsApp chat history on App?

1. Launch the WhatsApp App on your Samsung phone

2. Navigate to "Settings > Chats > Chat backup > BACK UP".

Save whatsApp Messages on Android

In this way, you are able to restore those WhatsApp messages from App backups when you reinstall the WhatsApp App.In additonal,we recommend you using this Android Backup Restore tool or Phone Transfer to backup your WhatsApp messages and restore to the Android phone easily.
Related Articles

Backup & Restore WhatsApp Messages on Samsung Galaxy S8/S7

Transfer WhatsApp Messages from iPhone to Galaxy S8/S7/S6

How to Recover Text Messages on Samsung Galaxy S7

How to Recover Lost Contacts on Galaxy S7

How to Recover Deleted Photos from Samsung Galaxy S8/S7