WhatsApp (WhatsApp Messenger) is an application that is currently available for use in smartphones like Apple iPhone X/8/7/6S, Android Samsung Galaxy S8/S7/S6/Note 8, Windows Phone, WhatsApp Messenger, Symbian Nokia phones, and Blackberry BlackBerry users. This application can instantly receive information from friends, family and colleagues by means of a push notification service. Can be free from sending SMS messages to use WhatsApp program to send and receive information, pictures, audio files and video information.

People also read:

* Transfer WhatsApp Messages from iPhone to Samsung
* Transfer Apps Data between Android

Why Should You Backup WhatsApp Messages?

Many Samsung mobile phone usually saves a lot of WhatsApp messages, pictures, imanges, videos or conversation on their WhatsApp on their phone. Unfortunately, many WhatsApp users lost their important chat history because of phones being lost, stolen, breaking, or some random freak of nature, and some new Samsung users want to transfer WhatsApp chat history from Android to Samsung,transfer WhatsApp messages from iPhone to Samsung.

Therefore, we will teach you how to backup and restore WhatsApp conversations on Android,so you can transfer the WhatsApp chat history from an old Android smartphone to the new Samsung Galaxy S8/Note 8: Firstly,please backup WhatsApp messages from Samsung to computer, then you are able to restore it to new Galaxy S8/Note 8 or other Android devices whenever you want.

How to Transfer WhatsApp Messages from S6 to S8?
"I have got a new Samsung Galaxy S8 and I used S6 before,is there any way helps me transfer WhatsApp chat history including text conversations, photos and videos to the new Galaxy S8? " - Kent

How to Backup and Restore WhatsApp Chat History on Samsung Galaxy Note 8
"I want to take my phone to repair,before fixing it I want to backup all important WhatsApp messages from Galaxy Note 8 to computer at first,and then restore to another Android phone or the fixed Note 8 again,how can I backup WhatsApp messages from Samsung Galaxy Note 8 to computer? " - Kate

Part 1: Backup WhatsApp from Samsung to Google Drive

Step 1. Open WhatsApp app on your Samsung phone,then go to "Settings > Chats > Chat backup".

Step 2. Click "Back up to Google Drive" option on the App settings and select a backup frequency. Of cause, you shouldn't choose "Never" option.

Step 3. After that,a new hint window will pop up,please login your Google account which you want to backup WhatsApp chat history to. But if you never connect any account before, you should firstly add an account to it.

Step 4. Just tap the "Back Up" option to start backup WhatsApp chat to Google Drive manually,please wait for the backup process.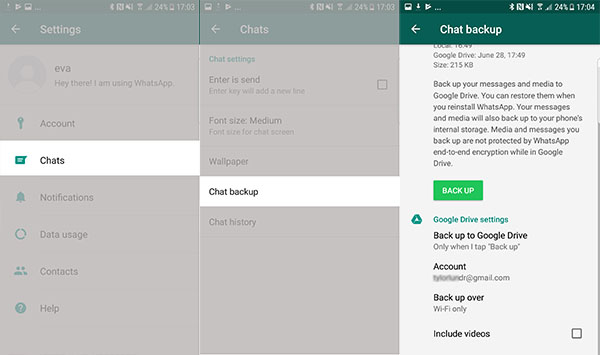 Tip: If the size of the WhatsApp chat history is large, it may take your a long time to back up. Please wait patiently.

Part 2: Restore WhatsApp Backup from Google Drive to Samsung

Step 1. Uninstall and Re-install WhatsApp App on your Samsung phone
Delete the WhatsApp application and re-install the WhatsApp app on your Samsung phone again.

Step 2. Login WhatsApp with the same WhatsApp account
Open the WhatsApp app and log in with your WhatsApp account.After that, you can successfully sign in your WhatsApp account.

Step 3.Restore WhatsApp History from Google Drive on Samsung Phone
After logining your WhatsApp application with the same account successfully,the App will find the chat history backups from Google Drive and ask you if you are want to restore your chat history from Google Drive backup. Confirm your decision by tapping on "Restore" and then the application will help your restore your chat history with the previous backup.




Congratulations! You have successfully get back your chat history.

Disadvantage of recovering from Google Drive backup:
1) You can't backup and restore WhatsApp pictures and videos.
2) Your current data will in WhatsApp will be lost due to data overwrite.
3) It's very slow during the backup and restore process.
Every time you restore the Google Drive backup on your phone, all the old or original chat would be overwritten by the ones you restored.

Part 3: Backup & Restore WhatsApp Messages on Samsung without Uninstalling

Android Backup Restore and Android Data Recovery programs both can help you backup and restore WhatsApp data in one-click,including WhatsApp messages, photos and videos,as well as other data like text messages, contacts, call logs, photos, videos and documents.What's more,the Android Data Recovery also is a Android WhatsApp Messages Recovery,which can help users recover deleted WhatsApp chat history from Android phone,both two useful and powerful Android data recovery, backup & restore tool works well with Samsung Galaxy S8/S7/S6/S5, Galaxy Note 8/Note 5/Note 4/Note 3 and other Android devices with the latest Android 7.1 or later.

Download the Android Data Recovery - Data Backup & Restore for Windows,you can also use the Mac version to recover WhatsApp messages from Samsung on Mac:






Step 1.Install and launch the Android WhatsApp Data Backup Software
After downloading this Android data recovery, backup & restore tool, install and launch it on your computer. And plug your Samsung phone to PC with USB cable.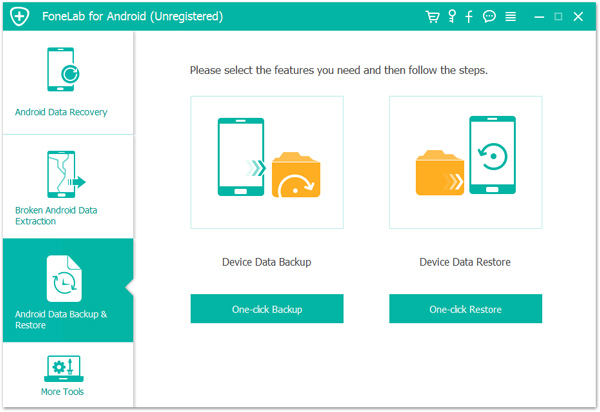 Step 2.Choose and Scan WhatsApp Messages
Wait your Samsung phone is recognized by this program automatically, Choose "WhatsApp" and "WhatsApp attachment", click "Next" to scan the data on your phone. Wait minutes for this tool to scan the WhatsApp messages and WhatsApp attachments.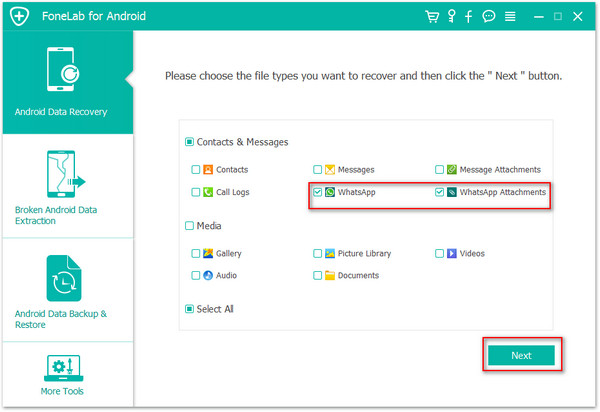 Step 3.Backup WhatsApp Messages from Samsung to Computer
After scanning your Samsung phone complete,then click "WhatsApp" on the left side to preview the details chat history on the right,if you want to recover WhatsApp photos and videos,please click "WhatsApp attachment" to preview one by one before backup.Choose those you want to back up, and click "Start Backup" to extract WhatsApp messages for backup on computer.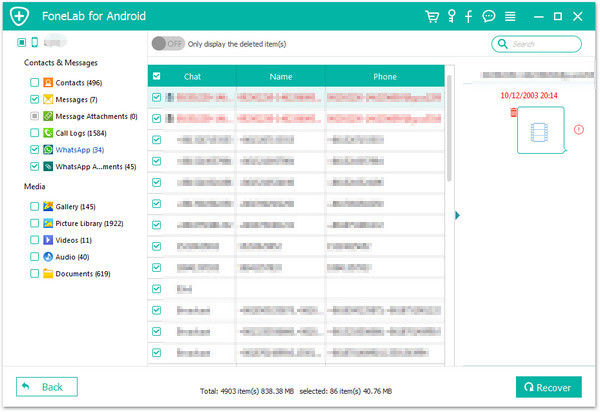 Backup WhatsApp Photos and Videos from Samsung to Computer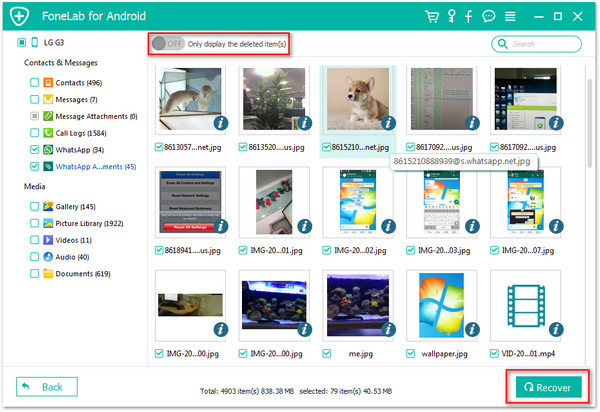 Begin Backup WhatsApp from Samsung to PC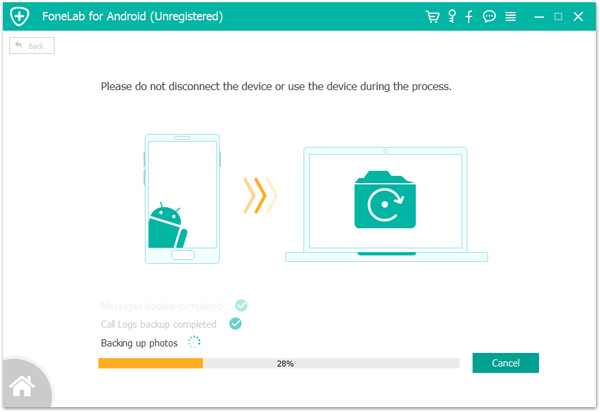 Now,you have backup WhatsApp data to the computer,let's teach you how to restore data to the same phone or other new phone.

Step 4.Restore WhatsApp Messages on New Samsung Galaxy or New Phone

Follow the instructions on the display and click 'Restore' when prompted to restore the backup history. You will be able to see all your backup history again very soon.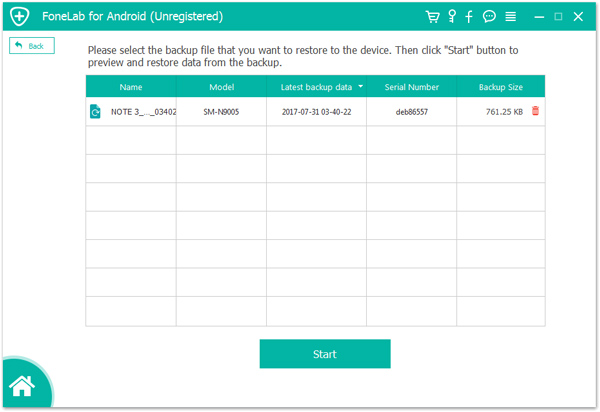 Restored completed. You've managed to restore your backup. Click "OK" to end the process.
Now you could view the file for Android on your computer.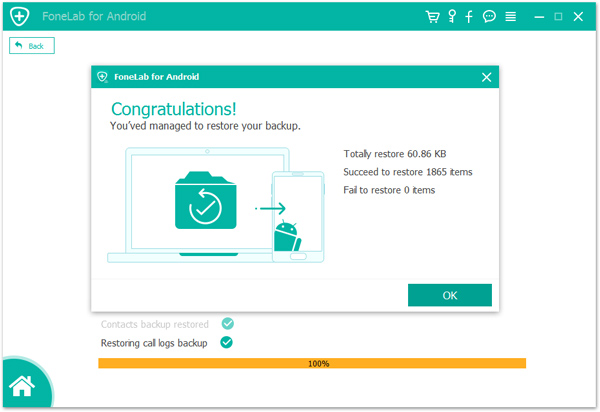 Free download the program and try to backup and restore WhatsApp messages on Samsung phone,you can also recover deleted WhatsApp chat history by this program.






Tips:If your Samsung phone is broken,you can use the Broken Android Phone Data Recovery features to recover WhatsApp messages from Samsung Galaxy S/Note with broken screen, black screen or blank screen.What's more,it enables you recover almost all of the data types from broken phone, including text messages, contacts, photos, videos, WhatsApp messages and more.

Related Articles:
---
How to Recover Deleted Messages from Android on Mac

How to Recover Text Messages from Broken Samsung Phone

How to Recover WhatsApp Chat History from Samsung Galaxy

How to Recover WhatsApp Messages from iPhone

How to Backup and Restore WhatsApp on iPhone

How to Transfer WhatsApp from iPhone to iPhone X and iPhone 8/7