"My Samsung Galaxy S6 stuck on Samsung logo after install an unknow app,I have wait for a long time and can not access the system,all important data like photos, videos, contacts and messages stored in the phone,how can I fix Samsung Galaxy S6 stuck at boot screen?Is it possible to extract files from a bricked Samsung phone?" - Rular

"I tried to tinker with the software on Samsung Galaxy S7,my phone stuck on samsung logo after flash,then i tried to reaset the phone,but it won't turn on and the S7 stuck on "Samsung logo screen",how to fix Samsung Galaxy S7 with Samsung logo screen?" - Abel

Most Common Reasons Cause Android won't turn on and Stuck At Boot Screen

Software Bugs - One of the reasons why your Samsung phone may be acting up is because of the many bugs in the software which can cause the Android system crash.

Software Manipulation - When we try these custom settings software, there may be times when the phone will fail, so the phone will not open, or eventually stay in a boot loop, it just goes to the logo and then stubbornly sitting on that screen or off just to start again, Go to the sign and repeat the same thing.

Stuck After An Update or Root - When a software update does not finish properly, the phone may stuck in the boot loop.This is why it is important that your phone has enough battery before update software or root the phone. If your phone does not have enough power,if it suddenly shuts down during the software updates,your phone ends up freezing while the update is underway and it gets stuck in the boot loop.

When this happens, there is a chance that the update does not finish properly and your phone gets stuck on the logo when you try to start it.

Malfunctioning Apps - Many apps have malicious codes and virus which can damage the software of your device and make it act abnormally. We recommend you should install a robust anti-virus software on your phone that can effectively crush virus attacks or bugged applications.

Defective Memory Card - the memory card can be a problem for the device and your phone may get caught in the boot loop because of a bad memory card.
Fix Android Won't Turn On Or Stuck on Samsung Logo Screen

To fix boot loop, Samsung logo screen, battery, power problems on Samsung Galaxy,the solution is Broken Android Data Extraction,which is one of key features in Andorid Data Recovery software,it can fix the Samsung Galaxy S7/S6/S5/S4/Note 5/Note 4/Note 3 which won't turn on and gets it out of boot loop state easily. What's more,the Broken Android Data Extraction supports extract photos, videos, contacts, text messages, call logs, WhatsApp messages,etc. from Samsung in start screen,as well as other abnormal state like stuck in black screen, blank screen, white screen of death, screen-locked , phone screen cannot be used or sudden death.

Free download the program and begin fix your bricked Samsung phone to normal:




How to Fix Samsung Galaxy Stuck on Samsung Logo Screen

The program not only can help you fix the bricked Android broken phone,but also enables you recover data from broken phone directly.

Step 1. Connect the Faulty Samsung Phone to Computer
Launch the Android data recovery program and select "Broken Android Phone Data Extraction" mode from the left,you will get a new interface as below.If you want to fix and recover data from a bricked phone,please click the "Start" button,if you can't operate your Samsung phone and want to fix frozen, crashed, black-screen, virus-attack, screen-locked phone to normal,please click the "Fix Device" button.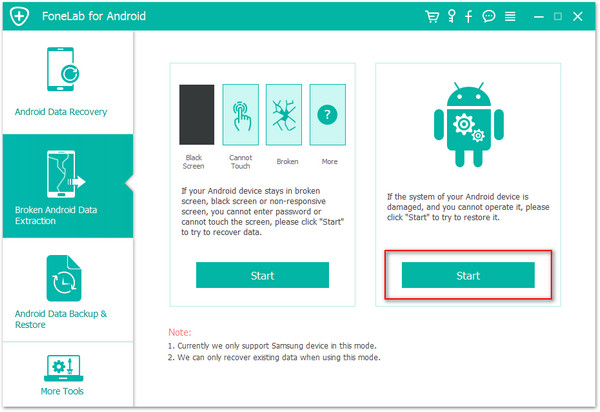 Step 2. Select Stuck in the Startup Screen
In this step,please choose your phone faulty types,the program supports fix your Samsung phone when it stuck in the startup screen/download mode/FoneGo interface/black screen or others. In this article,wll main teach you how to fix a Samsung phone stuck in Samsung logo start screen,please select "Startup Screen" ,and then click "Next".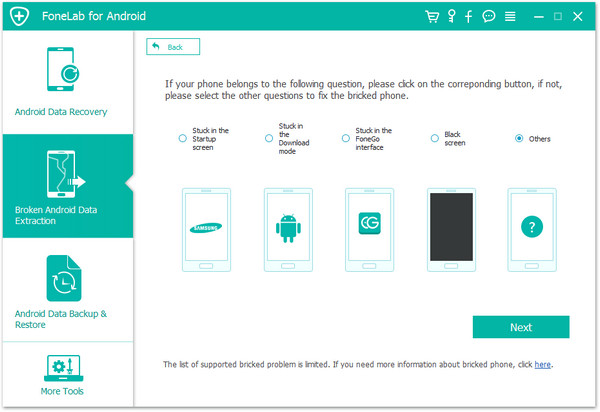 Step 3.Select and Confirm your Samsung Phone Information
On the new window, choose the device name and model of your Samsung Galaxy phone. Currently,this broken phone fix & recovery function works with Samsung devices in Galaxy S, Galaxy Note and Galaxy Tab series. Click the "Confirm" button.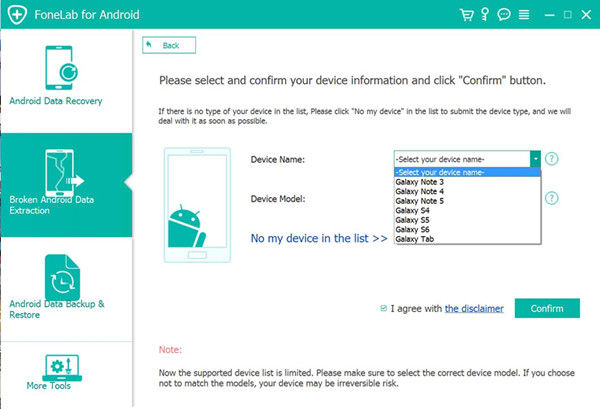 Step 4.Enter Samsung Device Into Download Mode
To fix the bricked phone,the program will download a suitable recovery package for the device.Before of all,you need to get the broken Samsung phone into download mode.Please follow the simple guide to let your phone enter Download Mode.
1)Power off the phone
2)ress and hold three buttons: "Volume Down", "Home" and "Power"
3)Press the "Volume Up" button to enter the "Download mode".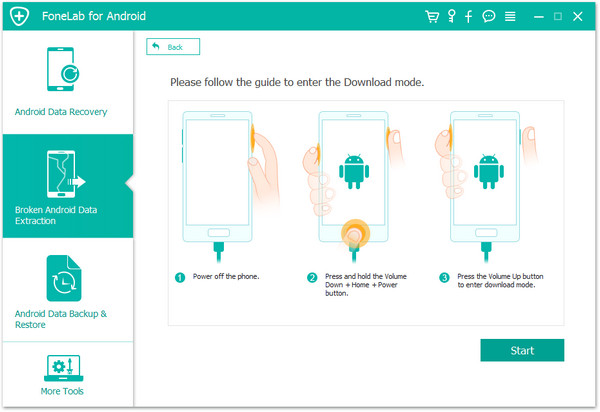 Step 5.Download Samsung Device Recovery Package
After enter your phone into download mode,the program will download a suitable recovery package and then start scanning your device automatically.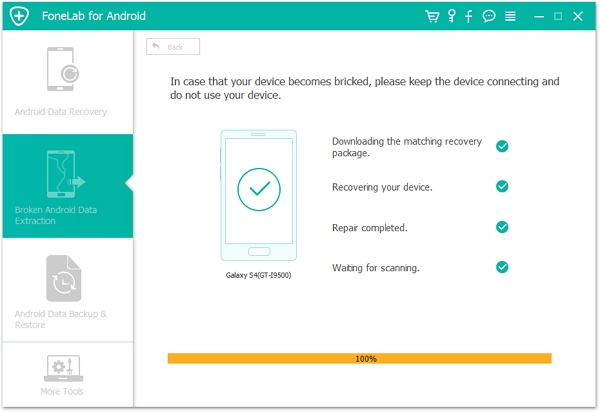 Step 6.Fix Broken Samsung Phone to Normal
Finally,the Android Phone Data Extraction will restore the bricked Samsung Galaxy phone and make it back to the normal state. After that, your phone will restart.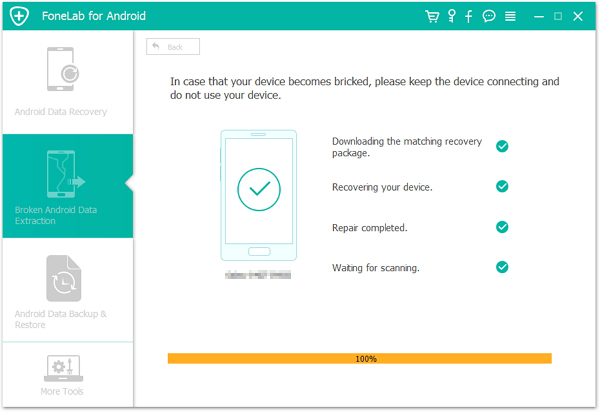 Step 7.Recover Data from Samsung Stuck At Boot Screen(Samsung Logo)
Now,you phone be fixed and return to normal state.If you want to recover existing, lost or deleted data from Samsung phone,please click "Android Data Recovery",the Android Phone Data Recovery will scann your phone and list out all recoverable files,like contacts, text messages, photos, videos, call history, WhatsApp chat history,then select the files that you want to retireve and click on "Recover" button to save all recoverable data on the computer.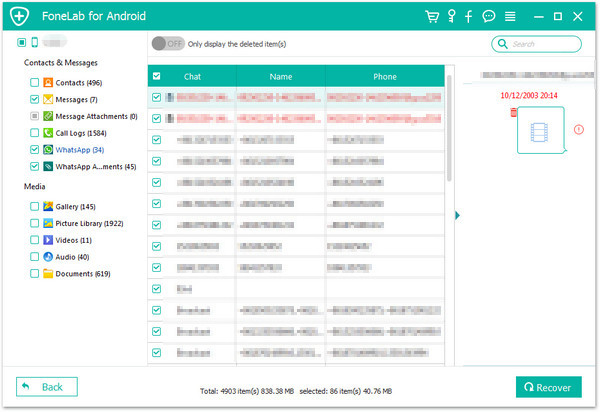 Free download the Android Data Recovery and have a try!






You should have got back stuffs you need. Note that this Broken Android Phone Data Extraction can also save data from bricked Samsung phone and locked Android.If you forgotten the password of the lock screen,the Android Lock Screen Removal can help you solve this program easily,with the hlep of this program,only 3 steps to bypass Samsung lock screen pattern, Pin, password and fingerprint without hard reset an Android phone(no data loss).

Related Articles:
---
How to Recover Contacts from Samsung with Broken Screen

How to Retireve Photos on Broken Screen Samsung

How to Recover Lost Data on Samsung

How to Backup & Restore your Samsung on Computer

Samsung Manager: Manage your Samsung Files on Computer