Samsung is moving fast towards to launch their best Smartphone Galaxy S7/Note 6/A9. According to reports, Samsung is preparing Galaxy S7 in the eraly of 2016. Therefore, expectation are on it heights as Samsung has produced so much variety in their Smartphone portfolio.The Samsung Galaxy S7 is going to boast a premium quality body with perfect design. As Samsung mobile phone develops new features constantly, many mobile phone users of iPhone begin to change their phone to Samsung Galaxy S7. So if you are the one who are tired of the iOS devices and want to change a new taste, you can turn to the Samsung Galaxy S7 (Edge).

The Android and iOS systems work differently from one another, even though they hold some similarities. Switching files in between both can potentially cause file and/or format-related incompatibilities, in addition to other potential issues. Most users find that data will be lost when they transfer data from an iPhone to an Android phone. For those that have recently purchased a Samsung Galaxy S7 or Galaxy S7 Edge, you may want to know how to import SIM and transfer contacts from your to Galaxy S7/S7 Edge/Galaxy S6/S6 Edge from old iPhone device.

Transfer contacts from iPhone to Android phone is a little hard than transferring it between two Android smart phones.

Obviously, transferring data from iPhone to Samsung phone doesn't merely involve switching from one phone to another - it's more like switching from one operating system to another. However, it is inevitable that we must sync our personal information from old iPhone to new Samsung Galaxy S7/S7 Edge, especially contacts,because we we rely on contacts to keep in touch with our family, friends, colleagues and customers. Without contacts, it's hard to find them immediately. There is no doubt that you should transfer contacts from iPhone 4, iPhone 4S, iPhone 5, iPhone 5S, iPhone 6, iPhone SE, iPhone 6S(Plus) device to Samsung Galaxy S7/S7 Edge, Galaxy S6/S6 Edge, Galaxy S8/S8 Edge.Today,we take about how to move contacts to from iPhone to Samsung Galaxy S7 for example.Below we'll explain two ways to sync iPhone contacts to Galaxy S7 or Galaxy S7 Edge.


2 Methods to Transfer Contacts from iPhone to Galaxy S7/S7 Edge
Method 1:Transfer Contacts to Galaxy S7 from iPhone though Google Account

Step 1.Set up and create a Google account on your Samsung Galaxy S7/S7 Edge
Step 2.Download and run the iTunes on your computer
Step 3.Connect your iPhone to a computer via USB cable,only few seconed the iPhone device detected connected successfully by iTunes
Step 4.Select on "Info"on to backup iPhone to iTunes
Step 5.From the menu select on "Contacts" (Sync Address Books contacts) to Google Account on iTunes
Step 6.Now enter your Google Account info
Step 7.Open your Google account on your Samsung Galaxy S7
Step 8.Synchronization your contacts from here

Method 2: Transfer Contacts from iPhone to Galaxy S7(Edge) with 1 Click

Here is a reliable and efficient iPhone to Samsung Galaxy S7/ S7 Edge Transfer - iOS to Android Transfer which is designed to move data between iOS and Android devices,it can sync contacts from iPhone to Galaxy S7,S7 Edge without any effort, as well as text messages, photos, call logs, music, apps and videos, ect. In additional,it can transfer data from iOS to Android, Android to Android, Android to iOS, iOS to iOS.With these hottest and latest functions as shown below, Phone Transfer becomes so popular among iPhone and Samsung users. This tool supports all iOS models for iPhone 4/4S/5/5S/6/6S/7, iPad Air, iPod Touch and Samsung device for Samsung Galaxy S7/S7 Edge/S6/S5/S4/S3, Galaxy Note 6/Note 5/Note 4, Galaxy Ace and more.

What's more,this program allows you backup and restore data from Samsung Galaxy S7 eaisly.If you have bougth other new Samsung devices,it allows you transfer contacts from iPhone to Galaxy S8, S8 Edge,S6,S6 Edge, S5, Note 6, Note 5, Galaxy A9/A8/A7 and other Samsung phones or tablets.




Step 1.Download and Install Phone Transfer on PC

At the beginning, you need to download the software for free trial and install it,t hen click "Phone to Phone Transfer" options.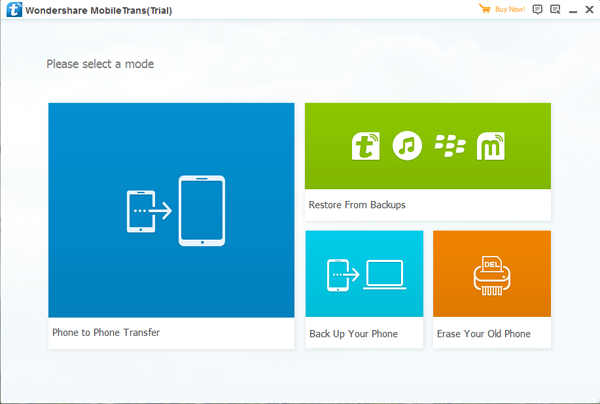 Step 2.Connect iPhone and Galaxy S7 to PC

Connect both the smart phones simultaneously. After connecting your iPhone and Samsung Galaxy S7/S7 Edge with PC via USB cables, this app will detect them quickly. Then,a box named "Source" on the left will show your iPhone model, while Samsung phone will be at the place of "Destination". If wrong, you can select "Filp" to go on.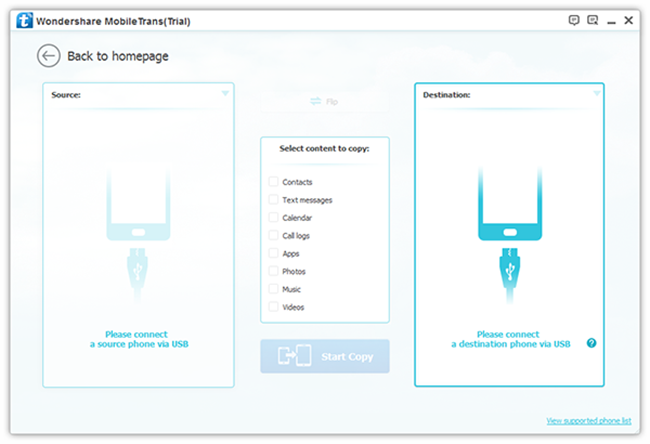 Step 3.Begin Transferring iPhone Contacts to Samsung Galaxy S7
Selecting "Contacts" to scan and click the "Start Copy" to transfer. The transferring process would be launched automatically. When the transfer progress is over, click "OK" to end it.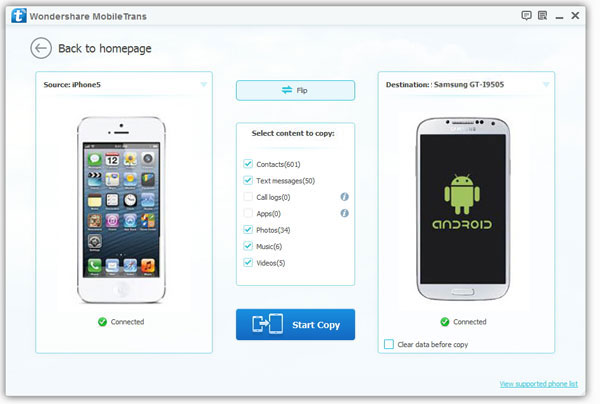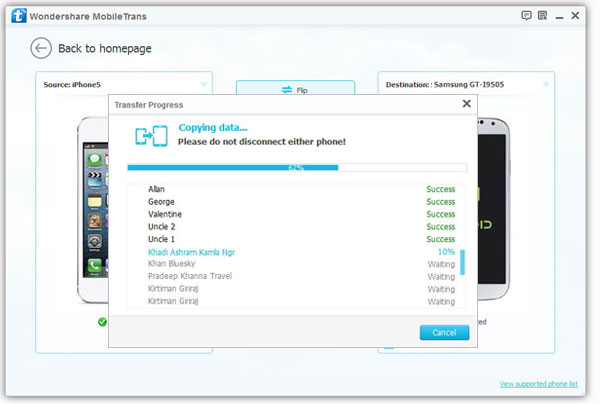 With the steps above, you can sync your contacts to new Samsung Galaxy S7/S6/Note 6/A9 from iPhone 4/4S/5/5S/6/6S without any data loss.






Read More:
---
How to Switch Data from iPhone to Samsung Galaxy S7/S7 Edge

How to Transfer Contacts from iPhone to Samsung Galaxy A9

How to Transfer Contacts from Samsung to iPhone SE/6S