Copy iPhone contacts to android is not like transferring data from iPhone 4 to iPhone5S.Many files in the iPhone will be completely unable to used in the Android operating system. However, some types of files can be transferred from the iPhone to the robot phone in both compatible operating systems, such as contacts. In the past, phone users had to manually enter contacts to their new phone, because there is no available method to transfer contacts is helpful. Since the development of the smart phone technology, Android phone users can now easily transfer contacts from iPhone to their new phone.The following article will introduce an easy way to transfer contacts from iPhone 4/4s/5/5s/6 to Android phone.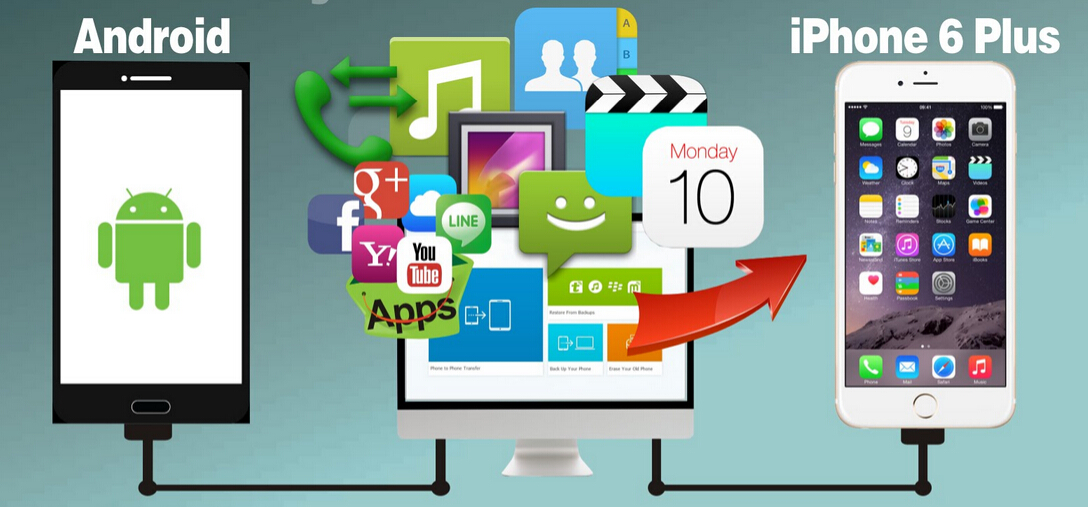 Fortunately, a much easier solution to help you sync iPhone contacts to Android without any additional effort involved. The entire process is done in background automatically. All you need to do is only a single mouse click. Anyone with no prior experience can get the job done quickly. Phone to Phone Transfer is not only capable of copying contacts from iPhone to Android phone, but also for photos and text messages.Besides iPhone and Android phone,Nokia and Blackberry smartphone are also supported. This is the ultimate solution for phone to phone transfer tasks.






Tips: If you have bought a new iPhone,you can also transfer contacts from Android to new iPhone directly with the help of this Phone to Phone Transfer program.

How to Transfer iPhone Contacts to Android Phone

Step1: Connect iPhone and Android Phone to Computer

To begin with, connect two phones to your computer via USB cables.When your devices are connected and detected by your computer, run the program, and you'll get a window as follow.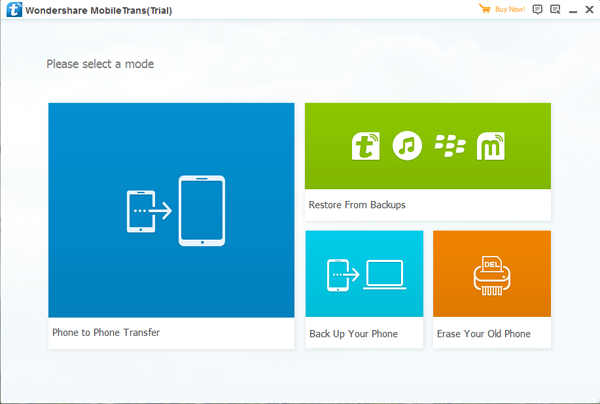 The names of your devices will be displayed in the places of "Source" and "Destination". You can click the blue button "Flip" between the two phones when you decide to change the places of the two devices.

Step 2: Start to Transfer contacts from iPhone to Android Phone

The data on your iPhone that can be transferred are listed in the middle, such as contacts, photos, messages, etc.Click Start Copy button located at the bottom of the app, then all of your iPhone contacts will be copied to Android phone in a few minutes.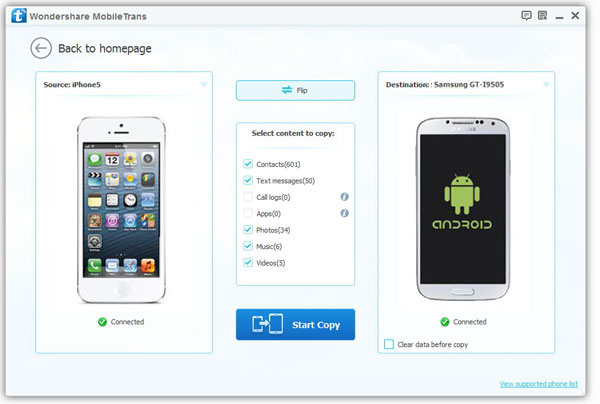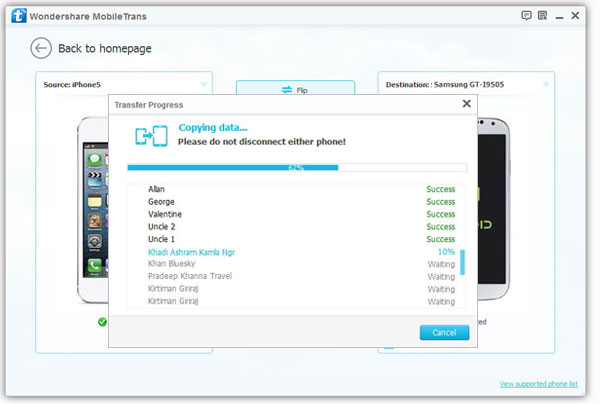 This step is quite easy to finish, make sure both of your phones are connecting during the whole progress. When transfer progress is completed, please hit the button "Completed".






Information transfer is one of the functions provided by the Mobile Transfer, in addition, you can use this software to back up phone data to a computer, completely remove the mobile phone data, restore phone data from a backup. This is the only application that I highly recommend!

Related Article:
---
How to transfer iPhone contacts from iPhone to computer:
When it comes to transferring contacts from iPhone to computer, maybe many solutions emerge in your mind, such as, syncing with iTunes, syncing to contacts application on Mac with iCloud, Microsoft Outlook, Microsoft Entourage, etc. However, you may encounter some situations like, your iPhone contacts are replaced by the contacts on computer after syncing, or you have synced iPhone contacts with the contacts app on computer, but they don't show up in computer, etc.Therefore, we will talk about an easy and direct way to transfer contacts from iPhone to PC/Mac computer without limits.

How to Transfer contacts from Android to iPhone:
There are several ways to transfer Android contacts to iPhone, but the quickest and easiest way to do that might just be with an app. In this post we'll show you how to use an app called Mobile Transfer to transfer contacts from Android to iPhone.