When you buy a new smartphone or tablet for example the Samsung Galaxy S6, the first thing make you serious must be copy contacts from your current device to the new one. If you copy the phone numbers one by one to your new Galaxy S6,you must be busy with the same tedious process.Is there any clever methods to transfer the contacts between two phones without complex steps?Of course YES.Here you come the right place.

To save you from the hassle, there is a dedicated app named Samsung Smart Switch, which will help you with the data transfer and comes pre-installed with the iPhone and Samsung Galaxy S6. Smart Switch enables can help you transfer the iCloud backups contents to Samsung Galaxy S6/S6 Edge, including contacts, messages, photos, calendars, alarms. Let's have a quick tour of Smart Switch so that you can understand all the features of this app.Let's see the detailed approach to transfer iPhone contacts to Samsung Galaxy S6 with Samsung Smart Switch.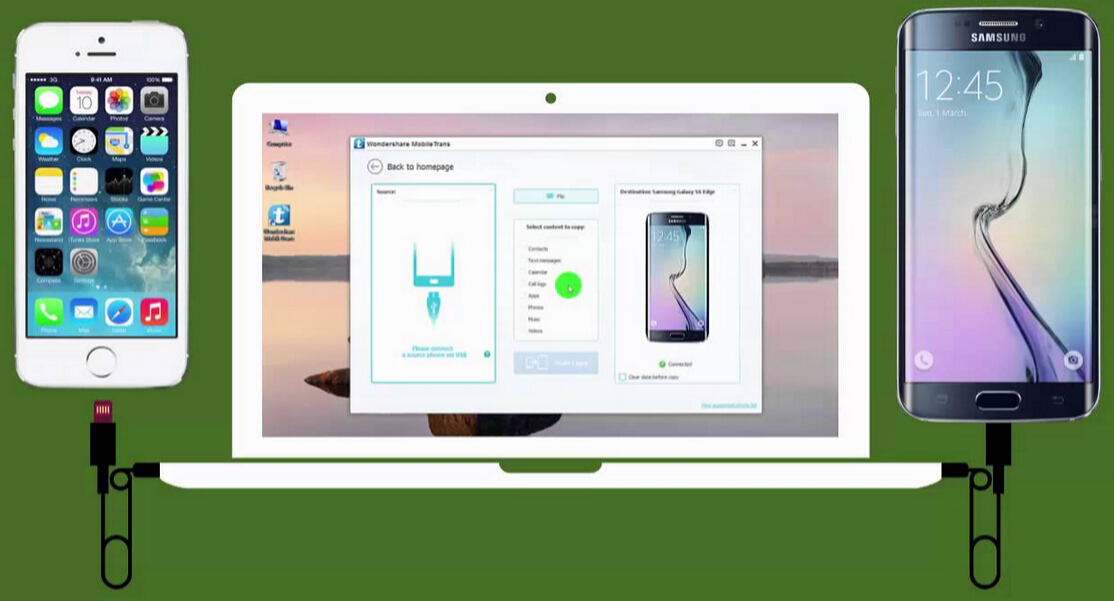 Two Solutions to Switch Contacts from iPhone to Samsung Galaxy:


Solution 1:Transfer Contacts from iPhone to Galaxy S6 with Smart Switch

Step 1.Backup Your iPhone Contacts to iCloud
See that all your required data, such as contacts and more, are being backed up to your iCloud account.

Step 2.Install Smart Switch App on Galaxy S6
Now, open the Smart Switch app on your Galaxy S6, select 'iOS device', and insert your iCloud credentials (account email ID and password) in the app.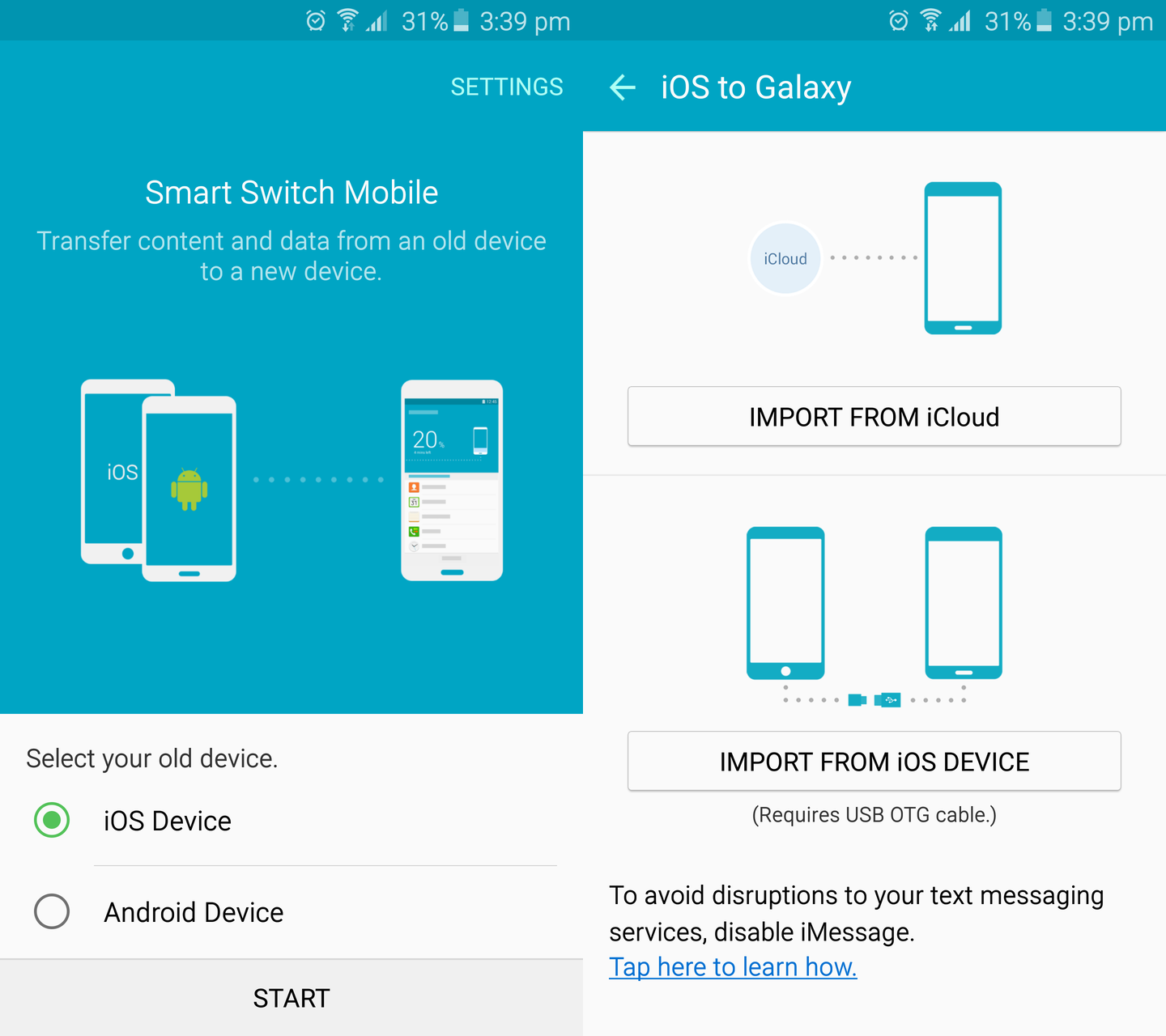 Step 3.Select the Contacts that You Want to Transfer, Start to Transfer.
Select the contacts that you need to transfer, and then hit the 'Import' button on your Galaxy S6.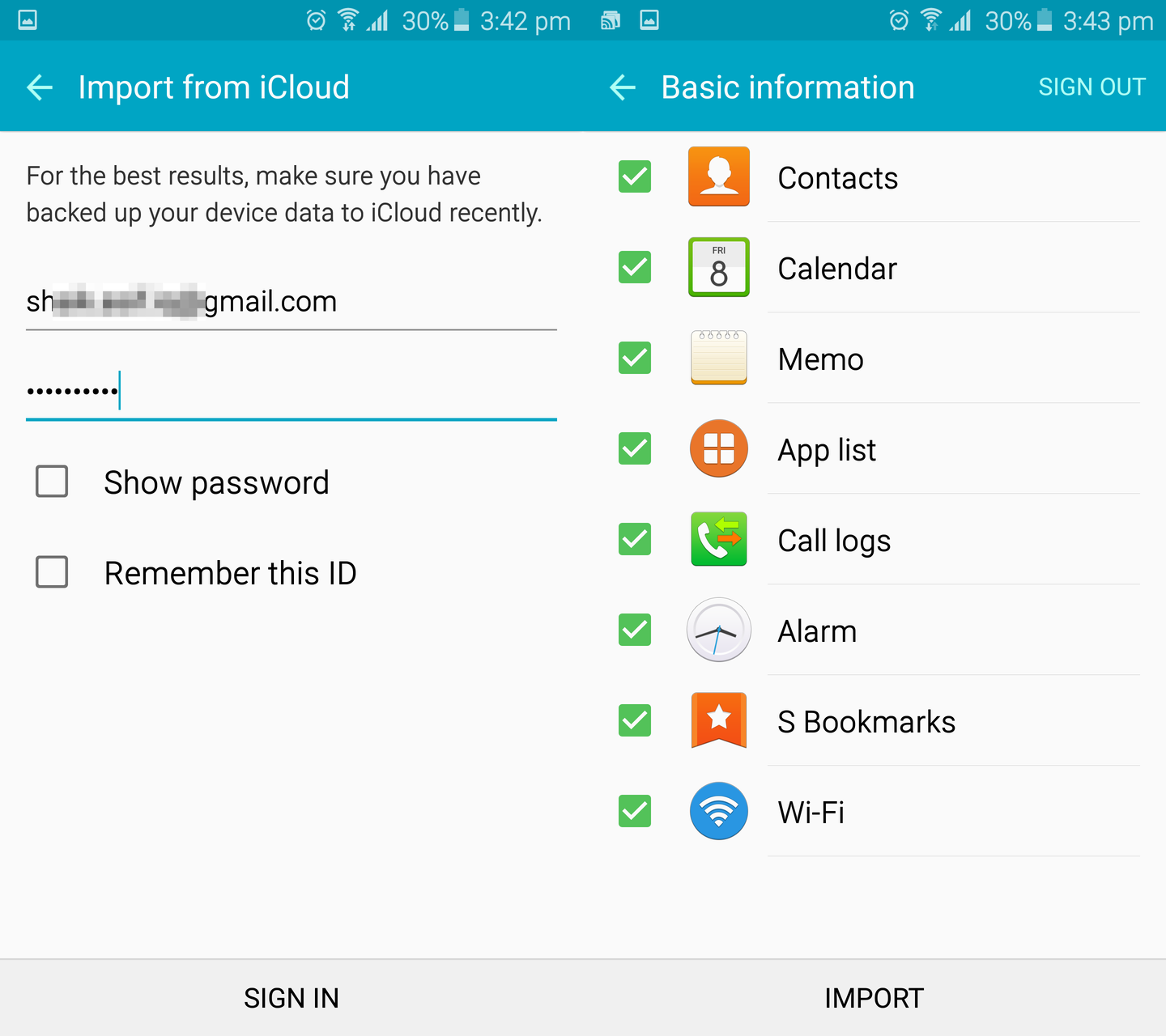 However,if you didn't back up contacts with iCloud on the old iPhone and want to directly transfer contacts from iPhone to your new Samsung Galaxy S6, the best suggestion is Phone to Phone Transfer,which enables you to transfer contacts from iOS devices to Android in just one-click.Go ahead and read: How to Transfer Contacts between iPhone and Samsung Galaxy S6 with Phone to Phone Transfer.
Solution 2: Directly Transfer iPhone Contacts to Galaxy S6 with Phone Transfer

The Phone to Phone Transfer is an useful and convenience program that allows you transfer your contacts, text messages, notes, photos, videos and call logs between iPhone and Android Samsung devices directly. What's more,the Phone to Phone Transfer also can help you backup&restore data from mobile phone and wipe data from your old phone permanently before you want to sell it.Under the Phone to Phone Transfer, it is so simple for you to copy contacts from iPhone 4/4s/5/5s/6 to new Samsung Galaxy S6 directly.






Step 1. Run the Phone to Phone Transfer on Your Computer
To begin with, you need to download, install and run Phone to Phone Transfer on your computer, then you can click "Phone to Phone Transfer" button when you see the main interface as follow.Then use two USB cables to connect both of your iPhone and your new Samsung Galaxy S6 to the same computer.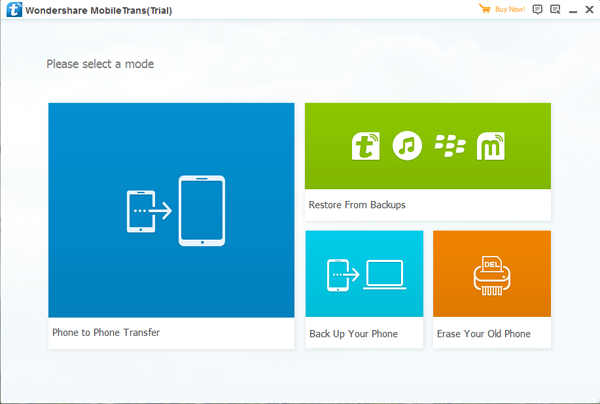 Step 2 .Scan and Select to Transfer Contacts from iPhone to Samsung Galaxy S6
The program will scan your devices automatically,you can see the main interface as follow. And you should make sure that they are put on the right places. If not, click the "Flip" button to change their place.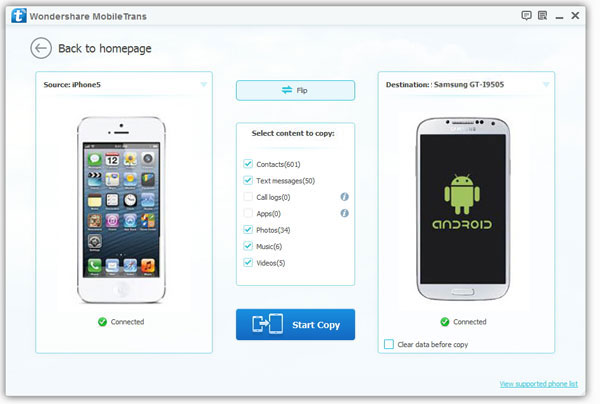 Select the content you want to transfer,such as your personal contacts.Click "Start Copy" button,and the program will start transferring the contacts you selected to your Samsung Galaxy S6. When the sync progress is over, click "OK" to end it.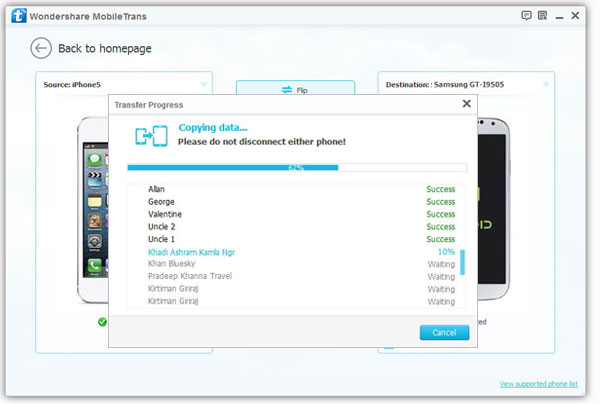 The Phone to Phone Transfer supports transfer data between iOS, Android and Nokia, Symbian.To transfer information between different mobile device, Phone to Phone Transfer is specially designed for phone users to copy all data from one phone to another.No matter you use what type of the mobile phone, you can sync data between two phones safely and easily.






Read More:
---
How to Transfer Data from iPhone to Galaxy S6:
Switching phones data has always been kind of a pain, and smartphones didn't so much make things easier as create different problems along the way. If you're an iPhone user planning to grab a Galaxy S6 or Galaxy S6 edge, it's not going to take you long to notice how moving data from one ecosystem to the other isn't exactly as simple as entering in a username and password. Not to worry, though, we've got everything you need right here.

How to Transfer SMS from iPhone to Galaxy S6:
More and more people, especially businessmen, tend to have two portable phones. For instance, they got iPhone for its excellent features and multifunction.However,when receiving some important messages on iPhone and want to copy and save the texts in Galaxy S6, many people may have no idea how to deal with it.Here is an useful guide to transfer SMS from iPhone to Samsung Phone.