Want to watch 3D Movies on "Samsung Gear VR - Virtual Reality Headset" through Oculus Cinema with your Samsung Galaxy S7/S7 Edge, Galaxy S6/S6 Edge+, Galaxy Note 5/Note 4?As we all know,with technology from Oculus, the leader in virtual reality, exploring your environment feels completely natural. The Gear VR provides the smoothest virtual reality experience of any 3D TV, glasses-free 3D smartphones, or other compatible 3D display device.To play your favorite movies in 2D as 3D effects with Samsung Galaxy smartphone,you need to convert movies to SBS 3D MP4/MKV for viewing on Gear VR via Galaxy S7/S6 (Edge) or Note 6/5/4.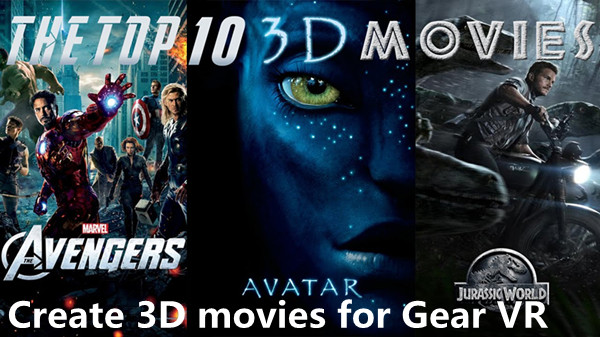 Convert 2D to 3D and Watch 3D movies on Samsung Gear VR

Do you wanna watch your favorite 3D movies on Samsung Gear VR? With 3D movies getting hotter, we all enjoy amazing 3D effects. If you are the lucky ones who have switch to a Samsung Gear VR with Galaxy S6/S6 Edge/S6 Edge+, Galaxy S7, I believe you have fallen in love with virtual reality, with it's infinite possibilities. Once opened, you can experience life, enjoy the game, from a brand new perspective. Of course, when it comes to watching 3D movies in the famous film that comes standard with the glasses, You can adjust the distance according to your eyes. This helps your eyes to focus and make the image clearer. You'll be completely immersed as you watch your favorite movies on a theater-sized scale.

Here we recommend you the top 10 3D Movies of all Time,you can free download from Youtube and then converted the downloaded Youtube 2D movies to 3D,watching converted 3D movies with Gear VR.You can use this Video Converter to download Youtube videos for free,or contact us in Facebook to get the free Youtube video downloader tool.


Normally, Samsung Gear VR supports most common file formats including MKV, MP4, AVI, and FLV. When it comes to playing 3D videos/movies into the "My Videos" folder on your Samsung SD card. So how could we add those incompatible 3D movies to Gear VR for playback? Before conversion, we need prepare: a computer or Mac, a 3D movie, and an effective 3D Video Converter which can helps you enjoy 3D movies in Samsung Gear VR supported formats.

The Best 3D Movie Converter to Convert 2D to Gear VR playable 3D formats

2D to 3D Video Converter enables 3D video playable on Samsung Gear. It can convert any 2D videos/movies format to 3D videos in Gear VR supported format effortlessly and without quality loss. So that you can experience immersive 3D life. In addition, this program also allows you to convert all 2D/3D videos in AVI, MKV, WMV, MPG, VOB, TiVo, MOV, etc to a decent format as you want. Now download the right version according to your situation and check out the steps below.






2D to 3D Converter Features:

Easy Steps to Convert 2D Movies to 3D MP4/MKV for Samsung Gear VR

Step 1. Launch the best 3D Video Converter
After installing the program on your PC, launch it and select the 2D to 3D or 3D to 3D mode on the main interface to load your 2d/3D movie files to the program.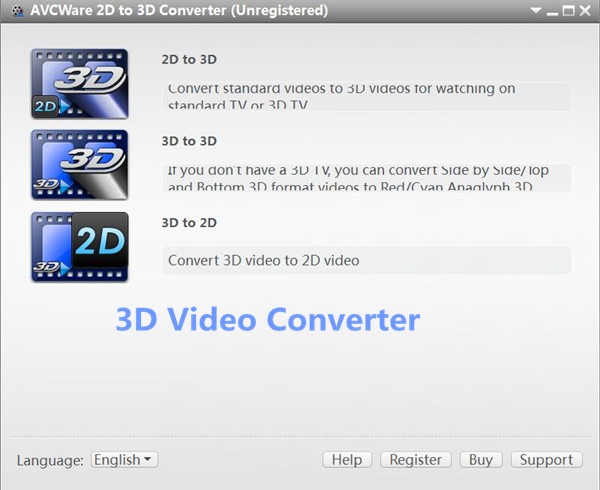 Step 2.Import Movies to the 3D Video Converter
By now, you can import the movies/videos you want to the program.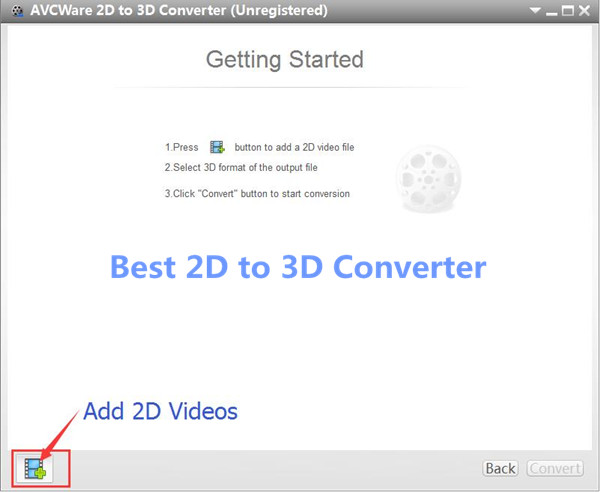 The software will automatically scan the video files on the disk and display a list of video files. Now, select the video or movie you want.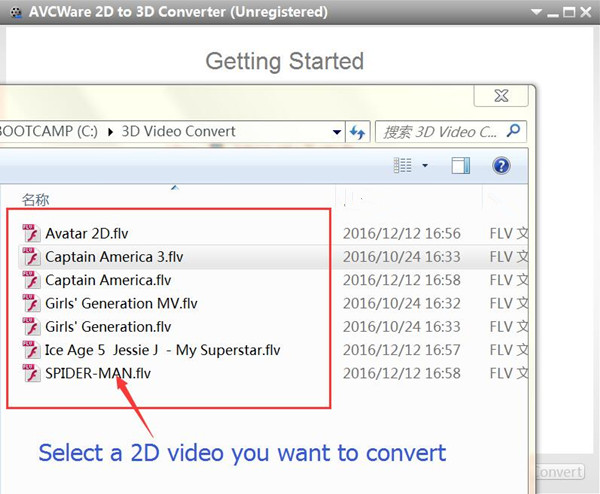 Step 3.Set Your 3D Supported Format by Gear VR
In the next step, you set up an output mode which is compatible with Samsung Gear VR, such as SBS, TB.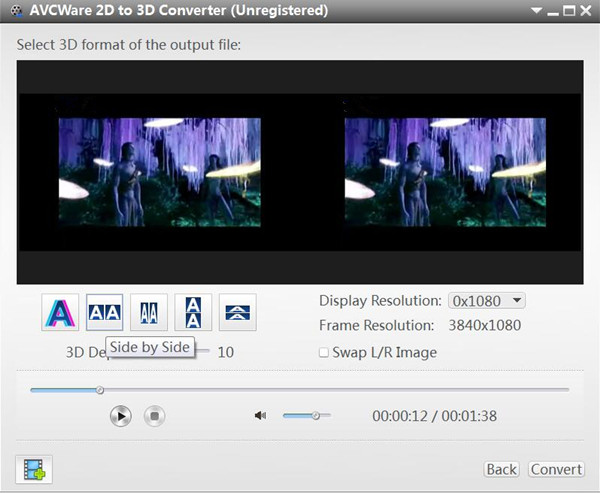 After that, click on the "Convert" button and the program will take you to the output settings window.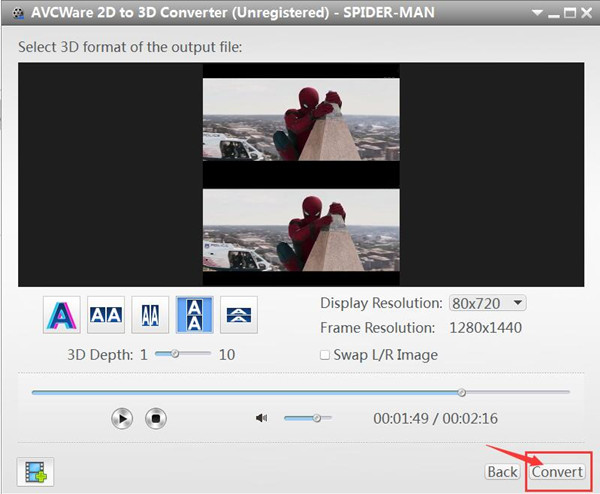 Step 4. Set the Correct Output Format
Next, you can see the program can convert any 2d/3d movie to 3D iPhone, iPad, Apple TV, Android phone, Samsung mobile phone, Samsung Gear VR, TV / Mac / PC and 3D player and other devices.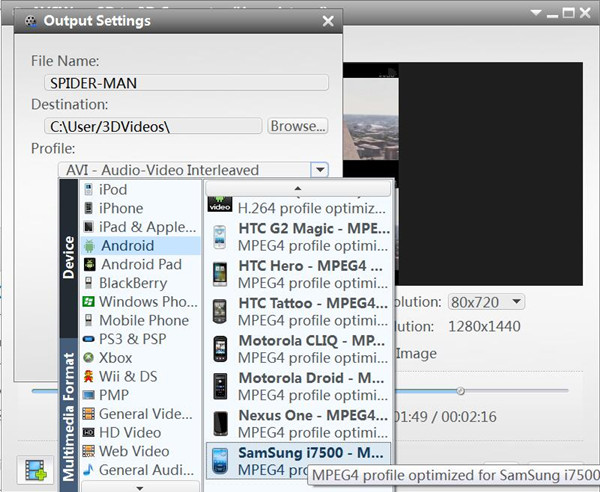 Select the correct one, and then click "OK" to start the conversion.

Step 5. Start Converting Incompatible 3D Movies for Playback on Gear VR
The conversion process has already begun, all you need to do is wait for the process to end, and then enjoy 3D movies on your Samsung Gear VR.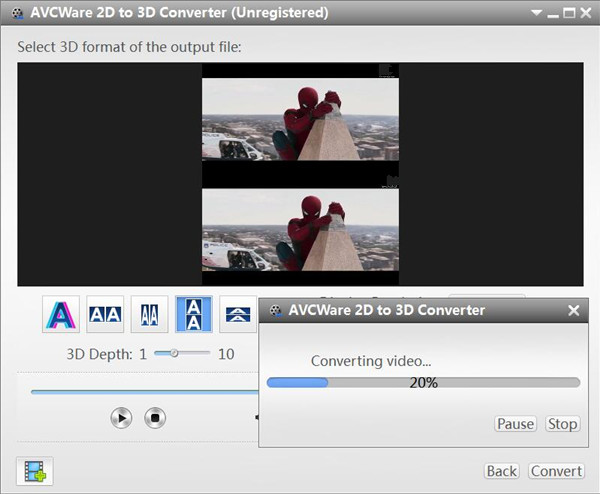 With 3D Video Converter, you can view 3D YouTube video on Gear VR. Also, if you wanna put DVD, Blu-ray movies to Gear VR for stunning playback, you can turn to this 3D Video Converter to get help, which is an all-in-one video app that helps you to convert AVI, WMV, MOV, TiVo, VOB, MPG as well as Blu-ray, DVD to Gear VR friendly video.




Import Converted 3D Movies to Samsung Galaxy S7/S6/S5 and Play with Samsung Gear VR

After finishing converting your favorite 2D videos to 3D,you need to transfer the converted 3D videos to your Samsung Galaxy S7/S7 Edge, Galaxy S6/S6 Edge+, Galaxy S5 or other 3D player,and then watch the 3D movies with 3D gear VR.
Learn More: How to Transfer Videos to Samsung Galaxy S7/S6

Many people like watch 3D movies by Samsung Gear VR,because the Samsung Gear VR can snap your compatible Galaxy smartphone into the portable and wireless Gear VR headset to dive into a world of 360° experiences. Look around,so more and more people will buy the smartphone with 3D features,like Samsung Galaxy S7,S6, Google Pixel, HTC One M9/M8, HTC Vive, iPhone 7/7 Plus/6S/6, Huawei Mate 9, Motorola Moto G4 and other super smartphone.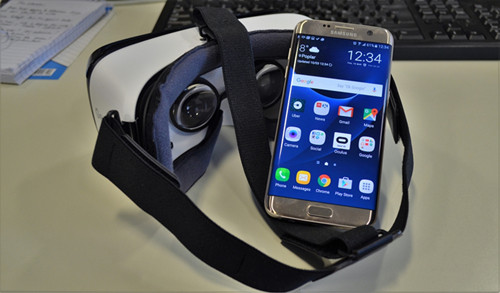 Samsung Gear VR Features:

Read More:
---
How to Convert 2D to 3D for Android

How to Play 3D Movies on Samsung LED Smart TV from USB

How to Convert 2D Movies to 3D MP4 Movies

How To Upgrade Convert 2D Movies to 3D Movies