Samsung official did not provide official firmware downloads, we use ODIN brush brush into * .tar, *. Firmware md5 format are extracted from within the Samsung Kies, and today small teach you extraction method handmade, so you can first a time to share with others the latest system. Today,take extract stock recovery from Samsung S5 Firmware an example to explain!

First, the necessary tools
Samsung Kies tool; (Kies3 for Samsung Android 4.3 and above system models)
Samsung mobile phones one;

OTA updates not working for you? You can also use the unroot method to update your stock firmware to the latest software if OTA updates are failing or if KIES is not working for you. See unroot instructions below and use the appropriate Galaxy S5 stock firmware for your model.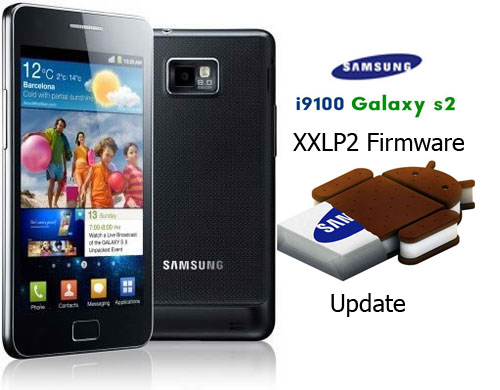 You can use ODIN to flash these stock firmwares. If you ever soft brick (where your phone turns on but does not boot) or want to unroot your phone to stock ROM, you can use these firmwares. See our guide on How to Extract Stock Recovery from Galaxy S5 Firmware!

If you have rooted your Samsung Galaxy Note 5, Note 4, Note 3, Note 2, S7, S6, S5, S4, S3, S2, or any other Samsung devices including tablets, mostly like you have installed a custom recovery like CWM or TWRP.
Tips:If you want to recover Samsung lost data,this Samsung Data Recovery can help you recover contacts, SMS, photos, videos, music, App data from Samsung phones or tables,ever your phone is broken or damaged.
Well, if you want to receive stock OTA updates (perhaps you want to try the latest firmware that came out last night and you are still on stock firmware), you will need to re-install stock recovery.
This article teach you how to Root a Android Device


How to Extract Firmware from Samsung Official?

The process is actually rather simple. You need to download the latest stock Samsung firmware for your model of Samsung device, extract the recovery.img file from it, then compress it back into tar file and flash with ODIN.

Step 1. Download appropriate Samsung stock firmware for your device:

Galaxy Note 4 Stock Firmwares – Link
Galaxy Note 3 Stock Firmwares – Link
Galaxy Note 2 Stock Firmwares – Link
Galaxy S5 Stock Firmwares – Link
Galaxy S4 Stock Firmwares – Link
Galaxy S3 Stock Firmwares – Link
Don't see your device? Try SamFirmware.com.

Step 2. Unzip the files.






Step 3. Open the .tar.md5 file using 7Zip. (Download 7Zip)





Step 4. You should find the recovery.img file, this is the stock recovery file for your Samsung device. Select it and hit Extract.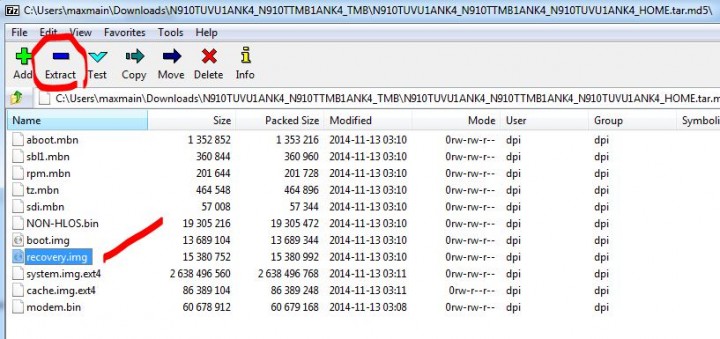 Step 5. Compress the file using 7Zip in ".tar" format.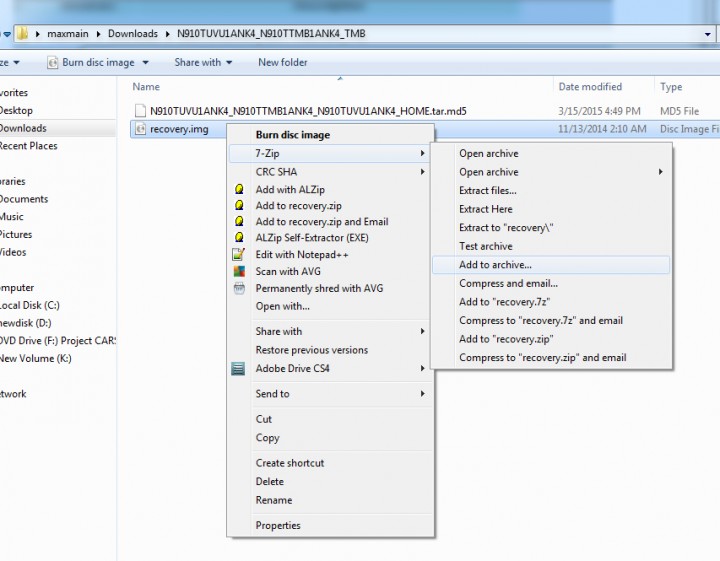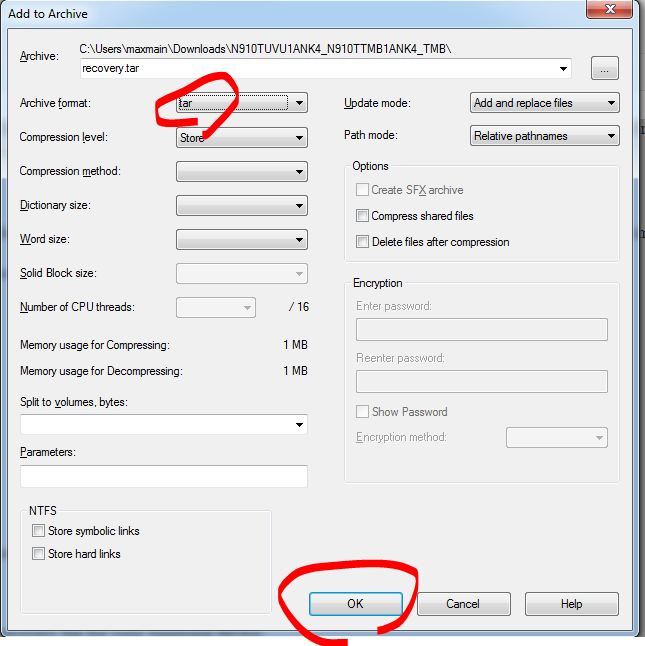 Step 6. Put your Samsung device in ODIN Download mode, select AP or PDA in ODIN program and select the new "recovery.tar" file, then hit "Start".

If done successfully, your phone will reboot and you should have stock recovery back. To reboot into recovery and check, power off your phone then hold down Volume Up, Center Home, and Power buttons. (You can also use QuickBoot app on PlayStore to reboot into recovery if you have a rooted device.)

After the above are done, open the KIES connect the phone to download the firmware, slowly and so on, until 85 percent of the time you will be prompted extracting binary this time we should pay attention, pay attention to look at this temp folder . At this point there will be a compressed package, do not bother him, and you'll find more than a temp folder inside a folder, when my phone upgrade folder name is tmp5F40.tmp.zipfolder open this folder, there are a "N910TUVU1ANK4-N910TTMB1ANK4-N910TUVU1ANK4-HOME.tar.md5", until immediately after extraction is completed to be copied to another folder, the action if too slow, then the system will automatically be deleted.

Now, you have learned how to re-install stock recovery. If you are running rooted stock firmware (meaning you've rooted your phone but did not install custom ROM OR you have restored your stock ROM using CWM or TWRP), you can use this method to re-enable OTA(over-the-air) updates. Now, you may also have to remove root, simply use SuperSU app to unroot also. You can easily re-root after OTA by re-install CWM or TWRP recovery then flashing SuperSU zip file.

That's about it, if you lost data after root your Samsung phone,please learn more about how to recover lost data from an rooted Samsung phone!

You can also install the recovery.img file using Flashify app. (Skip Step 5 and 6 as you don't need the tar file.)

If you think our solution can help you,please share this page to your Facebook or Google+.

Read More:
---
How to Backup and Restore Data from Samsung Galaxy

How to Transfer Data from Samsung to Samsung

How to Sync Contacts from iPhone to Samsung Galaxy

How to Recover Deleted Photos on Samsung Galaxy