Hello, this is the wrong PIN code caused SIM card locked, you need the PUK code to unlock some operators PUK code in the card deck do have. Some need to fight customer service consulting. Enter the PUK code can be unlocked.

With the popularity of smart phones, this SIM card is also more and more in the course will inevitably encounter a series of problems, which this SIM card is locked so that the user is a very troublesome problem, following on with a view look at this presentation.

Consecutive unsuccessful attempts to enter the PIN code card is locked you must enter the PUK code ten times ten times if the wrong PUK code card that just completely scrapped if the wrong PIN code three times,you can call the carrier to let him tell you the PUK code.

How to SIM Unlock a Phone For FREE?

Mobile phone SIM card Unlock Methods:
When accidentally locked PIN code, different phones have different display, the common about the following categories:

(1) Displays "Blocked" This situation is generally appear in the MOTOROLA brand of mobile phones, when this occurs, it is to unlock: ** 05 * PUK code, press the "OK" button, enter the "new PIN" press "OK" button, then enter the "new PIN" press "OK" can be.

(2) Display "Card Blocked unblock?" This situation is most ERICSSON appear on your phone, unlock method is: press "YES", enter the PUK code, press "YES" enter "New PIN" Press "YES", then enter the "new PIN" can;

(3) displays "SIM card has been blocked," this is the case, the first method to unlock (1) to unlock the same way.

(4) Samsung models show PUK does not start, you have only one chance to enter the correct PUK code

(5) For Nokia users directly enter the PUK code.

Note:
If the phone displays "Blocked Contact Card Provider" or "Card Disabled" indicates that the card has been scrapped, the need to bring relevant documents to the service or service password Office for a replacement card. "
How to SIM Unlock Your Android Phone

To break the network/SIM lock, you'll need to confirm the IMEI (International Mobile Equipment Identity, a unique code used to identity your phone on any network) number of your phone or tablet.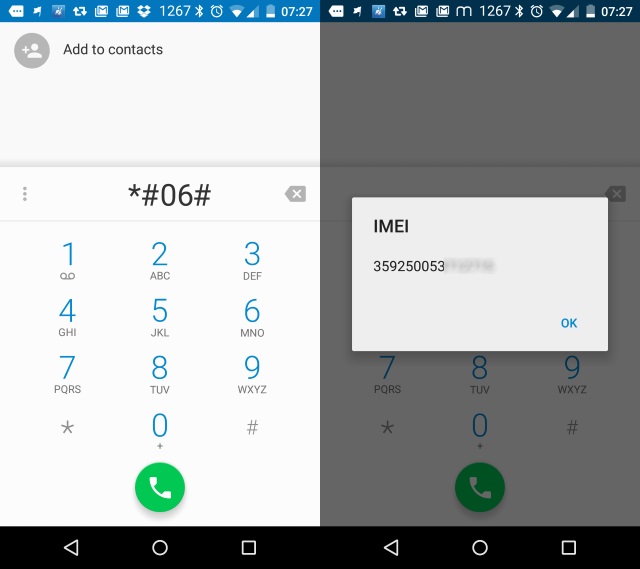 In Android, the IMEI number can be quickly found by dialing *#06# or by opening Settings > About phone > Status > IMEI Information. With this 15-digit string handed over, the network should be able to provide you with a PIN code to enable your device to use the new network's SIM card.

(Note that the full process can differ across networks, and your new network may require you to input a specific code to work with that carrier.)

This is particularly useful if you're travelling overseas, for instance, and don't have a dual SIM device.

While American carriers are not permitted to charge for this service, in the UK and Europe your network may charge a small administrative fee for unlocking your phone.
Easily Unlock Android SIM Card via Android SIM Unlock Tool

The Android SIM Unlock tool is one of key features in Dr.Fone Android Data Recovery,you can unlock your phone in the fastest way without data loss,and no risk to your phone,the Android SIM Unlock supports to remove network SIM lock for Samsung Galaxy S7/S6/S5/S4/S3/S2, Galaxy Note 5/Note 4/Note 3/Note 2/Note and other Android devices from more than 60 countries.Other Samsung Models can be supported,like Samsung Galaxy Ace3, MEGA, Mega6.3, Mega2, Golden, E5, E7, Galaxy Core, Core Prime, Grand Prime, Grand2, Alpha, Round, J1, J3, J5, J7, Prevail LTE.What's more,you can also use this program backup contacts, SMS from Android to computer; recover lost/deleted contacts, text messages from Android phone directly,even your Android phone is broken; remove Android lock screen without losing data,remove the password of PIN, patterns, password and fingerprint.The Dr.Fone Android Recovery is an all-in-one useful data recovery & backup,restore & lock screen removal & SIM unlock tool for Android phones and tables.Let's teach you how to unlock SIM card in Android Samsung Galaxy as example.






First of all,please free download the program and run it on your computer,then click "More Tool" >> "Android SIM Unlock" feature,you will get the window as below.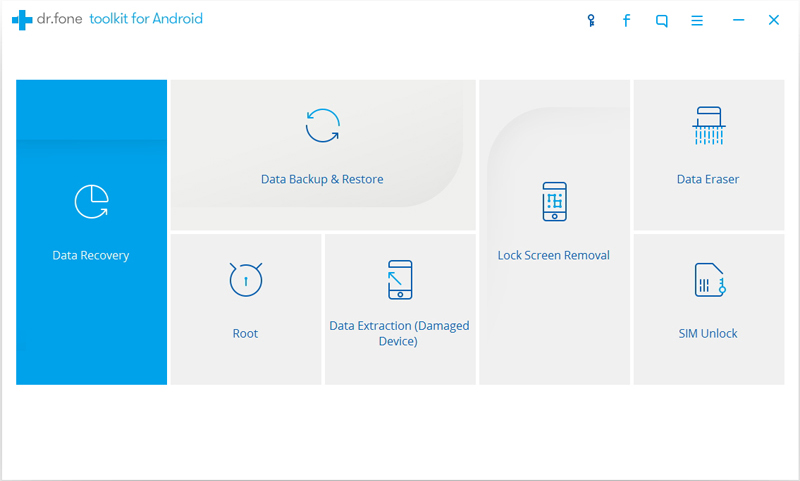 Today,we will teach you how to SIM Unlock your Samsung phone with Android SIM Unlock within a few minutes.

Part 1: How to SIM Unlock Your Samsung Galaxy S2~S4, Note 1~Note 3

Step 1. Connect Samsung Galaxy phone to computer
After running the program on your computer, connect your Samsung phone to the computer with a USB cable.For Samsung Galaxy S2~S4, Note 1~Note 3, you have enabled USB Debugging mode on your Samsung phone for allowing the program detect your Samsung device automatically.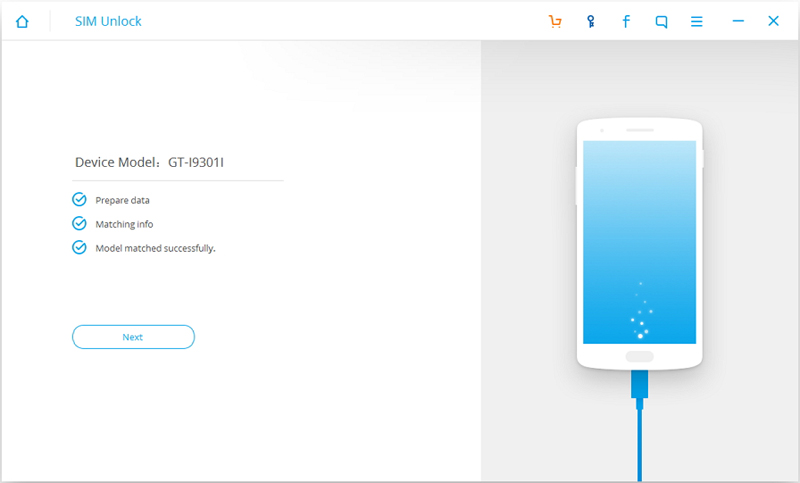 Click on "Next" to go to next to enter USB Settings on Samsung phone.

Step 2. Enter USB Settings / Diagnostic / Service Mode
Follow the instructions on the program interface to enter USB Settings / Diagnostic / Service Mode on your Android phone.
Dial *#0808# or ##3424# or #9090# on your Android phone. Normally one of these will work for your phone. After you input one of the numbers and symbols, the phone will automatically enter USB Settings / Diagnostic / Service Mode.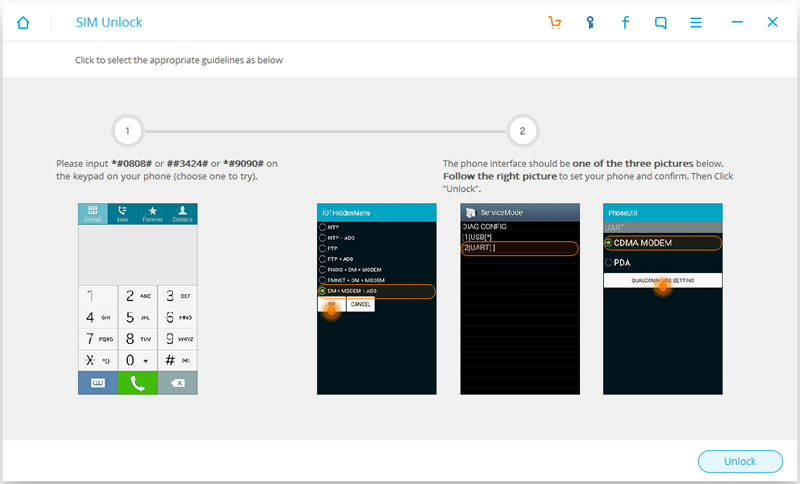 Select DM + MODEM + ADB or UART[*] or CDMA MODEM on the phone. After the phone is set properly, then click the "Unlock" button begin SIM unlock the Android phone.

Step 3. SIM Unlock your Samsung phone
In this step,the program will start to sim unlock your Samsung Galaxy phone. During the unlocking process,please keep connecting the phone with computer,Just wait for a few seconds to finish.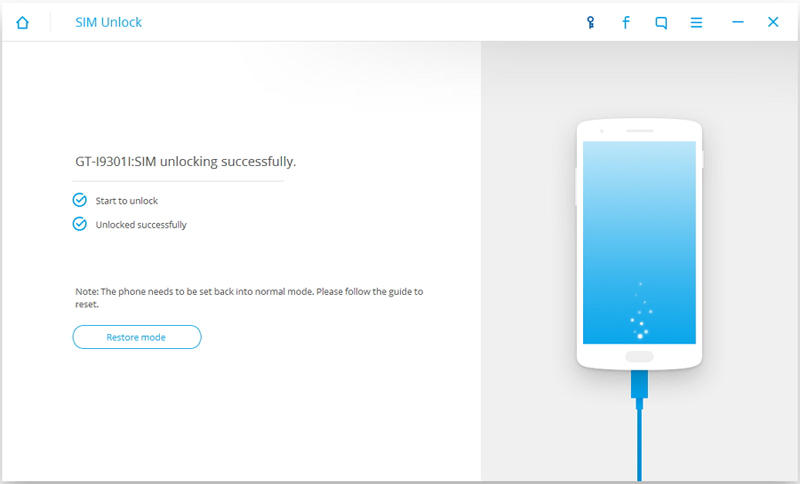 Note: The phone will need to be set back into normal mode after it's unlocked. Just click on Restore Mode on the program to continue.

Step 4. Restore your Samsung phone to Normal Mode
When SIM unlock the phone complete,you need to restore your mobile phone to normal mode,please dial *#0808# or ##3424# or #9090# on your Android phone and select MTP + ADB or USB[*] or PDA on the hidden menu.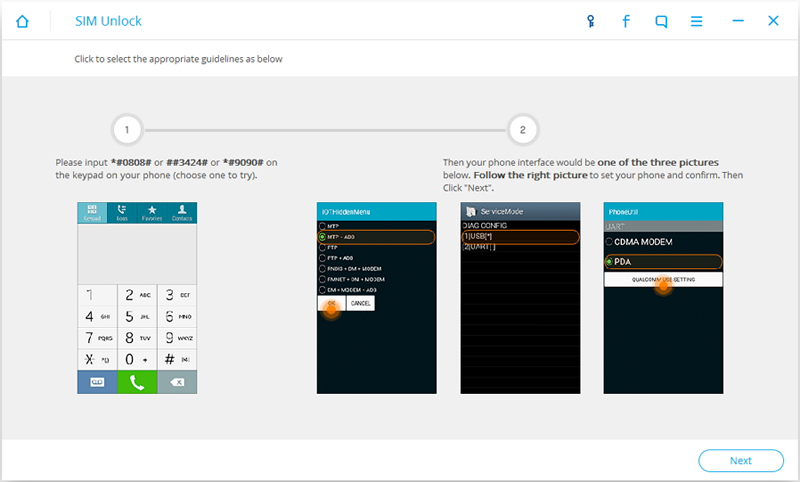 Then click on Next, your Android phone will enter normal mode and now it's successfully sim unlocked.

Part 2: How to SIM Unlock Your Samsung Galaxy S5/S6/S7

Above,we have teach you how to SIM unlock the old Samsung device - GS2~GS4, Note 1~Note 3,if you use the latest models of Samsung mobile phones,like Galaxy S5,S6, S6 Edge, S7, S7 Edge,only two steps to SIM Unlock your Samsung Galaxy S5/S6/S7. But to successfully unlock Galaxy S5,S6,S7, please rooting your devices at first.Let's teach you how to get your phone SIM unlocked in two easy steps.

Step 1. Connect your Samsung Galaxy S7 to computer
If you have rooted the GS7 before, please connect your rooted phone to the computer using USB cable. Then let's the program recognize your phone automatically.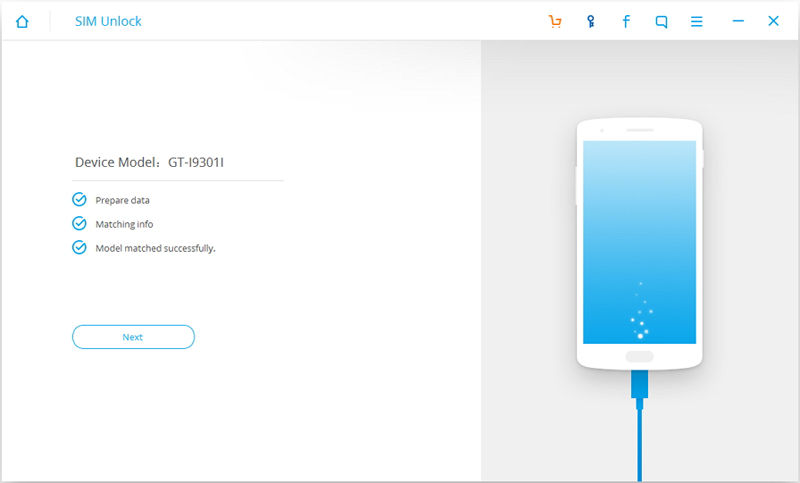 Click on "Unlock" button to continue.

Step 2. Start Analyzing SIM and Unlock your Samsung phone
After your click on "Unlock", the program will automatically analyze and sim unlock your Samsung phone. At this time,you just wait with a cup of coffee till the process completes. During the process, your Samsung phone will restart once. Please don't disconnect your phone until the SIM unlocked process complete.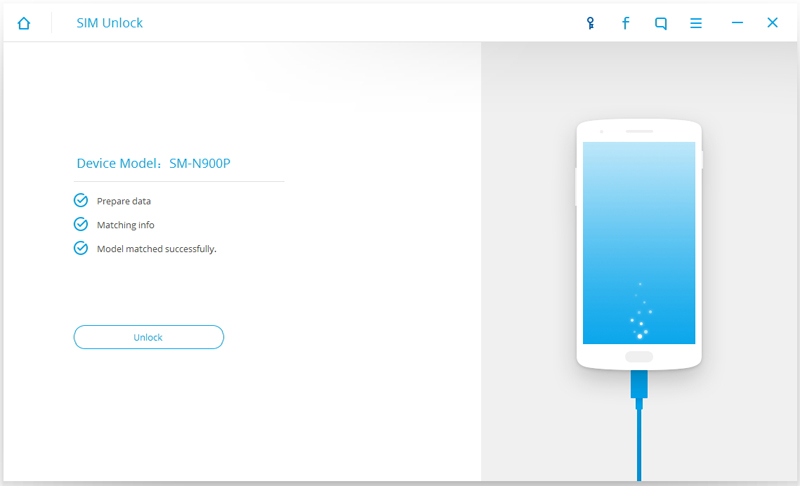 Free download the program and have a try!




Troubleshooting Android SIM Unlock

Your phone SIM card may locked when you try to unlock your device. The following are just some of the troubleshooting actions you can take if you encounter these problems.

Unlocking Code Fails to work
If you asked your carrier to unlock your device for you, chances are that they sent you a code. If the unlocking code fails to work double check that the IMEI number you used is the correct one and ensure that you purchased that device from that carrier and then try again.

Samsung Phone Freezes during unlocking
If your device freezes during the unlocking process it typically means that you entered wrong unlocking code too many times. In this case you need to contact the carrier for a Master Code.

My LG Mobile Phone won't unlock
There are some LG models that cannot be unlocked. These models include LG U300, LG U310, LG U8180, LG U8330, LG U8120, LG U8360, LG U8380, LGU880, and LG U890. If your device is one of these it can't be unlocked by your carrier. You may need to look into other ways of unlocking your device.

Related Articles:
---
How to Transfer Contacts between Samsung and SIM Card

How to Backup Contacts from Android to Computer

How to Backup Text Messages from Android to Computer

How to Recover Lost Contacts from Samsung Galaxy

How to Recover Lost SMS on Android