You may need to wipe your iPhone 4 in order to sell it or get the device serviced or replaced. After all, the iPhone is a treasure trove of personal data with access to contacts, online accounts, and more.


Way 1: Erase iPhone Contacts Data by Reset iPhone to Factory Settings

To erase your personal data from the iPhone follow these steps:

1. Sync your iPhone with iTunes to back up your data for future use
2. Navigate to Settings -> General -> Reset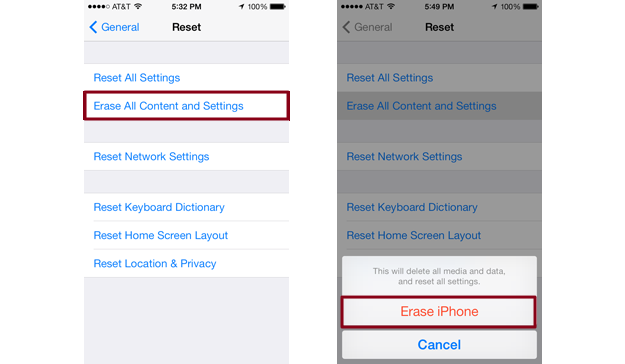 3. To reset all settings to factory defaults without deleting your music, contacts, etc. choose "Reset All Settings"
4. For a complete wipe of all personal data from the iPhone select "Erase All Content and Settings"
5. Confirm your selection when prompted

Way 2: Delete Contacts from iPhone on Contacts App

Every iPhone or iPad user knows exactly that Apple won't allow users to massively delete multiple or all contacts from your iPhone or iPad on the Contacts app,and you only allowed to delete the contacts one by one in the Contacts app on your iPhone device. Let's teach you how to delete contacts on Contacts App as below:

Step 1: Click the Contacts app from your iPhone or iPad.

Step 2: Select the contact you want to delete, then click "Edit" button in the right corner.

Step 3: Put down and tap the large red "Delete Contact" button to delete the phone numbers you want to delete.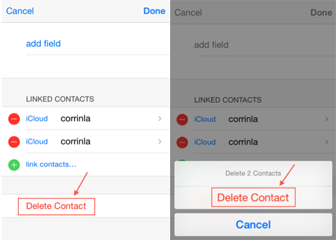 After the process is complete your private data is erased.However the method of deleting the data on iPhone is just wipe your existing data on it,the part of deleted is still on the iPhone,the deleted data can be stored by using some professional data recovery.Now you may ask that how to erase deleted data on iPhone 4 before selling?How to erase deleted contacts on iPhone 4/4s/5s/5 before selling?

Way 3: Permanently Erase All Contacts from iPhone without Recovery

The most safest and effective data protection solution available for iPhone 4, it lows you to erase files in such a way that it is impossible to recover them by software or hardware means, this is the only way to fully ensure that data cannot be recovered by data recovery program.iPhone Data Eraser,which can erase all data or erase deleted files from iPhone permanently.After using the data eraser,you have no need to worry about the deleted content will be exposed by anyone.




How to Erase Contacts from iPhone without Recovery

Step 1:Install iPhone Data Eraser software
Download the program and installation process. There is a built-in wizard guiding you through the entire process. After that, the software will be opened automatically and a shortcut will display on computer desktop.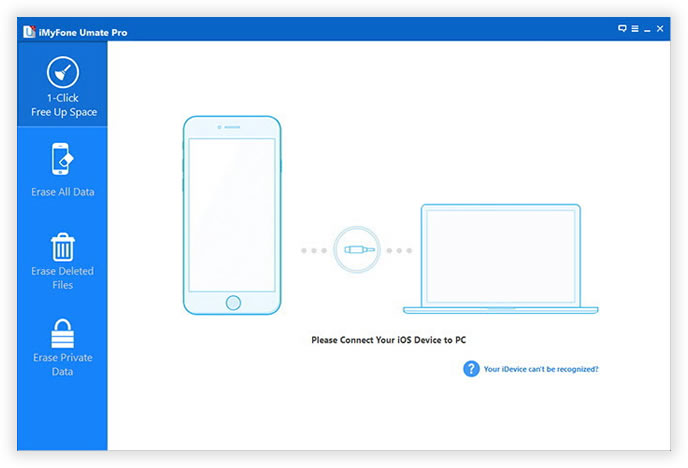 Step 2:Connect iPhone 4 to a Computer and Select Right Erasing Option
Plug the iPhone 4 to computer with an USB cable. The program will detect the device once it was well connected. Then you can proceed to the next step. However, if the program can't detect the device, please make sure iPhone USB driver and iTunes are installed properly on the computer.

Note: The program offers 4 erasing option for your different demands: "EXPRESS CLEANUP", "ERASE PRIVATE Data", "ERASE DELETED FILES" and "ERASE ALL DATA". You can select the appropriate option and give it a try.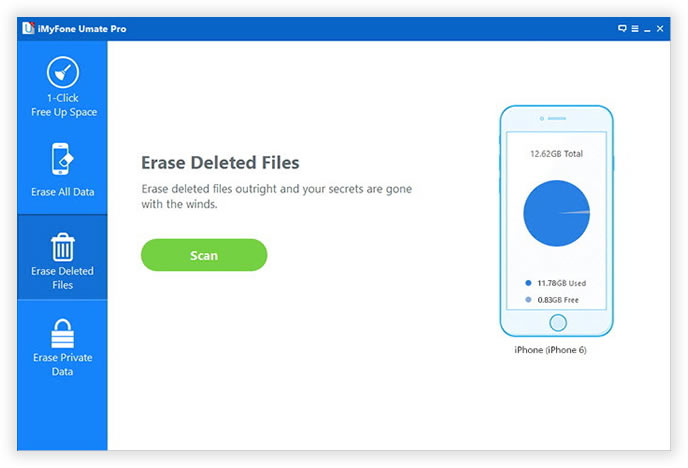 Step 3:Start Analyzing and Scanning the Data on Your iPhone 4
In this step, it will automatically analyze and scan all your deleted files on your iPhone 4; generally it takes a short time to complete the process depending on the file. After scanning and selecting the deleted data to view detailed information on the file.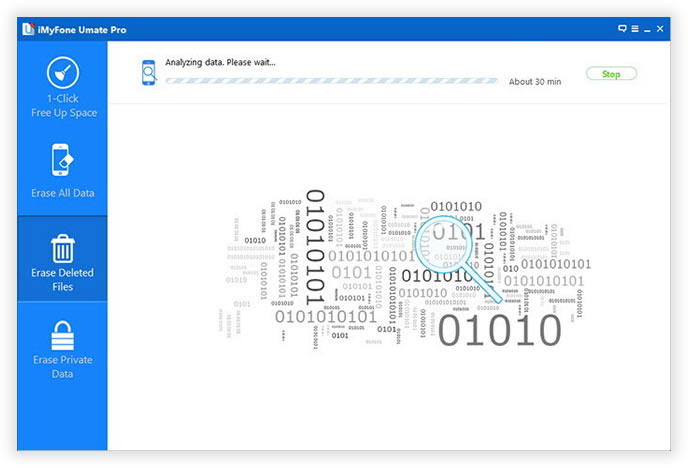 Step 4:Preview and Select the Deleted Contacts You Want to Erase
After scanning, all deleted data will be scanned out and presented as details, by default, all files will be selected. Unselect the files you wanna to save.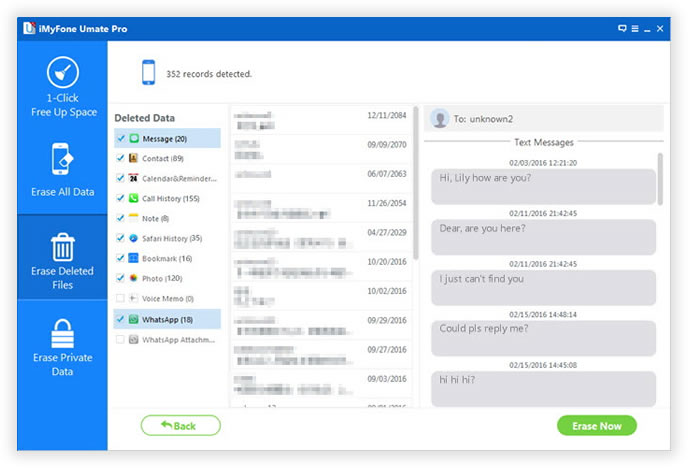 Step 5:Start Erasing Deleted Contacts on iPhone 4 before Selling
Input "delete "and click "Start"Button to confirm that you are going to erase the data on the iPhone. Then the program starts erasing the apps which you select, contacts and other files stored on the device. It only takes a few minutes to complete the task.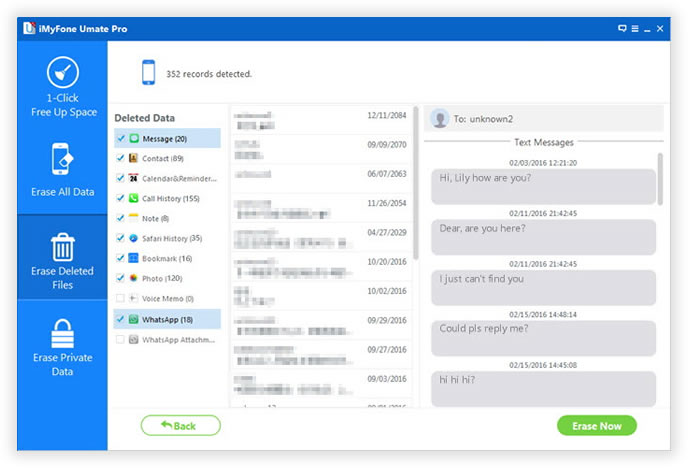 iPhone Data Eraser,help you to wipe your existing data and deleted data without restoring in order to keep your personal information inaccessible to others, permanently remove your privacy information to disposing of your old iPhone.On the other hand,speed up your iPhone,clear junk files with the iPhone Data Eraser, make your device working as quickly as a new one.






Read More
---
How to Erase Deleted Photos on iPhone 4 before selling:
Taking photos is one of the most used functions for almost every iPhone owner. I guess that most of the storage space is eaten by your photos, which is one of the most precious asset for us. And sometimes, it's in such a high privacy that we don't want to share them to others. This comes to the problem when you think about selling your old iPhone to another person and you're definitely not willing to see your private photos leaked online by someone else.Here the passages is teaching you the way to erase deleted photos on iPhone 4 before selling.

How to Erase Deleted Data on iPhone 4 before selling:
Remember deleted iPhone data before selling your old iPhone,in order to prevent others from stealing your personal data,like contacts, text messages, photos, videos, Apple ID.However,you must need to delete all information on iPhone completely and permanently.This iPhone Data Eraser is a professional data eraser tool,which design for iPhone users wipe all iPhone data without recovering.